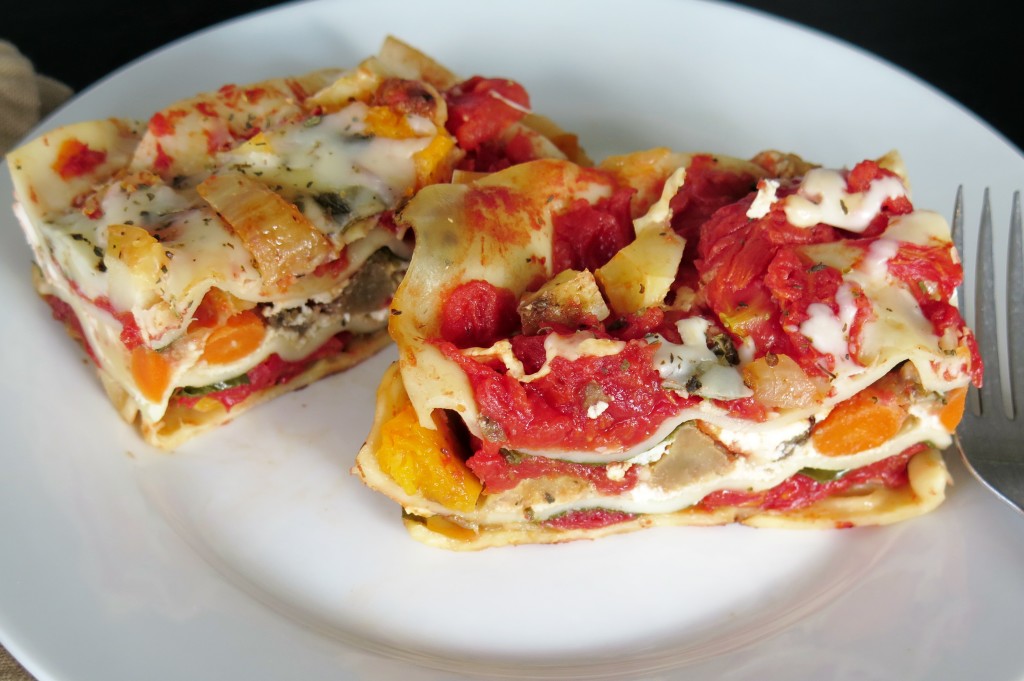 Welcome to the December Recipe ReDux challenge! Every month The Recipe ReDux challenges its members to create healthier versions of recipes based on that month's theme.

This month the Recipe ReDux celebrates its 42 month! So the challenge is:
Grab a Book & Cook
"To celebrate, we're playing a little party game this month: Grab your nearest cookbook and ReDux the recipe on page 42 or 142. We can't wait to see the books you're cooking from these days – and how you make that recipe healthier.
(Of course, please don't forget to give credit the original recipe – and change enough of the recipe to make it your own!)"
I'm presently working my way through a cookbook which subject matter is already dear to my heart. Eating locally produced foods and sustainability practices in our everyday lives.
Tasting The Seasons by  Kerry Dunnington.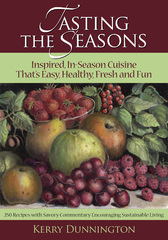 On page 142 Dunnington offers a recipe for Roasted In-Season Vegetable Lasagna.
This was already a healthy dinner but I took it a bit further. I did away with the sauce, replacing it with fresh crushed tomatoes.
I cut back on the cheese and used part-skim milk cheese where I could.
I love the idea of using a large variety of  vegetables. This version contains potatoes, sweet potatoes, butternut squash, onions, eggplant and mushrooms.  A handful of spinach found its way in there too!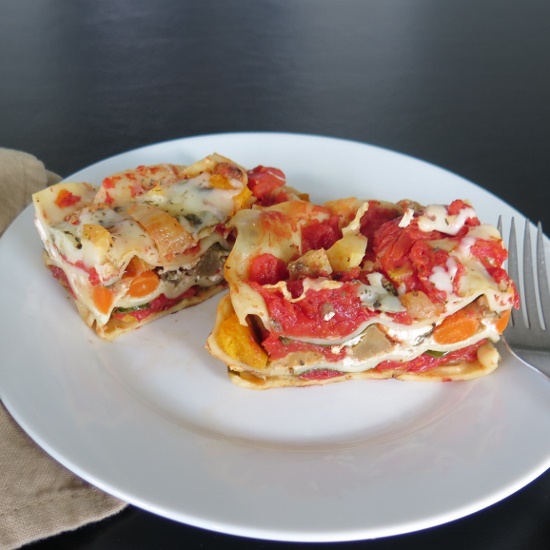 Roasted Vegetable Lasagna takes the best of what the season has to offer and serves up a tasty, unique dish every time!
Roasted Vegetable Lasagna
Vary the vegetables according to season for the best flavor and variety.
Ingredients
6 sheets no bake or precooked lasagna
1 28 -ounce can plum tomatoes in juice
4 cups roasted vegetables, chopped
1 cup part skim ricotta
4 ounces fresh Mozzarella, thin sliced
½ cup shredded Mozarella
1 teaspoon Italian Seasoning
salt and pepper to taste
1 teaspoon vegetable oil or cooking spray
Instructions
Spray or oil one 8x8-inch glass baking dish.
Add 2 no-bake sheets or cooked lasagna layer.
Dot pasta layer with ⅓ cup ricotta, about ⅓ of the fresh mozarella.
Add a layer of about a cup of roasted veggies. salt and pepper to taste.
Crush whole tomatoes by hand. Add one cup tomatoes with juice. sprinkle with shredded mozarella.
Repeat 2 more layers (noodles, cheese, veggies, tomatoes, shreds)
Top with Italian seasoning.
Bake covered at 350 for 30 minutes. Uncover and bake an additional 15 minutes or until noodles are soft and cheese is melted.
Allow to cool about 5 to 10 minutes before cutting.
About Recipe ReDux:
As the first and only recipe challenge founded by registered dietitians, The Recipe ReDux is focused on taking delicious dishes, keeping them delicious, but making them better for you. Dietitians Regan Jones (of ReganMillerJones, Inc.), Serena Ball and Deanna Segrave-Daly (both of Teaspoon Communications) founded the group on the belief that healthier eating should always taste delicious. As the Latin term "redux" means to revisit or reinvent, we are reinventing the idea of healthy eating with a taste-first approach. We aim to inspire the food lover in every healthy eater and inspire the healthy eater in every food lover.
Would you like to be a part of The Recipe ReDux? Apply here.
Explore what's cooking with the Recipe ReDux!