This post is sponsored by Certified Angus Beef® brand in conjunction with a social media campaign through Sunday Supper LLC. All opinions are my own.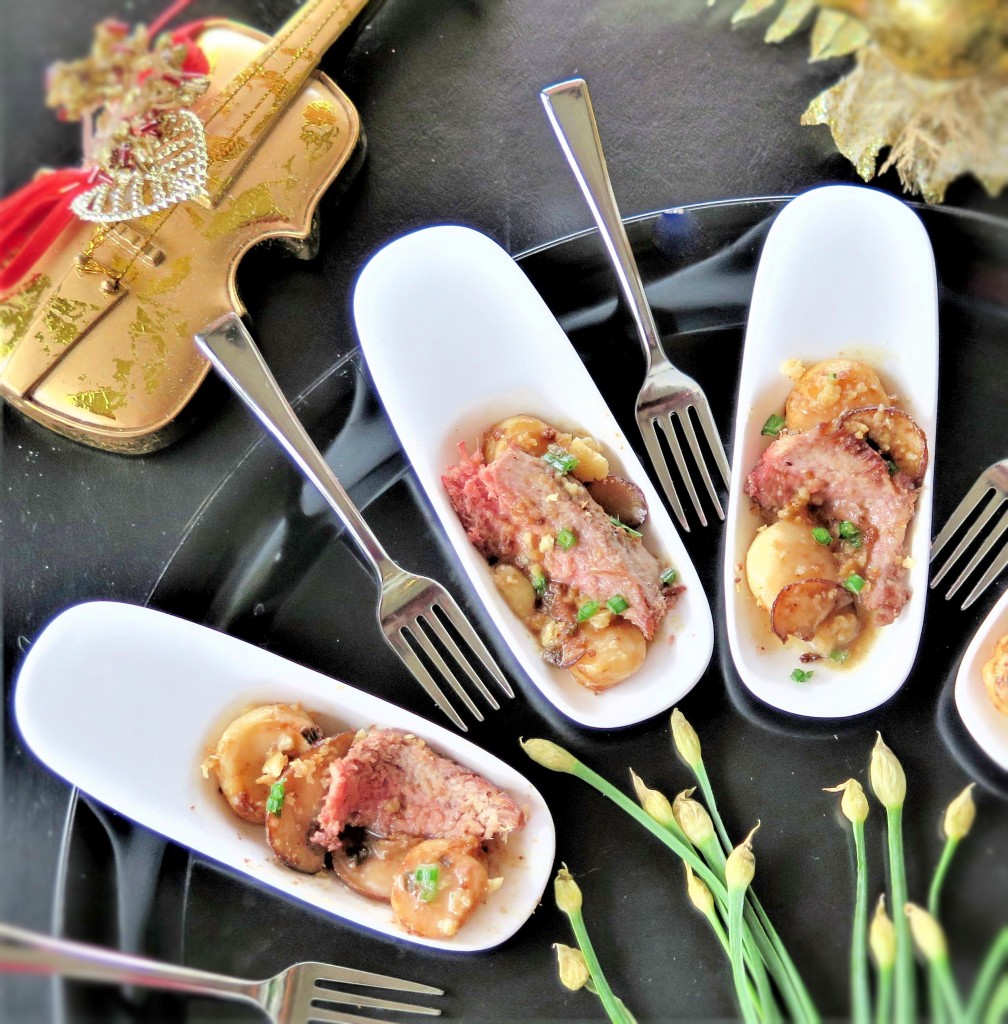 Garlic Lovers Steak and Scallops is a perfect surf and turf bite for holiday entertaining!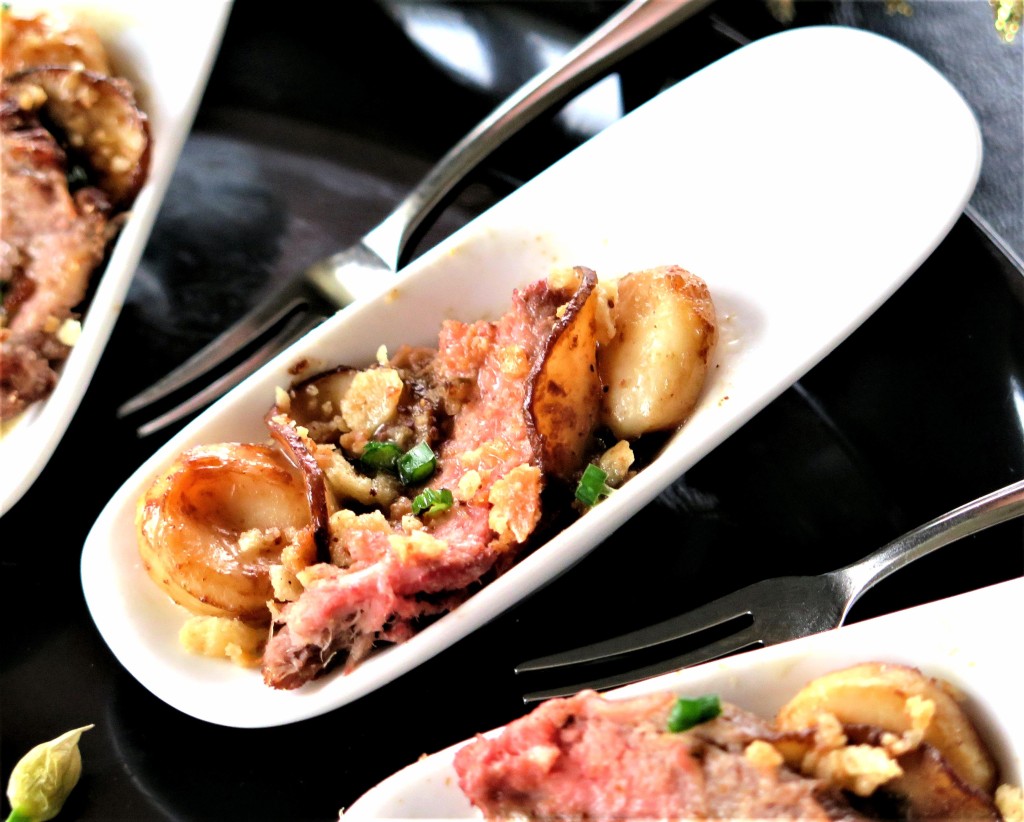 I'm always looking for different ways to serve appetizers. I'm so glad I found out about tasting spoons!
You can really pack a lot of flavor into a little bite.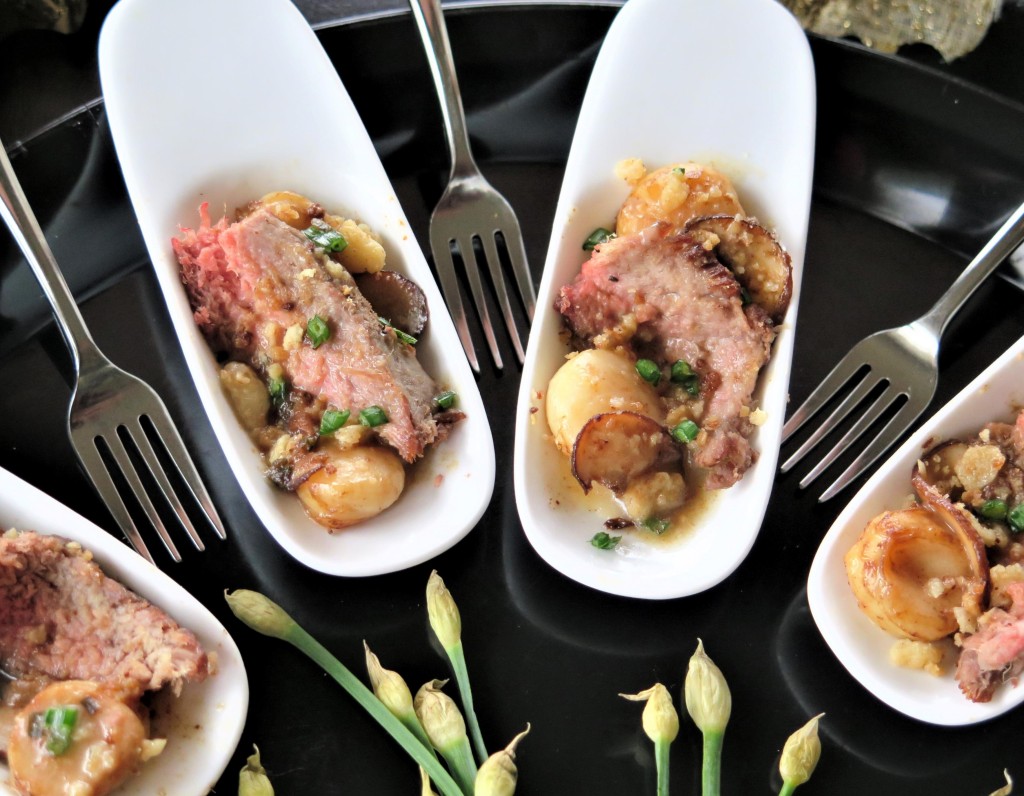 I love serving Certified Angus Beef® brand beef cuts in my appetizers. The beef is always tender and works well with so many flavors!
Lean beef also adds nutrition to my holiday offerings. A tasty balance that supports a heart-healthy lifestyle including protein, zinc, iron and B vitamins.
Protein helps you feel full too and you just might eat a few less sweets. 😉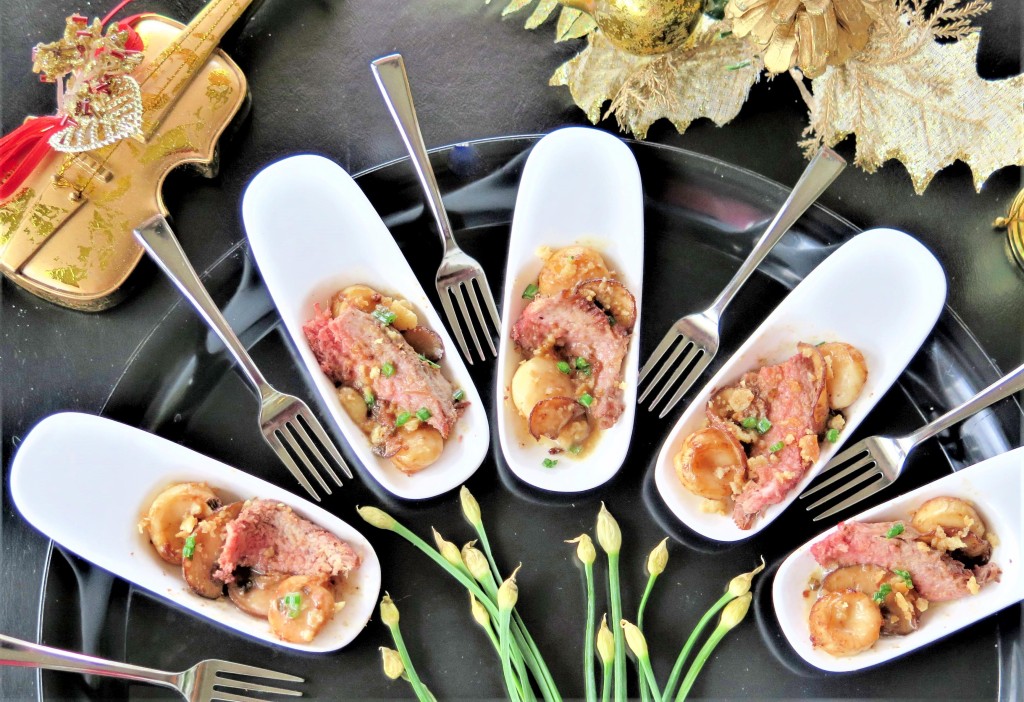 You can find great holiday appetizer ideas on the Certified Angus Beef® brand Appetizer page.
I called this dish, Garlic Lovers Steak and Scallops because I added garlic to the butter sauce and the crumb topping.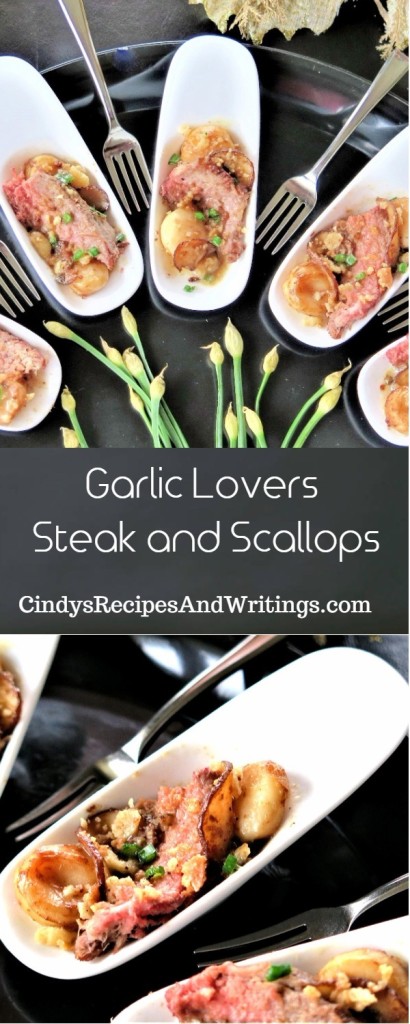 Garlic Lovers Steak and Scallops
Ingredients
1 12-ounce strip steak I use Certified Angus Beef® brand
Salt and pepper to taste
1/4-pound bay scallops
2 tablespoons vegetable oil
4 tablespoons butter
1/4 cup lemon juice
1/2 cup white wine
1/2 teaspoon minced garlic
1/8 teaspoon Old Bay or similar seafood seasoning
1/4 cup thinly sliced Portobello mushrooms
2 tablespoons minced chives divided

crumbs

2 tablespoons butter
1/4 cup crushed oyster crackers
1/4 teaspoon minced garlic
Dash of Old Bay or similar seafood seasoning
Instructions
Preheat oven to 350
Add oil to oven-proof fry pan and heat over medium-high heat until hot. Season steak with salt and pepper.
Add steak to hot pan and sear both sides. Cook approximately 6 minutes per side. Finish in oven about 10 minutes if necessary until internal temperature is 130 for medium rare. Temperature will rise as it rests to 135. Pull at 140 for medium rests to 145. Cut rested steak into thin slices.
While steak rests, cook mushrooms and scallops. Add butter, lemon juice and white wine to deglaze pan. Scape bottom to loosen any cooked particles. Cook about a minute to incorporate flavors. Strain. Return butter sauce to pan.
Add mushrooms to pan. Cook for 1 minute. Add scallops, garlic and 1 tablespoon chives. Cook until scallops become opaque. Set aside.
In a small fry pan, heat butter, cracker crumbles, Old Bay and garlic over medium-low heat. Cook until butter is absorbed and crackers lightly brown. Set aside.
Assemble appetizer by layering steak, mushrooms and scallops. Sprinkle with crumbs and chives. Drizzle with remaining sauce.
Notes
You can adjust sauce thickness by adding more butter or cooking longer to reduce or thin with a bit more wine.
http://www.cindysrecipesandwritings.com/garlic-lovers-steak-scallops-bestangusbeef-steakholder/
You can also arrange this appetizer on a small tasting plate.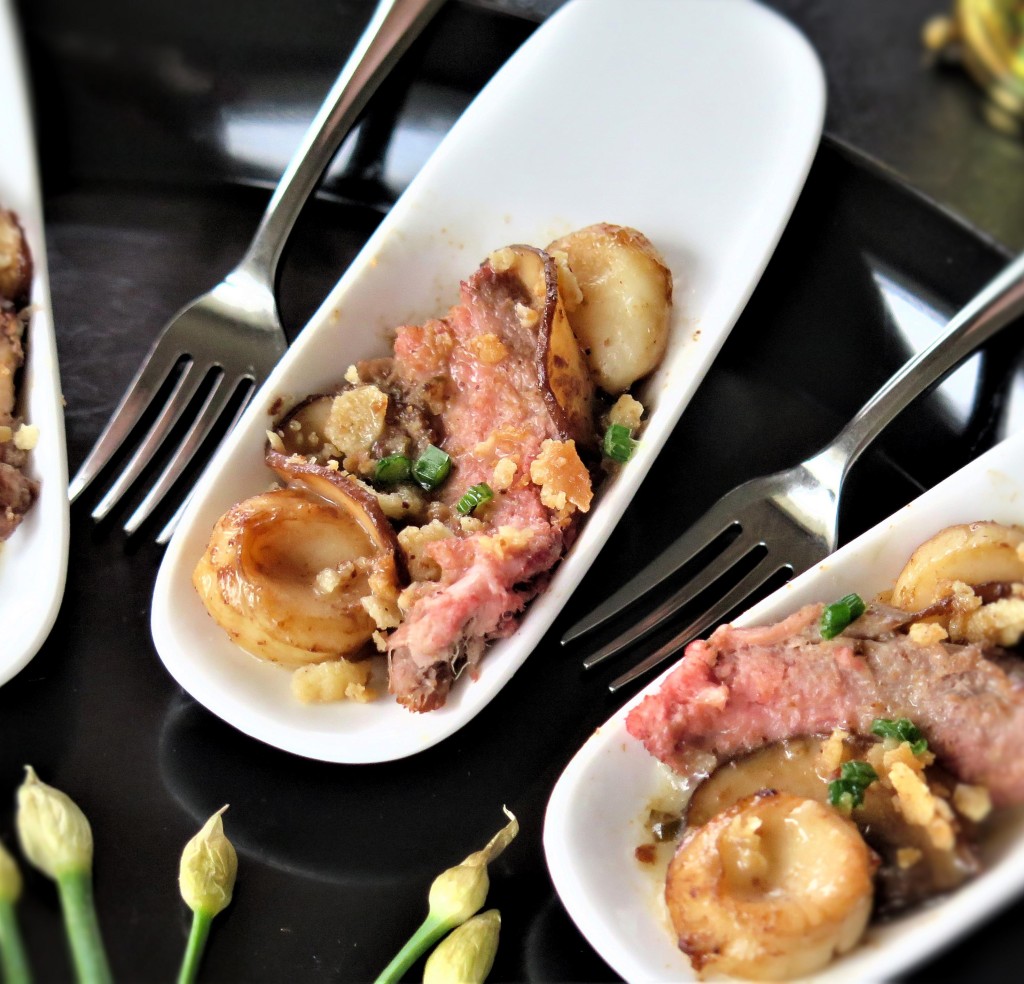 Food for Thought…What creative ideas do you have for using beef in appetizer recipes? Is there a special crostini you love? Maybe a pinwheel or something with blue cheese or horseradish is a favorite! I would love to hear your ideas in a comment below!