Potato Squash Kale Sheet Pan Dinner serves Roasted Veggies tossed with tender kale. Enjoy as a vegan dinner or #MeatlessMonday treat.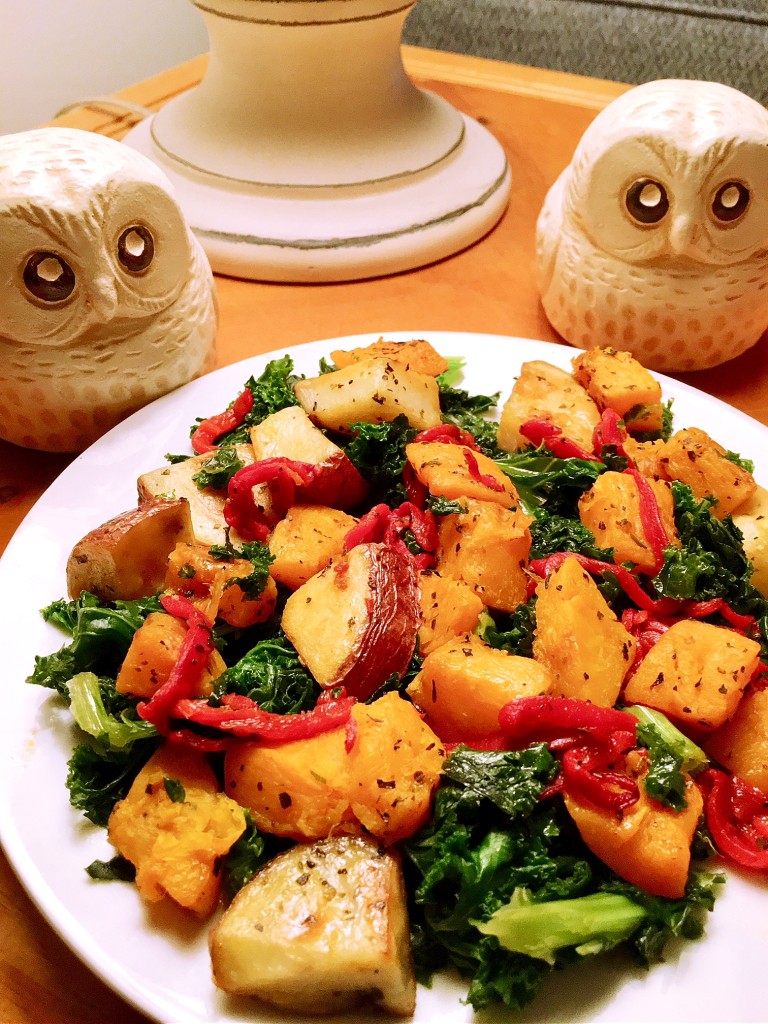 I enjoy a meatless meal every once in a while. Sometimes it's because I'm too tired and want something easy. It doesn't get easier than a sheet pan dinner.
First I braise the kale in a skillet with a bit of veggie broth. Grab a resealable bag. Mix Red potatoes and chunks of butternut squash tossed in olive oil. Seasoned it with smoked salt, granulated garlic and Italian seasoning.
Dump the veggies on a foil lined sheet pan. Roast at 350 for 15 minutes or until veggies are about halfway cooked. Drain kale and add to sheet pan.
Bake until potatoes and squash are crispy outside and tender inside. Toss a few slices of roasted red peppers in for good measure.
That's it. Pretty simple, right? Practically no clean up either! 😉
Potato Squash Kale Sheet Pan Dinner
Ingredients
2 medium red potatoes, cut into 1 1/2-inch chunks
2 cups butternut 1 1/2-inch squash chunks
1 tablespoon olive oil
2 cups kale cut up
1 cup vegetable broth
1/2 teaspoon Italian Seasoning
1/4 teaspoon smoked salt
1/4 teaspoon granulated garlic
1/4 cup roasted red peppers, sliced
Instructions
Place potatoes and squash in a resealable bag. Add oil, seasoning, salt and garlic. Shake.
Spread into single layer on a foil lined sheet pan. Bake at 350 for 15 minutes.
While vegetable bake, bring kale and vegetable broth to a boil in a large fry pan. Cook about 2 minutes until kale begins to softened. Add kale to vegetables at 15 minute mark and continue cooking until vegetables are crispy outside and tender inside.
Remove and add peppers. Toss and serve.
http://www.cindysrecipesandwritings.com/potato-squash-kale-sheet-pan-dinner/