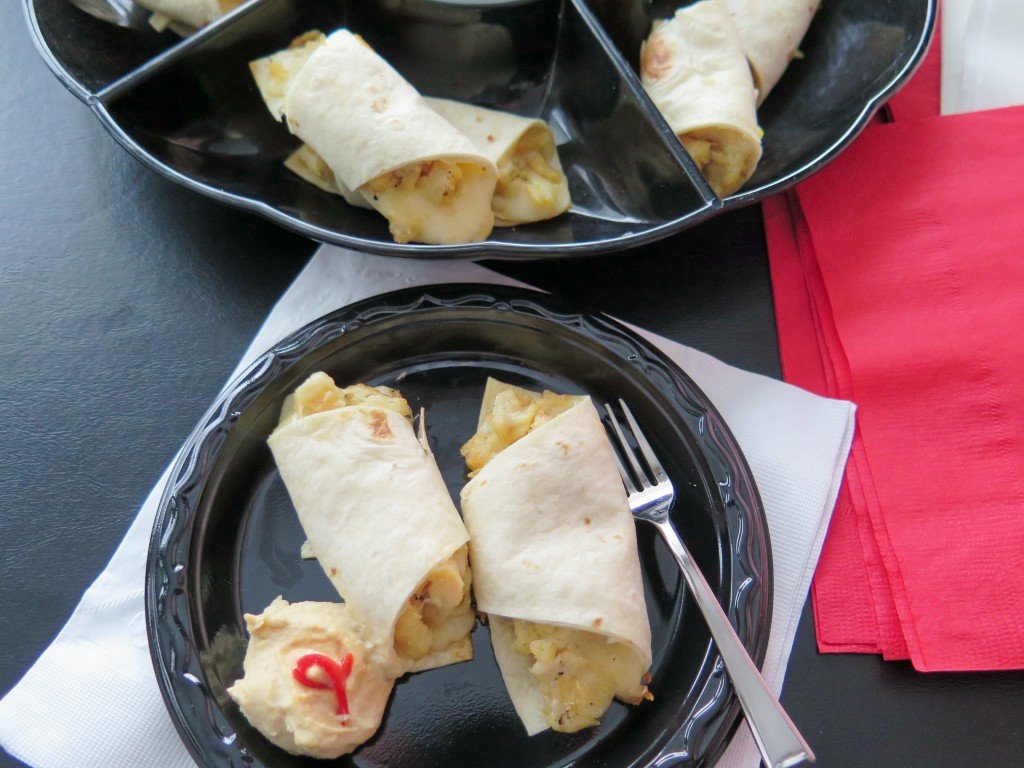 "I received free samples of Cabot Cheese mentioned in this post. By posting this recipe I am entering a recipe challenge sponsored by Cabot Creamery and am eligible to win prizes. I was not additionally compensated for my time."
Cabot Creamery is challenging Recipe ReDux members to create a healthier snack. From finger foods to hearty apps, lighten up your favorite "big game" or red carpet eats for entertaining.

This was a tough decision to choose a cheddar from all these great Cabot Creamery Cheeses.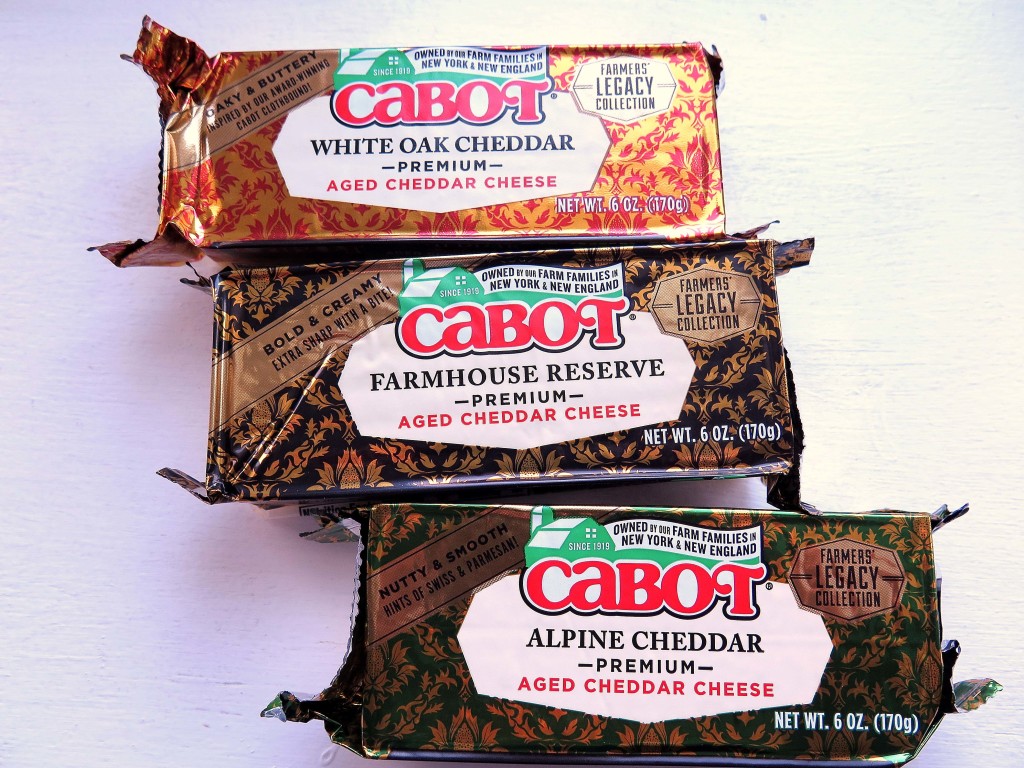 I chose White Oak Cheddar. I'm glad I did. It melts perfectly. Cabot's Legacy Cheddar cheeses aren't oily but smooth and creamy. Slightly melting it made it spreadable. That quality is very handy when creating hand held snacks and sandwiches.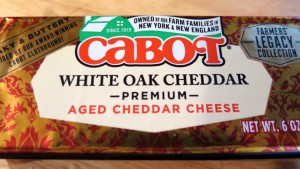 I love hand held snacks and appetizers. Informal gatherings with friends are best. Dipping snacks without a drippy mess is even better.
Cheddary Good Chicken Bites cradle delicate chicken pieces spiced up with horseradish rolled in a flour tortilla spread with cheddar goodness! Baked not fried or grilled. What is the dip, you ask? Hummus. I love garlic hummus but any kind will do! The cheddar blends perfectly with all these flavors. How could the recipe be anything but awesome!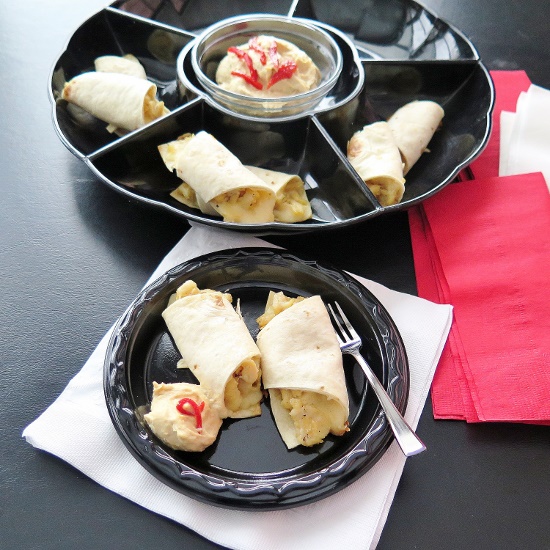 Cheddary Good Chicken Bites
Ingredients
6 ounces Cabot Cheddar, shredded (I used White Oak Cheddar)
2 flour tortillas cut into 6 triangles each
1 cup shredded chicken
¼ cup sliced onions
¼ cup vegetable oil, divided
1 Tablespoon horseradish
salt and pepper to taste
Instructions
Preheat oven to 350 degrees.
Sauté chicken and onions in 1 Tablespoon of the oil.
Brush remaining oil lightly over both sides of the triangles.
Melt shredded cheddar for 10 seconds at a time in the microwave until softened. Divide evenly between 12 triangles (1/2 ounce cheese each) and spread with a knife.
Stir horseradish, salt and pepper into chicken and onions. Divide mixture between triangles.
Gently fold over and tuck point underneath.
Place on baking sheet and bake for about 5 minutes until tortilla begins to brown and cheese melts.
Serve warm or room temperature with your favorite hummus.
More about Cabot Creamery:
Cabot Creamery is a family-farmer owned cooperative of more than 1200 farms located throughout New England and New York. One-hundred (100) percent of Cabot's profits go back to their farmers. Cheddar cheese is a protein-rich snack and naturally lactose free.
Connect with Cabot Creamery for their latest news, product information and recipes!
Website:  www.cabotcheese.coop  
Facebook: www.facebook.com/cabot
Twitter: www.twitter.com/cabotcheese
Pinterest:  www.pinterest.com/cabotcheese
Enjoy all these Cabot Creamery healthier snack and appetizer creations from the Recipe Redux member challenge!
About Recipe ReDux:
As the first and only recipe challenge founded by registered dietitians, The Recipe ReDux is focused on taking delicious dishes, keeping them delicious, but making them better for you. Dietitians Regan Jones (of ReganMillerJones, Inc.), Serena Ball and Deanna Segrave-Daly (both of Teaspoon Communications) founded the group on the belief that healthier eating should always taste delicious. As the Latin term "redux" means to revisit or reinvent, we are reinventing the idea of healthy eating with a taste-first approach. We aim to inspire the food lover in every healthy eater and inspire the healthy eater in every food lover.

Would you like to be a part of The Recipe ReDux? Apply here.