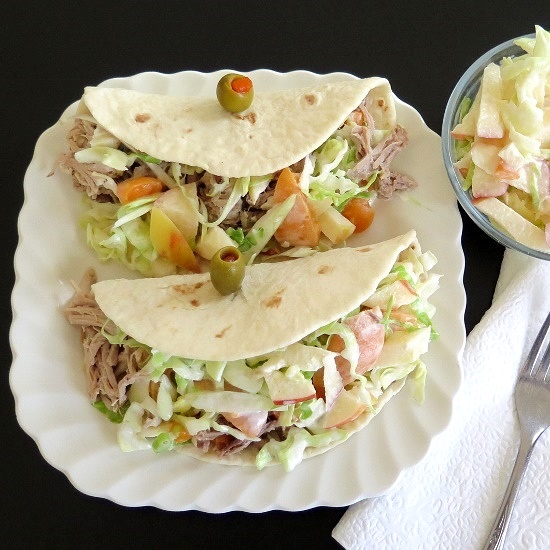 Pulled Pork Tacos with Harvest Slaw serves up juicy, flavorful pork with a slaw made from cabbage, apples and apricots.
Our February Recipe ReDux challenge:
So show us your healthy, creative take on the taco.
I'm not a fan of the traditional taco. So I skipped the lettuce, tomatoes and salsa. These tacos are slathered in slaw. This crunchy, sweet, fruity topping goes great with pork. Easy and fast with no need to marinate for hours. Serve any leftover slaw on the side after making your tacos.
Pork Tacos with Harvest Slaw
Ingredients
4 taco shells (soft or hard)
2 cups pulled pork in broth
2 cups shredded cabbage
1 medium apple, cored and sliced thin
1 medium lemon
1 cup fresh or canned apricots, sliced
¼ cup celery, sliced thin
2 Tablespoons mayonnaise
2 Tablespoons sour cream or Greek Yogurt
½ teaspoon seasoned salt
ground pepper and salt to taste
Instructions
Place apple slices in a medium-sized bowl. Squeeze ½ lemon juice over apples. Mix. Add cabbage, celery and apricots.
In a separate bowl, mix mayo, sour cream and seasoned salt. Add to cabbage mixture and stir to coat.
Heat pulled pork, drain.
Add pork to taco shells. Top with Harvest Slaw.
http://www.cindysrecipesandwritings.com/pork-tacos-harvest-slaw/
More about the Recipe ReDux.


As the first and only recipe challenge founded by registered dietitians, The Recipe ReDux is focused on taking delicious dishes, keeping them delicious, but making them better for you. Dietitians Regan Jones (of ReganMillerJones, Inc.), Serena Ball and Deanna Segrave-Daly (both of Teaspoon Communications) founded the group on the belief that healthier eating should always taste delicious. As the Latin term "redux" means to revisit or reinvent, we are reinventing the idea of healthy eating with a taste-first approach. We aim to inspire the food lover in every healthy eater and inspire the healthy eater in every food lover.
Try these fresh takes on tacos from The Recipe ReDux next time the mood for tacos strikes you!