I received a free shipment of Open Blue™ Cobia as part of a recipe contest submission. My recipe will be entered in the OPEN BLUE™ COBIA COOK-OFF CONTEST where I will have a chance to win prizes. I received no monetary compensation for my post. All opinions are my own.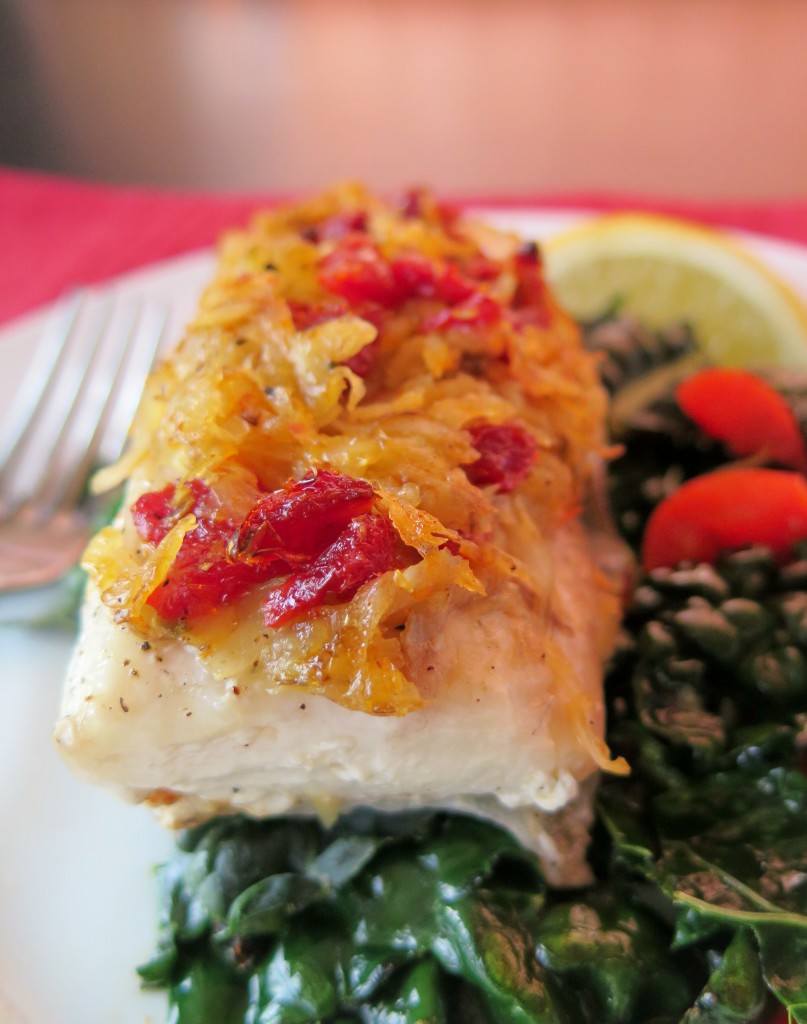 Have you ever tried Cobia?
Cobia is a moist, flaky whitefish that lends itself to many recipe ideas.
This was my first experience with this delicious fish. I found the texture similar to sea bass but not as sweet. I love the way it held its shape through the baking process. I tried cooking a piece with the skin intact and a piece without the skin. Both took about 20 minutes to cook, held their shape and stayed moist and flaky!
The smoky flavor from the smoked sun-dried tomatoes and smoked paprika compliment mild flavor of the fish without overpowering it.
I served my Sun-dried Tomato and Potato Crusted Baked Cobia on a bed of wilted kale with red bell peppers. Delicious!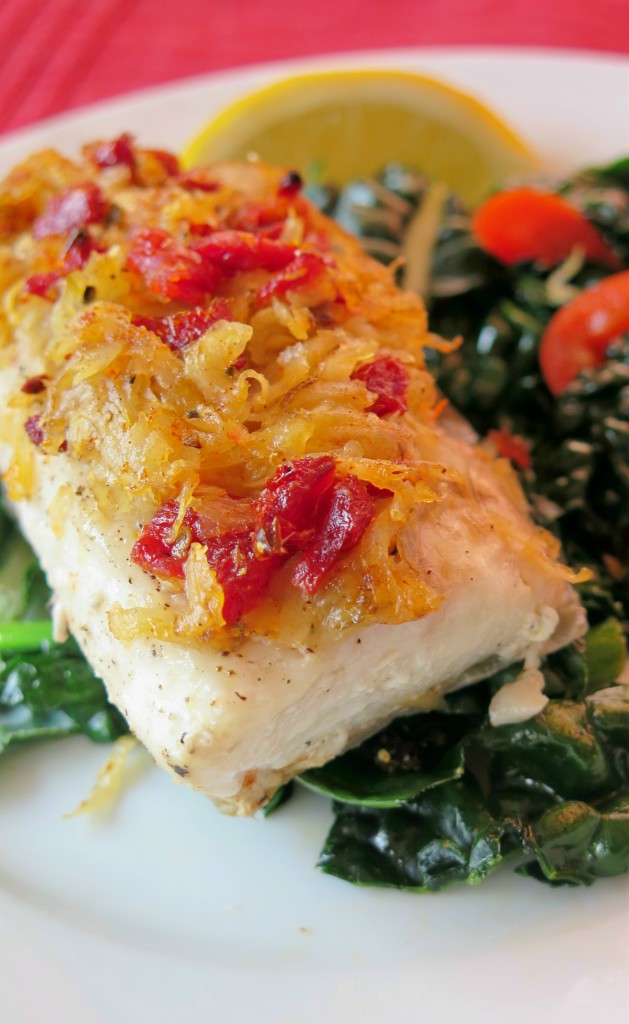 Sun-dried Tomato and Potato Crusted Baked Cobia
Ingredients
2 6-ounce Open Blue™ Cobia fillets, skin removed
1 cup freshly grated raw potatoes
2 Tablespoon shallots, minced
2 Tablespoons unsalted butter
1/4 cup smoked sun-dried tomatoes, diced
1 teaspoon prepared horseradish
1/2 teaspoon capers, chopped
1 Tablespoon olive oil, plus 1 teaspoon
salt and pepper to taste
smoked paprika (optional)
Instructions
Soak sun-dried tomatoes in 1 Tablespoon olive oil, horseradish and caper for 15 minutes. While tomatoes soak, prepare potatoes.
Squeeze out any excess moisture from potatoes with paper towels
Heat a small skillet over medium-high heat. Add butter, potatoes and shallots. Saute until potatoes soften, (2 to 3 minutes)
Preheat oven to 375 Season Cobia with salt and pepper, set aside.
Place 1 teaspoon olive oil in a baking dish. Add Cobia.
Stir together potato and tomato mixtures. Place on top of Cobia. sprinkle with a pinch of smoked paprika if desired.
Bake uncovered for approximately 20 minutes until fish reaches 145 degrees, is opaque and easily flakes.
Serve with your favorite side dish, vegetable or salad.
Notes
Regular sun-dried tomatoes can be substituted for smoked sun-dried tomatoes.
http://www.cindysrecipesandwritings.com/sun-dried-tomato-and-potato-crusted-baked-cobia-cobiacookoff-ad/
You can find out more about cobia and connect with Open Blue™ Cobia at their website , on twitter , and on Facebook .