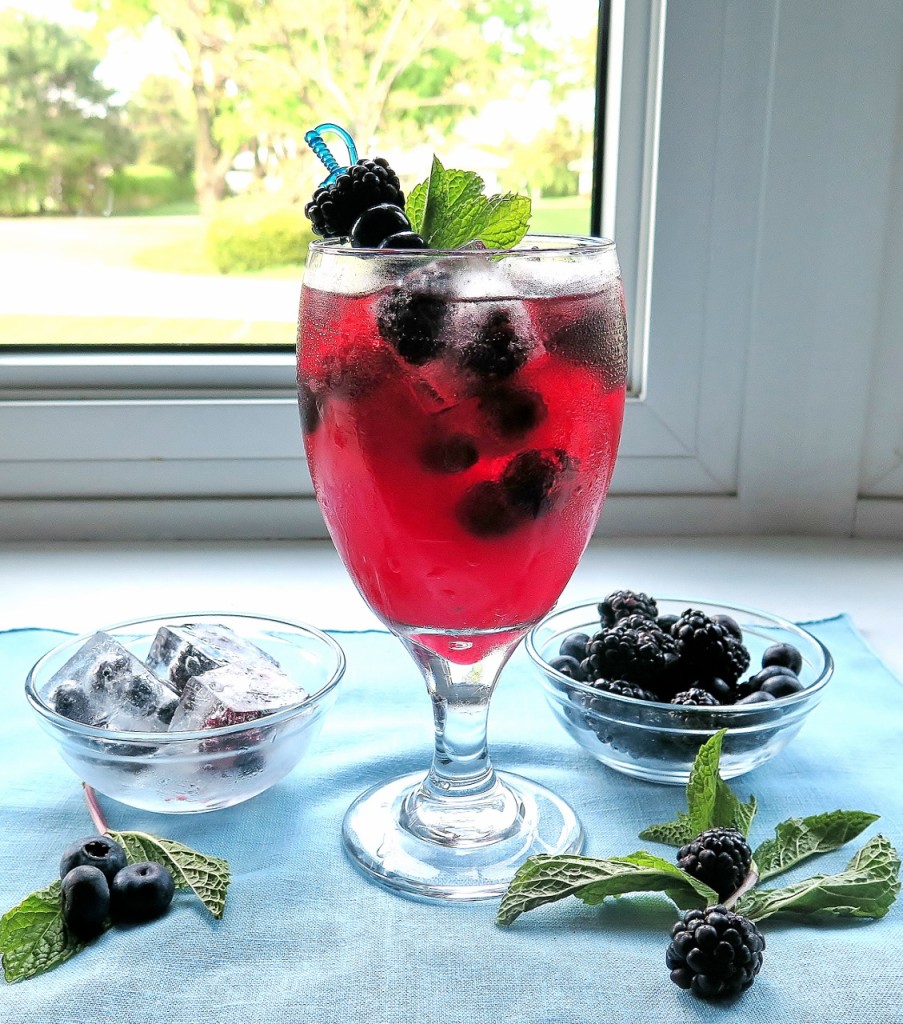 Frosty Berry Sangria serves ice cold blueberries and blackberries in a white wine sangria drink with a hint of lime and licorice. This recipe is entered in a Food Wine Conference contest sponsored by Wish Farms where you can win prizes. I received no further compensation for writing this post. All opinions are my own.
It's berry season and the great farmers at Wish Farms are ready with a fresh crop blueberries, blackberries, strawberries and raspberries to enjoy!
All these berries make great desserts, sauces and salads.
Today I'm bringing berries to the drink table!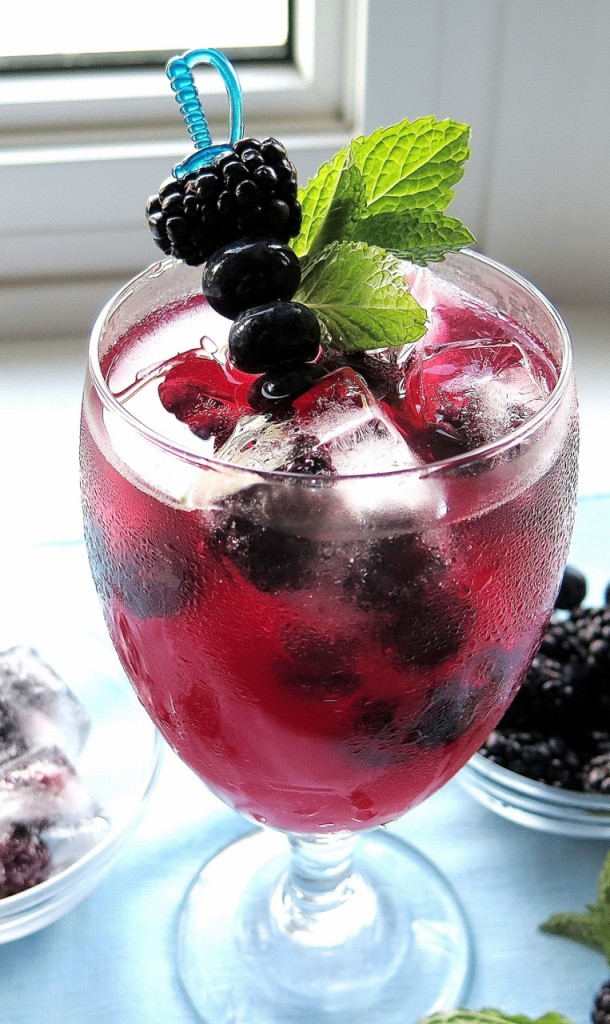 Wish Farms blueberries and blackberries work so well together in this drink.
Start by freezing some of each kind in ice cubes.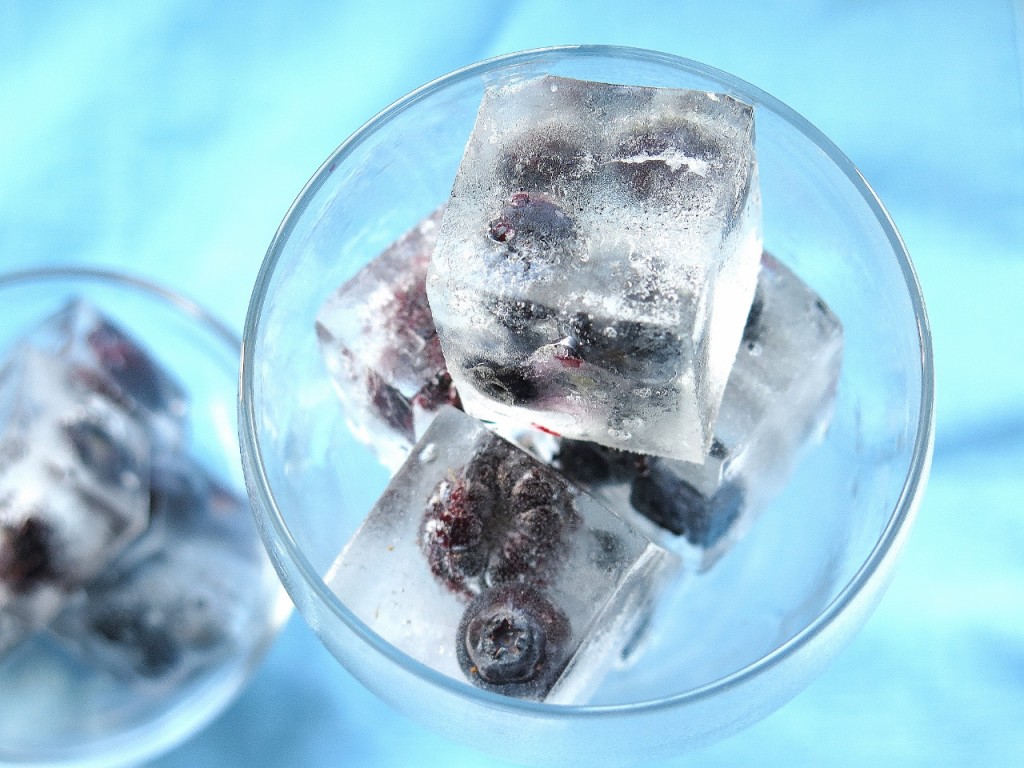 Make fresh berry syrup with a touch of mint from the recipe below. Add the syrup to Pinot Grigio with a bit of lime and a hint of anise from Sambuca.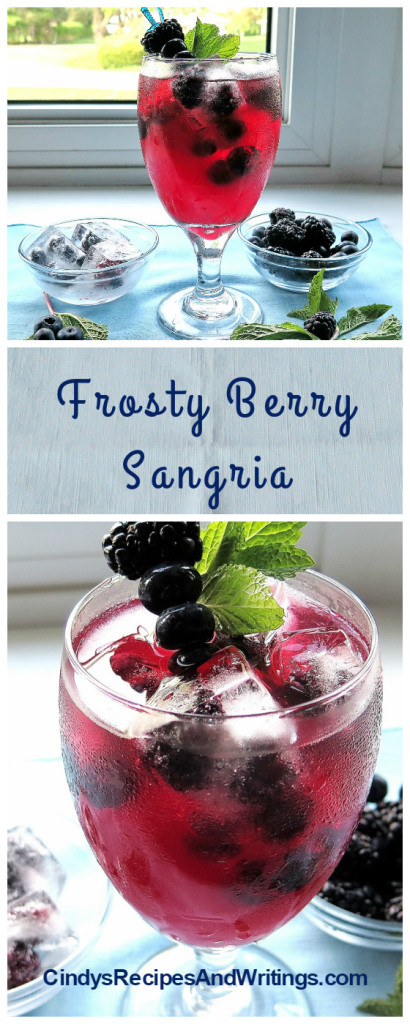 Ingredients
berry syrup

1/4 cup Wish Farms blueberries
1/4 cup Wish Farms blackberries
1/2 cup sugar
1/2 cup water
6 to 8 mint leaves

drink

6 ounces berry syrup
12 ounces Pinot Grigio
2 teaspoons lime juice
2 teaspoons Sambuca or similar anise or licorice liqueur
1/4 cup Wish Farm blueberries for ice cubes and garnish
1/4 cup Wish Farm blackberries for ice cubes and garnish
mint leaves for garnish
Instructions
Divide 1/4 cup Wish Farms blueberries and 1/4 cup Wish Farms blackberries among 9 to 12 ice cube compartments. Fill with water and freeze.
To make syrup, bring 1/4 cup Wish Farm blueberries, 1/4 cup Wish Farm blackberries, sugar and water to a boil whisking constantly to dissolve sugar.
Remove from heat and add mint. Mash berries and mint together in the syrup. Cool for about 30 minutes for flavors to mix.
Run cooled syrup through a fine mesh strainer. Discard mash.
Gently stir together syrup, wine, lime and Sambuca.
Divide berry ice cubes between 2 large wine glasses. Divide drink mixture between both glasses. Garnish with fresh berries and mint leaves if desired.
Notes
As ice melts, the berries absorb the drink flavors as an added treat!
http://www.cindysrecipesandwritings.com/berrydelish-fwcon/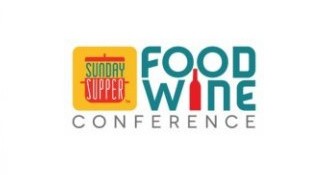 The Food Wine Conference brings together bloggers, small business owners, winemakers, chefs, public relations professionals, traditional media, new media, authors and brands. This is the conference to inspire, empower and make a difference in your business and the lives of others.
Wish Farms is returning as a major sponsor for the 2017 Food Wine Conference. Last year they sponsored #hashed cookoff using their blueberries as a main ingredient.
Connect with Wish Farms at their website and on Facebook, Twitter, Pinterest, Instagram and Google+ for the latest news, recipes and contests.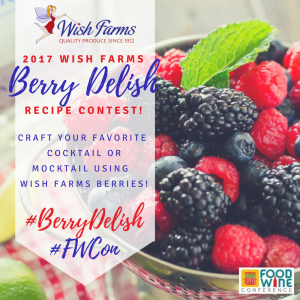 Here's how you can enter the contest!
Develop an original cocktail/mocktail recipe which must include at least 1/4 cup of fresh Wish Farms berries (blueberries, strawberries, raspberries and/or blackberries).  Be creative! It cannot be an adapted recipe.
Publish a blog post with the recipe between April 19 and May 12, 2017.
Share your blog post on Twitter, Facebook, Pinterest, and Instagram between April 19 and May 12, 2017 using both hashtags #BerryDelish #FWCon
Include information on the Food Wine Conference and this contest in your blog post.
Enter your submission into the form on the contest page.
Good Luck!
Wait, there's more!
I can save you $50! Purchase your ticket to Food Wine Conference #FWCON $50 off Use code CindyK2017. Register Here! Cheers!
See you there!