This post is sponsored by Florida Strawberry in conjunction with a social media campaign through Sunday Supper LLC. All opinions are my own.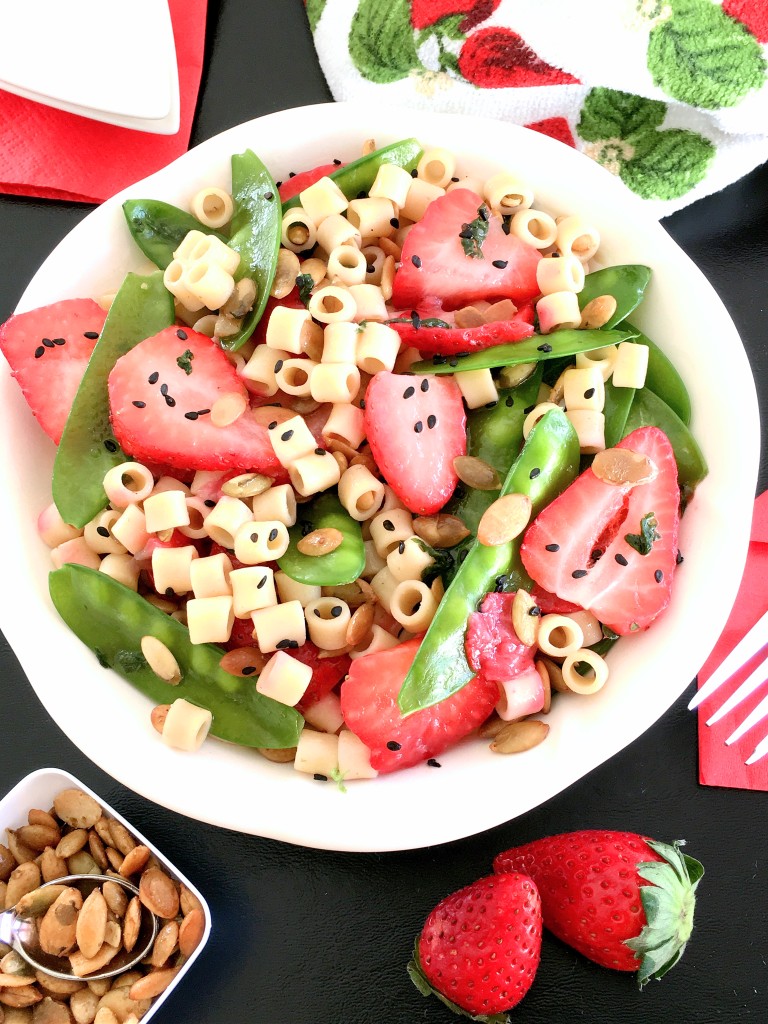 Strawberry Pasta Salad serves nutritious Florida Strawberries with crisp snow peas and crunchy pepitas. A healthy way to start off the new year.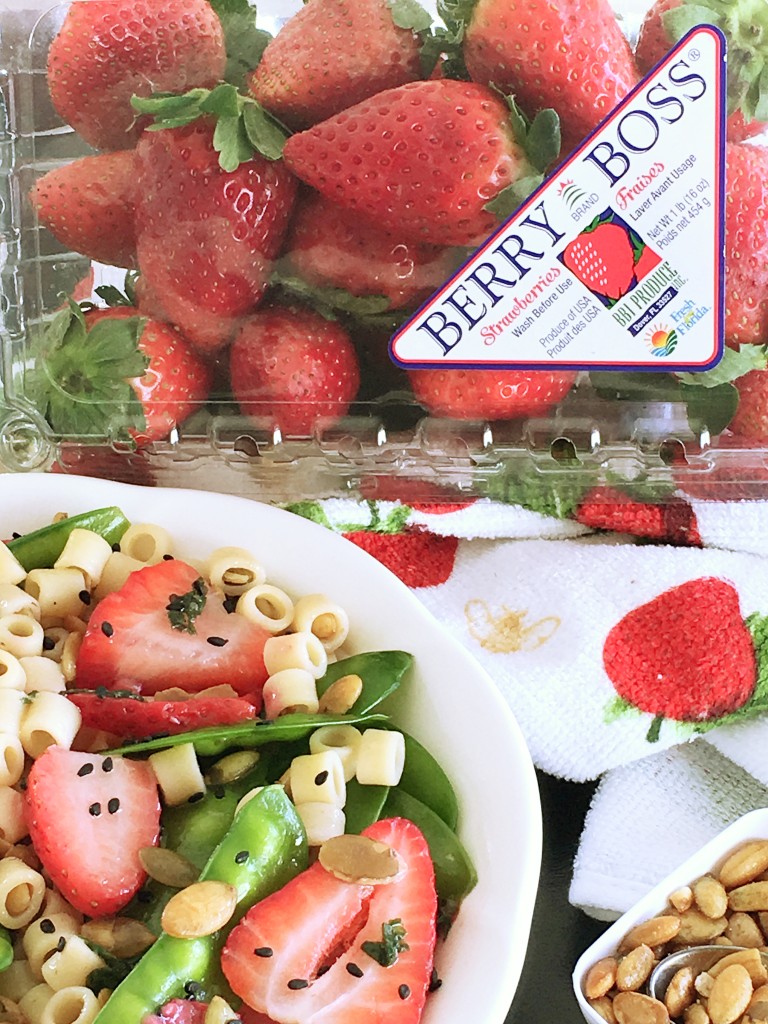 Eating right is something I try to do all year long.
There are times when I indulge in the occasional treat.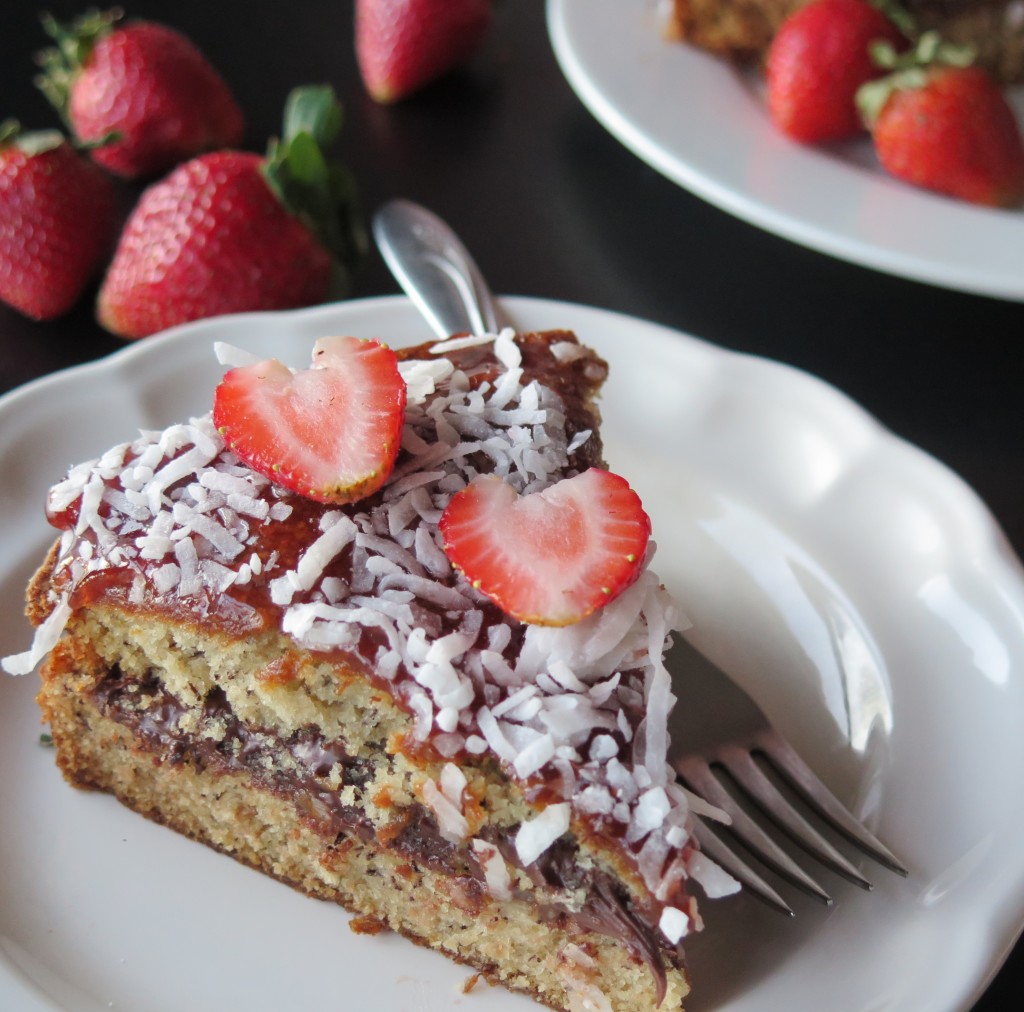 Balance is key.
I'm a bit less active in winter. So I seek out foods that satisfy my urge to snack while providing a healthy choice. Florida Strawberries fit the bill!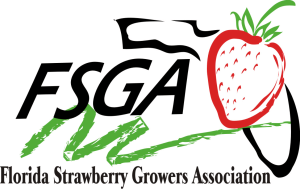 Sweet Florida Strawberries are available in stores all winter long from December through April each year.
If you don't see strawberries from Florida where you shop, you can ask their produce or store manager to please carry Florida Strawberries.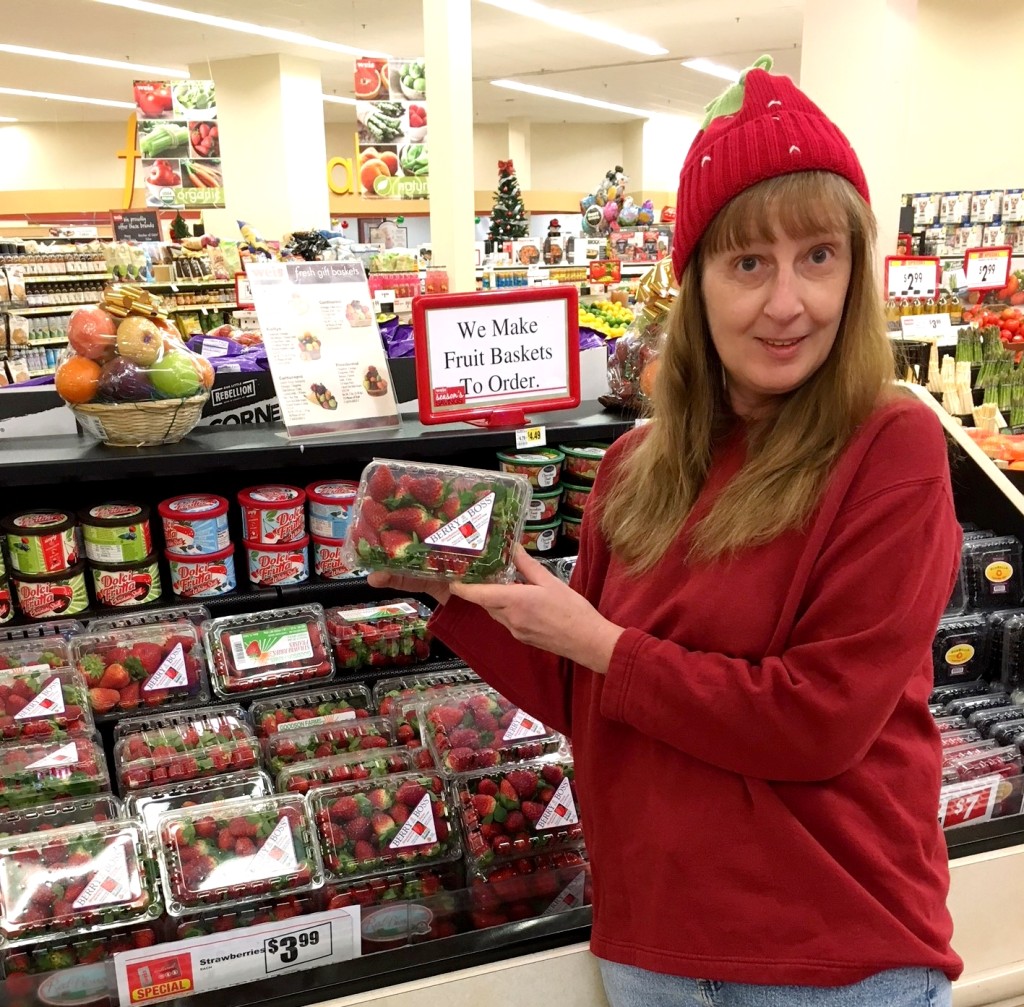 They will be glad to include this Superfood on their shelves!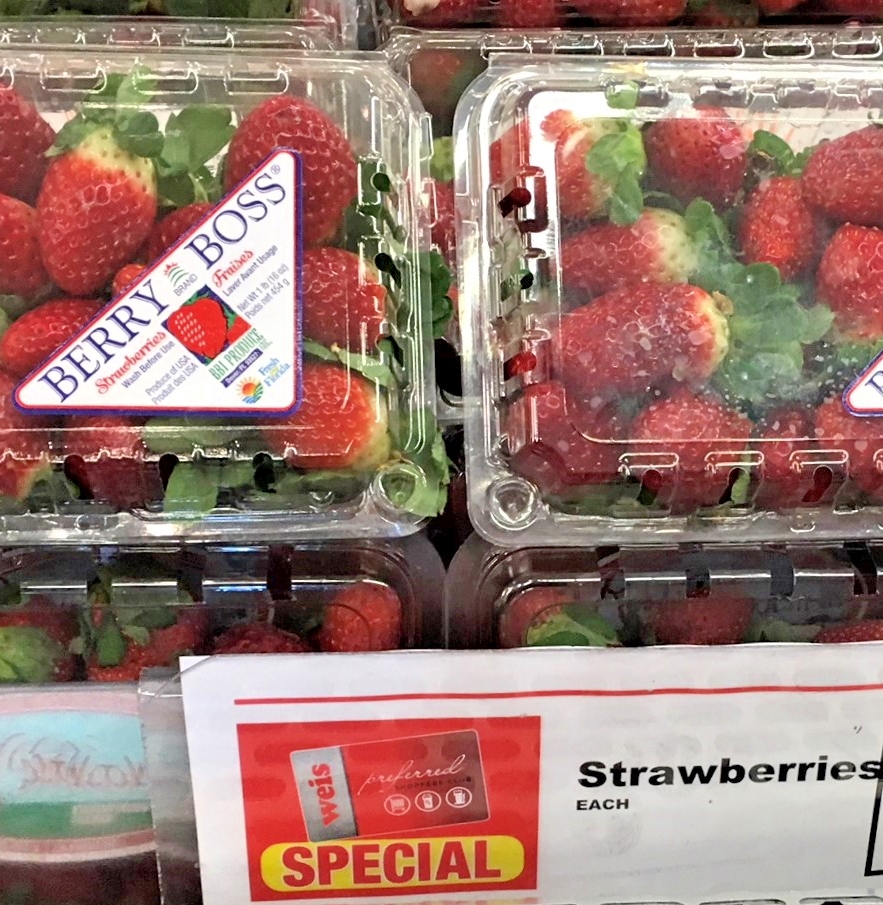 Florida Strawberries deliver a boost of vitamins and nutrients to keep us going all winter long.
Eight medium strawberries contain more vitamin C than one orange. Vitamin C helps boost your immune system just in time for cold and flu season.
These little red powerhouses provide an excellent source of folic acid that helps the body metabolize protein. Protein from food helps build muscle, supports the nervous system and keeps our minds healthy and alert.
Florida Strawberries are virtually fat free and contain no cholesterol. That makes strawberries a perfect addition to salads, smoothies and power bowls for healthier meals.
According to the Dietary Guidelines for Americans, nutrient-dense foods like Florida Strawberries provide the greatest amounts of vitamins and minerals with the fewest calories.
Visit http://floridastrawberry.org/nutritional-benefits-of-florida-strawberries for more information.
I love Florida Strawberries right from the box, just wash and they're ready to go! No peeling or fussing.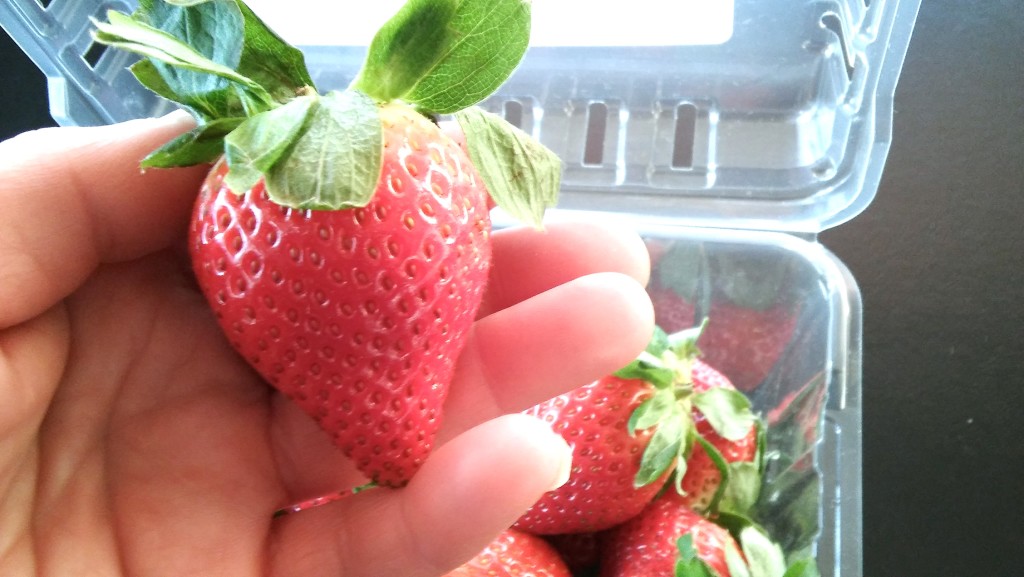 Get social with Florida Strawberry and stay connected for the latest news and recipes!
Social Media links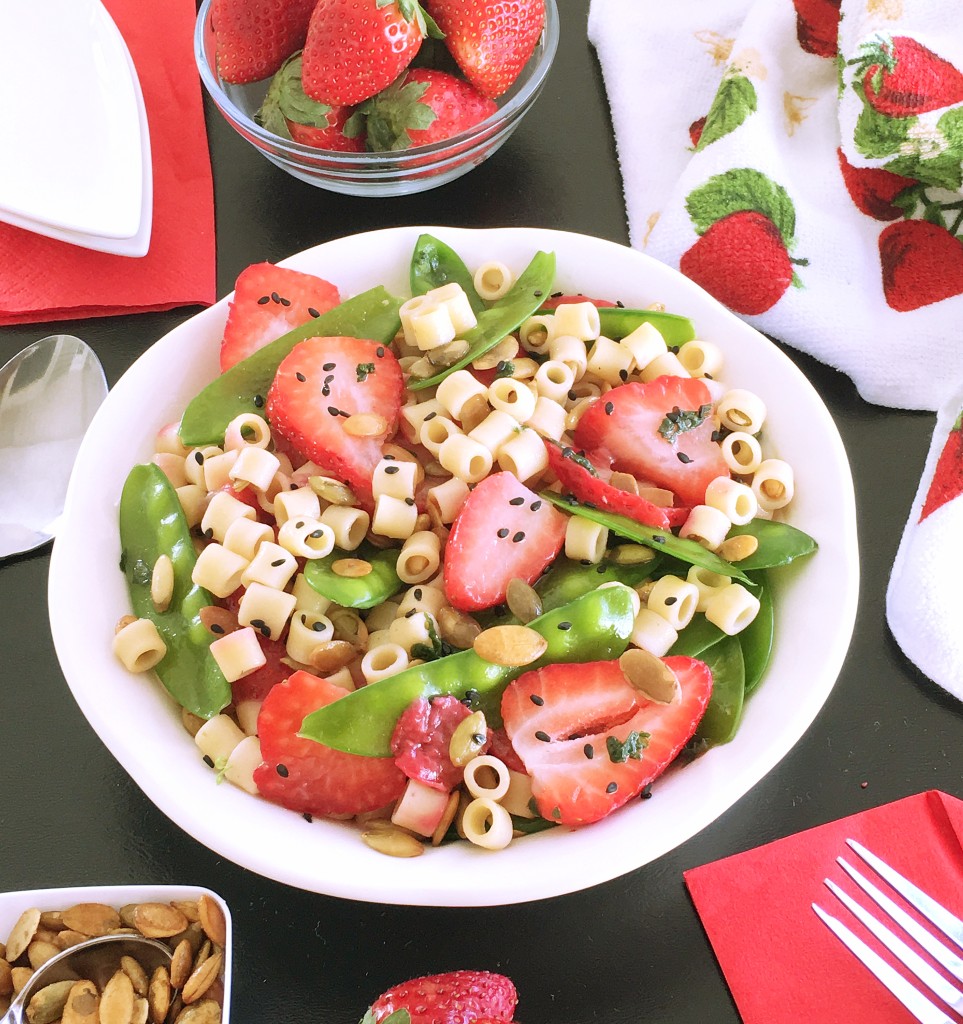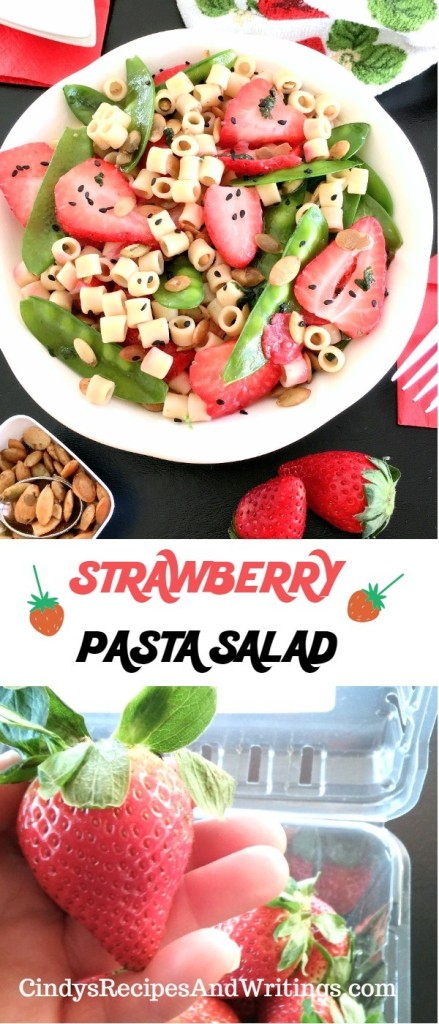 Strawberry Pasta Salad
Ingredients
2 cups cooked ditalini or small pasta
1 1/2 cups fresh Florida Strawberries, sliced
1/2 cup fresh snow peas
1/4 cup pepitas
1 teaspoon black sesame seeds (optional)

dressing

2 tablespoon vegetable oil
1 tablespoon white balsamic vinegar
1 tablespoon fresh basil chiffonade
1 teaspoon sesame oil
1/4 teaspoon freshly grated ginger
Salt and pepper to taste
Instructions
Mix pasta, Florida Strawberries, snow peas and pepitas together in a large bowl.
Whisk together oil, vinegar, sesame oil, basil, ginger, and salt and pepper.
Coat salad mix with dressing. Sprinkle with sesame seeds if desired.
http://www.cindysrecipesandwritings.com/strawberry-pasta-salad-sundaysupper/
Food for Thought…How do you enjoy fresh Florida Strawberries? Do you add them to your cereal, oatmeal or smoothies for breakfast? Maybe toss a few on your lunch salad? How about a late-night snack with nuts or cheese? I'd love to hear your thoughts in a comment below.
Enjoy these Healthy Family Recipes featuring Florida Strawberry from Sunday Supper Tastemakers!
Healthy Strawberry Appetizers
Healthy Strawberry Salads
Healthy Strawberry Main Dishes
Healthy Strawberry Desserts

The Sunday Supper Movement is committed to bringing our readers delicious recipes that encourage them to gather and eat together around the family table. Search for your favorite ingredients on our Sunday Supper website. Also check out the Sunday Supper Pinterest boards for plenty more ideas and inspiration.
For even more delicious Florida Strawberry recipe ideas, visit the Fresh Florida Strawberry Recipes Pinterest Board.