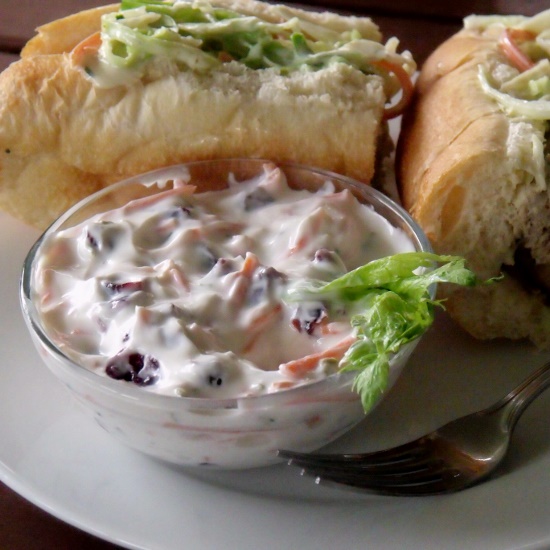 Carrots and Craisins go together as well as the traditional carrots and raisins in this creamy side salad. If you look at the picture, you may think that there is a lot of mayo in this salad. Actually there is only a tablespoon of mayo. The thick, creamy texture comes from Greek yogurt.
I used a bag of shredded carrots to make this salad. What a time saver!
This is a very simple recipe that you can increase as needed.
A dash of celery flakes and a drizzle of honey round out the flavors.
You can mix a few raisins in too. I think golden raisins would look lovely in this salad!

Ingredients
1 cup shredded carrots
1/4 craisins
1/2 cup plain Greek yogurt
1 Tablespoon Mayonnaise
1 teaspoon dried celery flakes
1 teaspoon honey or to taste
pinch of salt
Instructions
Add carrots, craisins and celery flakes to a small mixing bowl.
In another bowl, blend yogurt, mayo, honey and salt.
Coat carrot mixture with dressing. Allow to marinate in refrigerator for at least an hour before serving.
http://www.cindysrecipesandwritings.com/carrot-craisins-salad/