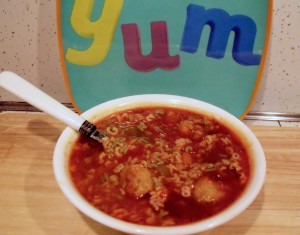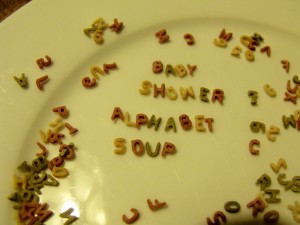 This week our Sunday Supper group is celebrating April Showers as in the baby, bridal and more. I've been to and hosted a few shower parties in my day where the gifts are thoughtful, the friends abundant and the games are corny. The one thing everyone agrees on is you need food to keep the party rolling.
Thanks to Brandie from Home Cooking Memories for hosting this fun event! Brandie's website strives to cook up new recipes while preserving the old ones.
For this event I chose to throw a baby shower. One thing on everyone's mind at a baby shower is what will they name the new baby. People chose a name in a variety of ways. Some people rely on baby name books. Family member's names are popular. I think soup. Alphabet Soup in particular.
Keep in mind that whatever you choose to serve at the baby shower, new Mommy will eat too. Keep it wholesome and healthy.
If you can't find alphabet noodles, any small noodle will work.
Alphabet Soup
Ingredients
1/2 lean ground turkey
1/4 cup bread crumbs
1 tsp oregano
1/2 tsp Worcestershire Sauce
1/2 cup diced carrots
1/2 cup diced celery
2 T olive oil
2 cups chicken or vegetable broth
3 cups canned diced tomatoes
1 cup alphabet soup noodles or other small pasta
Directions
Cook noodles according to package directions. Drain.
While noodles cook, mix together turkey, breadcrumbs, Worcestershire and oregano. Loosely roll into mini balls and saute in oil until thoroughly cooked. Add 1/4 cup of the broth pan to loosen pan drippings. Remove meatballs, set aside.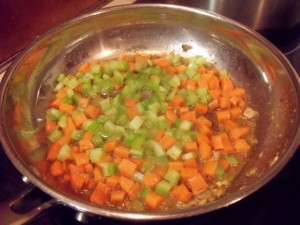 Saute carrots and celery in pan drippings until crisp tender.
In a large pot, add tomatoes and rest of broth. Add vegetables and finish cooking until softened. add meatballs and noodles. Cook until thoroughly heated and serve.
Here's some great ideas for your next spring party or meals for your family!
Starters, Appetizers & Snacks
Soups, Salads & Sandwiches
Main Dishes
Cakes
Cookies, Brownies & Dessert Bars
Sweet Treats
Drink Recipes
One of the best parts of #SundaySupper is our weekly Twitter chat. If you love food, you definitely want to join us! Just follow the hashtag #SundaySupper on Twitter this Sunday, April 21st at 7pm EST, and we'll be chatting about food and fun for baby showers, bridal showers, and parties!
Want even more #SundaySupper? Follow our #SundaySupper Pinterest board for recipes that are sure to impress!