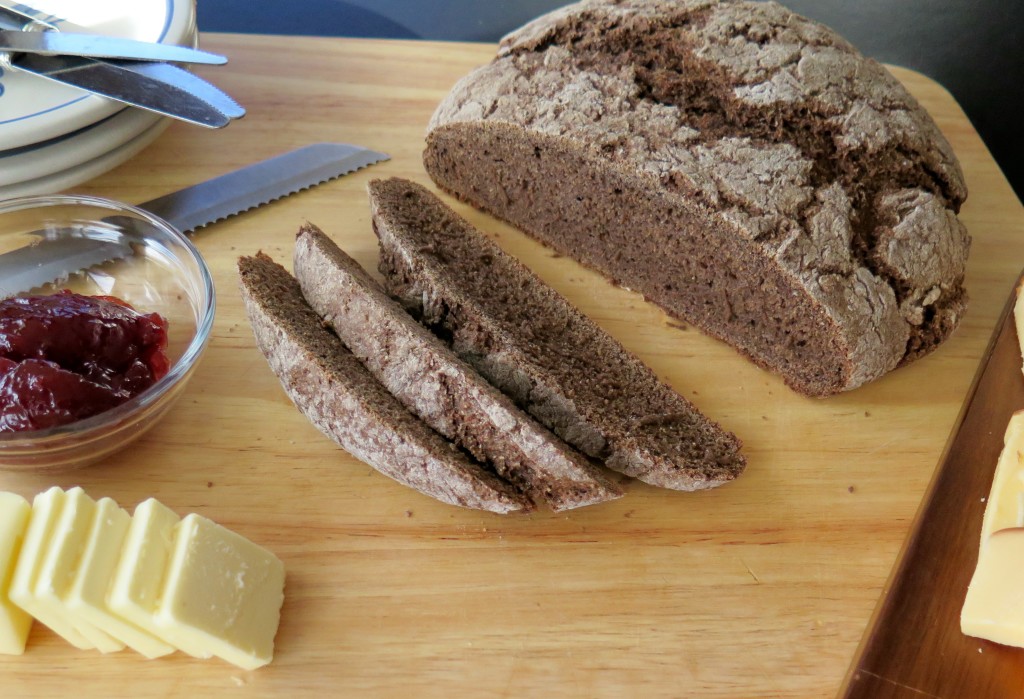 Artisan Dark Rye Bread tastes slightly chewy, a bit chocolaty and not too sweet.
When I joined Bread Bakers I was so excited to revive my bread baking skills. I used to bake a lot of bread back in the day, so to speak. We made rye using a fermented starter my mentor kept in the stock room. Every time we took some out, we fed it more rye flour. Our rye bread baking smelled so good. Apreciating the taste was something I had to develop. Rye was never one of my favorites as a kid.
Needless to say, after working in a bakery and deli I kind of got "used" to it.
I honestly never tried baking rye or sourdough rye at home.
Then came this challenge:
The theme for January is "Rye Breads." Since January is typically a month when everyone tries to eat healthier, Rye breads will offer a nutrient rich option. You could go with a 100 % rye bread or mix in other whole grains. However, no refined flour and no refined sugars.
Rye flour doesn't have the super stretchy gluten as in wheat flour. So I found an ingredient, vital wheat gluten that was supposed to help dense flours like rye by giving it a boost of gluten. I got the okay from our charming hostess, Anshie from Spice Roots to add some to my mix.
Thanks for hosting, Anshie!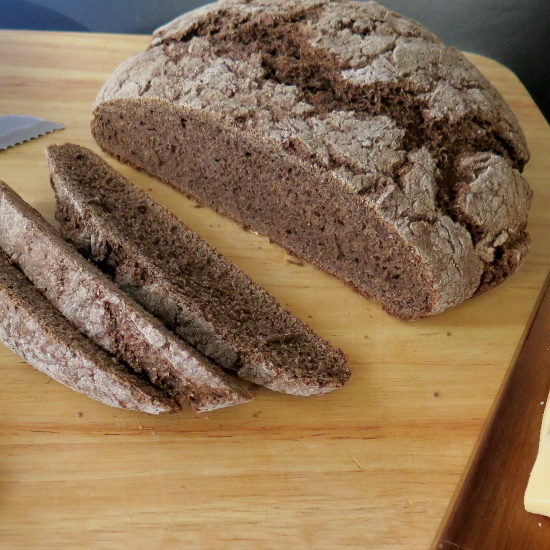 Artisan Dark Rye Bread
Ingredients
2 cups water divided
1 package dry active yeast
2½ Tablespoons molasses, divided
20 ounces rye flour (about 4 cups)
4 teaspoons vital wheat gluten
2 Tablespoons cocoa
2 teaspoons salt
Instructions
Dissolve ½ tablespoon molasses in ½ cup warm water (110 degrees). Sprinkle on yeast, stir. Cover and set in a warm place to bloom.
While yeast activates, whisk together rye flour, gluten, salt and cocoa.
Dissolve remaining molasses in 1½ cups warm (110 degrees) water. Add to flour mixture.
Mix in yeast mixture.
Knead only long enough to incorporate all ingredients. Place dough in oiled bowl. Cover with plastic wrap. This dough will be very sticky so do not cover directly with cloth.
Allow dough to rise until almost doubles in size.
Poke a few holes to release gases. Allow to rise again, about 1 hour.
Dust board with flour. Scrape dough onto board. Round into loaf and place on baking sheet.
Bake at 375 for about 30 minutes until loaf registers 200 degrees.
Cool on rack for several hours before wrapping. Wait at least 48 hours to slice.
Try all these great takes on rye bread from The Bread Bakers!
What is Bread Bakers? It's a group of bread loving bakers who get together once a month to bake bread with a common ingredient or theme. You can see all our of lovely bread by following our Bread Bakers Pinterest Board. Links are also updated after each event on the Bread Bakers home page.
How is the monthly theme determined? We take turns hosting each month and choosing the theme/ingredient.
Would you like to join in the fun? If you are a food blogger, send an email with your blog name and url to Stacy at foodlustpeoplelove@gmail.com.