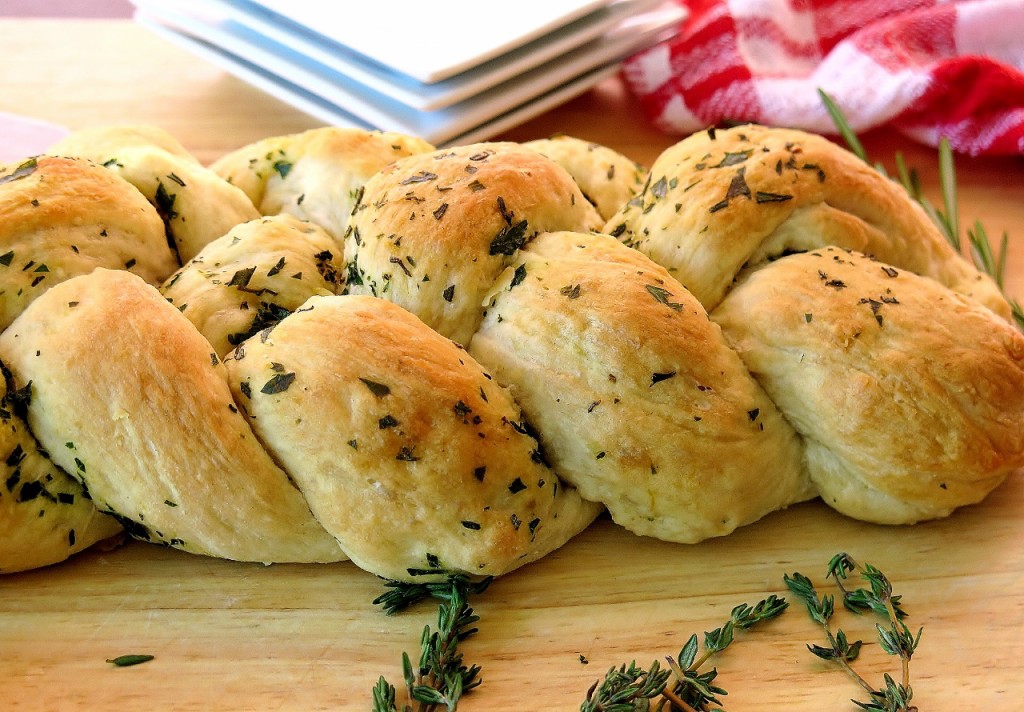 Artisan Herb Bread Braid. Wheat and barley flour laced with fresh parsley, thyme, rosemary, garlic and lemon zest.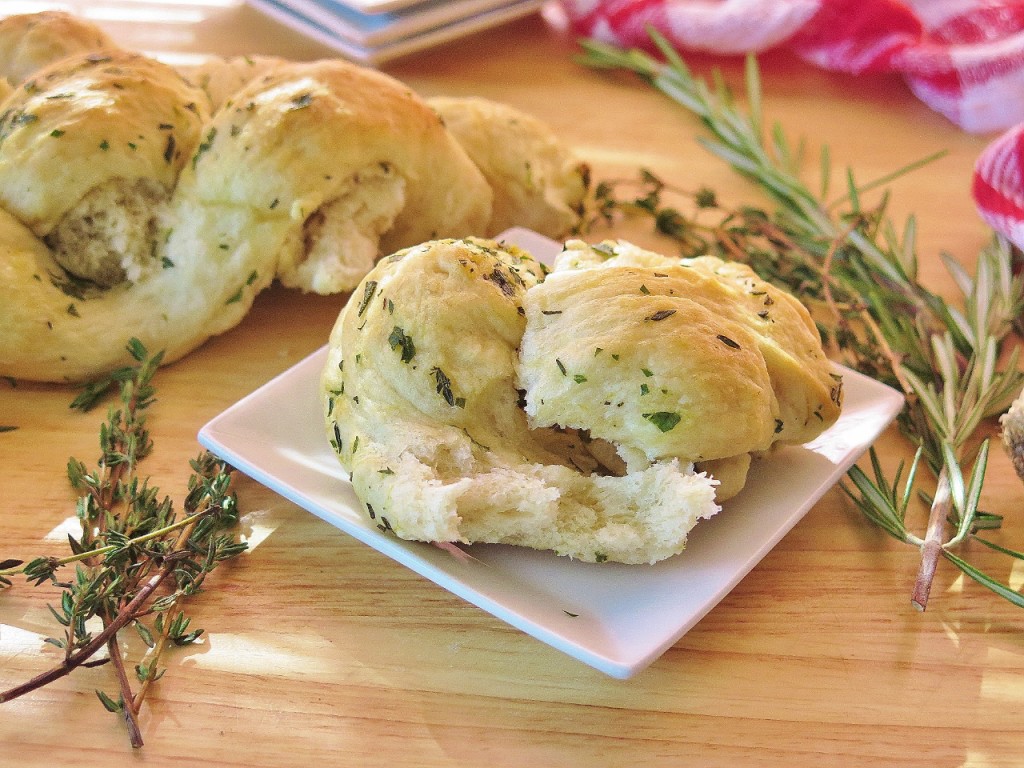 Welcome to another fun addition of Bread Bakers!
Everyone loves pretty braided bread.
You can intertwine ropes of dough to create a culinary showpiece!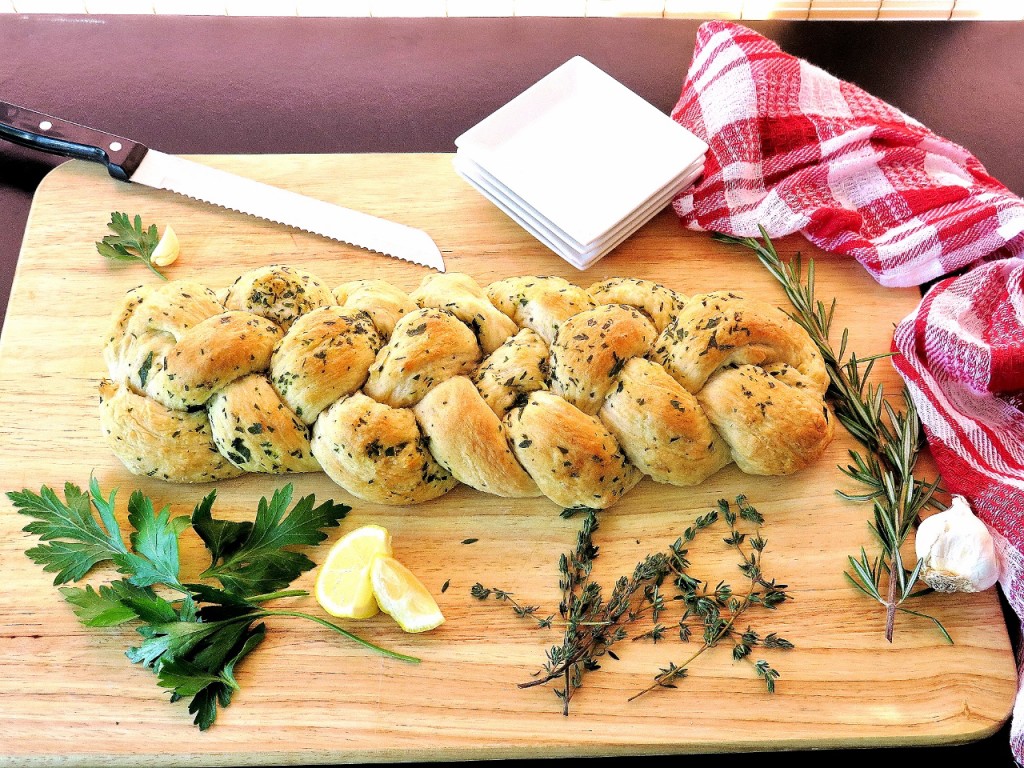 Strands of sweet dough can brushed with cocoa, cinnamon and sugar or fruit.
Savory bread can sport hot oils made from chilies, garlic butters and of course, herbs.
No special skills are required. If you can braid hair or rope, you can make braided bread. I like to use 4 strands for my loaf.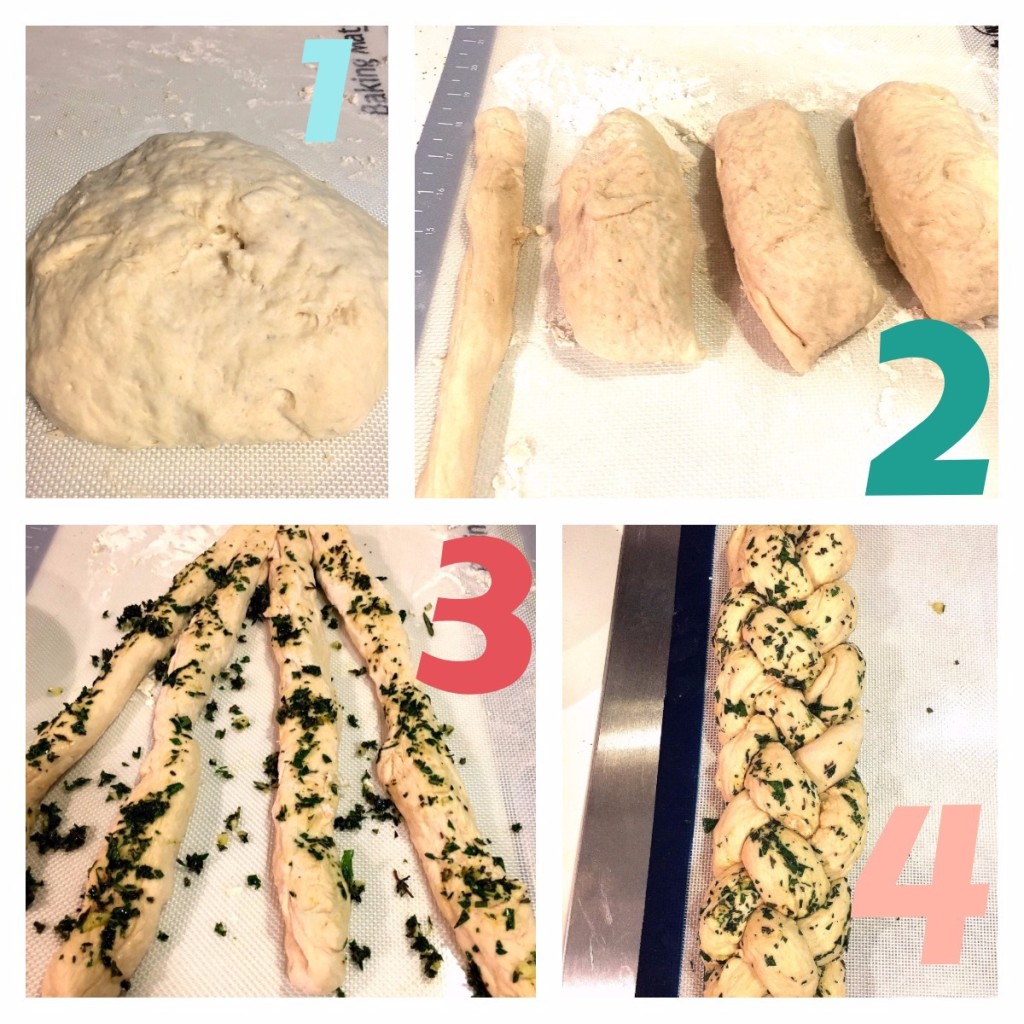 I start by dividing the dough into 4 equal pieces. Each piece gets hand rolled and stretched to about 18 inches in length.
It works best to pinch 4 ends together to form a base.
Start with the strand farthest to your right. Overlap the third strand.
Next, cross the second strand over what is now the third one. That is the beginning of a standard braid.
To incorporate number 4, the one on your far left, overlap it with what is now number 2 and continue braiding back and forth to the end. Pinch remaining tail ends together. Tuck pinched ends underneath.
Bake at for about 25 minutes until browned and hollow sounding when tapped.
Brush with oil about last 5 minutes of bake time or immediately after you take the braid out of the oven.
Cool on rack. Pull apart when almost cool or completely cooled.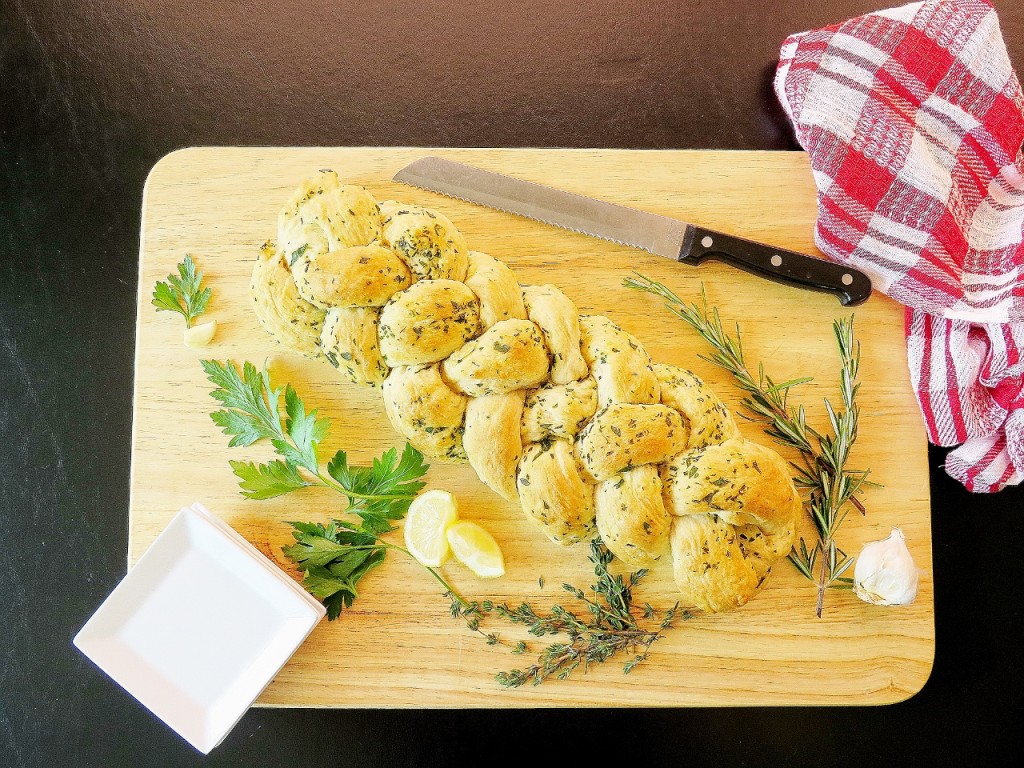 I prefer and use Bob's Red Mill Artisan Bread Flour and Red Star Premium Yeast. This is just a recommendation not a paid endorsement. All purpose flour and bread flour may be used. Any dry active yeast or instant yeast may be used according to their package directions.
Ingredients
1 packet dry activated yeast (1 1/4 teaspoons)(I use Red Star Premium)
1 cup warm water (110 to 120 degrees)
1 teaspoon sugar
12 ounces of flour (about 2 1/4 cups) flour plus 1/4 cup for dusting (I use Bob's Red Mill Artisan Bread Flour)
1/2 teaspoon salt
1/4 cup mixed herbs, chopped (I used parsley, rosemary, thyme, lemon zest and garlic)
1/4 cup olive oil, divided
Instructions
Mix herbs with 1 tablespoon oil, set aside.
Mix together 1/2 the flour, yeast, sugar, and salt.
Add warm water.
Add the rest of the flour to make a soft dough Knead until smooth.
Cover and let rest about 10 minutes.
Divide dough into 3 or 4 equal pieces about 18 inches long.
Pinch ends together on one end. Brush strands with herb mix.
Braid. Pinch remaining dough strand ends together and tuck under.
Cover and let rise until doubled in size.
Bake at 375 for about 25 minutes until brown and sound hollow when tapped.
Brush with remaining oil about 5 minutes before bread is completely baked or immediately from the oven.
Cool on a rack. Pull desired sections apart.
http://www.cindysrecipesandwritings.com/artisan-herb-bread-braid-breadbakers/

Food for Thought…What kind of fillings would you weave into your braided bread? I'd love to hear your ideas in a comment below!


This month's Bread Baker's theme is Braided Breads and is hosted by Gayathri Kumar of Gayathri's Cook Spot
Here is the collection of all the beautiful braided breads from our team!
#BreadBakers is a group of bread loving bakers who get together once a month to bake bread with a common ingredient or theme. You can see all our of lovely bread by following our Pinterest board right here. Links are also updated after each event on the #BreadBakers home page.
We take turns hosting each month and choosing the theme/ingredient. If you are a food blogger and would like to join us, just send Stacy an email with your blog URL to foodlustpeoplelove@gmail.com.