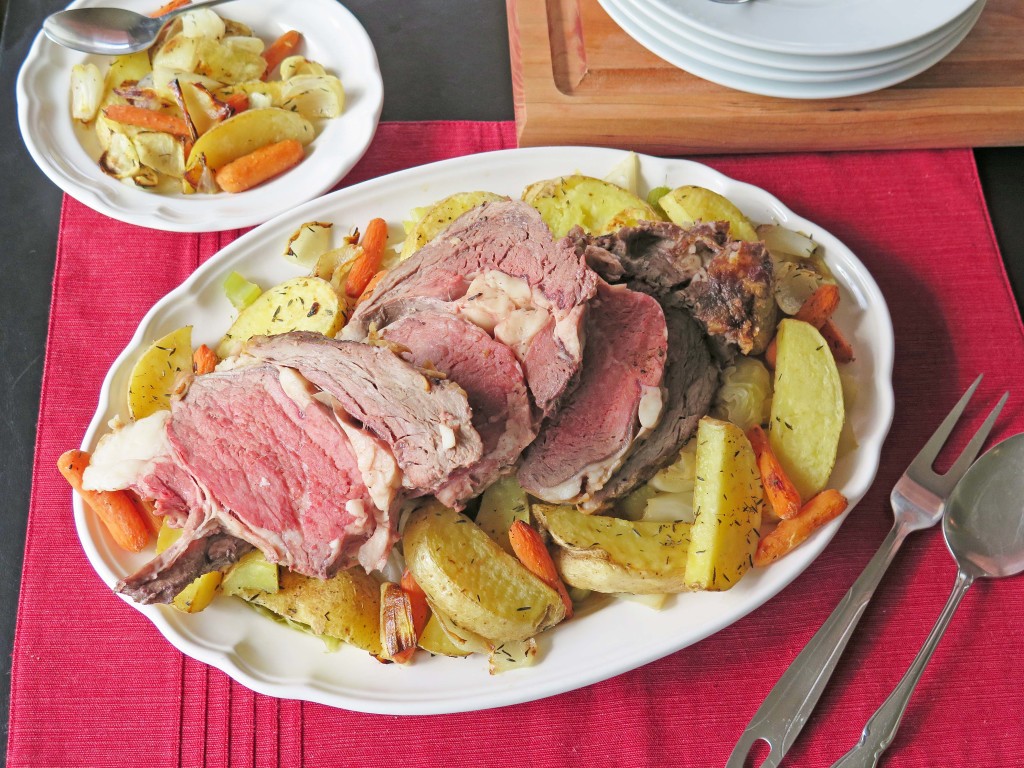 This post is sponsored by Certified Angus Beef ® brand in conjunction with a social media campaign through Sunday Supper LLC. All opinions are my own.
Seasonal Roasting with Certified Angus Beef ® brand

It's time to create your family's new holiday favorites. Add a pinch of love and a Certified Angus Beef ® brand roast for exceptional beef with extraordinary flavor! One bite and you'll be swooning over flavor – though we recommend additional bites for a more satisfying experience!
How many times have you thought about making a beef roast for the Holidays but changed your mind? I'm guilty of that too.
Did you feel intimidated? If you answered yes, you're in good company.
Recent research done by Certified Angus Beef ® brand found that Nearly 1 out of 4 consumers had NEVER cooked a beef roast!
So why aren't they roasting delicious Prime Rib or Ribeye Roasts?
Almost 20 percent say they don't know how, and more than 30 percent say they don't have time. Nearly two-thirds of people say they don't know which cuts of beef are best for roasting.
Certified Angus Beef ® brand listened.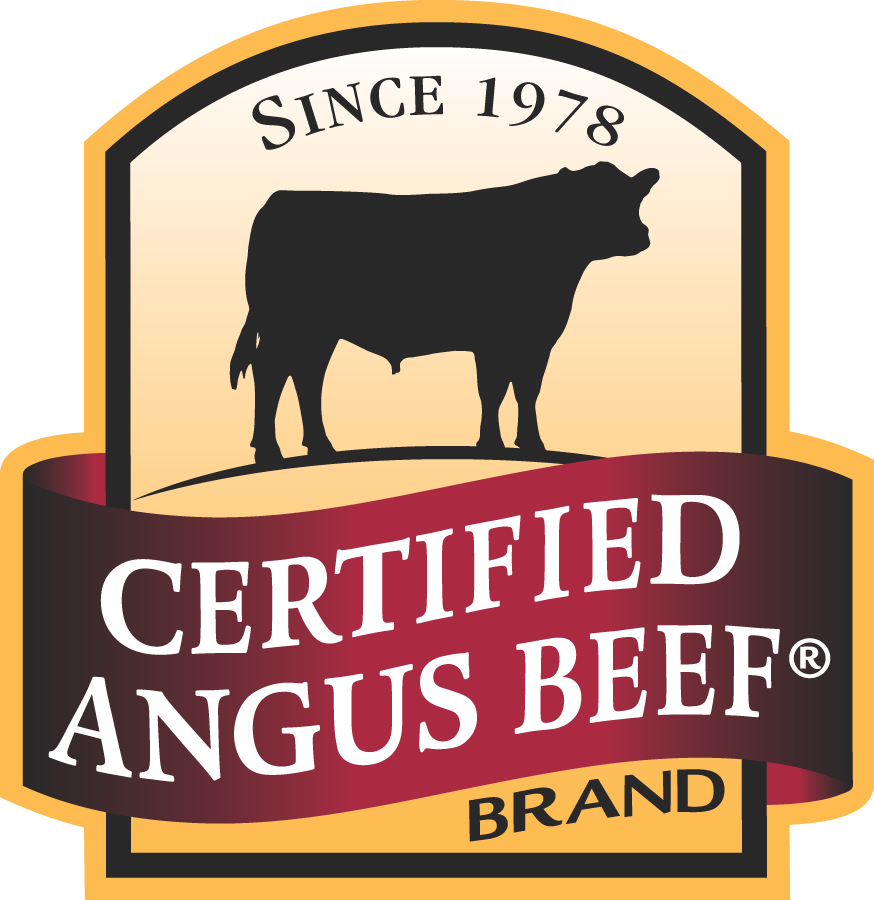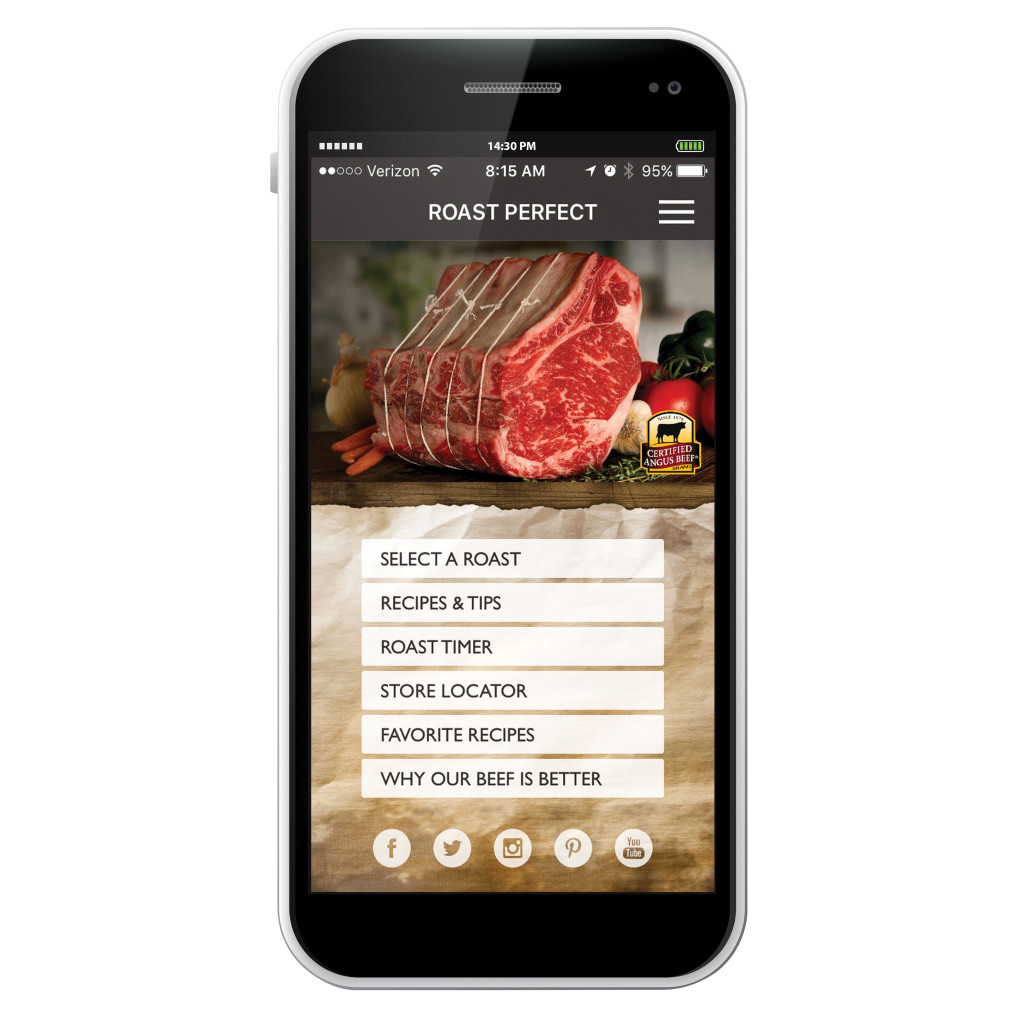 Their Roast Perfect app makes selecting, buying, cooking and serving beef roasts, so much easier. Roast Perfect gives suggestions on cut and size, calculates exact cooking times, provides tested recipes, educates consumers on how to work with their butcher, and identifies the locations where users can buy Certified Angus Beef ® brand.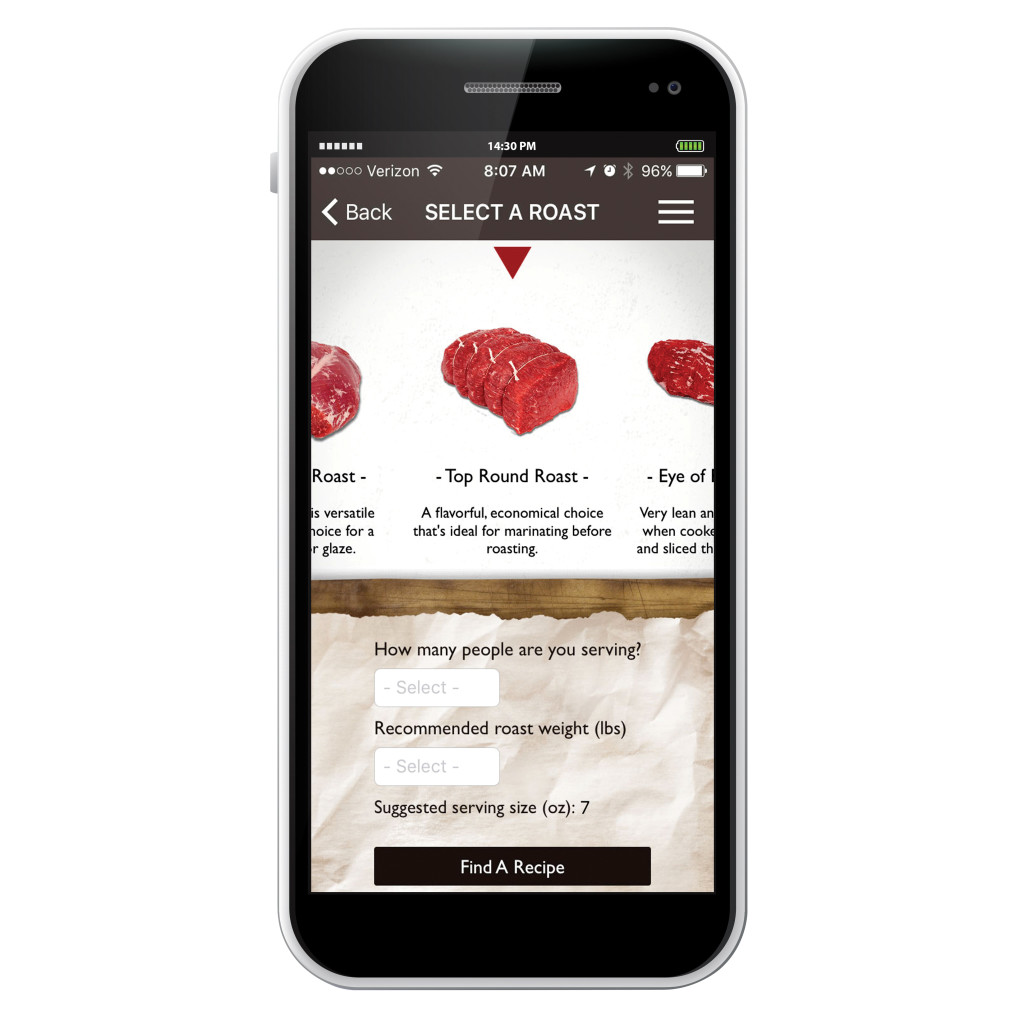 There is even a section devoted to Chef tested recipes including delicious sides. How cool is that?
The app connects directly to recipes on CertifiedAngusBeef.com .
Did I mention the Roast Perfect app is free?
I recently had the good fortune to try Roast Perfect app myself.
I admit I was a bit scared of ruining this sizable rib roast.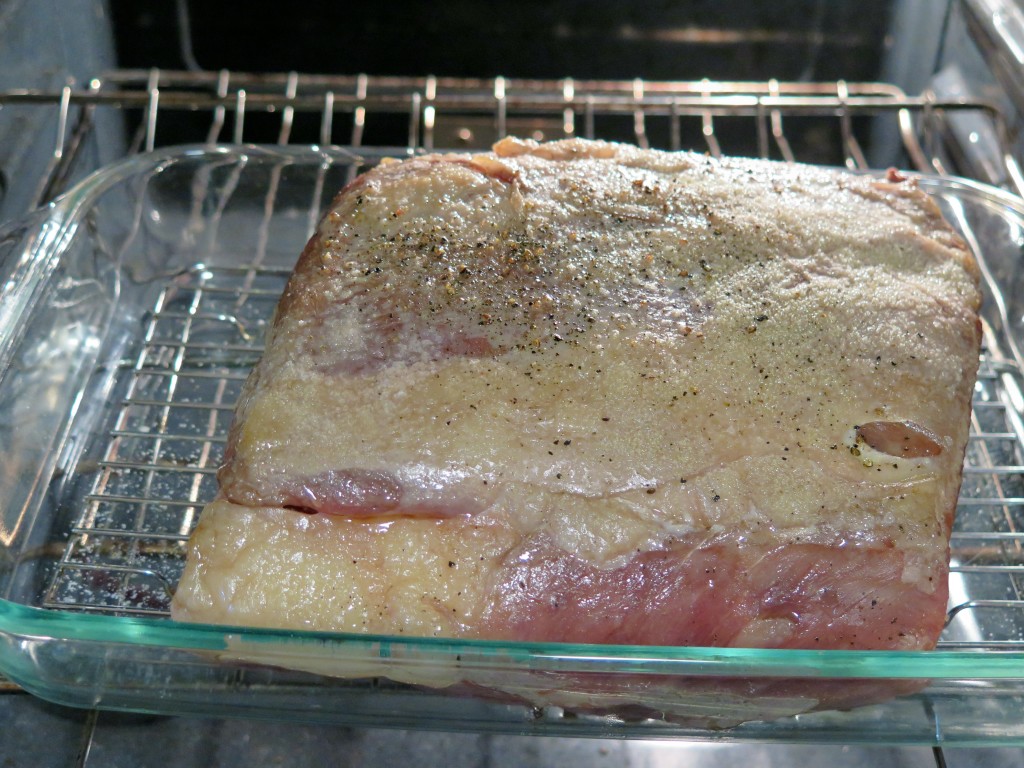 I wanted to make Roast Beef and Cabbage with roasted vegetables. Not the usual stew-type or pot roast meal. I like the idea of using cabbage as a base for the beef instead of noodles or rice.
That's where the how-to section of the app came in handy. I met Chef Michael at The Food and Conference this past July in Orlando. I learned a lot from his demo. His instructions are easy to follow.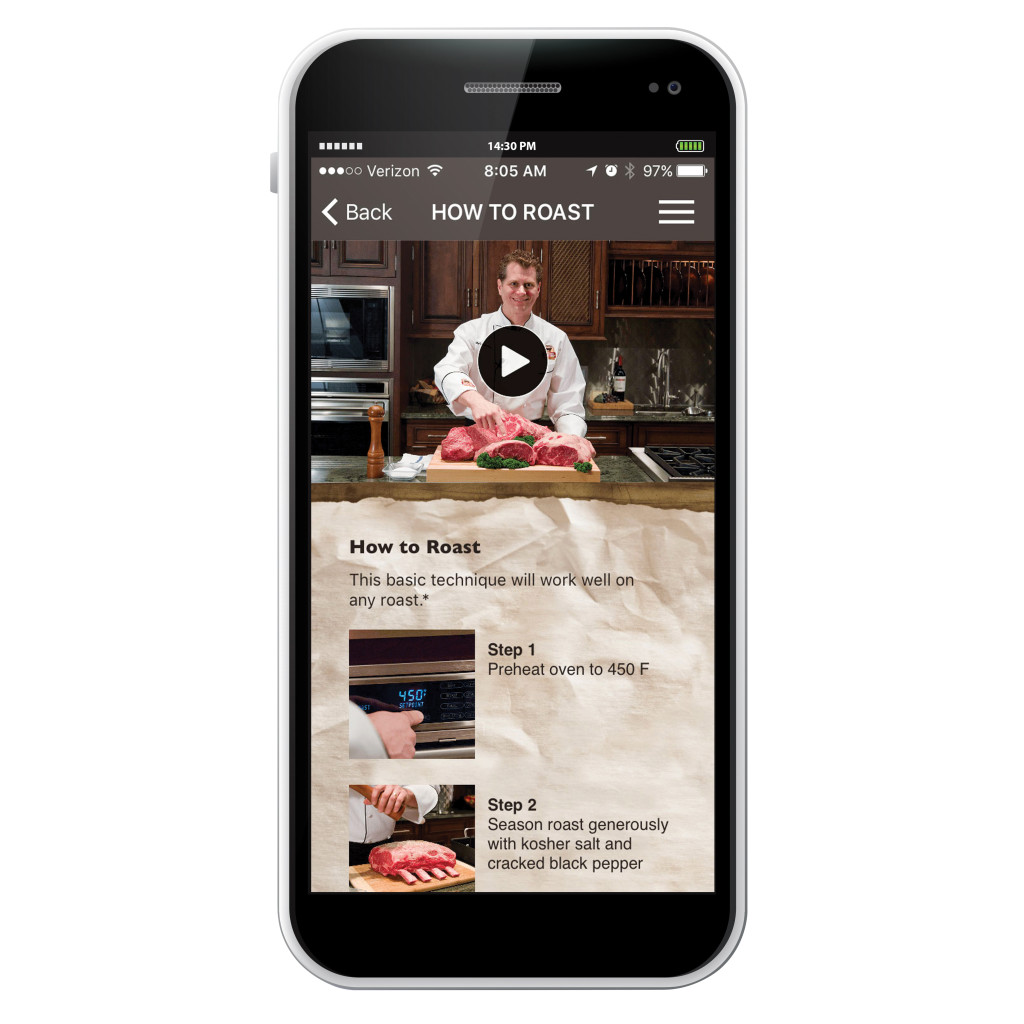 Chef Michael lays out the prep step by step. You'll find everything from start to finish. How to season the roast, how to prep the pan, when to sear, roast and rest the meat.
Always check your roast with a meat thermometer. I first check mine 20 to 30 minutes before the recommended time. Pull it from the oven 5 to 10 degrees before it reaches desired doneness.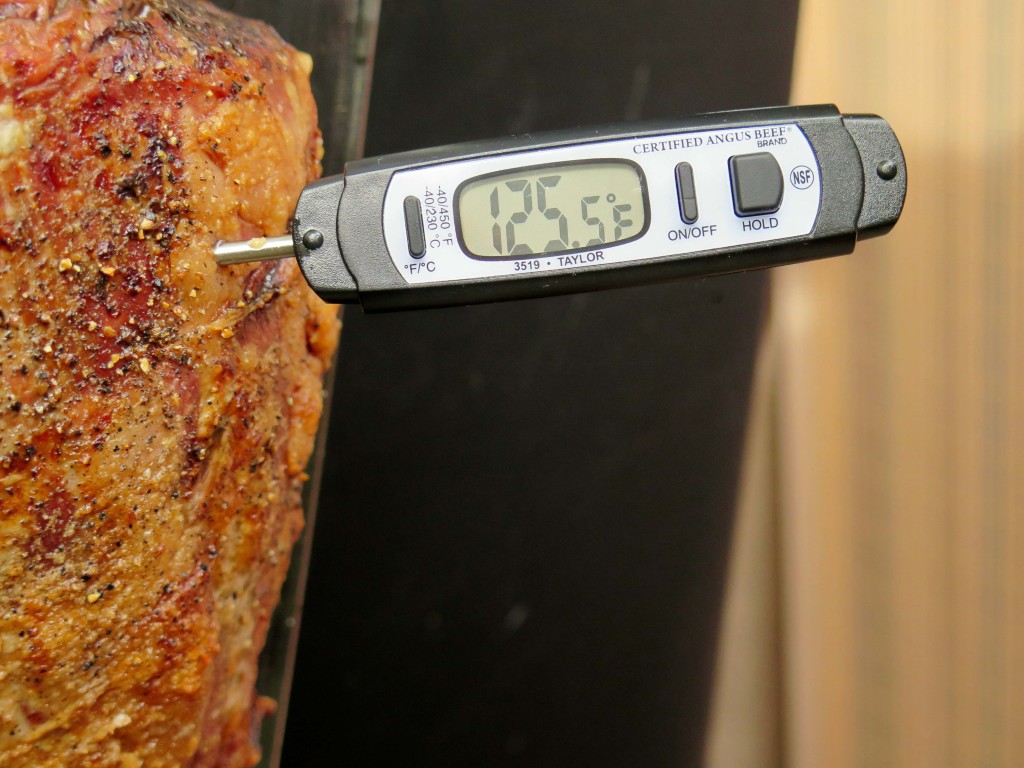 Rest the roast according to suggested minutes on the app. This one set for 15 minutes. I keep the thermometer in the roast while resting to keep an eye on the temperature.
I think this roast turned out beautifully! What do you think?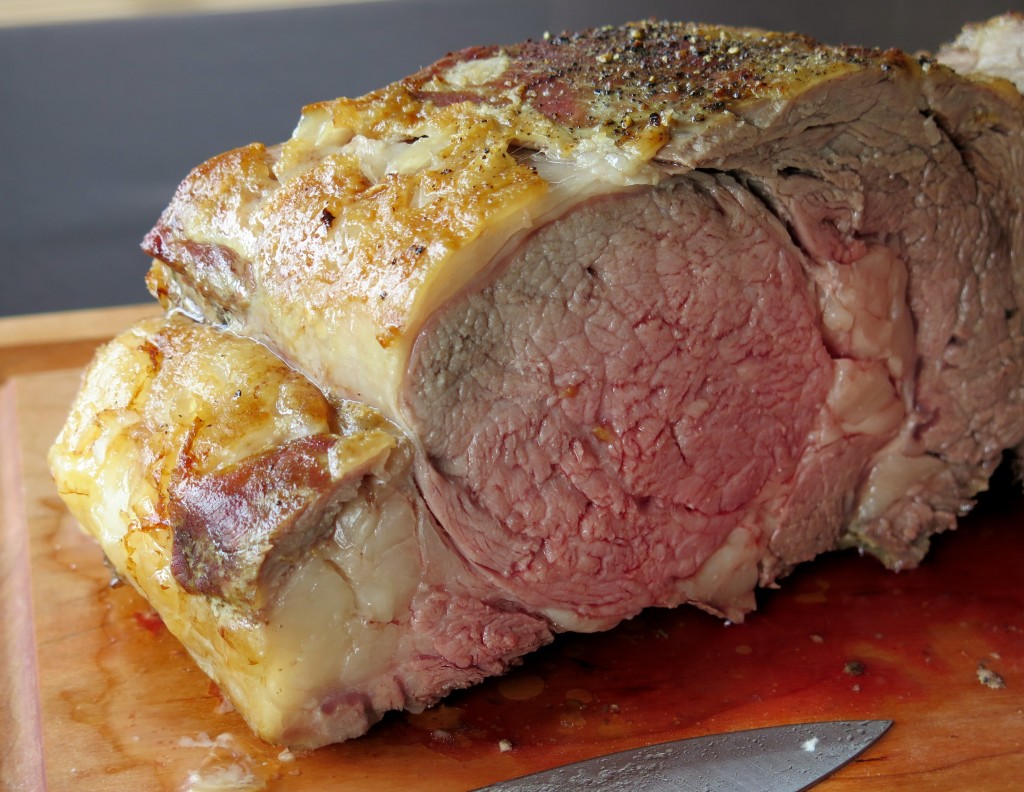 While the roast is cooking, prepare the vegetables.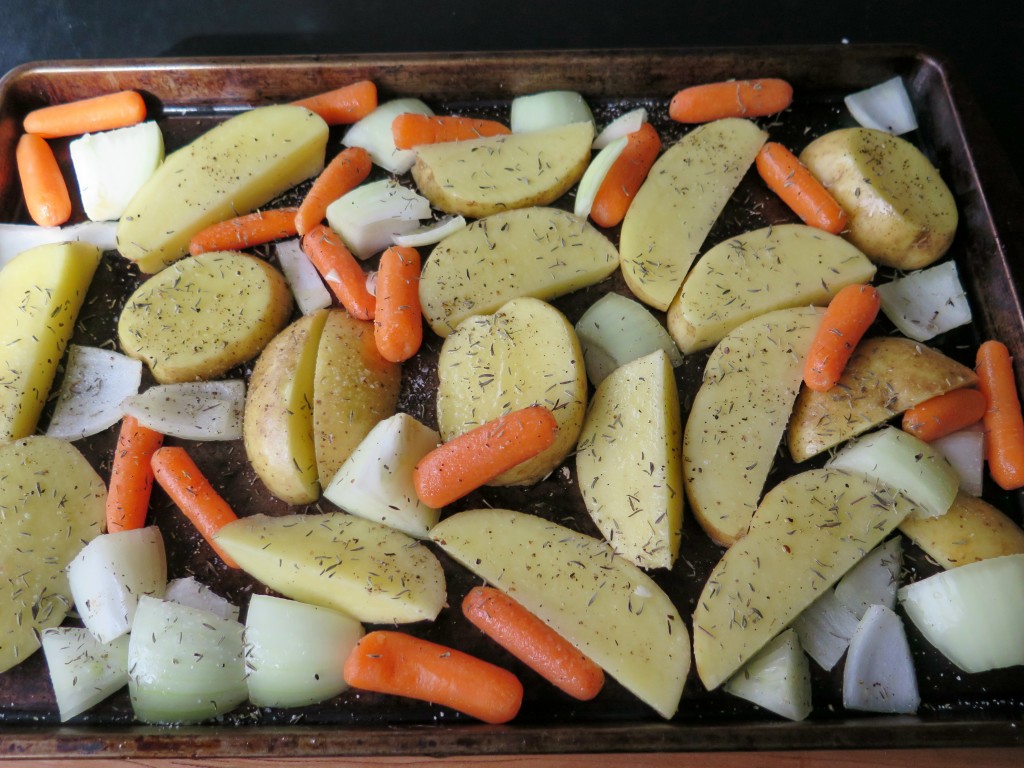 Braise the cabbage.


Layer the cabbage and surround it with the roasted vegetables.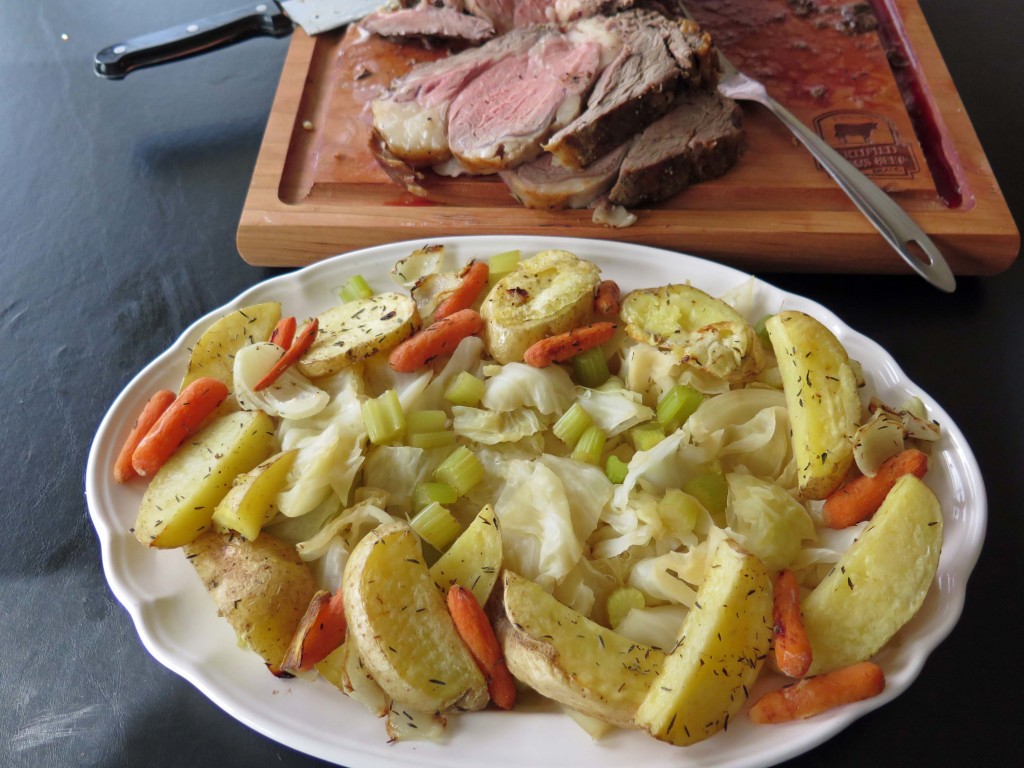 Gently lay the beef slices over the cabbage. All the beef juices blend into the cabbage while your other vegetables stay firm not soggy.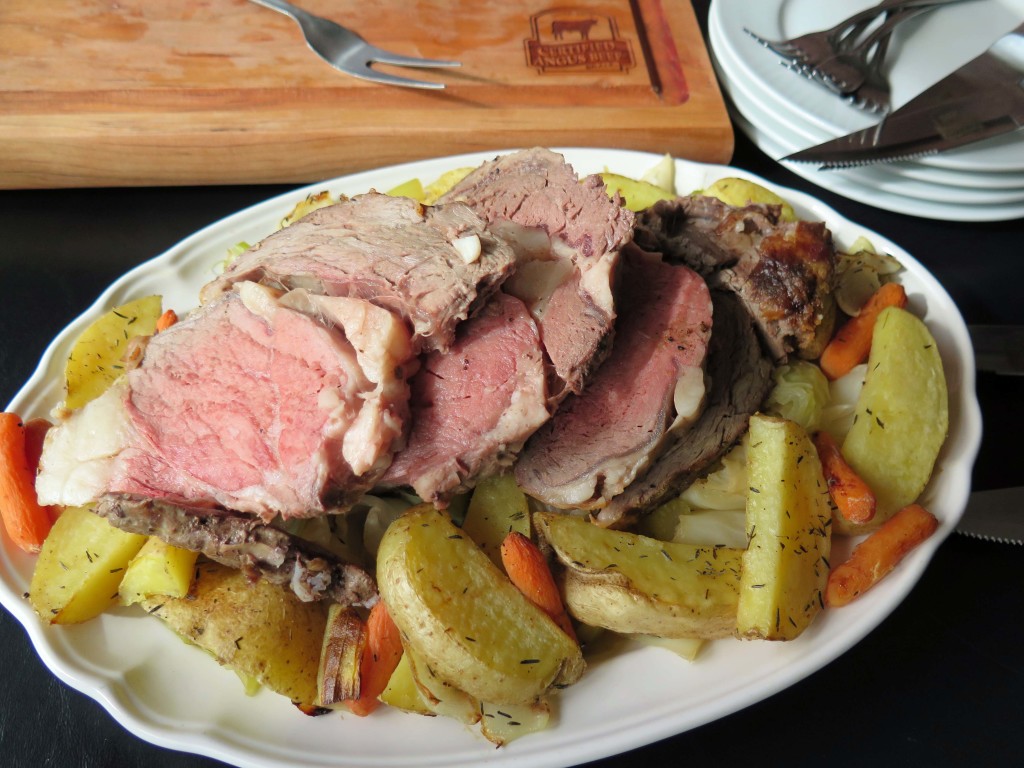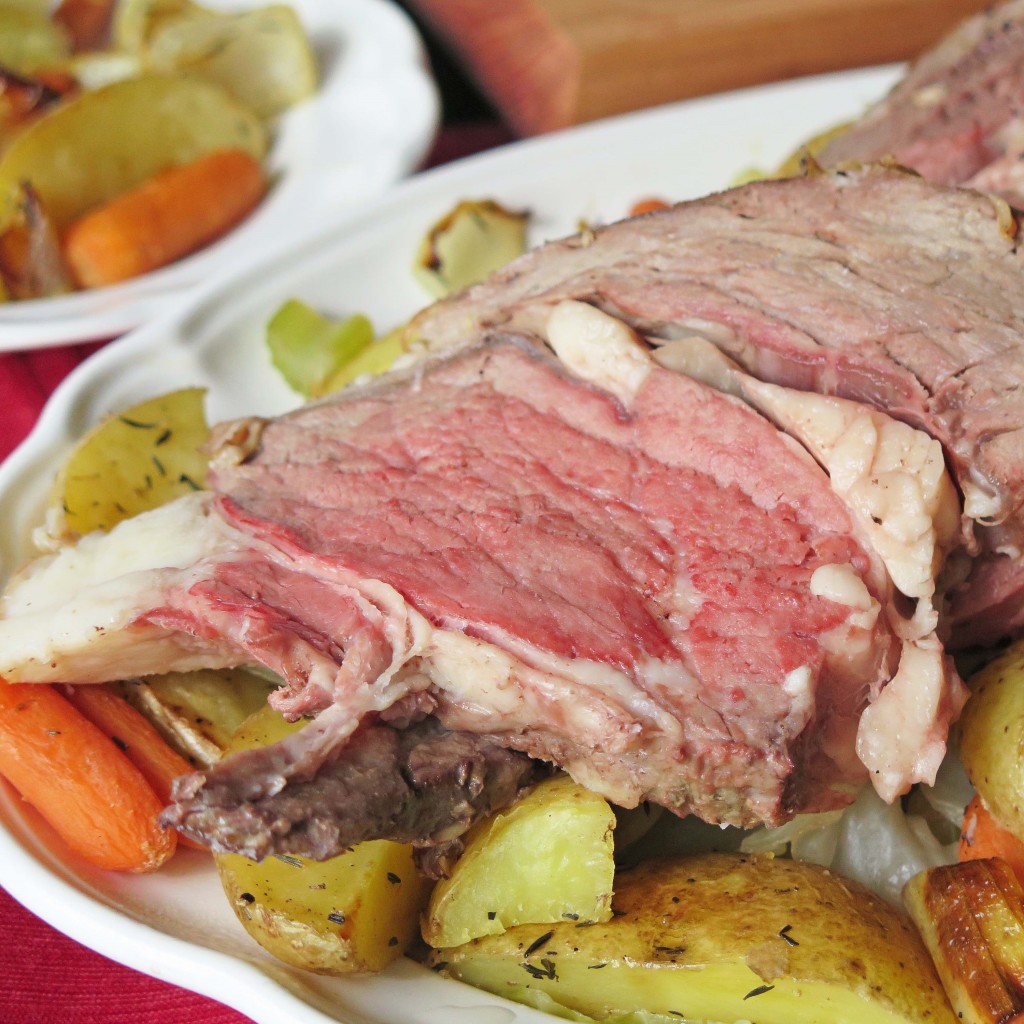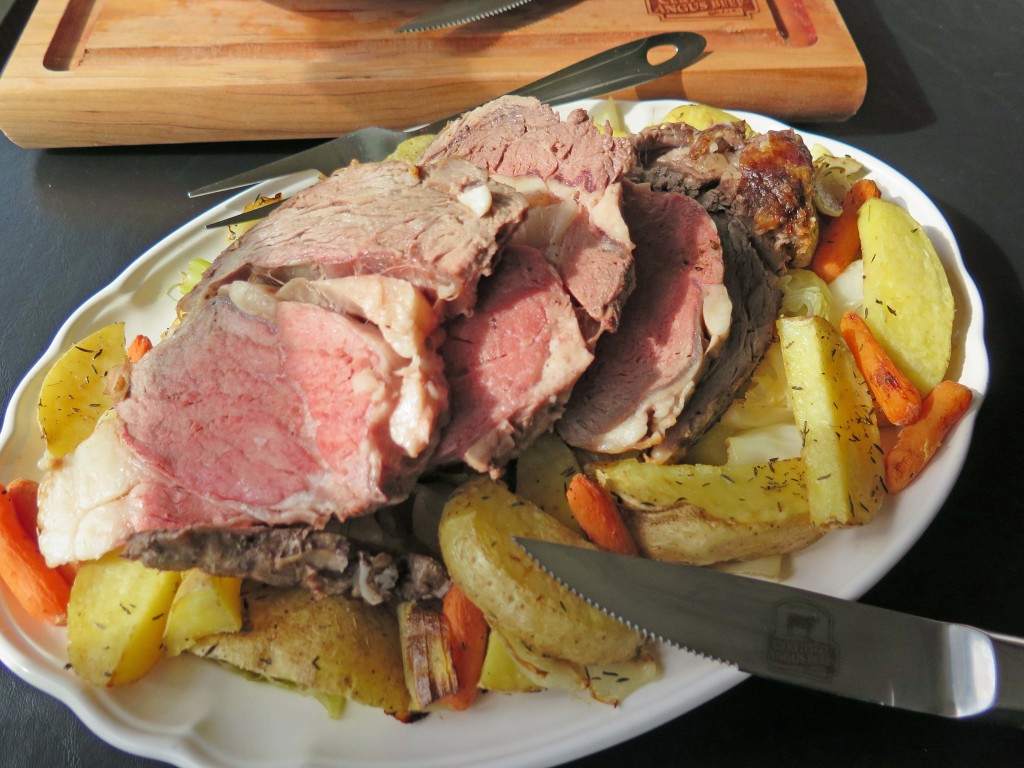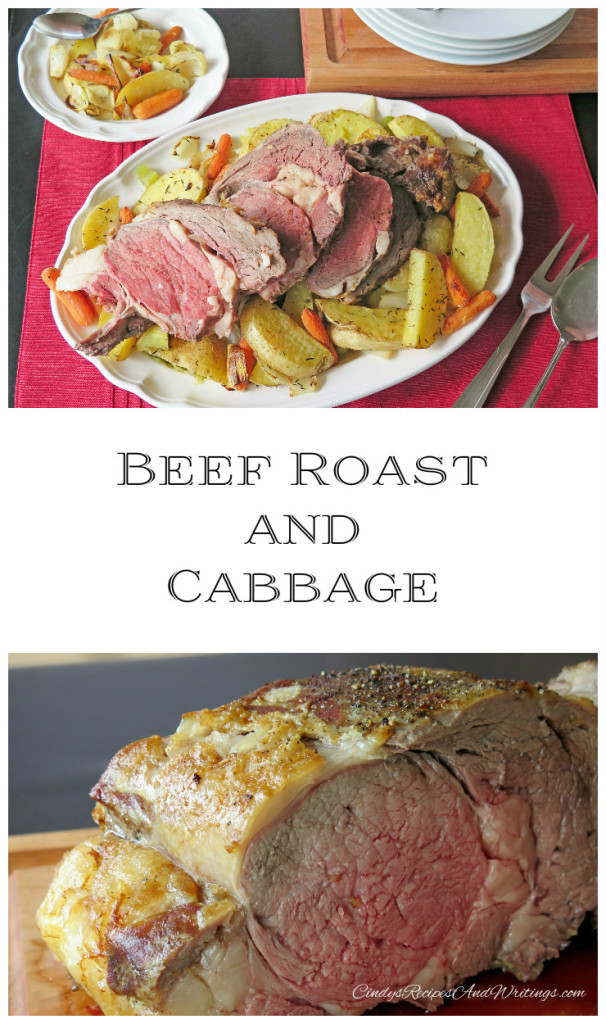 Beef Roast and Cabbage #RoastPerfect #SundaySupper
Ingredients
roast

1 (5 pound) Certified Angus Beef ® brand boneless Prime Rib Roast
2 to 3 Tablespoons olive oil
salt and pepper to taste

Braised cabbage

1 medium head of cabbage, chopped
1 cup celery, chopped
4 cups beef broth

roasted vegetables

4 large Yukon gold or white potatoes, skin on, sliced
2 cups baby carrots
1 large onion, chopped
1 Tablespoon olive oil
1 Tablespoon dried thyme
salt and pepper to taste
Instructions
Preheat oven to 450 degrees
Place Certified Angus Beef ® brand boneless Prime Rib Roast on a rack in a roast pan or baking dish.
Brush the roast with oil. Season with salt and pepper.
Sear roast for 15 minutes.
Turn down oven to 325. Cook roast until about 5 to 10 degrees below desired doneness according to an internal meat thermometer.
Remove, tent with foil and rest 15 minutes.

Roasted Vegetables:

Place potatoes, carrots, onions, thyme and oil into a plastic resealable bag. Shake to mix.
Lay vegetables in a single layer on a baking sheet. Bake while roast cooks for approximately 30 minutes until tender.

Braised Cabbage:

Bring broth, cabbage and celery to a boil. Reduce heat and simmer until tender.
Assemble:
Place braised cabbage on a serving platter.
Place vegetables around the rim of the platter.
Place Certified Angus Beef ® brand Roast beef slices over cabbage.
Serve.
Notes
You can place half of roast on platter and allow guests to slice beef as thick as desired.
http://www.cindysrecipesandwritings.com/beef-roast-and-cabbage-roastperfect-sundaysupper/
Follow the Roast Perfect Pinterest Board:https://www.pinterest.com/certangusbeef/roast-perfect/ for more great recipe ideas!
Find out more about Certified Angus Beef here:
Who we are: https://www.certifiedangusbeef.com/brand/
Beef cuts for Roasting: https://www.certifiedangusbeef.com/cuts/List.aspx?key=2&mp=
Roasting Instructions with Chef Michael:https://www.certifiedangusbeef.com/kitchen/cooking.php
What makes Certified Angus Beef ® brand different from other angus beef on the market?
The Certified Angus Beef ® brand supports local farmers and ranchers in small communities across the country. It has a tradition of excellence spanning nearly 40 years. The brand offers amazing flavor in every bite.
The Certified Angus Beef ® brand is the world's first brand of beef, established in 1978.
Premium Certified Angus Beef ® brand steaks, roasts, ground beef and deli meats are available around the world at only the best grocery stores and steakhouses.
The Certified Angus Beef ® brand is headquartered in the rural community of Wooster, Ohio.
The Certified Angus Beef ® brand is more selective than USDA Choice and Prime. Each cut must meet 10 exacting standards for quality. It's beef of unrivaled flavor, juiciness and tenderness.
The Certified Angus Beef ® brand is known for its marbling – the little white flecks of flavor that ensure the tastiest, most tender and juiciest cuts of beef.
Our family ranchers raise not just "Angus" beef, but the best Angus beef. Only 1 in 4 Angus cattle meet our high standards.
Not sure where to find Certified Angus Beef ® brand ? Find restaurants or grocers in your area: certifiedangusbeef.com/buy/
Connect with Certified Angus Beef ® brand through their website, blog and social media for the latest news and recipes!
Website: CertifiedAngusBeef.com
Blog: GoRare.com
Facebook: The Certified Angus Beef® brand
Twitter: CertAngusBeef
Instagram: CertifiedAngusBeef
Pinterest: CertAngusBeef
Periscope: CertAngusBeef
Roast Perfect App Recap!
Free in iTunes store (for iPhone and iPad) and Google Play (for Android)
Select the best roast for your meal – both special occasion/holiday roasts, and weeknight or Sunday suppers
Calculate portion sizes and how much to buy for your table
Learn how to prepare and serve the perfect roast
Video tutorials
Step-by-step tips
Recipes for delicious roasts and side dishes – chef-tested but easy to make at home
Interactive timer tells you exactly how long to roast to your desired doneness
Enjoy these terrific Certified Angus Beef ® brand Roast Perfect Sunday Supper recipes!
Holiday Roasts
Plus Selecting the Perfect Roast by Sunday Supper Movement
Join the #SundaySupper conversation on twitter on Sunday! We tweet throughout the day and share recipes from all over the world. Our weekly chat starts at 7:00 pm ET. Follow the #SundaySupper hashtag and remember to include it in your tweets to join in the chat. To get more great Sunday Supper Recipes, visit our website or check out our Pinterest board.
Would you like to join the Sunday Supper Movement? It's easy. You can sign up by clicking here: Sunday Supper Movement.