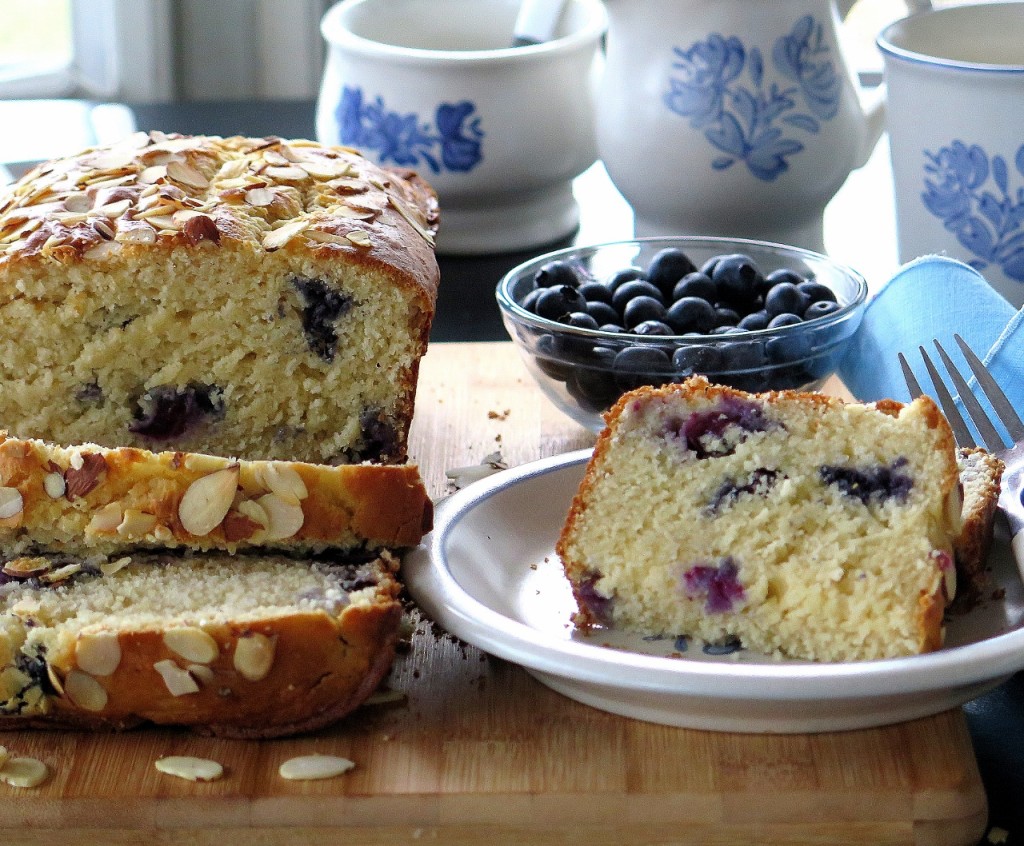 Blueberry Almond Bread delivers sweet blueberries and almonds three ways for almond lovers. Enjoy the boost of antioxidants, vitamin E, magnesium too!
Welcome to another edition of Bread Bakers. This month we are focusing on healthier breads.
January Challenge
Start the new year with a healthy bread. Bake any bread that you think is 'Healthy' — with or without yeast. Some ideas are 100% whole grains, without white sugar, could be gluten free etc etc.
Thanks Pavani from Cook's Hideout Cook's Hideout for hosting this event!
About #BreadBakers
#BreadBakers is a group of bread loving bakers who get together once a month to bake bread with a common ingredient or theme. Follow our Pinterest board right here. Links are also updated each month on this home page.
We take turns hosting each month and choosing the theme/ingredient.
If you are a food blogger and would like to join us, just send Stacy an email with your blog URL to foodlustpeoplelove@gmail.com.
I love baking with blueberries. Muffins, pancakes and even cookies taste great with that sweet, tart flavor.
Almonds are also a favorite of mine. I recently discovered by substituting almond flour for some of the all-purpose that you can add texture and more nutrition to your baked goods.
Almond flour is finely ground almonds high in fiber, vitamin E, magnesium and calcium. Add the antioxidant power of blueberries and you really kicked your quick bread up a notch, maybe two ;)!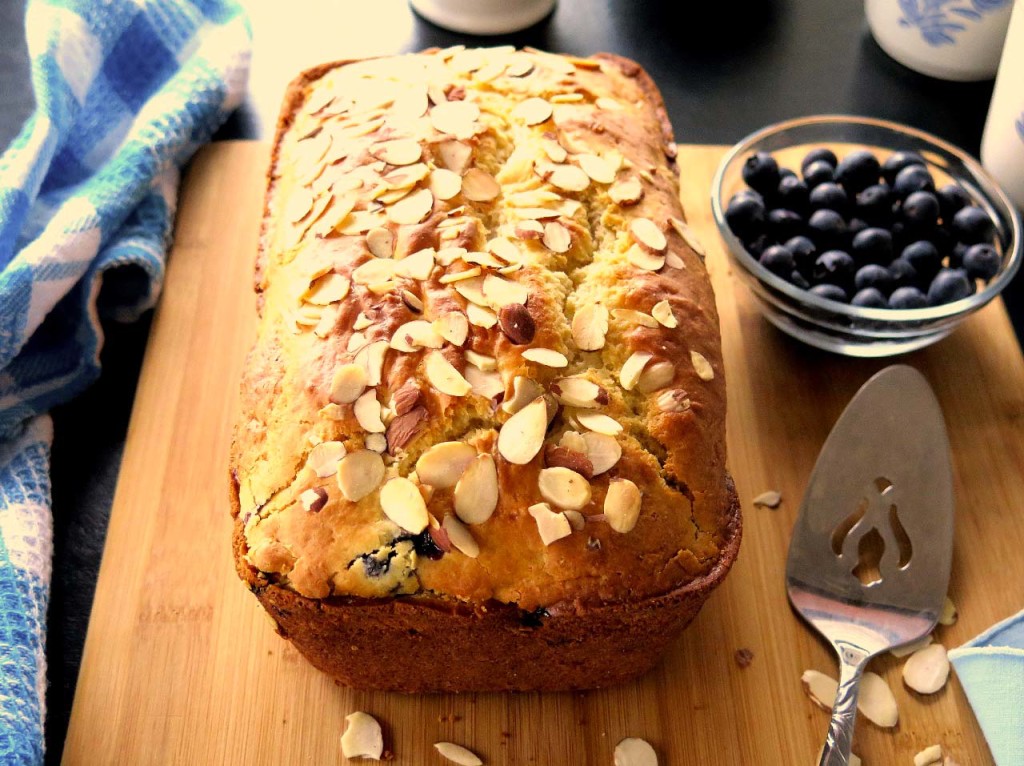 Not to mention a great almond taste! I use Bob's Red Mill almond flour. It blends wonderfully and doesn't clump.
Food for Thought…What healthier ingredients do you substitute in baked goods to add more nutrition? Fruit, nut flours and seeds are some of my favorites. I'd love to hear your ideas in a comment below!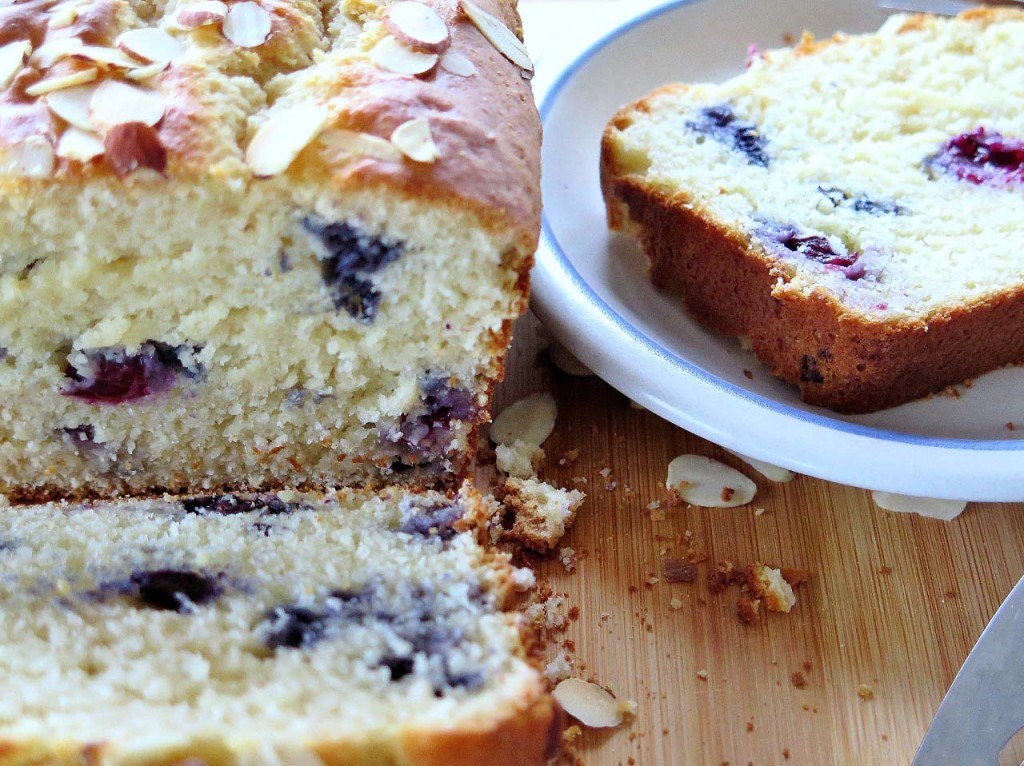 Blueberry Almond Bread #breadbakers
Ingredients
3/4 cup sugar or maple sugar
2 Tablespoons shortening
1 Tablespoon pure maple syrup, (I use Royal Crown)
1 eggs
1 1/2 cup milk
1 teaspoon almond extract
2 1/4 cups flour, divided
3/4 cup almond flour (I use Bob's Red Mill)
4 teaspoons baking powder
1 cup fresh blueberries
1/4 cup sliced almonds
Instructions
Toss blueberries in 1/4 cup flour. Set aside.
Cream together sugar and shortening.
In a separate bowl, whisk together egg, milk, syrup and almond extract.
In another bowl, add remaining 2 cups flour, almond flour, baking powder.
Alternate adding wet and dry ingredients to form a thick batter. Stir in blueberries and any remaining flour. Sprinkle with sliced almonds.
Pour batter into a well greased 5x9-inch loaf pan. Bake at 350 for 45 to 60 minutes until golden brown and inserted toothpick comes out clean.
Cool in pan on a rack for at least 30 minutes before removing from pan. Allow bread to cool completely before slicing.
http://www.cindysrecipesandwritings.com/blueberry-almond-bread-breadbakers/

Enjoy all these healthier breads for your new year from the #BreadBakers !