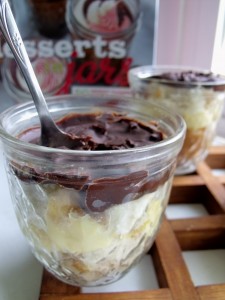 This week the Sunday Supper team is showing off their creativity with an Inspired by Desserts In Jars event. If you haven't heard of Shaina Olmanson before you are in for a treat.
Shaina recognized the versatility, beauty and easy transportation option of using canning jars. She created and showcased her cakes, pies, puddings and even frozen desserts in her easy to follow book.
When Isabel offered us a copy to get our creative juices flowing, I said,"Yes please!" The first thing that came to mind was a blueberry shortcake, but blueberries prices are a little high right now and we recently covered summer berries. Remember my Raspberry Mousse in Chocolate Cups ?
So while I waited for my book to arrive, I headed off the the flea market. I always find cool plates and cups there. Canning jars seemed to be in high demand this summer but I was lucky to find 3 little beauties. Perfect.
Now what to make, what to make.
I love the look of layers in a dessert so I opted for one of my favorite layered cakes. Boston Cream Pie.
Boston Cream Pie is actually a cake consisting of layers of yellow cake, cream filling and chocolate topping. I looked up why it is called "pie" and some sources say it was originally baked in pie pans and served as wedges. Now it is going to be served in a jar!
Boston Cream Pie Trifle
Cake
Ingredients
1 1/2 cups cake flour
1 cup sugar
2 tsp. baking powder
1/2 tsp. salt
1/3 cup soft shortening
2/3 cup milk
1 tsp.vanilla
1 egg
Grease and flour a 8 x 8-inch or 9 x 9-inch square pan.
Sift together flour, sugar, salt and baking powder.
Cream in the shortening.
Add 1/2 the milk and beat on medium speed about 2 minutes. Add the rest of the milk, vanilla and eggs and beat another 2 minutes or until batter is smooth and silky.
Bake at 350 until inserted toothpick comes out clean. Cool a bit in the pan before removing.
Filling
Ingredients
1/4 cup sugar
1 Tbsp. cornstarch
1/2 tsp. salt
1 cup cream or milk
4 egg yolks, slightly beaten
1 1/2 tsp. vanilla
Mix sugar, cornstarch, salt and cream together in a double boiler. Boil for about a minute. Remove from heat, let slightly cool.
Add a little of the cream mixture to the egg yolks to temper them before adding back to the filling.
Whisk in the rest of the eggs and vanilla. Return double boiler to the heat and boil until thickened. This filling will be thicker than pudding.
Ganache
Ingredients
1 cup heavy cream
16 oz. semi sweet chocolate chips
Make this ganache right before you're ready to put the dessert together. Bring the cream to a boil in a double boiler and cook until thickened. Pour over chocolate chips and whisk until smooth.
Here comes the fun part!
Cut the cake into 1-inch pieces. Layer cake pieces, filling, more cake, and top with the ganache and and you are ready to go!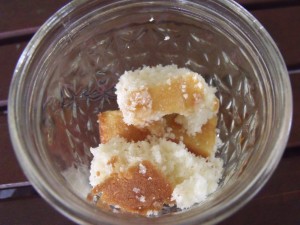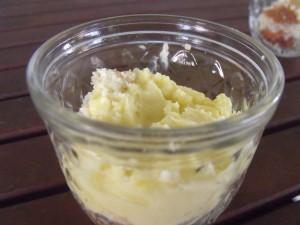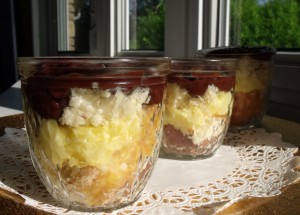 Want to get in on the fun?
I'm also giving away a copy of Desserts in Jars to one lucky reader! All you need to do is join us during chat via twitter and come back here and enter the drawing through the Rafflecopter below! Once you enter, there are additional chances to win!
Wait there's more!
Our friends at Harvard Common Press are giving away a ticket to the Food and Wine Conference and a 2 night stay during the conference at the beautiful Rosen Shingle Creek! Everyone that joins the chat will be entered to win!
You also have the option to purchase a copy of Desserts In Jars from Amazon HERE !
Here are more great ideas for Desserts In Jars from the Sunday Supper team.
Sunday Supper Desserts In Jars:
Join the #SundaySupper conversation on twitter each Sunday. We tweet throughout the day and share recipes from all over the world. Our weekly chat starts at 7:00 pm ET and you do not want to miss out on the fun. Follow the #SundaySupper hashtag and remember to include it in your tweets to join in the chat. Check out our #SundaySupper Pinterest board for more fabulous recipes and food photos.
a Rafflecopter giveaway
I received no compensation for promoting this giveaway. The conference ticket and hotel stay giveaway is made possible by Harvard Commons Press . I did receive a Desserts in Jars cookbook to participate in the 6/23 Sunday Supper Inspired by Desserts in Jars event and the opportunity to give a copy away to one lucky reader.