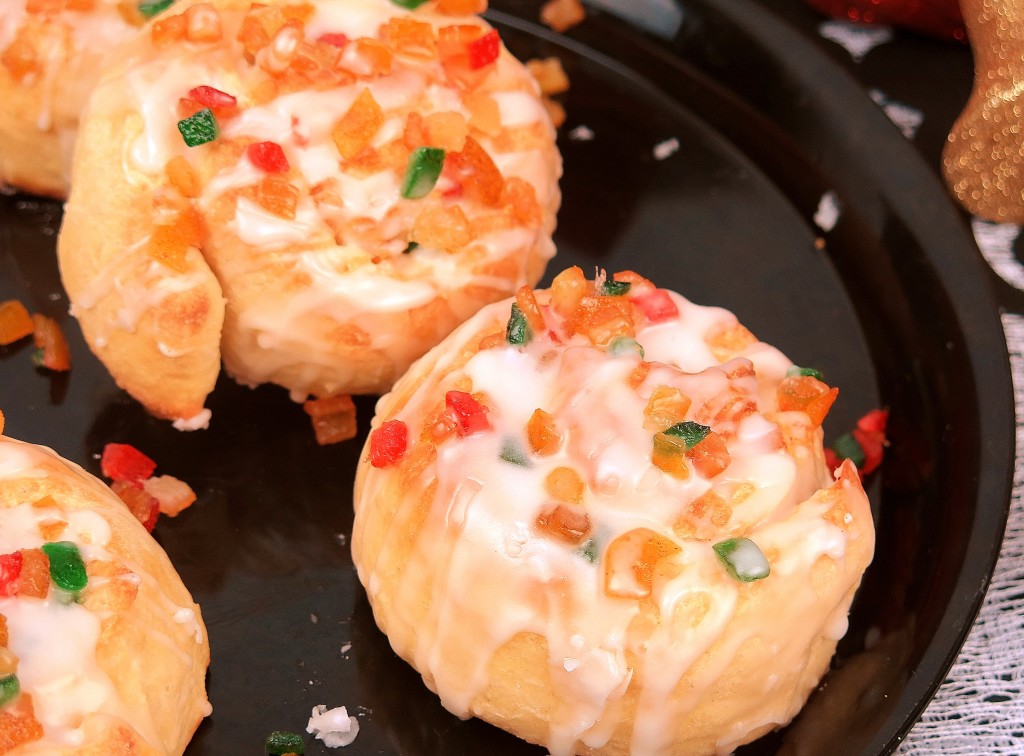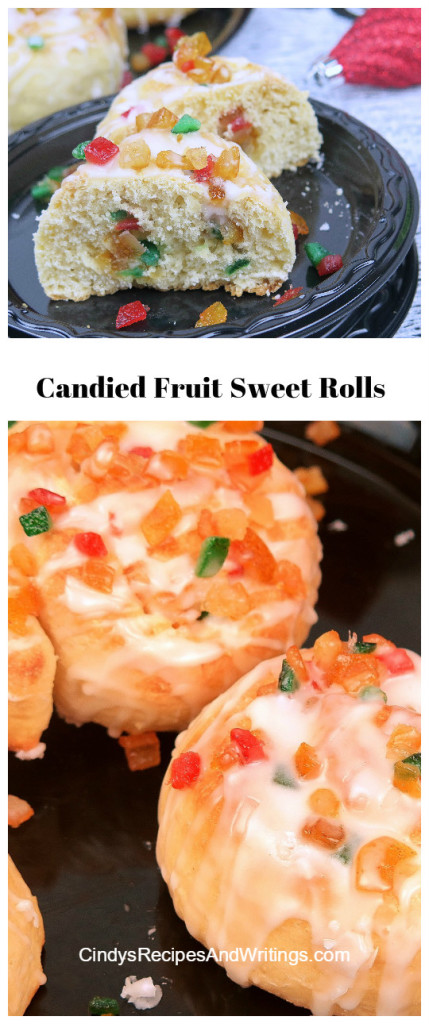 Candied Fruit Sweet Rolls dotted with specks of yellow, red and green fruit and drizzled in icing. Just in time for your holiday table.
The December Challenge: Make a YEAST bread for this month's Bread Bakers that is SWEETENED and appropriate for Christmas or whichever holiday you celebrate this time of year!
#BreadBakers is a group of bread loving bakers who get together once a month to bake bread with a common ingredient or theme. Follow our Pinterest board right here. Links are also updated each month on this home page.
We take turns hosting each month and choosing the theme/ingredient.
I love the little bits of color in these rolls. It reminds me of a string of christmas lights hanging on a tree.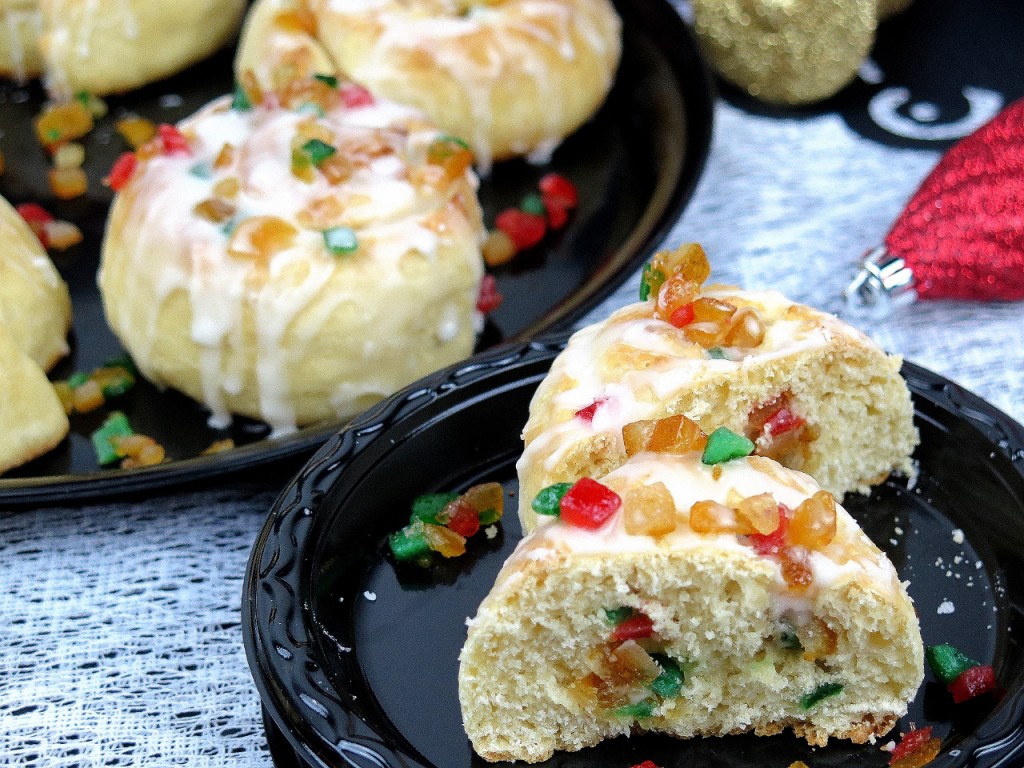 Bright lights and colored lights seem to do more than, "Make the season bright." I get a warm feeling when I see a scene lit in a soft glow of tiny bulbs as points of light.
As bakers we are all over adding reds, yellows and greens and blues to cookies, cakes and desserts.
Colored sugar sprinkles, jimmies and even gold and silver flecks and icings decorate our goodies.
So for today's holiday inspired yeast bread I give you Candied Fruit Sweet Rolls.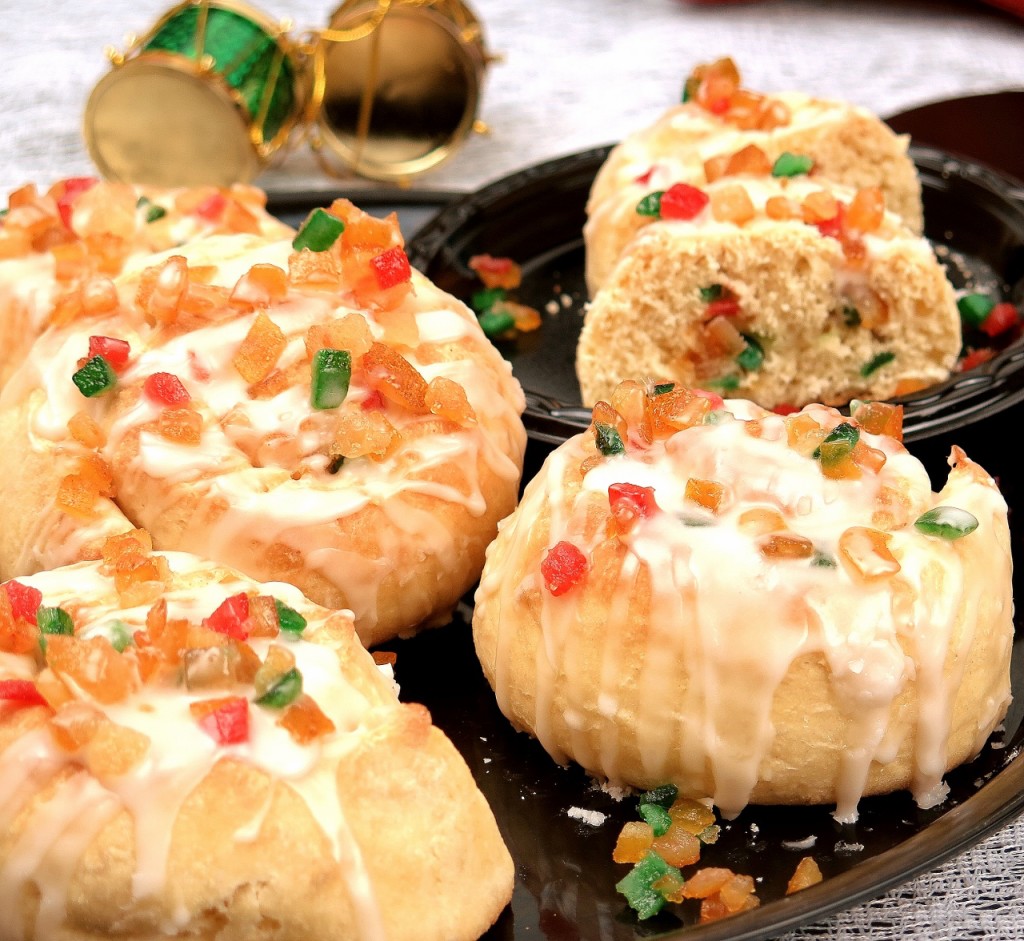 Candied Fruit Sweet Rolls #BreadBakers
Ingredients
dough

1 pack Red Star Yeast or quick rise yeast
2 Tablespoons sugar
1 teaspoon salt
1/2 cup milk 120 degrees (110 degrees for dry active yeast)
1 egg
2 Tablespoons butter, melted and cooled
2 1/4 cups flour
1/2 cup to 3/4 cup candied dried fruit

glaze

1 cup Dixie Crystals powdered sugar
1/4 cup water
1/2 teaspoon vanilla
Instructions
Mix together 1 pack Red Star Yeast, 2 Tablespoons Dixie Crystals sugar 1 teaspoon salt and 1 1/4 cups of the flour.
Mix in milk, butter and egg.
knead in the rest of the flour.
Roll into a ball, cover and place in a warm spot for 10 minutes.
When dough sat for 10 minutes, roll into a rectangle.
Sprinkle on dried fruit. Roll tightly and cut into 8 pieces. Place pieces into a buttered 9x13 inch baking dish. Place in a warm spot and allow to double in size.
Bake at 375 for about 20 minutes until dough is flaky and browned on bottom. Cool on rack.
Mix together powdered sugar, water, and vanilla
Drizzle over cooled buns.
http://www.cindysrecipesandwritings.com/candied-fruit-sweet-rolls-breadbakers/
Thank you Stacy from  Food Lust People Love at http://www.foodlustpeoplelove.com/
for hosting our event!
Enjoy all these delicious sweet yeast holiday inspired breads from the Bread Bakers!