Compensation was provided by Gallo Family Vineyards via Sunday Supper, LLC. The opinions expressed herein are those of the author, and are not indicative of the opinions or positions of Gallo Family Vineyards.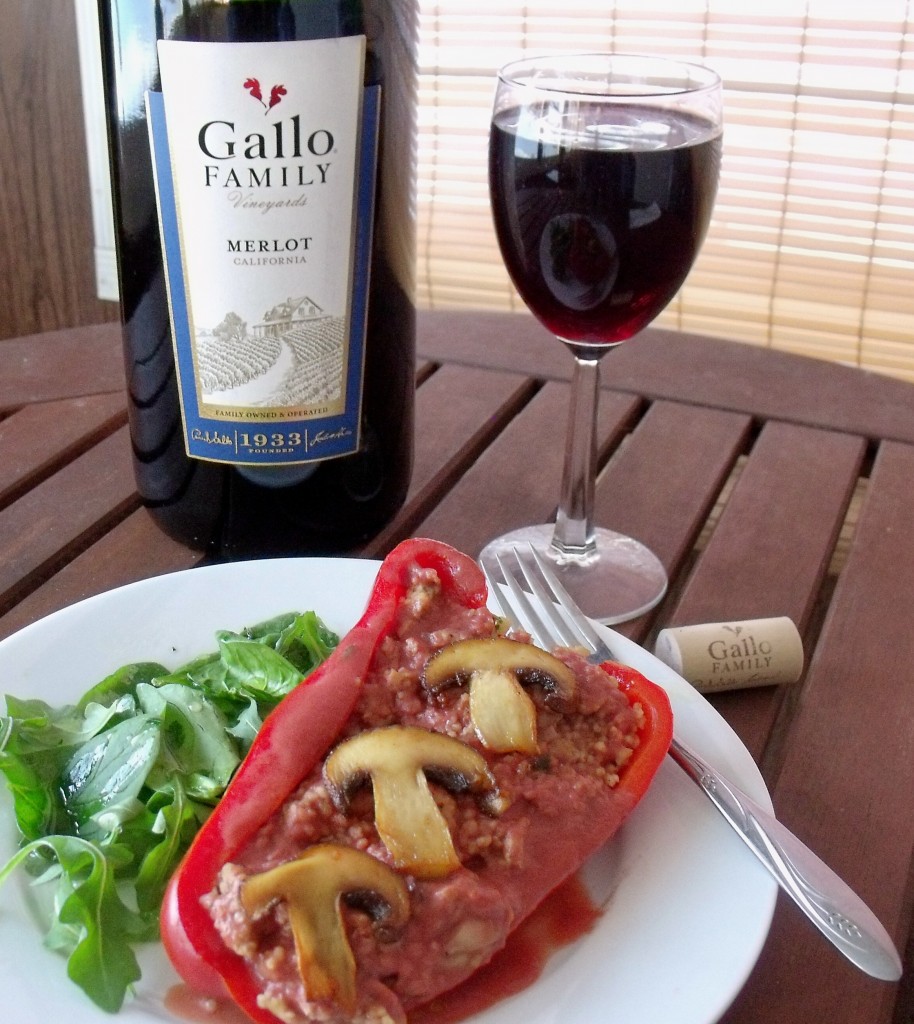 They say, "Every picture tells a story." I'll take it one step farther and say as a food blogger, the best recipes have a story behind them.
Connecting with people through food has always been a passion of mine. As a Master Gardener I taught kids where their food comes from through hand-on activities. Adults at a local adult daycare center, where I started a patio garden, shared their love of food through stories of beautiful gardens they had and delicious recipes they made for their families. We strived to let them recreate some of those memories.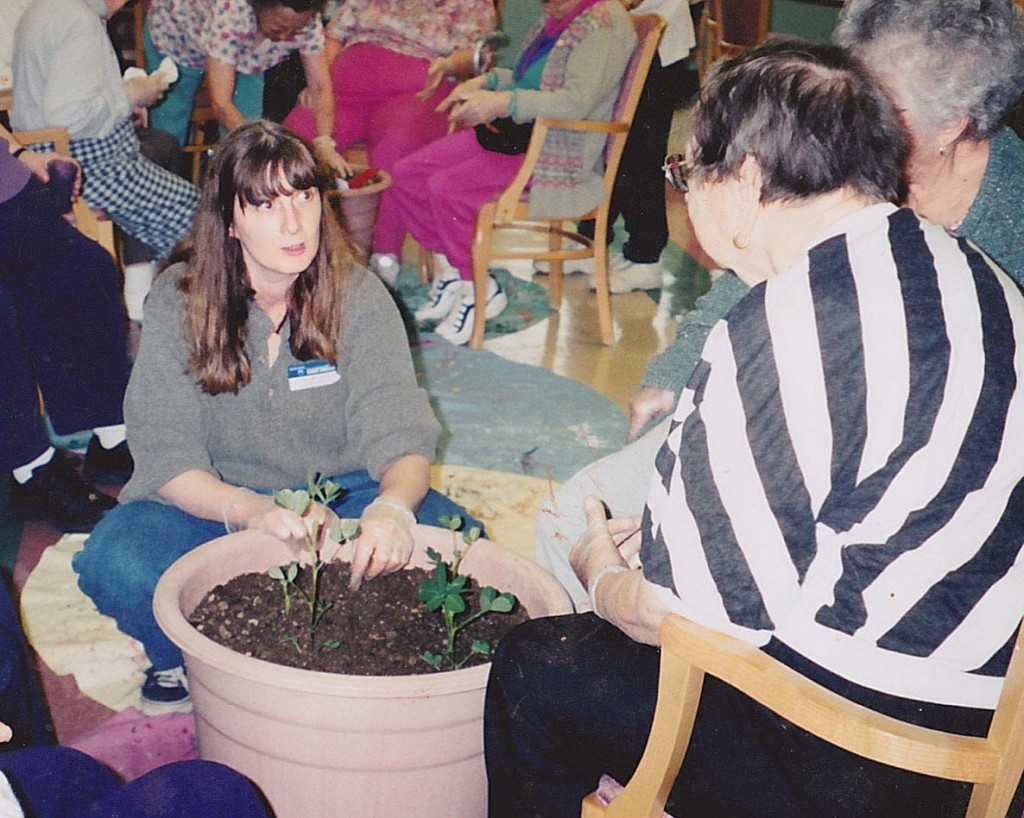 It has only been the past two years that I've blogged about food and cooking. Sharing myself through this outlet has led me to meet so many wonderful friends. I feel like we are all part of a family.
It was so nice of Gallo Family Vineyards to extend a warm, "Welcome to the family!" to me in their letter. It meant a lot coming from a wonderful family-oriented company like Gallo.
The letter included an invitation to this March 23rd Sunday Supper and Gallo Family Vineyards event.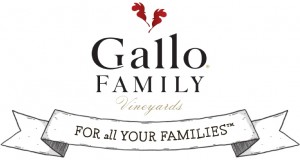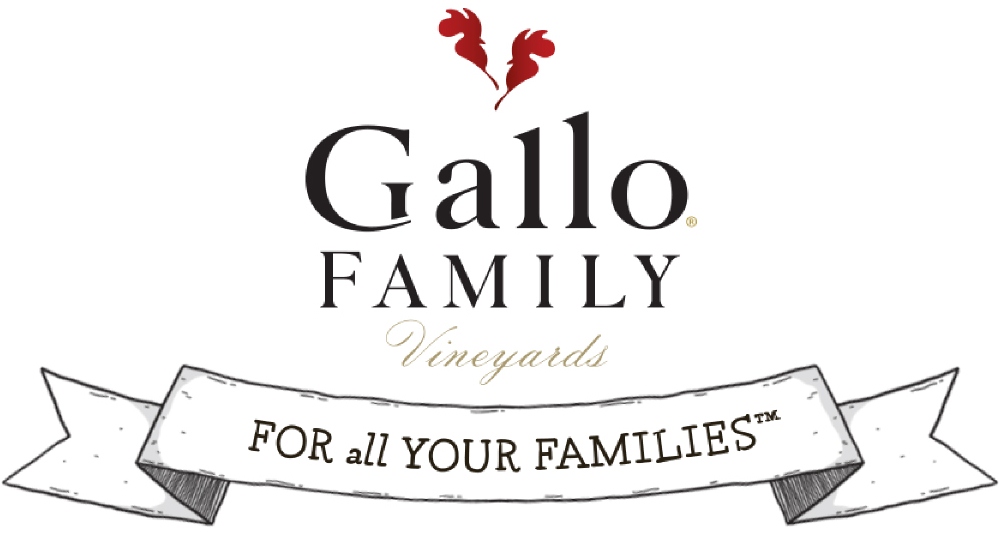 For my recipe contribution, I chose to make stuffed peppers. In my family stuffed peppers always meant comfort food. You got your own personal little filled pepper boat for dinner. I'd pile mine with Parmesan cheese.
I thought I'd switch it up with ground chicken. Lately I've been substituting chicken in my favorite meat recipes. That's fine with my guy. He would eat chicken every day if I made it. I'm not bragging. He just likes chicken!
We also eat a lot of rice. Normally I keep a variety of rice on hand: brown, Arborio, long grain blends and although not technically rice, wild rice.
My guy caught me rooting through the stash trying to decide which one would be best. "Not rice again."
"Of course not," I said and grabbed the couscous I was saving for stuffed mushrooms.
It turns out that couscous was the right choice. Those stuffed peppers were light and not overly filling. I also saved time since couscous cooks faster than rice. Oh and those mushrooms didn't go to waste either.
Chicken and Couscous Stuffed Peppers
Ingredients
• 2 red bell peppers, cut in half lengthwise
• 1 lb ground chicken
• 1/4 cup thinly sliced green onions
• 1/2 cup uncooked couscous
• 1 cup vegetable or chicken broth
• 1 Tablespoon fresh thyme leaves
• Salt and pepper to taste
• 1/2 sliced baby portabella mushrooms
• 1 tablespoon olive oil
• 2 tablespoons butter
Sauce
• 1 cup tomato puree
• 2 garlic cloves, minced
• 1/2 cup Gallo Merlot
• 1/2 cup light cream or half and half
• 1 teaspoon thyme, minced
• 1 teaspoon, sugar
• 1/2 teaspoon salt
• pepper to taste
Instructions
1. Blanch peppers for 2 minutes in boiling water. Transfer to a baking dish.
2. Sauté chicken, onions, thyme, salt and pepper in olive oil until chicken is no longer pink, about 10 minutes to reach 170 degrees. Set aside.
3. Bring broth to a boil. Add couscous, cover and remove from heat. Let stand 5 minutes.
4. While chicken is cooking, sauté mushrooms in butter until golden brown. Set aside.
5. To make sauce, combine puree, garlic, thyme, sugar, salt and pepper. Cook over medium heat about 5 minutes. Add Merlot and cook an additional 5 minutes. Stir in cream and cook until thoroughly heated.
6. Combine chicken and couscous then stuff the peppers. Top with sauce and mushrooms.
7. Bake uncovered until thoroughly heated, about 15 minutes.
8. Serve with a salad or side of greens. Pairs perfectly with a glass of Merlot.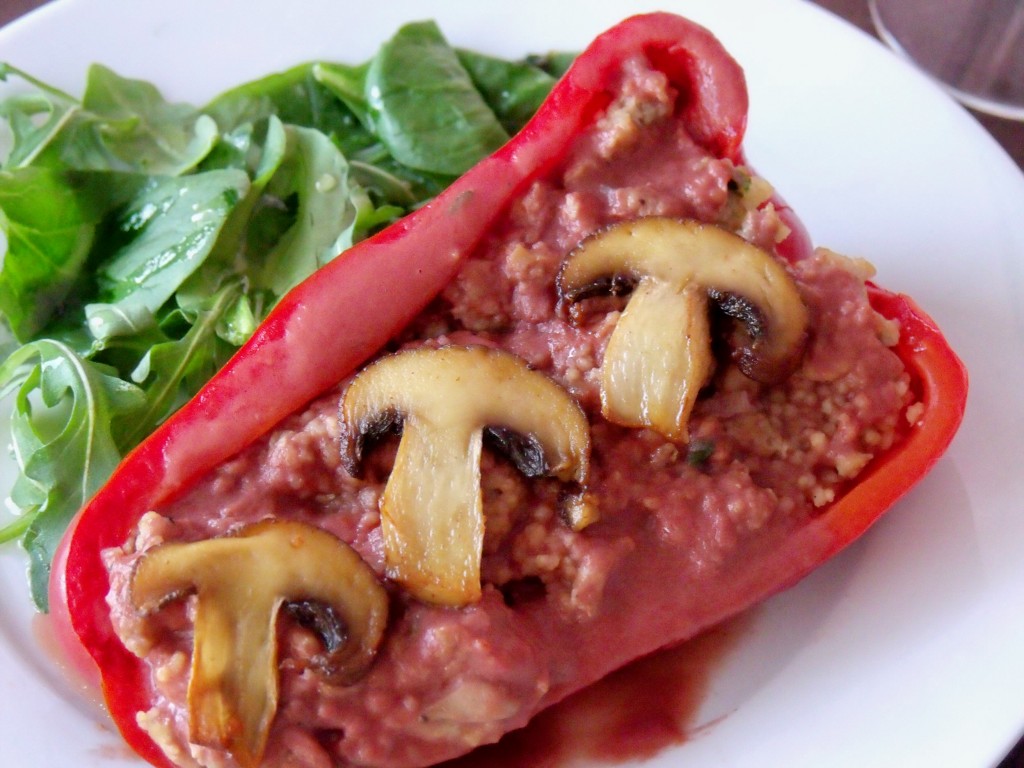 For the sauce I decided to make a rose with Gallo Merlot.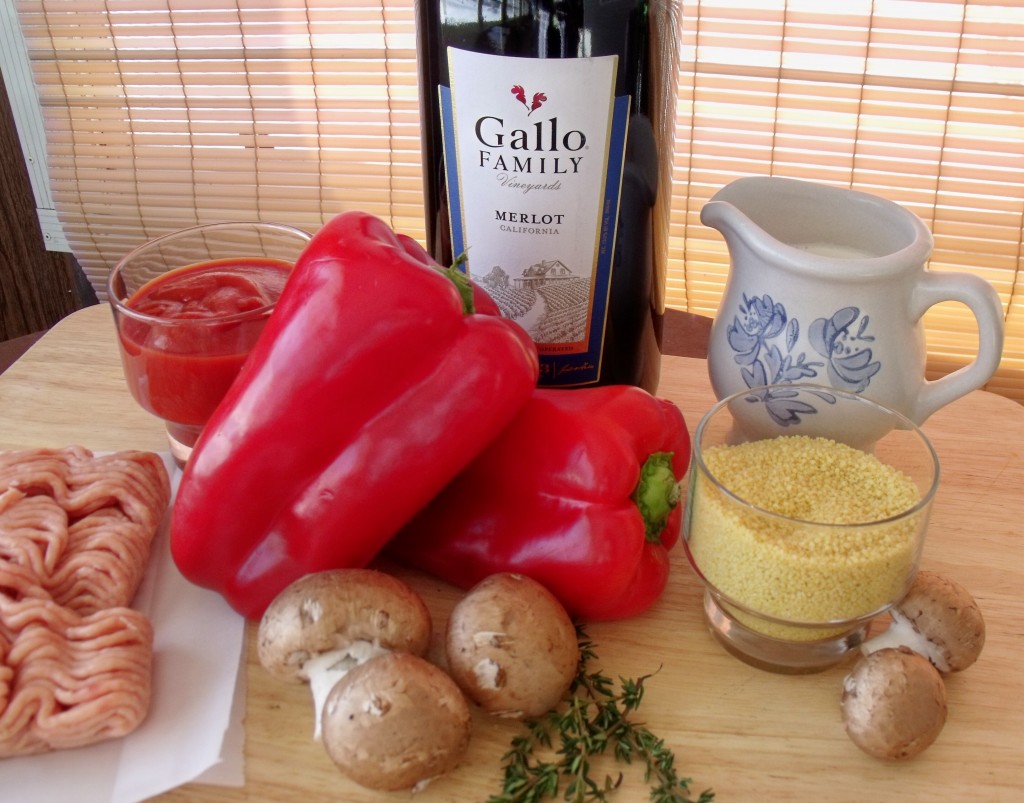 Gallo describes their Merlot as blended flavors of black cherry, ripe plum and hints of oak that create a velvety richness.
Since Merlot matches very well with a wide range of foods including pork roast, pasta with rich tomato sauce, poultry, as well as grilled meats and vegetables, it seemed like a natural for this chicken, pasta, tomato sauce and peppers dish. Learn more about their Merlot here.
You can find the perfect pairings for your meals with the Gallo Pairing Tool and where to buy it at their handy store locator .
Connect with Gallo Family Vineyards and stay informed on all their exciting news and specials!
Visit their website: www.gallofamily.com 
Facebook: www.facebook.com/GalloFamilyVineyards 
Twitter: twitter.com/GalloFamily 
Instagram: instagram.com/gallofamily 
YouTube: www.youtube.com/gallofamilyvineyards
 Please join us in sharing our recipes and the stories behind them this week from the Sunday Supper Group!
Brunch:
Mains and Sides:
Beverages and Desserts:
If you would love to try some of our Sunday Supper Recipes and want to find a retailer carrying Gallo Family Wines near you, click here. You can also visit Gallo's website or connect with via Facebook, Twitter, Instagram, or YouTube.

Join the #SundaySupper conversation on twitter on Sunday! We tweet throughout the day and share recipes from all over the world. Our weekly chat starts at 7:00 pm ET. Follow the #SundaySupper hashtag and remember to include it in your tweets to join in the chat. Check out our #SundaySupper Pinterest board for more fabulous recipes and food photos.
Would you like to join the Sunday Supper Movement? It's easy! You can sign up by clicking here: Sunday Supper Movement.
Compensation was provided by Gallo Family Vineyards via Sunday Supper, LLC. The opinions expressed herein are those of the author, and are not indicative of the opinions or positions of Gallo Family Vineyards.