Chicken Meatball and Pineapple Stacker Bites add tropical flair to a Small Plates Party! Juicy chicken, pineapple, basil and toasted coconut. Serve with honey, basil yogurt.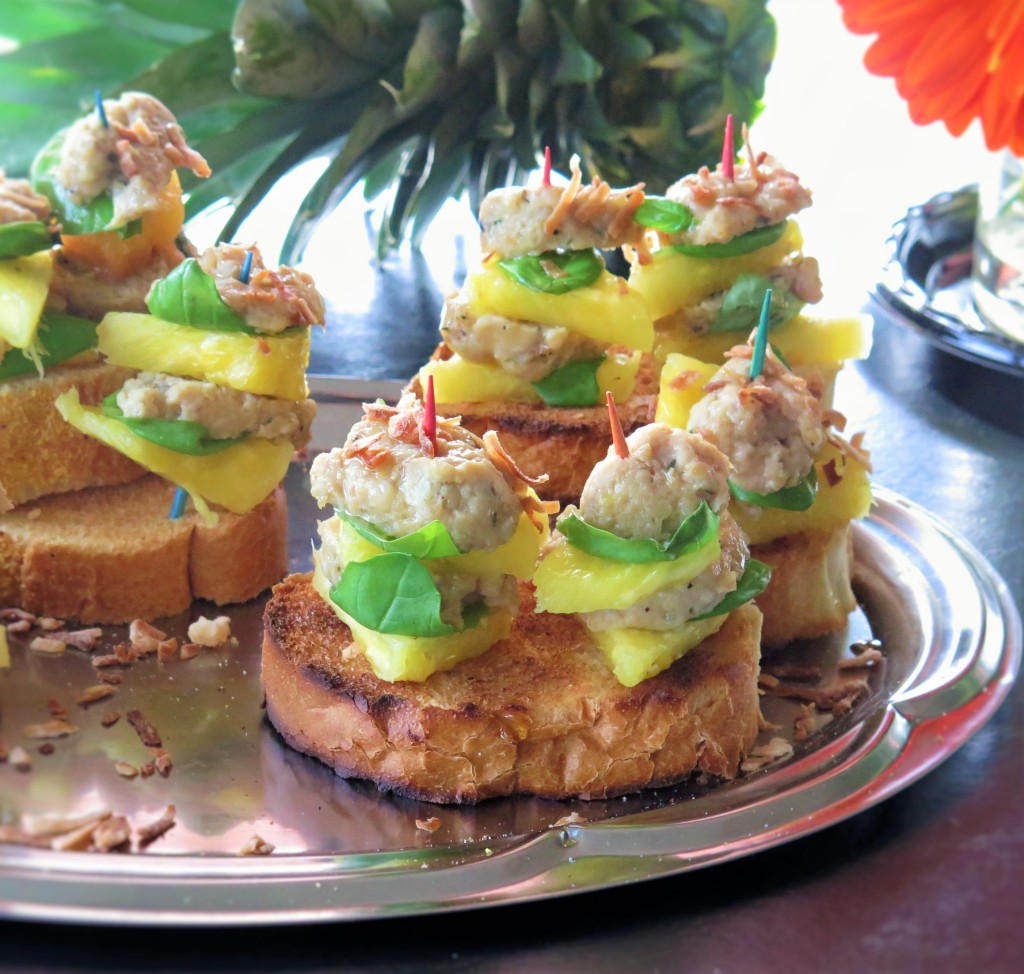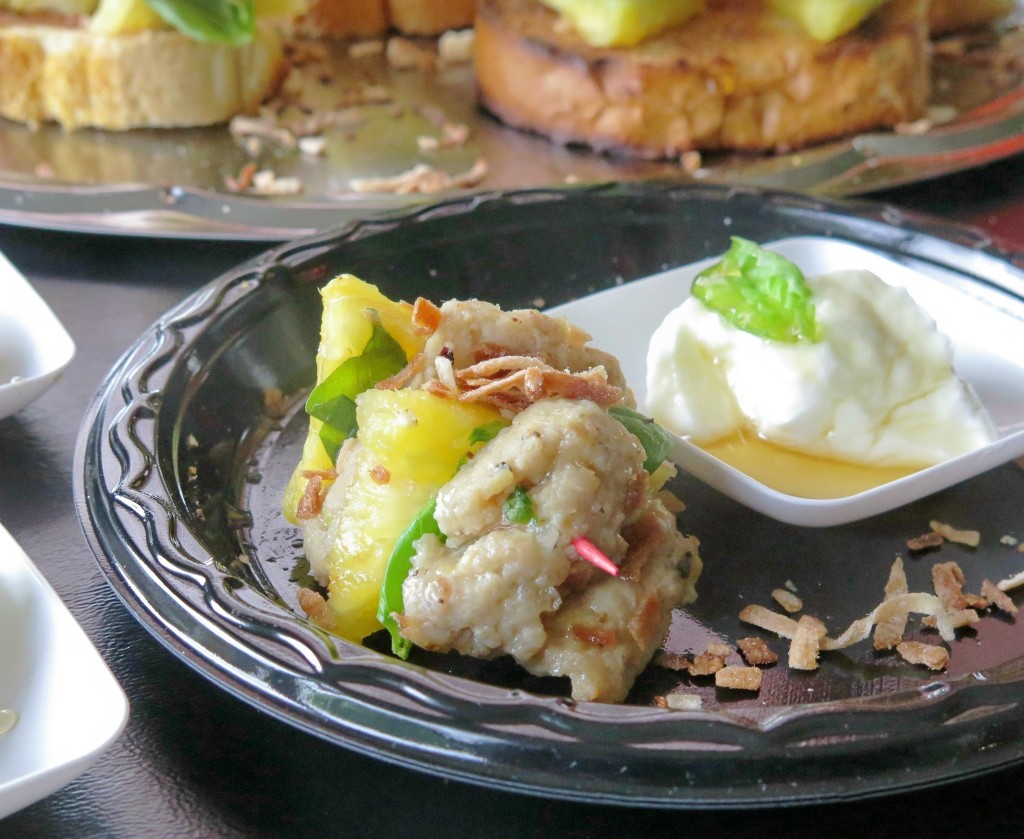 This month The Recipe ReDux put our Small Plates skills to the test.

Small Plates For Sunny Days
Small bites are perfect for trying many different tastes. Take tapas style eating outside for al fresco dining or a simple picnic. Or maybe you're serving small bites at a bridal or baby shower or a graduation party. Show us your healthy take on small plates and finger foods.
Thanks to Robin @RobinsBite for this month's theme suggestion!
I'm a big fan of small bites. I'd rather make a meal from a little of this and a little of that spread. At a party, I'm gracious and take what the host offers. Sometimes those choices aren't the healthiest.
In the name of flavor, fried wings, fat-laden crackers, spreads and salty snacks often top the list. I'm all for those foods in moderation. I've been known to tempt a party goer or two myself.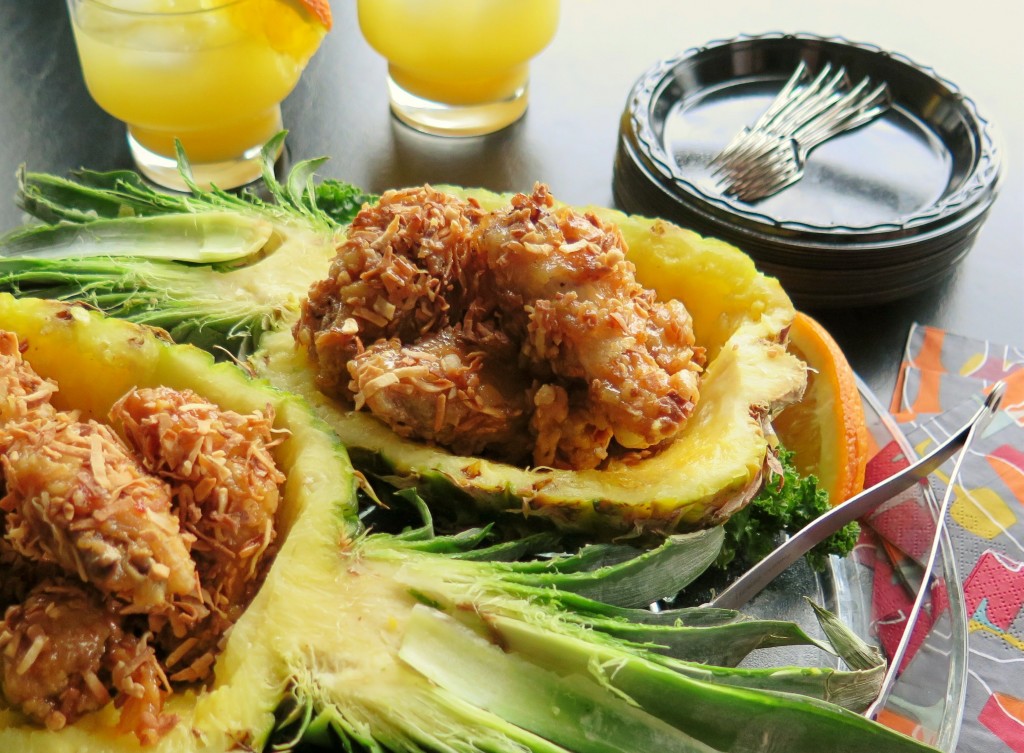 But today I'm focusing on a healthier chicken and pineapple combo.
Chicken Meatball and Pineapple Stacker Bites!
I reworked the recipe and kept the chicken, pineapple and toasted coconut flavors. These bites work well at a tropical theme or for any appetizer, small plates or tapas party!
I served the picks upright on thick, toasted bread slices for a multi-level display.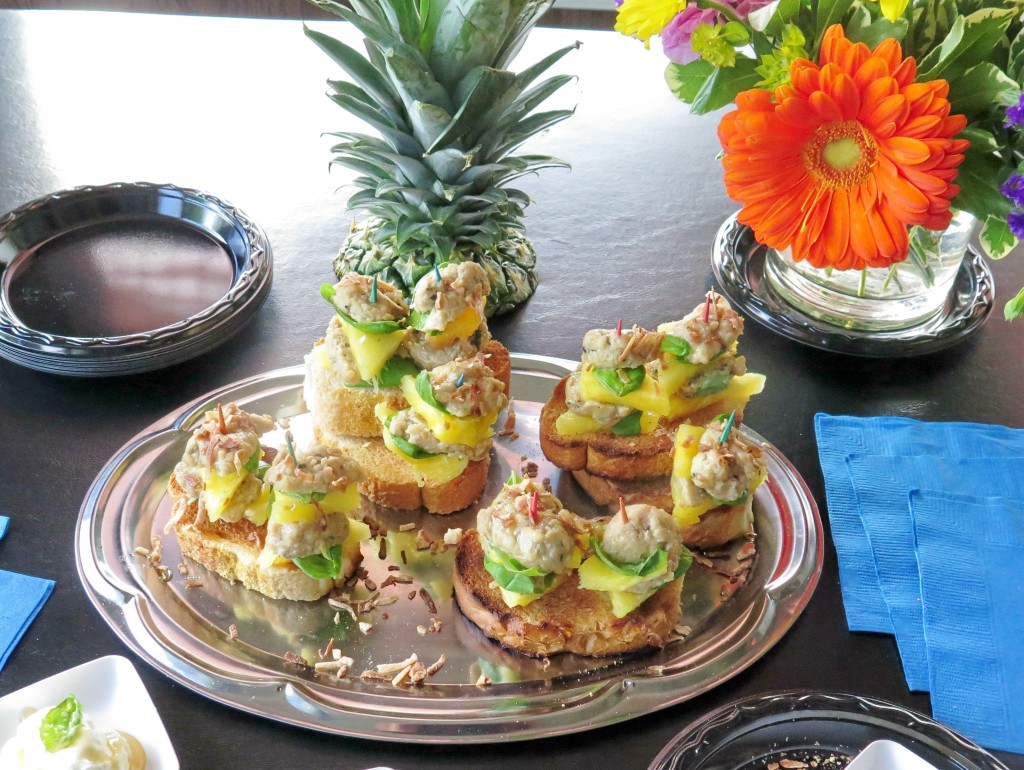 Chicken Meatball and Pineapple Stacker Bites
Ingredients
1 Fresh pineapple, peeled, cored and cut into chunks, save top for display
1 French bread cut into 1/2-inch thick slices
1/2 cup basil leaves
2 cups plain yogurt
1/2 cup honey
1/2 cup toasted coconut

Meatballs

1 pound ground chicken
2 cloves garlic, minced
1/2 cup onion, minced
1/2 cup bread crumbs
1 teaspoon Italian seasoning
1 Tablespoon olive oil
salt and pepper to taste
Instructions
Mix together ground chicken, garlic, onion and seasonings. Add just enough of the bread crumbs to form a meatball consistency.
Heat oil in medium-sized skillet. Portion meatball mix into 1-inch sized meatballs. Brown meatballs on all sides.
Preheat oven to 350. Bake meatballs until completely cooked (about 10 minutes). Cool.
Cut cooled meatballs into slices.
While meatballs cool, toast bread slices.
Layer meatball slices with basil leaves and pineapple on toothpicks.
Stack and stagger bread slices on a serving tray. Insert picks. Sprinkle with toasted coconut.
Serve with plain yogurt drizzled with honey and garnished with a basil leaf.
http://www.cindysrecipesandwritings.com/chicken-meatball-and-pineapple-stacker-bites-thereciperedux/
More about the Recipe ReDux.


As the first and only recipe challenge founded by registered dietitians, The Recipe ReDux is focused on taking delicious dishes, keeping them delicious, but making them better for you. Dietitians Regan Jones (ofReganMillerJones, Inc.), Serena Ball and Deanna Segrave-Daly (both of Teaspoon Communications) founded the group on the belief that healthier eating should always taste delicious. As the Latin term "redux" means to revisit or reinvent, we are reinventing the idea of healthy eating with a taste-first approach. We aim to inspire the food lover in every healthy eater and inspire the healthy eater in every food lover.
I'd love to hear about your favorite small plates creations! Drop me a line in the comments below!
Enjoy more great Tapas and Small Plates ideas from The Recipe ReDux!