Chicken Mushroom Stuffed Squash serves acorn squash filled with tender chicken, rice, and portobello mushrooms. A savory dish for two.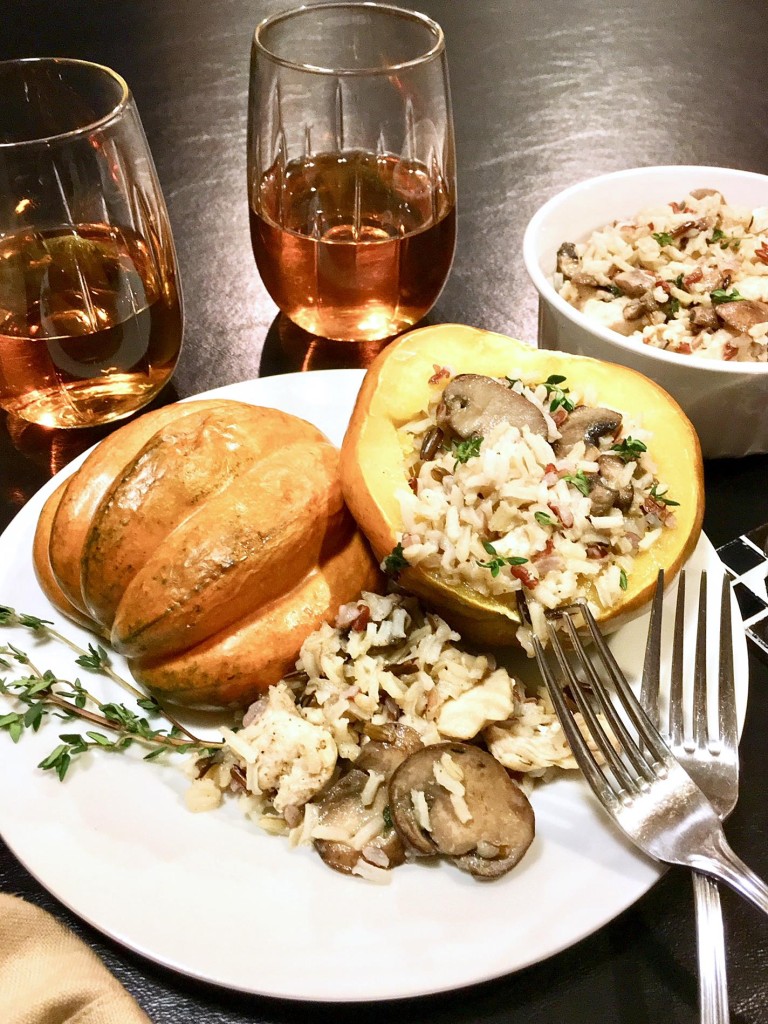 This week Sunday Supper explores Simple Dinner Ideas for Two.
For a lot of families, a "family dinner" doesn't mean cooking for four or more people! It can be difficult to find recipes that cater proportionally to cooking for just two people. For this Sunday Supper, we'd like to bring Simple Dinner Ideas for Two back to the table! Cooking for family is important no matter the number of people sitting down to eat.
I like cooking for my guy and me. He really is a good sport because he never knows what's for dinner.
Families of food bloggers can relate. I do keep his dislikes out of the mix. Dishes with beans, pineapple, or coconut get a pass for him.
I'm glad he learned to love winter squash.
You can fill acorn squash with just about anything.
It is also so good for you!
Acorn squash contains vitamin A, niacin, folate, thiamine and vitamin B-6, but it is an especially good source of vitamin C. A 1/2-cup serving of cooked, cubed acorn squash provides approximately 20 percent of the recommended daily allowance of vitamin C for healthy adults following a 2,000-calorie diet.
A large acorn squash when filled is a meal in itself. Make a little extra filling on the side if needed.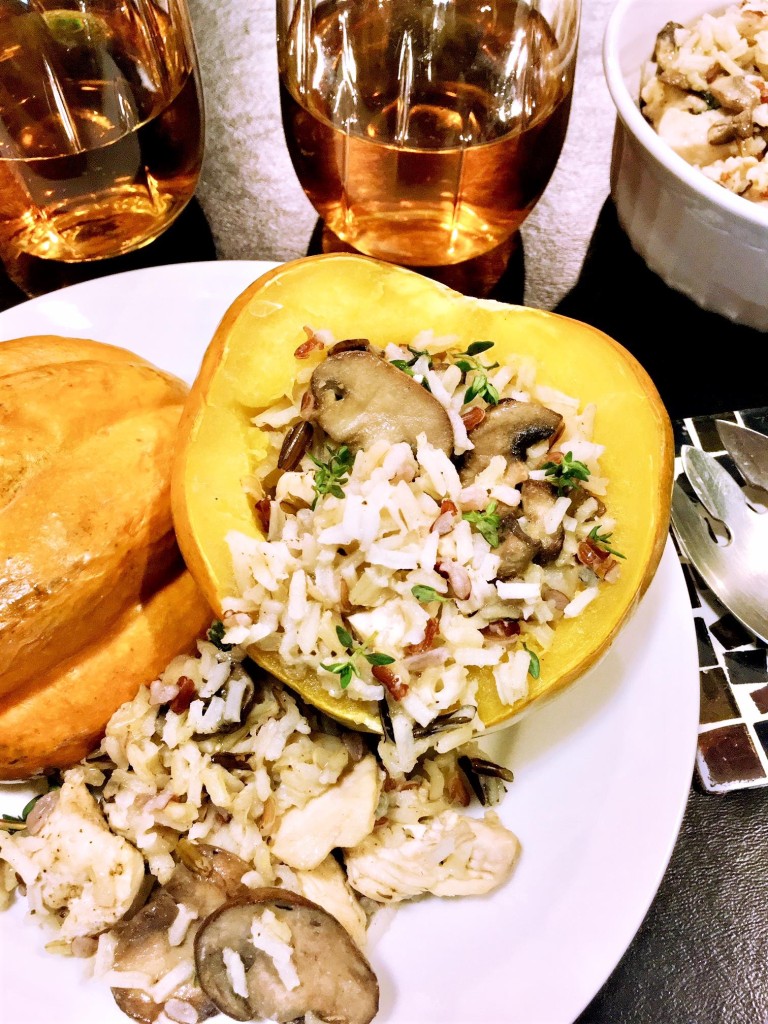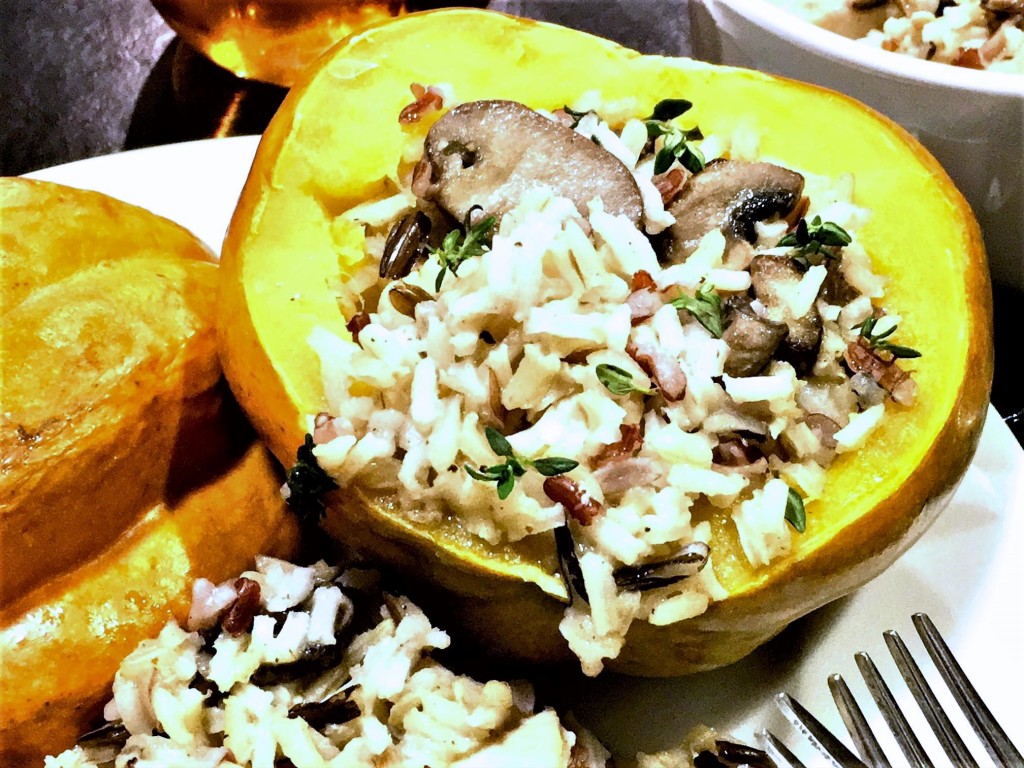 Chicken Mushroom Stuffed Squash
Chicken Mushroom Stuffed Squash

Ingredients

1 large acorn squash cut in half, seed removes
1/2 pound chicken breast cut into 1/2-inch pieces
4 ounces sliced portobello mushrooms
1 tablespoon olive oil
1 tablespoon butter
1 cup rice (long grain, brown or mixed)
2 cups chicken broth
1 teaspoon fresh thyme, extra sprigs for garnish
salt and pepper to taste

Instructions

Heat oven to 350. Place squash cut side down in shallow baking dish. Add one inch of water. bake approximately 30 minutes until soft not mushy. Pressing gently with a finger should leave a slight indent.
While squash cooks:
Prepare rice using broth according to package directions.
Saute chicken and mushrooms in oil and butter. Remove from heat, add rice, thyme salt and pepper.
Fill squash cavities. Serve.

http://www.cindysrecipesandwritings.com/chicken-mushroom-stuffed-squash-sundaysupper/

Simple Dinner Ideas for Two
Entrees for Two
Desserts for Two

The Sunday Supper Movement is committed to bringing our readers delicious recipes that encourage them to gather and eat together around the family table. Search for your favorite ingredients on our Sunday Supper website. Also check out the Sunday Supper Pinterest boards for plenty more ideas and inspiration.