Chicken Sausage and Rice Soup chases away winter chills. A hearty soup that stands up to freezing and reheating.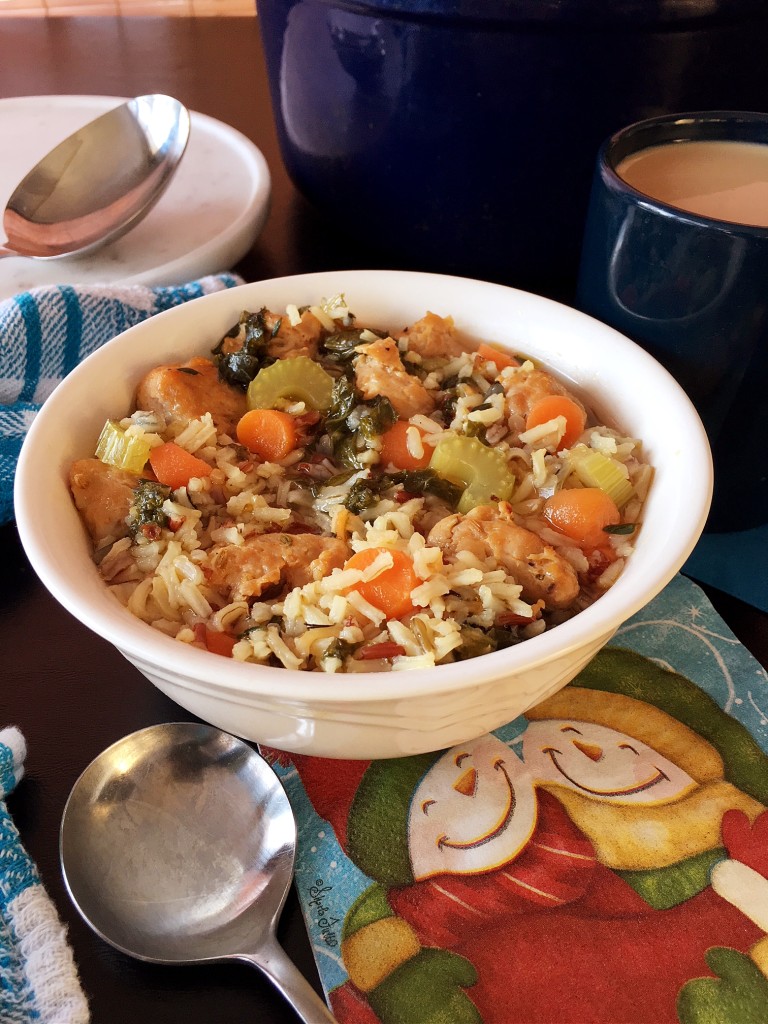 It's late. No time for me to shop for dinner.
Wait! I can pull something out of the freezer. Something easy to defrost, wholesome and inexpensive.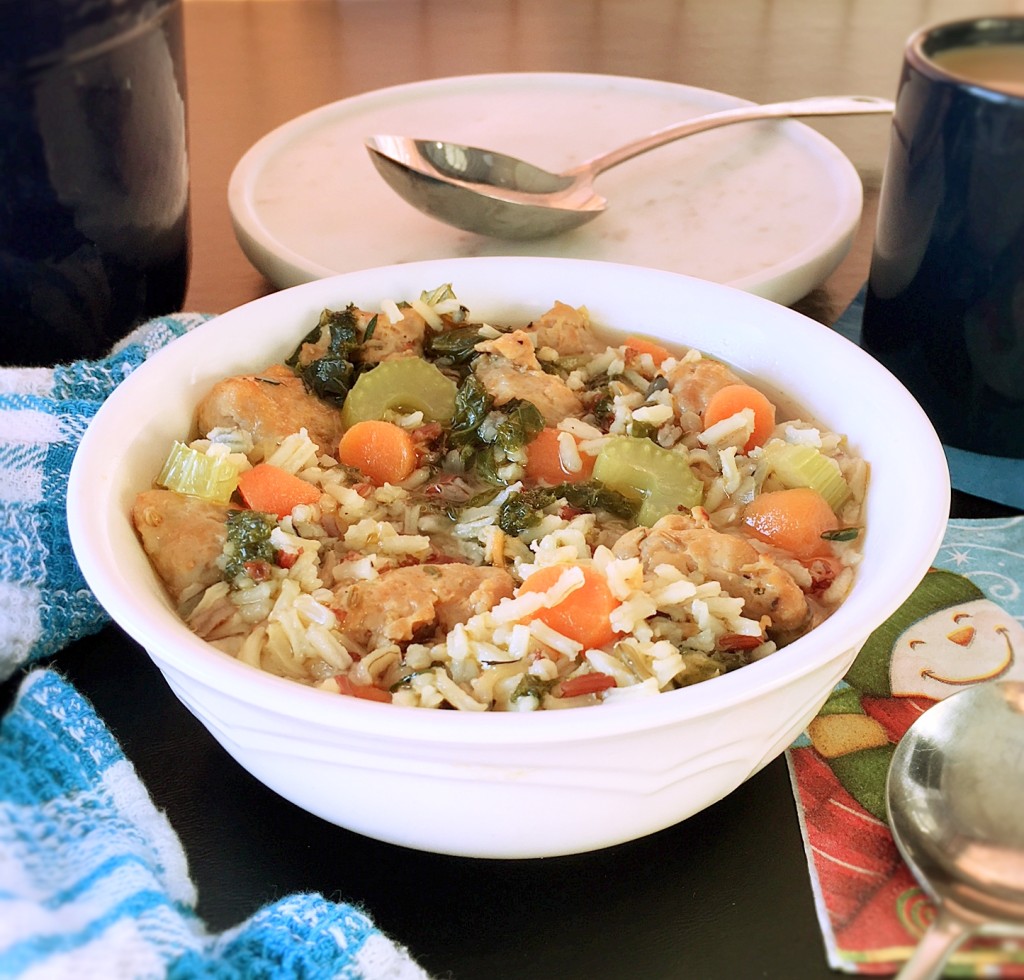 Did I mention it was also homemade?

This week Sunday Supper is hitting the deep freeze. By that I mean we're making freezer meals!
Healthy Make Ahead Freezer Meals
New Years usually means resolutions to eat healthier. Which can sometimes be difficult with crazy busy schedules. Share your healthy make ahead freezer meals to get us all through the busy winter without ordering take out.
Soup tops my must make meals in winter. It's so easy to make a big batch and freeze some for later.
Chicken Sausage and Rice Soup cooks in one pot. It easily reheats on the stove-top or microwaved.
I like using chicken sausage in soups and casseroles. It's leaner and holds it shape when separated from the casing.
Today you can find chicken sausage in all kinds of flavors. Apple and maple, hickory, feta and spinach and my favorite, sweet Italian. Some brands even add peppers and onions. YUM!
Start with quality chicken stock. Add mirepoix and greens for some veggies. A few springs of fresh thyme and some lemon juice. That little bit of acid from the lemon makes a big difference.
I also like to cook the rice in with the soup. To me it absorbs all the flavors better that way.
How do you cook rice for soup?
Here's the recipe. Don't forget to freeze some for later!

Chicken Sausage and Rice Soup
Chicken Sausage and Rice Soup
Ingredients
1 lb chicken sausage (plain or Italian) casing removed
1 tablespoon olive oil
64 ounces chicken stock
1 cup diced carrots
1 cup sliced celery
1 cup chopped onions
2 cups chopped kale
4 sprigs fresh thyme
juice from 1/2 a lemon
1 1/2 cups rice
Instructions
Break sausage into bite-sized pieces. Place pieces and oil in a large skillet. Brown on all sides.
Reduce heat and add stock, carrots, celery, onion, kale and thyme. Bring to a boil.
Add rice. Reduce heat and simmer until rice and sausage are thoroughly cooked.
Remove thyme sprigs and add lemon
Cool completely before freezing.
http://www.cindysrecipesandwritings.com/chicken-sausage-and-rice-soup-sundaysupper/
Healthy Make Ahead Freezer Meals from Sunday Supper
Frozen Fruits and Veggies
Preparing Some Protein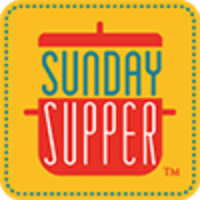 The Sunday Supper Movement is committed to bringing our readers delicious recipes that encourage them to gather and eat together around the family table. Search for your favorite ingredients on our Sunday Supper website. Also check out the Sunday Supper Pinterest boards for plenty more ideas and inspiration.