Chocolate Coconut Joy Pudding! The joy is in the pudding!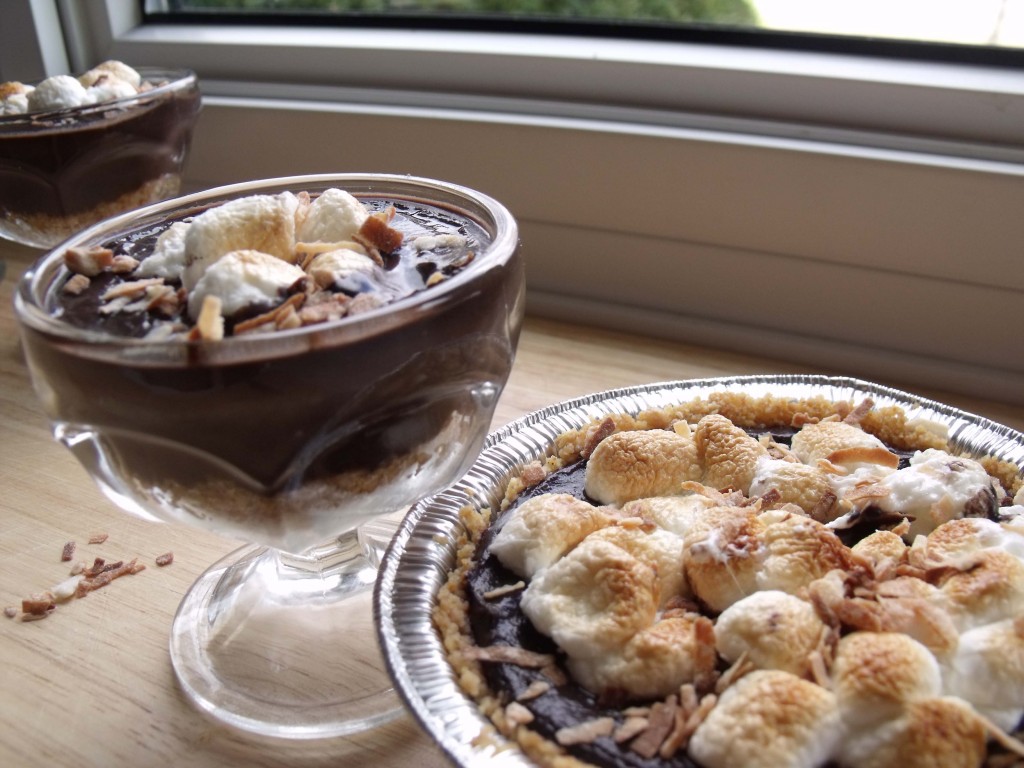 Chocolate Coconut Pudding sounded like a good idea for this month's Chocolate Party hosted by Roxana's Home Baking . Thanks Roxana for hosting such an awesome party!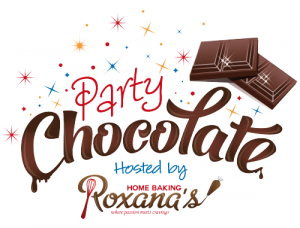 I love chocolate, so it is usually easy to come up with something that fits the monthly chocolate challenge theme.
I started with a basic chocolate and coconut milk pudding. That turned out good, but no I couldn't stop there!
I added a bit of almond extract. Better. It still needed something more.
Graham cracker crust. Yes that's it! Delicious! Okay, by now you probably noticed those toasted marshmallows.
Smores right? Of course!
If you like the idea of adding toasted marshmallows to your dishes, but don't own a torch, here what I do.
Broil them! Arrange your marshmallow on a cookie sheet and broil on high until browned. This takes about a minute or two. set aside to cool slightly. Lift off the toasty marshmallows with a spatula and place on dessert!
A little sprinkle of toasted coconut sealed the deal!
Chocolate Coconut Joy Pudding #ChocolateParty
Ingredients
¾ cup graham cracker crumbs
5 Tablespoons melted butter
1 14 ounce can coconut milk
¼ cup cocoa
¼ cup plus 2 tablespoons sugar
3 Tablespoons cornstarch
⅛ teaspoon salt
½ teaspoon almond extract
mini marshmallows (optional)
toasted coconut (optional)
Instructions
Mix graham crumbs and butter together. Press 1 Tablespoon of mixture in the bottom of a dessert dish or coat a small tin with mixture.
Whisk together coconut milk, sugar, cocoa, cornstarch and salt in a medium saucepan. Bring to a simmer, stirring constantly until thickened,
Remove from heat and add almond extract.
Pour into serving dishes, cover by laying plastic wrap directly on top of pudding. This prevents a skin from forming. Refrigerate and let set for at least 2 hours.
Garnish with toasted coconut and marshmallows if desired.
New to the chocolate party? Would love for you to join us! here's how it works!
Each month Roxana decides upon a secret ingredient to use in our chocolate sweets.
Our recipes will be shared on the first Monday of each month and you can add your own recipes until the end of the month when the party is over and a new one is opened. You can submit up to 3 recipes each month.
To make sure everyone is having fun, there are a few rules you'll have to follow.
1.) Blog about your chocolate treat. Your recipe must include the two ingredients we choose. It can be a simple no bake treat or a sophisticated layer cake, the complexity level of the recipe is totally up to you.

2.) Include a link back to a monthly round-up or the Chocolate party page.  Optional, add the Chocolate Party logo in your blog post or on your sidebar.

3.) Your recipe must be published during the current month. Please do not link old recipes.
Check out these great chocolate coconut creations at this month's Chocolate Party!
Be sure to check out all the participating bloggers – they are all showcasing their own Chocolate & Coconut creations!
Chocolate coconut cake – Roxana's Home Baking
Chocolate Dipped Coconut Shortbread Cookies – Crunchy Creamy Sweet
Chocolate and Coconut Cream Pie Cupcakes – From Gate to Plate
Chocolate Coconut Ice Cream – Karen's Kitchen Stories
Easy Bird's Nest Cookies – From Brazil To You

Toasted Coconut Marshmallow Cups – It Bakes Me Happy
Chocolate Coconut Joy Pudding – Cindy's Recipes
 and Writings
Double Chocolate Coconut Pudding Cookies – Life on Food
Mini Samoa Donuts – Urban bakes
Chocolate Cake and Coconut Milkshake – Diethood