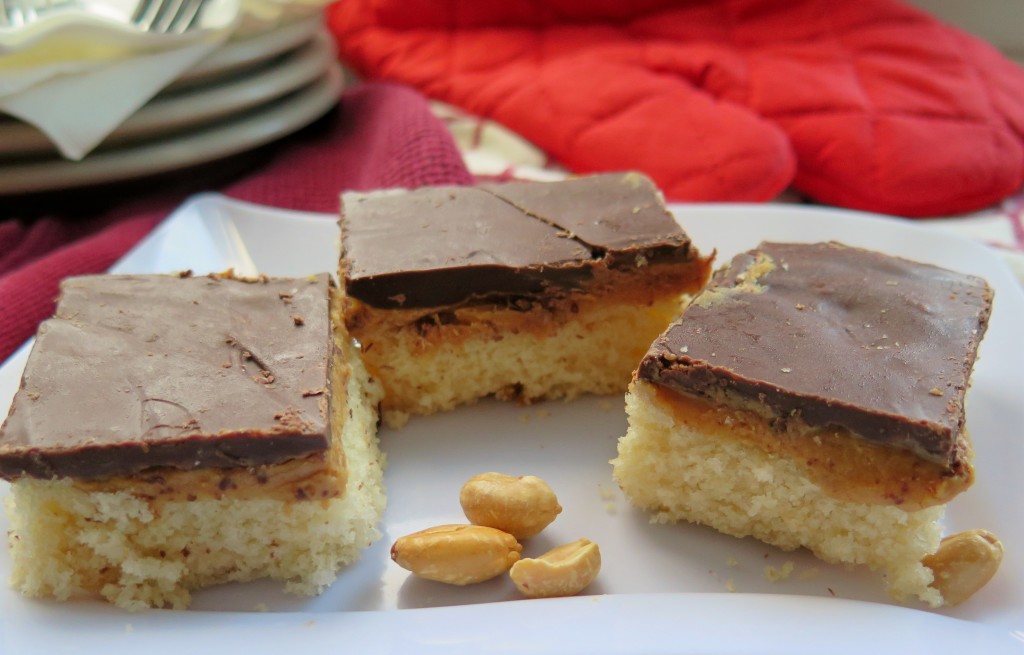 March 25th is Chocolate Peanut Butter Day! I've been a fan of this combo for a long time.
Chocolate Peanut Butter Tandy Cake takes me back to when I was a kid with 35 cents burning a hole in my pocket. A local company used to sell their version 3 in a pack, 3 packs for a dollar.
So that 35 cents would buy me a pack of tender, moist yellow cake slathered in peanut butter and dipped in chocolate.
As I grew older, the cakes seemed to get smaller. Those bites of deliciousness cost more too.
So I started looking for recipes that came close. Unfortunately each component varied ever so slightly. So I used a good yellow cake recipe. Then I spread naturally moist peanut butter over the top.
Oh and ganache. You have to have ganache.
Thanks to Carla of Chocolate Moosey and Miriam of Overtime Cook are hosting this delicious event!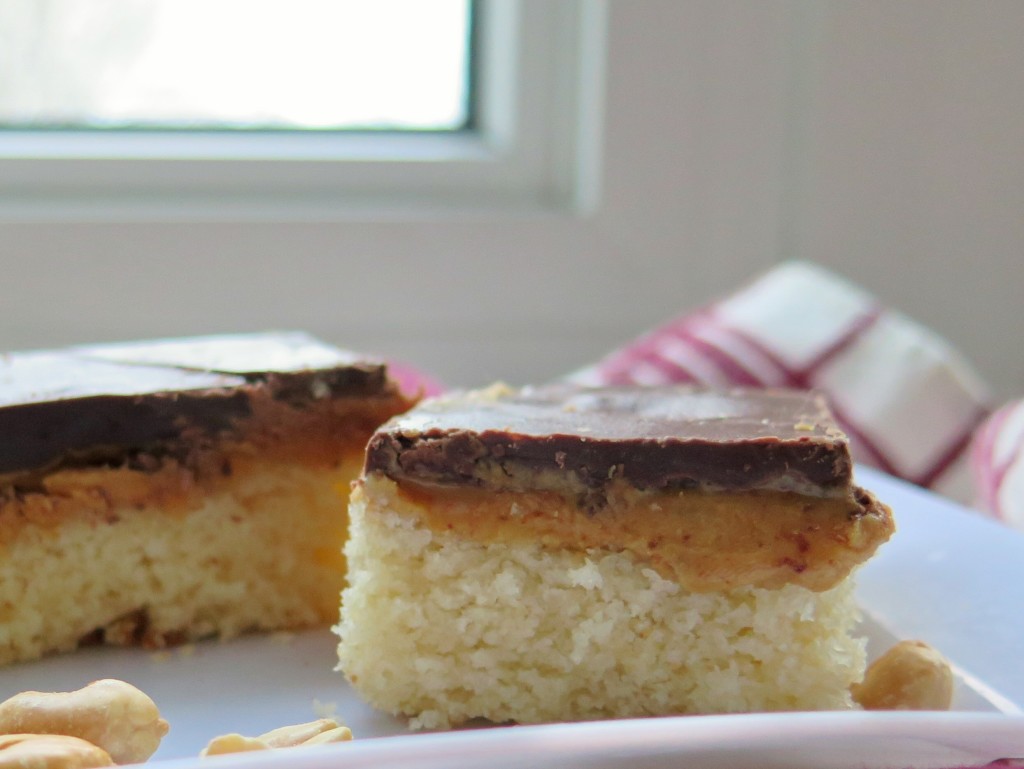 Chocolate Peanut Butter Tandy Cake #ChocPBDay
Ingredients
Cake

1 3/4 cups cake flour
1 1/4 cups sugar
2 1/2 teaspoons baking powder
1 teaspoon salt
1/3 cup unsalted butter, softened
1 cup milk, divided
1 egg, beaten
1 teaspoon vanilla
1 jar Peanut butter for spreading over cake

Ganache

1 cup heavy cream
16 oz. semi sweet chocolate chips
Instructions
Preheat oven to 375
Sift together flour, sugar, baking powder and salt.
Place dry ingredients into mixer. Add softened butter and 2/3 cup milk. Mix about 2 minutes until liquid is totally incorporated.
Add egg, vanilla and remaining 1/3 cup milk.
Bake in greased 9x13 pan for about 30 minutes.
Cool on rack, then refrigerate until completely cold.
Spread with a layer of peanut butter. Refrigerate until firm.

Ganache

Make the ganache right before you're ready to put the dessert together. Bring the cream to a boil in a double boiler and cook until thickened. Pour over chocolate chips and whisk until smooth.
Spread over peanut butter layer.
Chill until firm before cutting.
http://www.cindysrecipesandwritings.com/chocolate-peanut-butter-tandy-cake/
Can't get enough Chocolate and Peanut Butter? Me neither! Thank goodness we have all these delicious recipes to satisfy our cravings!
Peanut Butter Chocolate Chip Cookie Bites by Carla from Chocolate Moosey
Peanut Butter Cup Cookies by Miriam from Overtime Cook
Chocolate Peanut Butter Twix Cake by Susan from The Girl In The Little Red Kitchen
{Healthy} Peanut Butter Chocolate Chip Oat Bars by Kayle from The Cooking Actress
Chocolate Drizzled Peanut Butter Tiger Paws by Renee from Kudos Kitchen by Renee
Chocolate Chip Peanut Butter Dip by Becca from It's Yummi
Dark Chocolate Peanut Butter Cup Cake by Erin from The Spiffy Cookie
No-Bake Chocolate Peanut Butter Pie by Lisa from Snappy Gourmet
Espresso Chocolate Cake with Peanut Butter Frosting and a Rum Drizzle by Barb from Creative Culinary
Chocolate Peanut Butter Tandy Cake by Cindy from Cindy's Recipes and Writings
Chocolate-Glazed Peanut Butter-Stuffed Doughnuts by Coleen from The Redhead Baker
4 Ingredient Chocolate & Peanut Butter Candy by Colleen from Souffle Bombay
Ganache-Stuffed Peanut Butter Bars by Karen from The Food Charlatan
Microwave Chocolate Peanut Butter Protein Pancakes by Taylor from Food Faith Fitness
Flourless Chocolate Cake with Peanut Butter Icing by Shashi from Runnin Srilankan
Chocolate Filled Peanut Butter Cookie Cups by Stacy from Food Lust People Love
Peanut Butter Filled Chocolate Lava Cakes by Anita from Hungry Couple
Peanut Butter Chocolate Chip Ice Cream by Renee from Magnolia Days
Crispy Chocolate Peanut Butter Energy Bites by Lauren from Healthy Delicious
Tagalong Dip by Liz from That Skinny Chick Can Bake
Peanut Butter Chocolate Chip Bundt Cake Nancy from gotta get baked
Small Batch Chocolate Peanut Butter Doughnuts by Sarah from What Smells So Good?
Funky Monkey Banana Chocolate Peanut Butter Energy Balls by Brianne from Cupcakes & Kale Chips
Chocolate Peanut Butter Chocolate Chip Cookies by Diane from Created by Diane
Chocolate, Peanut Butter, & Roasted Banana Shake by Jennie from The Messy Baker
Chocolate Peanut Butter Magic Bars by Jen from Jen's Favorite Cookies
Chocolate Doughnuts with Peanut Butter Glaze by Lauren from Lauren Kelly Nutrition