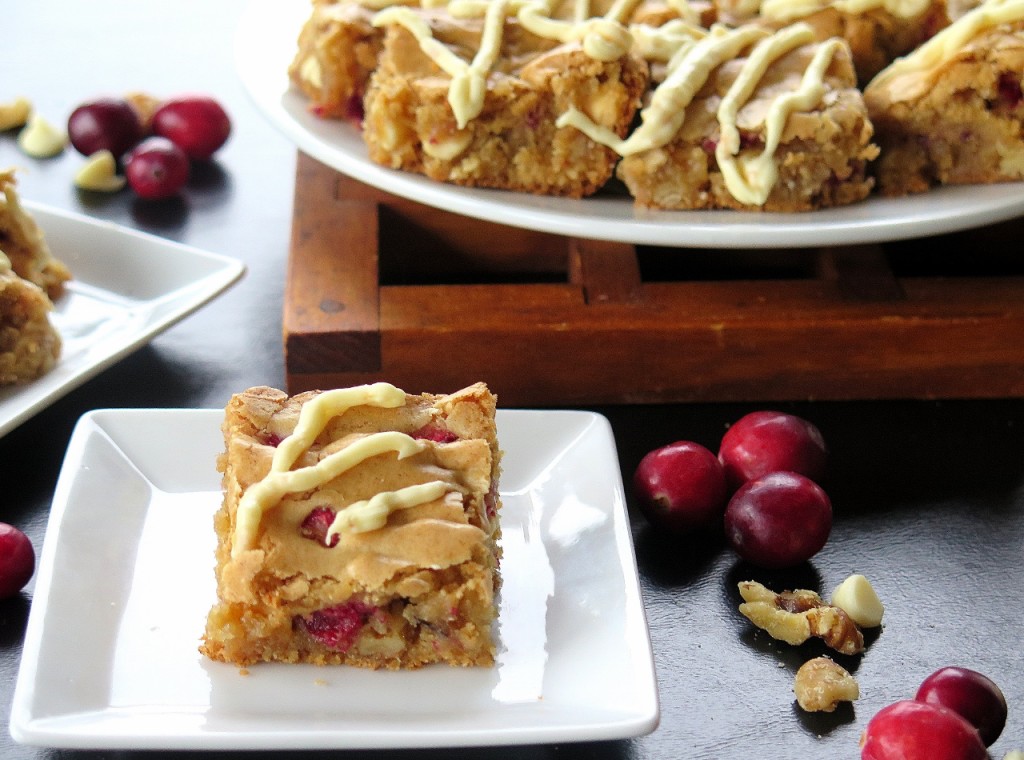 Cranberry Blondies #CranberryWeek Fresh cranberries, walnuts and white chocolate. A chewy sweet, tart dessert with a bit of crunch.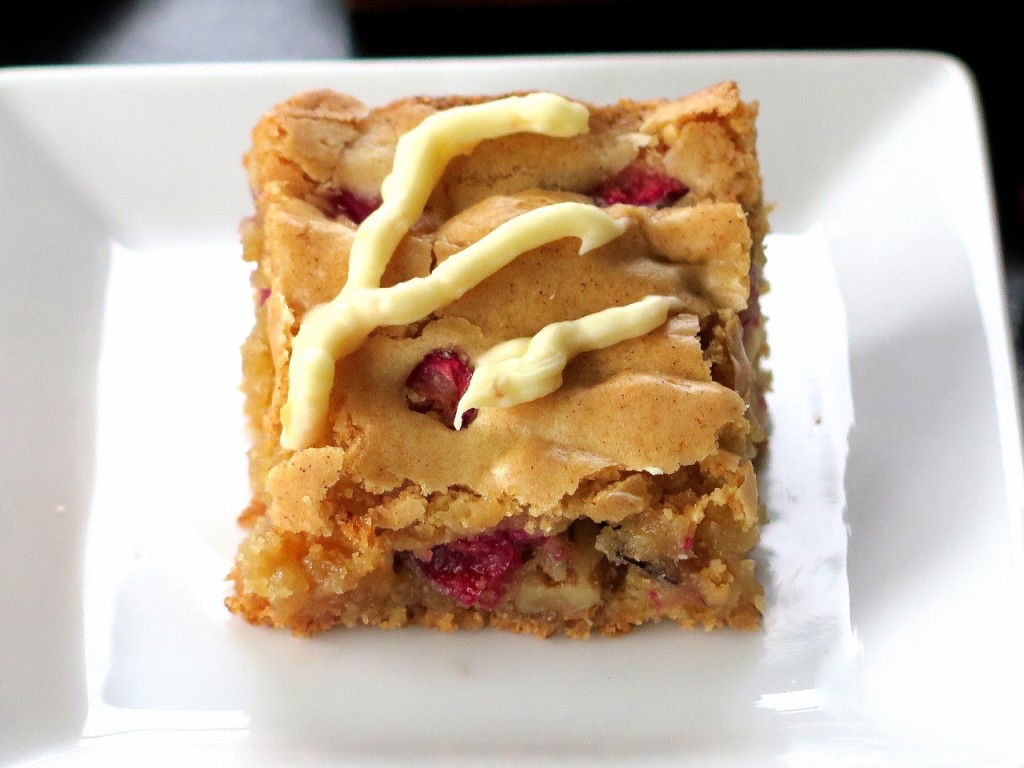 Welcome to Day 4 of #CranberryWeek, hosted by Caroline's Cooking and A Kitchen Hoor's Adventures. We're sharing cranberry-inspired creations all week long in celebration of national cranberry day. Search #CranberryWeek to keep up to date and follow the #CranberryWeek Pinterest board for more cranberry inspiration.
Blondies are a super sweet dessert that benefits from the addition of tart cranberries. I like the texture of walnuts in this dessert. A bit of crunch goes a long way. Keeping it, "blond" I added white chocolate. Ha!
Dark chocolate brownies with nuts, black cherries, coffee or and so many more combos have a special place in my heart. My problem is I can't quit with one. That IS a problem, right? Oh well, maybe not.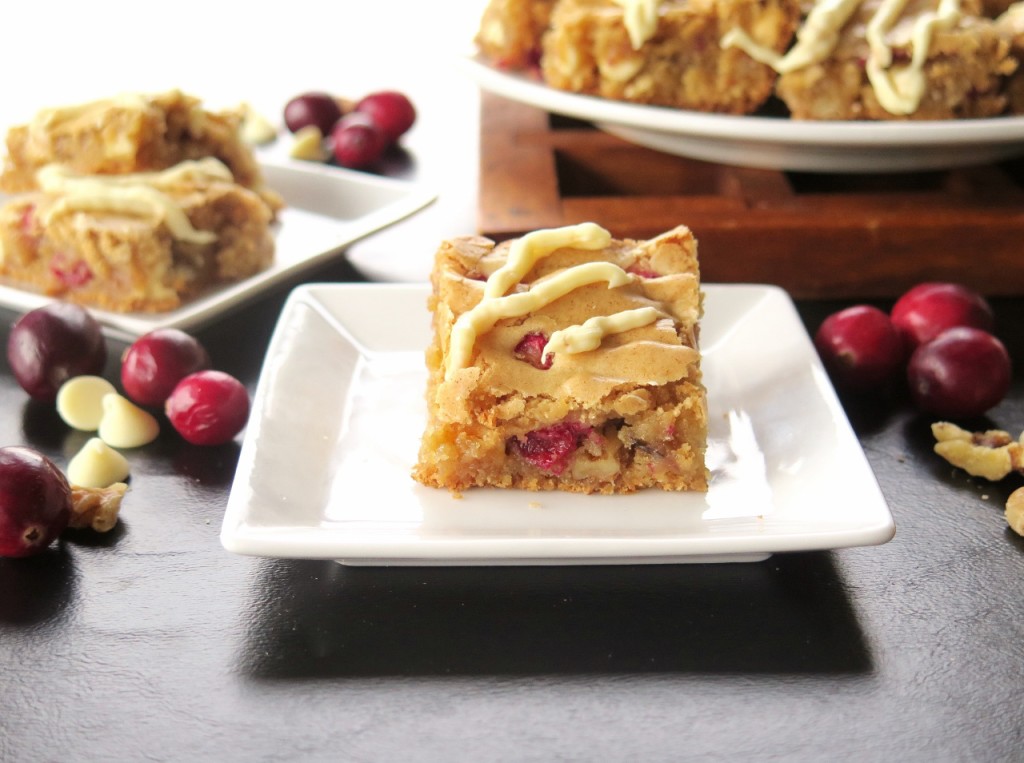 This easy dessert above can be adapted to use different fruits and fillings. When you find the combo that suits you best you just might have trouble eating just one. I know I do! 😉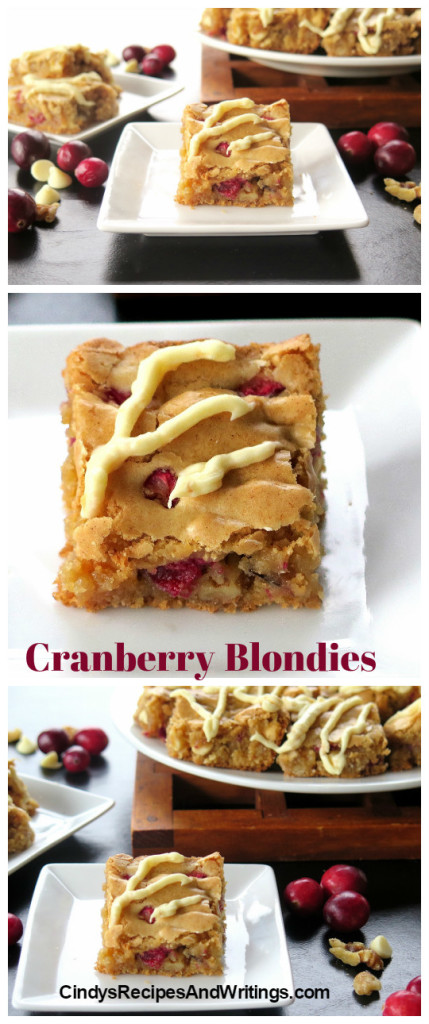 Cranberry Blondies #CranberryWeek
Ingredients
1 cup brown sugar
1/3 cup butter
1 cup flour
1 egg
1/2 teaspoon vanilla
1/2 teaspoon almond extract
1/2 teaspoon baking powder
1/8 teaspoon baking soda
1/4 cup chopped fresh cranberries
1 tablespoon powdered sugar
1/4 cup chopped walnuts
1/2 cup white chocolate chips, divided
Instructions
Melt butter and brown sugar together in a small saucepan. Cool slightly,
Whisk in egg, vanilla and almond extract.
In a separate bowl, whisk together flour, baking powder and baking soda. Add wet mixture.
Toss cranberry pieces in powdered sugar. Add to batter along with walnuts and 1/4 cup white chocolate chips.
Pour into a greased 8x8-inch pan. Bake at 350 for approximately 25 minutes until set and inserted toothpick comes out clean.
Melt remaining chips in microwave. drizzle over cooled blondies.
http://www.cindysrecipesandwritings.com/cranberry-blondies-cranberryweek/
In case you missed out, here are the links for this week. Each day's link has many delicious #CranberryWeek offerings to try!
Day one: Cranberry Cornbread
Day two: Cranberry Cornbread Stuffing
Day three: Cranberry London Broil
Food for Thought…Have you ever made blondies? Which fruits do you prefer in brownies and blondies? I love to hear your ideas in a comment below!
Enjoy these tasty cranberry inspired recipes from the tastemakers on #CranberryWeek !