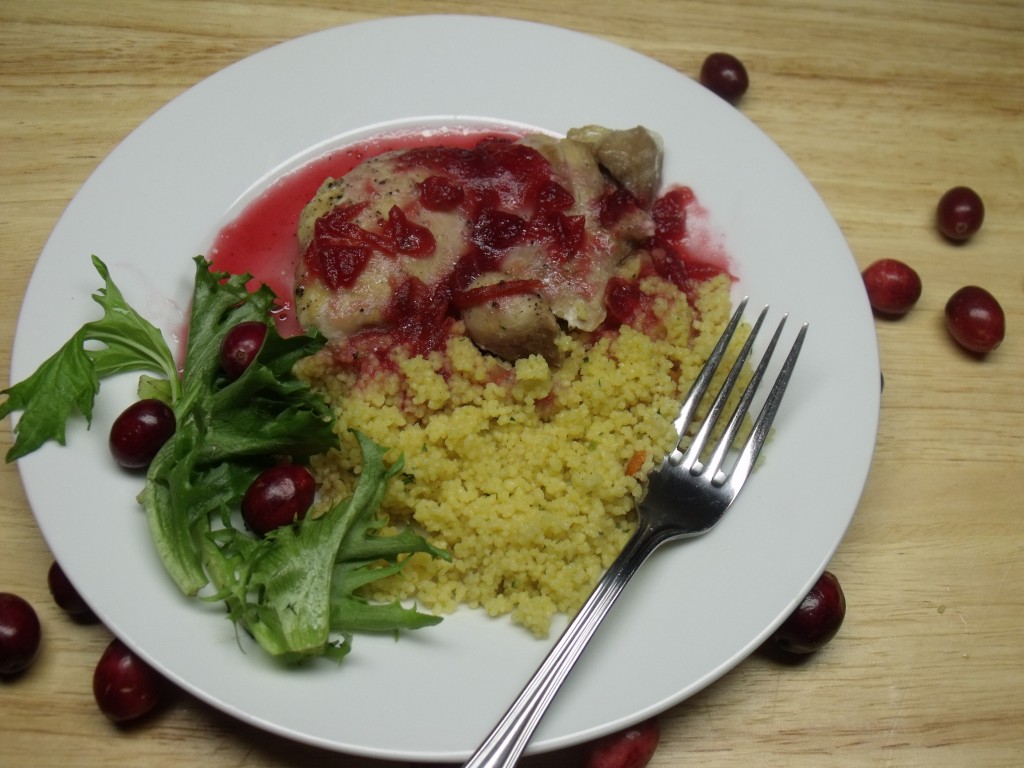 I love cranberry anything. I'm not alone. According to cranberryinstitute.org more than In 2012, a total of 1.13 billion pounds of cranberries were produced in the U.S., Canada and Chile.
As a native to North America, the humble cranberry serves as a major food source for wildlife and was important to Native American culture.
Cranberries are high in antioxidants and PAC's. Studies show regular cranberry consumption helps maintain urinary tract health.
Of course its okay to eat them just because they taste good. You can freeze some for later too.
Chicken pairs well with tart cranberries lightly sweetened in a warm sauce. I used chicken thighs. It works as well with white meat. Served with a salad and rice or couscous and you have a quick, delicious meal.
Cranberry Chicken
Ingredients
1 pound boneless, skinless chicken thighs
1 cup fresh cranberries
1/2 cup cranberry juice
1/4 cup pink Moscato or red Moscato
1/2 cup sugar
pinch of ground cloves
Bring all ingredients to a boil over medium heat, whisking constantly. As sauce cooks, cranberries will pop. When sauce thickens and reduces by about 1/2 remove and strain. Continue cooking sauce if you like it thicker. I add back most of the cranberry pieces.
Enjoy these great Weekday Supper ideas from the Sunday Supper Group!
Monday – Mess Makes Food – Twice Baked Butternut Squash
Tuesday – Cindy's Recipes and Writings – Cranberry Chicken
Wednesday – La Cocina de Leslie – Caldo de Camarón (Mexican Shrimp Soup)
Thursday – Basic N Delicious – Chicken Fajitas
Friday – Shockingly Delicious – Mac 'n Cheese Impossible Pie
Find more quick & easy Weekday Supper recipes, click HERE.  Also, check out the Weekday Supper Pinterest Board.
Related articles