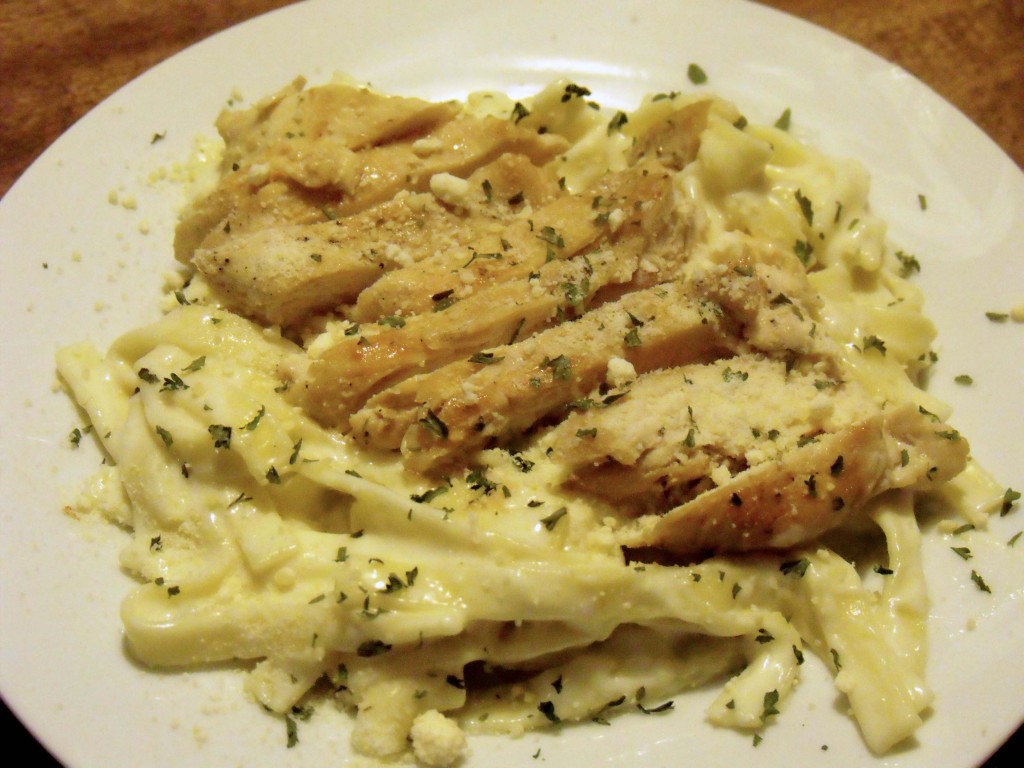 I'm very excited about being part of this #WeekdaySupper event challenge sponsored by American Family Insurance . We were asked to create a meal in 15 minutes or less! We were also provided with a list of great recipes from contributors to the American Family Insurance Pinterest Board for inspiration.


Follow AmFam's Back To The Family Dinner Table Pinterest board: http://www.pinterest.com/amfaminsurance/back-to-the-family-dinner-table/ for more great meal ideas. New recipes are added throughout the day!
I chose an Alfredo recipe contributed by Nancy Monasmith as my inspiration. I changed the type of cheese and reduced the amount of butter but loved her idea of adding chicken.
When I want chicken breasts to cook in a hurry, I'll place them between 2 sheets of plastic wrap and pound the chicken with the flat side of a meat mallet to 1/4-inch thickness. This keeps the chicken shape intact so you can cook it faster and slice it or leave it whole to serve. Cook the chicken approximately 3-4 minutes per side.
You can also parboil your noodles so that they will finish cooking in about 2 minutes. Boil your noodles as you normally would but stop cooking them about 3 minutes before recommended cook time. You can shock them in ice water, drain and bag them for later use. Drop them back in boiling water when you are ready to finish cooking.



Creamy Alfredo with Chicken
Ingredients
2 4-ounce chicken breasts, pounded to 1/4-inch thickness
1 Tablespoon olive oil
2 cups cooked noodles
2 cups 2 percent milk
1 Tablespoon butter
2 Tablespoons cornstarch
4 ounces shredded white cheddar
2 Tablespoons grated parmesan cheese
salt and pepper to taste
Cook chicken in oil for 3-4 minutes per side until chicken reached 160 degrees and juices run clear. Keep warm.
In a 2 quart saucepan, combine cornstarch, salt and pepper. Over medium heat, whisk in milk and butter. Bring to a boil stirring constantly, Remove from heat. Whisk in cheeses. Add noodles and toss to coat.
Top with cooked chicken and extra parmesan if desired.
Here are more great super quick Weekday Supper ideas inspired from American Family Insurance Back to the Family Dinner Table Pinterest Board contributors from our Sunday Supper Group.
Monday – MarocMama – Chicken and Coke with Twice Baked Potatoes
Tuesday – Alida's Kitchen – Quick & Easy Salsa Chicken
Wednesday – Cindy's Recipes and Writings – Creamy Alfredo with Chicken
Thursday – Momma's Meals – Pork Chop Glop
Friday – girlichef – Pizza Toast
Connect and stay informed with American Family Insurance:
Website: http://www.amfam.com
Linkedin: http://www.linkedin.com/company/american-family-insurance
Youtube: http://www.youtube.com/user/amfam/custom
Google+: https://plus.google.com/u/0/+amfam/posts
Twitter: https://twitter.com/amfam
Facebook: https://www.facebook.com/amfam
Pinterest: http://pinterest.com/amfaminsurance/
Visit our #WeekdaySupper Pinterest board for wonderful weekday menu suggestions all month long!
This post is sponsored by American Family Insurance. All opinions are my own.