Double Chocolate Cream Puffs serve rich, chocolate custard filling in light chocolate profiterole. Drizzle with white chocolate for a special occasion.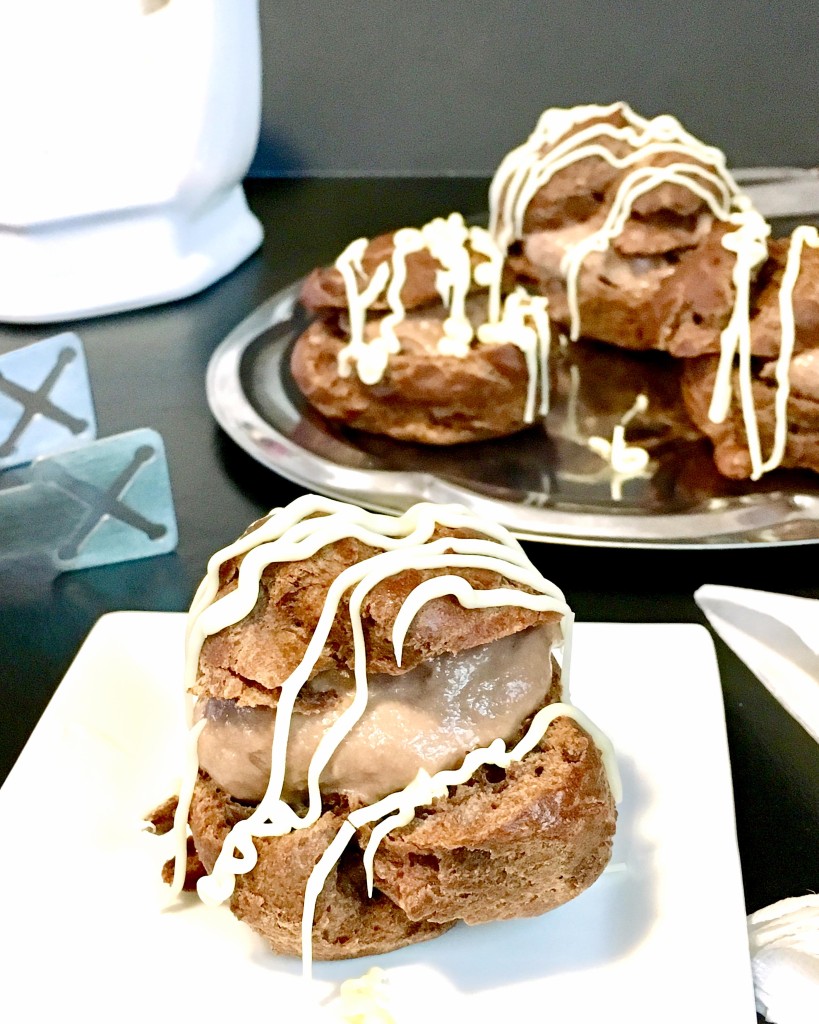 Me and chocolate go back a long way. I consider chocolate to be one of the minor food groups. A treat that has health benefits but only when consumed in moderation.
Easy to say. Hard to do for me.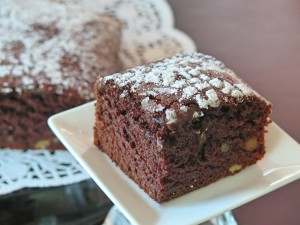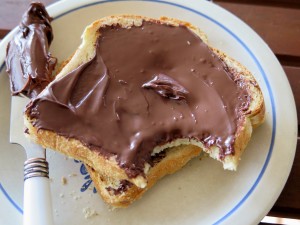 January brings the #BakingBloggers group together to create Choux Pastry dishes. Thanks to Sue Lau from
Palatable Pastime for hosting our event.
My guy loves the traditional eclair overflowing with vanilla custard and rich, dark chocolate ganache slathered on top. Good but I needed more chocolate. 😉
I played around with the dough recipe. A bit of cocoa worked nicely!
I used cocoa for the chocolate custard instead of unsweetened chocolate. It turned out so creamy!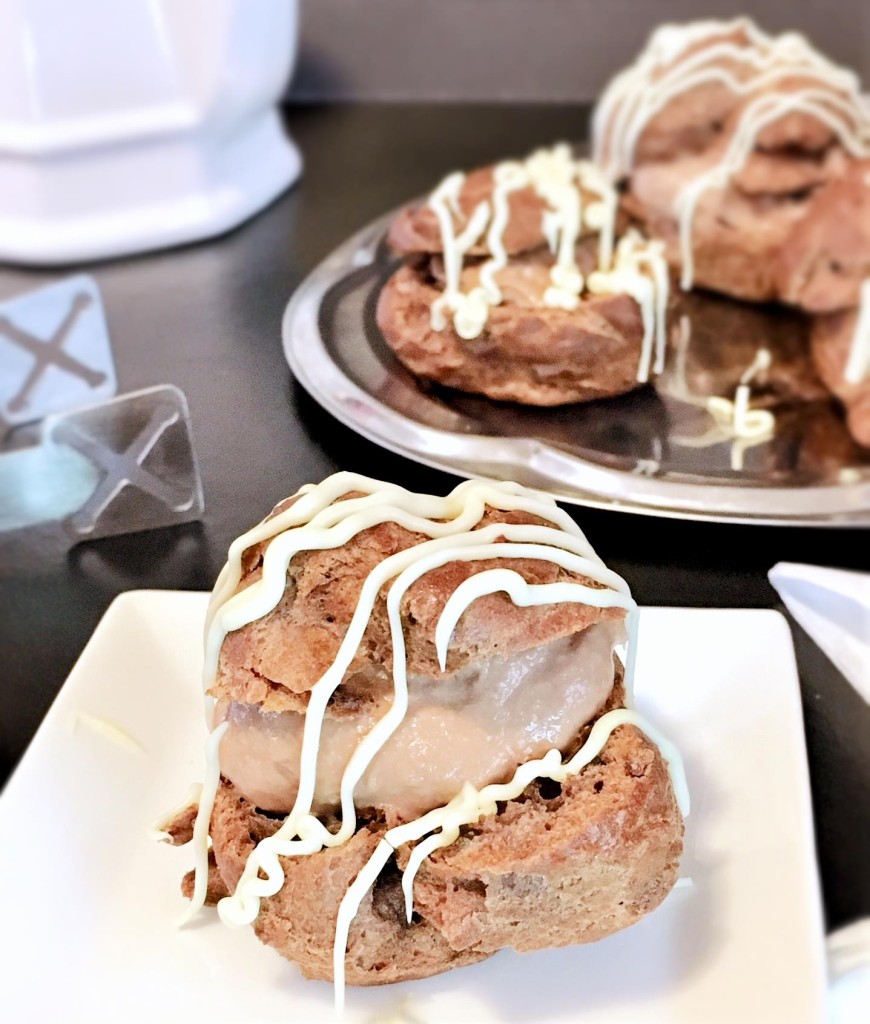 A quick drizzle of white chocolate works!
A few tips when making these cream puffs for best results.
Cook the flour a bit. Give the dough a few minutes on the heat to release moisture and bring out the flavor.
Bake dough thoroughly to release all the moisture trapped from the butter. When the little beads all disappear give the dough a bit more time to dry. Don't over bake.
Cool custard to room temperature. Place a film of plastic wrap directly on top to seal out air and prevent scum from forming. Refrigerate.
Fill these close to when they will be served. Refrigerated filled puffs tend to get soggy quickly.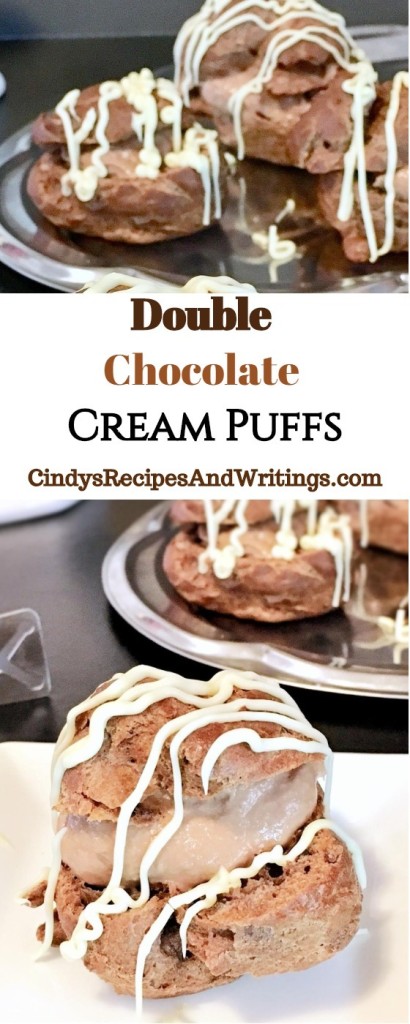 Double Chocolate Cream Puffs
Double Chocolate Cream Puffs
Ingredients
shells

1/2 cup water
1/4 cup butter
1/2 cup flour
1 tablespoon cocoa
1 tablespoon sugar
2 eggs

chocolate custard

1/4 cup sugar
1/4 teaspoon salt
3 tablespoons flour
2 teaspoons cocoa
1 cup half and half
1 egg
1/2 teaspoon vanilla
Instructions
shells

preheat oven to 400 degrees
Bring water and butter to a boil.
Mix flour and cocoa together. Add at once to boiling mixture. Stir over low heat until dough forms into a ball and starts releasing steam.
Remove from heat. Add one egg at a time, beating vigorously until incorporated before adding second egg.
Drop onto ungreased sheet pan or silicone lined sheet pan by teaspoonfuls or pipe into 12 rounds.
Bake until dry and hollow when tapped. About 30 minutes.
Cool completely on rack away from drafts.

chocolate custard

In a 2-quart saucepan, whisk together sugar, flour, salt, and cocoa.
Whisk in milk. Bring to a boil over medium heat, whisking constantly. Cook until boiling then remove from heat.
Temper in egg. (add a bit of hot mix to egg, then add egg mix back into pan)
Return to stove and cook until mixture begins to boil and thickens. transfer to bowl to cool a bit at room temperature.
When cooled, stir in vanilla. Cover with plastic wrap touching surface to avoid a film forming. Chill.
Fill shells with chilled custard. Dust with powdered sugar or cocoa/sugar mix if desired.
http://www.cindysrecipesandwritings.com/double-chocolate-cream-puffs-bakingbloggers/
Enjoy all these delicious ways to use Choux Pastry from #BakingBloggers!