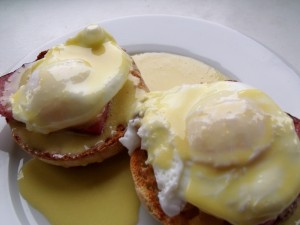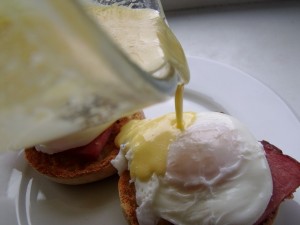 When families live miles apart, even states and countries apart, "Home for the Holidays" takes on real meaning. But coming "home" for the Holidays is often not practical for everyone.
One solution my (ex)Mother-in-law came up with was for all the siblings to have breakfast together on Christmas morning. A feat in itself since we lived in PA his sister lived in North Carolina, two brothers in Georgia and their Mom in Kentucky.
Thanks to a company that supplies Eggs Benedict kits including muffins, Canadian Bacon and Hollandaise sauce mix, she made sure that we had Eggs Benedict together on Christmas morning!
Eating Eggs Benedict is the easy part. Years ago I worked in a deli where it was on the menu every weekend. Making the sauce can be a chore but the taste is so rewarding! Clarifying the butter, being so sure there is no whites in with the yolks, whisking the yolks over a double boiler to the exact texture and not getting scrambled eggs, carefully incorporating the butter and lemon juice and THEN making sure to perfectly poach the egg and NOT break it when serving.
So when Isabel and Bea our hostess from Galactosemia in PDX for this week's event suggested favorite food traditions for Home for the Holidays I started looking for an easy Eggs Benny recipe.
I found several recipes that use a blender!
Here's one I adapted from Tasty Kitchen
Eggs Benedict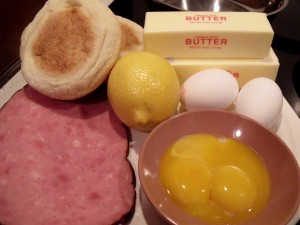 2 English Muffins
Turkey Ham or Canadian Bacon
6 eggs plus 3 egg yolks
2 sticks butter
juice of one lemon
1/2 teaspoon Worchestshire Sauce
salt and pepper to taste
Bring water to a boil in a deep fry pan. Add 1 teapoon of white or cider vinegar. This helps to keep the white from spreading too quickly.
While water heats up, Broil you muffin and ham pieces. I use a 1/4-inch thick slice of turkey ham from the deli. Keep warm.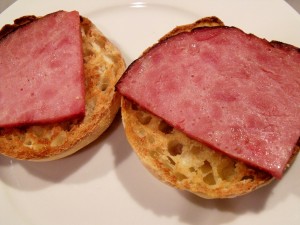 When water boils, drop eggs in one at a time and lift it with a slotted spoon so egg doesn't stick to the bottom. You can crack the eggs one at a time into a small bowl and slide them individually into the water.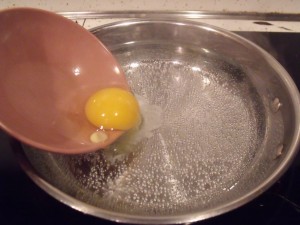 The eggs take about 2 1/2 minutes to poach. The egg whites should be firm not runny.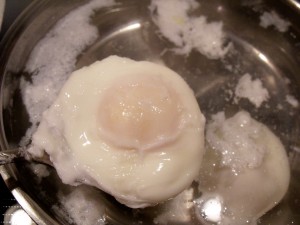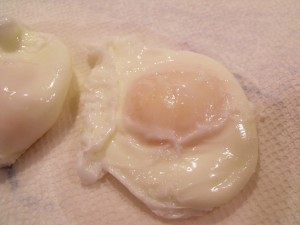 Place cooked eggs on a paper towel to absorb excess water. Don't worry, the wet towel keep it from sticking to the towel. I'm weird about the taste of paper towel or tissues, so we're good, no towelly aftertaste!
For the Sauce
Melt butter and clarify it. I run a spoon over the top to skim off the butter fat. You can use the fat to butter the muffin or leave it in if you prefer.


Pour yolks into blender in pulse to mix.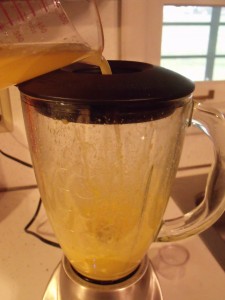 Slowly pour butter into blender while its running on low.
Add lemon juice. Keep blending until smooth and creamy.
Assemble by putting ham on top of buttered muffin. Gently add egg.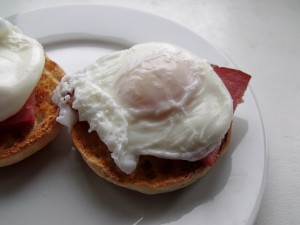 Drizzle sauce.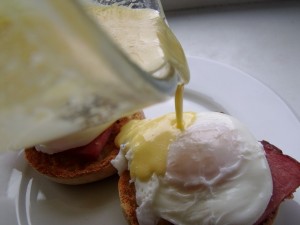 Add hot sauce and more Worchestshire if desired.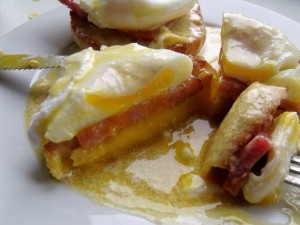 Check out the great Holiday Meal Traditions inspired by our #SundaySupper Team!
Breakfast
Appetizers & Snacks
Sides
Main Dishes
Desserts
Drinks
The posts are more than recipes. They are also wonderful stories of holidays and traditions. Please take the time to visit and read each heartwarming one.
Join the #SundaySupper conversation on twitter each Sunday. We tweet throughout the day and share recipes from all over the world. Our weekly chat starts at 7:00 pm ET and you do not want to miss out on the fun. Follow the #SundaySupper hashtag and remember to include it in your tweets to join in the chat. Check our our #SundaySupper Pinterest board for more fabulous recipes and food photos.