This week our #SundaySupper team is honored to have Chantal Cookware join us in spreading Cancer Awareness through #bakeforacure.
According to The American Cancer Society, "Lifetime risk refers to the probability that an individual will develop or die from cancer over the course of a lifetime. In the US, men have slightly less than a 1 in 2 lifetime risk of developing cancer; for women, the risk is a little more than 1 in 3."
Many cancers can be prevented or treated because of early detection. I know, because I was lucky enough to catch suspicious calcifications in my breast. The area was removed and has not returned or developed into a heightened cancer stage. Many people are not so lucky.
So when I heard Chantal was offering us a pie plate from their new line of Easy-As-Pie Dishes to spread Cancer Awareness by baking something and taking it to a medical cancer treatment professional or someone who has been affected by cancer I jumped at the chance!
I planned to make a Funny Cake, which is a cake baked in a pie shell with a layer of gooey chocolate in between. What makes it "funny" is you pour the chocolate "icing" on top of the cake and it sinks to the bottom as it bakes. Sort of like an upside-down cake without flipping it over!
To me a Funny Cake is PA Dutch comfort food. I grew up eating them.
I knew exactly where I was headed with my cakes; to the volunteers and staff of the Cancer Support Community of the Greater Lehigh Valley.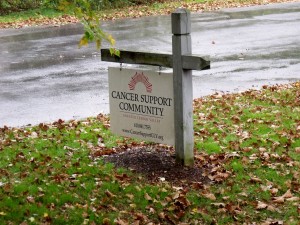 Their website at http://www.cancersupportglv.org best describes Cancer Support Community (CSC) as "a national nonprofit organization that provides support, education and hope to people with cancer and their loved ones. Through participation in professionally led support groups, educational workshops and mind/body classes utilizing the "Patient Active" concept, people affected by cancer learn vital skills that enable them to regain control, reduce isolation and restore hope regardless of the stage of disease. Most importantly, CSC provides a home-like setting for people fighting cancer to connect with and learn from each other."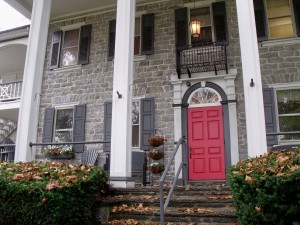 When you arrive at CSC you feel like you're entering someone's home. Jackie greeted me at the door and showed me into a gorgeous parlor for guests to relax, complete with a tile fireplace.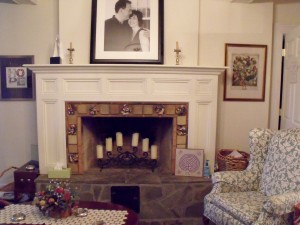 From there we went to CSC's warm, inviting kitchen where they bake and cook for their cancer patient guests, cancer survivors and their families.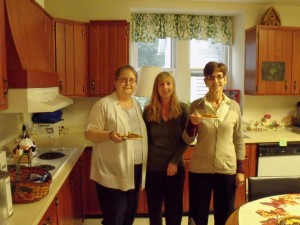 I met with Liz Scofield, Interim Director and the staff. They all made me feel welcome and at home. It was my pleasure to share a little token of appreciation for those who take time and  make the effort to go the extra mile and show understanding and compassion for people who's lives have been touched by cancer. Thank You!
That's not all!  We are encouraging every one of our followers to join us in our #BakeForACure event.
Do you want to get your own Easy as Pie Dish?  Chantal is offering 20% OFF of ALL Chantal Pie dishes on www.chantal.com. BAKE4CURE must be entered at checkout to receive the pie dish discount. The coupon discount code is active October 16, 2012 through October 30, 2012. 
Keep up with the latest from Chantal on their website, twitter, facebook, and Pinterest
Here's the Funny Cake recipe that reminds us that no matter how upside-down our world gets, it can all come together and become something beautiful again.
Funny Cake
Makes 2 pies.
(revised recipe courtesy of Lori R. my pie dough mentor! :))
Preheat oven to 450 degrees. Use the center rack in the oven.
Pie Crust
2 cups flour
2/3 cup Crisco
6 Tablespoons cold water
Bottom layer:
1 1/4 cups sugar
3/4 cup cocoa
1 cup warm water
1 teaspoon vanilla
Cake layer:
1 cup sugar
1/2 cup Crisco
1 egg, beaten
1 cup milk
2 1/4 cups flour
2 teaspoons baking powder
1 teaspoon vanilla
Crust
1. Make the pie crust by working the flour and shortening together. Lori told me a tip that worked for a beautiful flaky crust. Her secret is to keep working the dough at this stage until all the flour is moistened.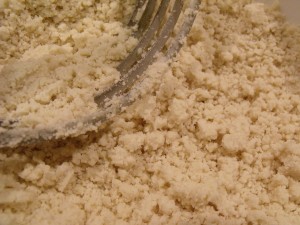 2. Add water and work in just until mixed.
3. Lightly flour your surface and pin. Dip the dough in flour and pat off excess flour. If your dough sticks to the board, try using a bench scraper also known as a dough cutter instead of adding more flour.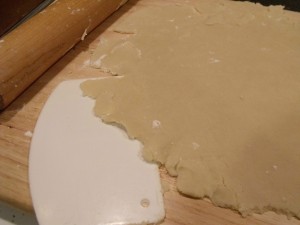 4. Roll dough large enough to fit the size of your dish without needing to stretch it up the sides . Transfer dough to your dish by loosely rolling it back over the pin, kind of draping it and place it in your dish. Lightly press into place.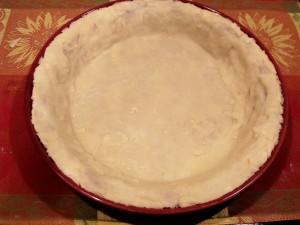 Cake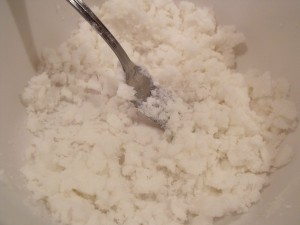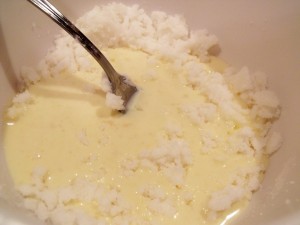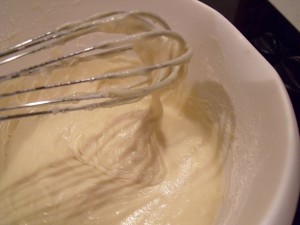 1. Mix sugar and shortening together until creamy.
2. Add egg, vanilla and milk.
3. Combine flour and baking powder in a separate bowl then add to the mixture. Mix until smooth. Do not over mix.
Chocolate layer: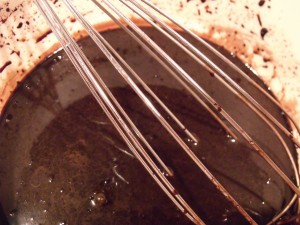 1. Mix all ingredients together until dissolved.
Assembly
1. Divide the batter between the 2 pie shells by making 3 mounds in each shell. Do not spread the batter out. This gives the chocolate even flow.
2. Divide the chocolate mixture in half and pour over the batter.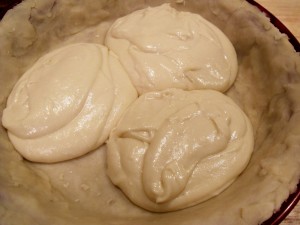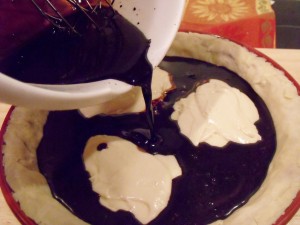 3.Bake at 450 degrees for 10 minutes, and then reduce heat to 350 degrees and bake for approximately 30 minutes more or until cake tests done when toothpick inserted comes out clean.
4.Cool you pie on a wire rack. Don't worry if some cracking occurs, that's just part of the fun!
Servings: 12
Nutrition Facts
Nutrition (per serving): 424 calories, 171 calories from fat, 19.1g total fat, 26.7mg cholesterol, 17.7mg sodium, 163.9mg potassium, 58.7g carbohydrates, 3g fiber, 22.1g sugar, 6.8g protein, 62IU vitamin a, <1mg vitamin c.
Do you want to participate but wonder what to bake?  The #SundaySupper Team has some mouth watering suggestions.  From sweet to savory, you will be inspired to bake and put a smile on someone's face.
These #SundaySupper Contributors, were provided with a beautiful Easy As Pie Dish by Chantal Cookware.  They will be sharing their recipes with you this Sunday and also their thoughts on this Beautiful Pie Dish.   Many are giving away their dish along with their pie to brighten someone's day.
Check out these gorgeous Sunday Supper Recipes:
As you may have noticed, when the #SundaySupper Team does something, we come together and do it with a bang.   Check out these additional recipes, perfect to take to someone who you want to make feel special this month.
Do you want to get your own Easy as Pie Dish?  Chantal is offering  will be 20% OFF of ALL Chantal Pie dishes on
www.chantal.com
. BAKE4CURE must be entered at checkout to receive the pie dish discount. The coupon discount code is active October 16, 2012 through October 30, 2012.
The Sunday Supper Team and
Chantal Cookware
, would be honored to have you join us for this special #BakeForACure event Around the Family Table this week.
Join us on Twitter throughout the day during #SundaySupper.  We'll be meeting up at 7:00 pm(Eastern) for our weekly #SundaySupper  live chat where we'll talk about our favorite Comfort Food Recipes.
All you have to do is follow the #SundaySupper hashtag or you can follow us through TweetChat.
We'd also love to feature your easy go to recipes on our #SundaySupper Pinterest board and share them with all of our followers, too.
Keep up with the latest from Chantal on their website, twitter, facebook, and Pinterest !