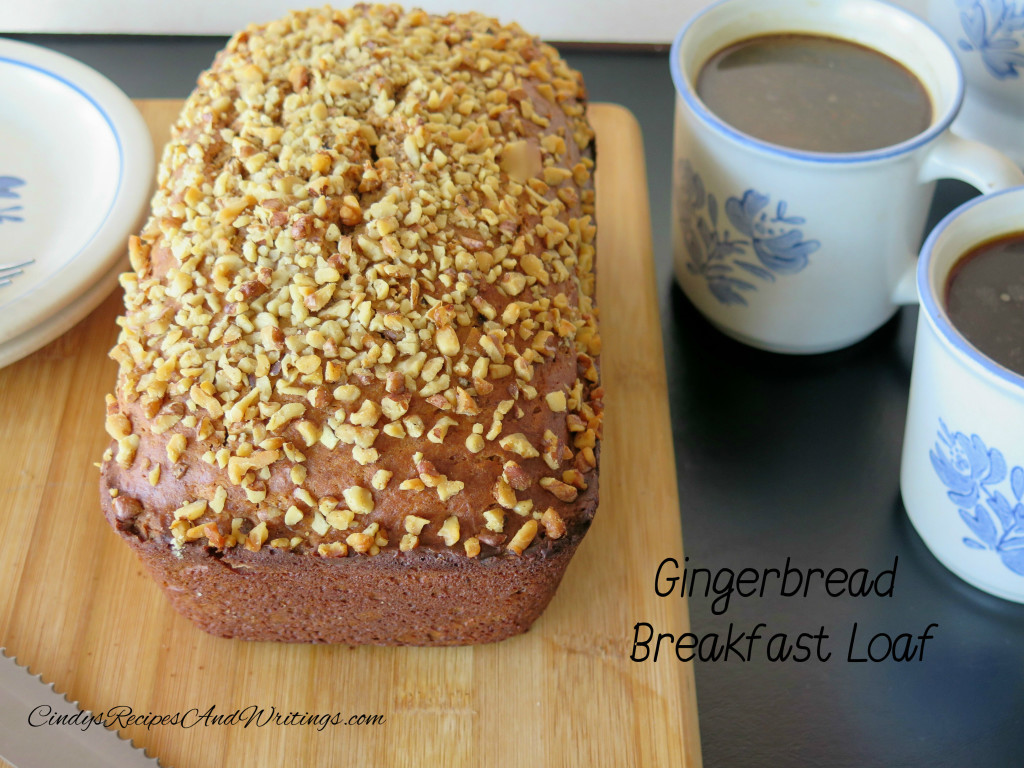 The #BreadBakers theme this month is Overnight Breakfast Breads. This includes yeasted breads that you prepare the night before then bake in the morning as well as quick breads that you prepare ahead of time then mix and bake in the morning. December is a busy time for celebrations and getting together with family and friends. It is always nice to think ahead and to make dishes ahead of time so that you– the baker– can enjoy the fruits (or breads!) of your labor with your loved ones.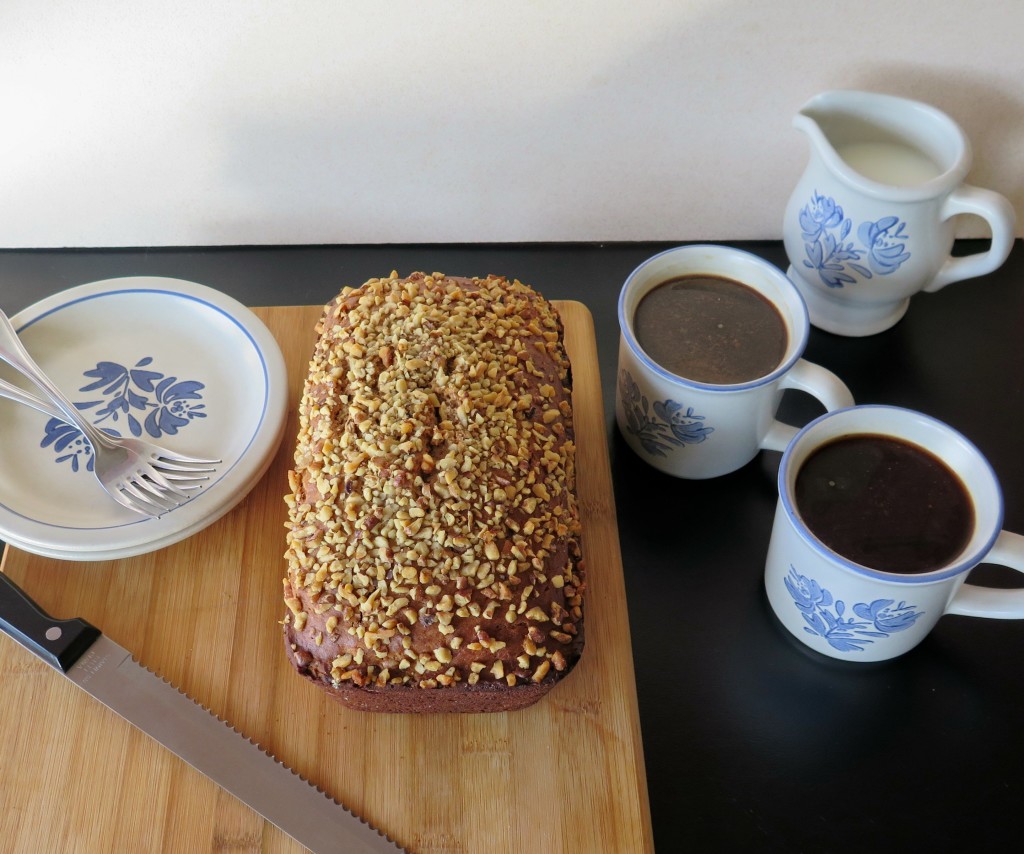 I love the warm flavor of gingerbread on a cold, wintry morning. We got our first hard frost this morning. You know the kind that you need to scrap off the windshield in layers. I'm so not ready for winter.
But I am ready to have my guests wake up to the smell of gingerbread drifting out the oven. Gingerbread Breakfast Loaf can be eaten as a quick bread slice with butter or drizzled with a powder sugar glaze.
For this loaf I went with a plain version just sprinkled with chopped walnuts. All the scents and flavors of gingerbread packed into one treat.
Simply mix the batter and pour it in the loaf pan. Refrigerate overnight and bake in the AM. Sprinkle with chopped nuts right before you put the pan in the oven. No mess, unless you left the mixing bowl in the sink overnight!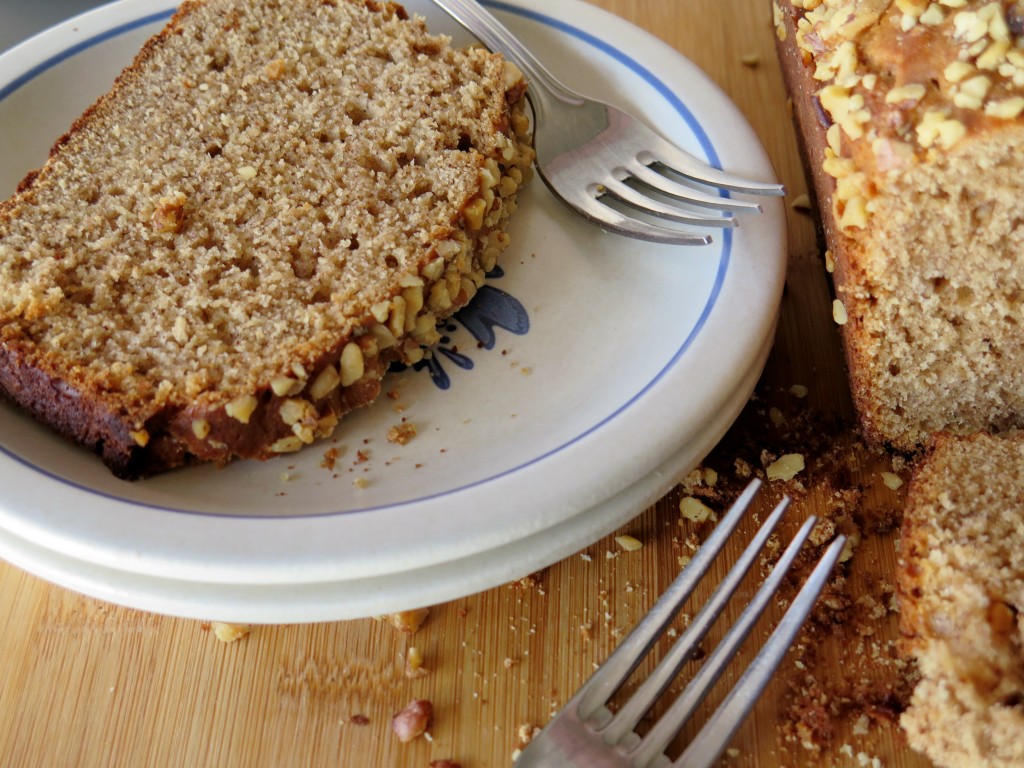 Gingerbread Breakfast Loaf
Ingredients
3/4 cup sugar
2 Tablespoons soft shortening
1 egg
1 Tablespoon molasses
1 1/2 cups milk
3 cups flour
1 tablespoon plus 1 teaspoon baking powder
1 teaspoon salt
2 tablespoon brown sugar
1 tablespoon cinnamon
1/2 teaspoon nutmeg
1/2 teaspoon ginger
1/4 teaspoon cloves
1/2 cup chopped walnuts
Instructions
Cream together sugar and shortening. Add egg and molassses.
In a separate bowl, whisk together flour, brown sugar, salt and spices.
Alternate adding milk and dry ingredients to creamed mixture.
Pour into a well-greased 9x5x3-inch loaf pan.
Let batter set for 20 minutes sprinkle with nuts then bake or refrigerate overnight then add nuts and bake.
Bake at 350 for 50 to 60 minutes until inserted toothpick comes out clean.
Cool in pan on rack for several minutes before removing. Serve warm or room temperature with butter or drizzle with glaze if desired.
Notes
No need to bring pan to room temp before baking.
http://www.cindysrecipesandwritings.com/gingerbread-breakfast-loaf-breadbakers/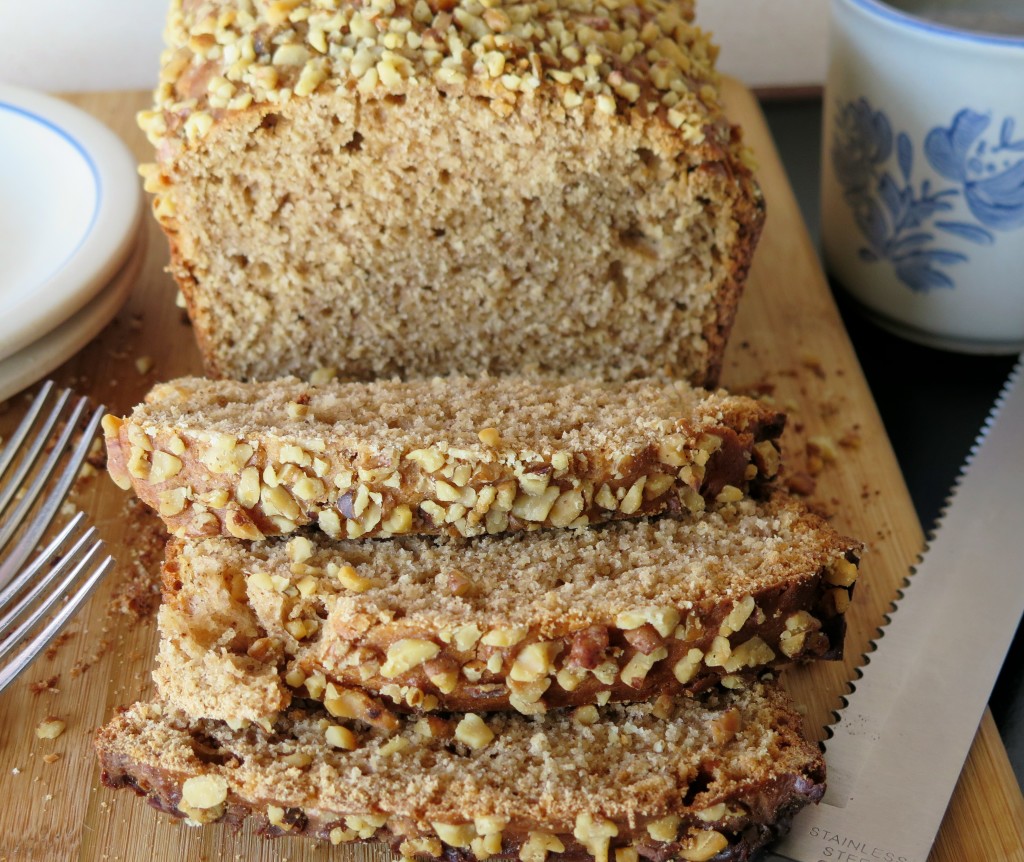 Here is what the group is sharing today, enjoy!

#BreadBakers is a group of bread loving bakers who get together once a month to bake bread with a common ingredient or theme. Follow our Pinterest board right here. Links are also updated each month on this home page.
We take turns hosting each month and choosing the theme/ingredient.
If you are a food blogger and would like to join us, just send Stacy an email with your blog URL to foodlustpeoplelove@gmail.com.