It's that time of year again when dozens gather in homes, yards, and parking lots. Often these people wear strange clothes with names and numbers on them. They paint their faces vibrant colors. Some carry oversized foam hand mitts (I'm still not sure why about this one). They bring food and beverages, grills, coolers, radios and even TVs! "Why" you say? Well it football season, and they're ready to party!!!
I admit that I'm not a big sports fan, but I am a big fan of the food! 😉
So here's my contribution to our #SundaySupper Tailgate Party hosted this week by Lane over at Supper for a Steal . Thank you Lane!

Hawaiian Chicken Wraps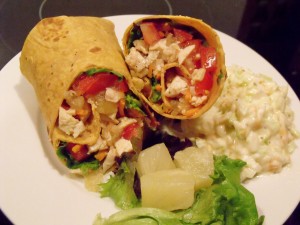 This is a great way to use leftover chicken or cook chicken ahead and freeze it to always have some ready for last minute meals!
Ingredients
1 cup chicken breast, cooked, diced or sliced
1/2 cup Pineapple, crushed, drained
1 cup carrots, shredded
1 each tomato, diced
2 cups lettuce, shredded
Dressing
1 Tbs brown sugar – (packed)
1 Tbs honey
1/2 teaspoon orange juice
1/4 teaspoon soy sauce
1/4 teaspoon red wine vinegar
2 each tortillas, whole wheat
1. Drain pineapple in sieve and gently press out excess juice.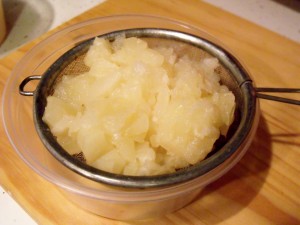 you can also drain the tomatoes too!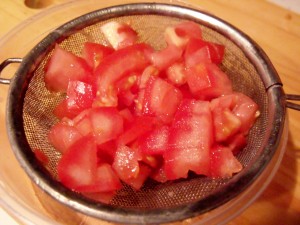 2. Mix dressing ingredients together and whisk to dissolve sugar. I like the added flavor orange juice brings to the dressing.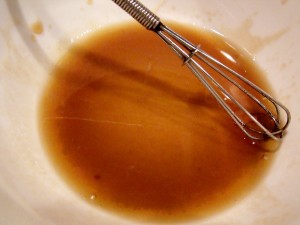 3. Mix in chicken and pineapple.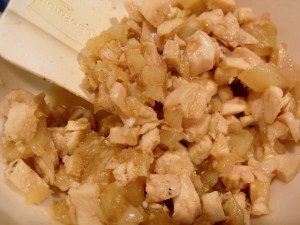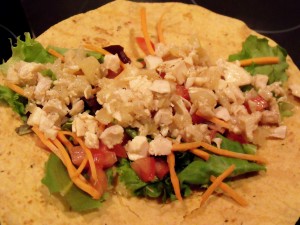 4. Lay out your wrap and add veggies first. Then add chicken pineapple mixture. I fold over the sides about a quarter width first, fold up the bottom, roll and tuck in sides as I roll!
5. Depending on how long it will be until you eat your wraps, you may want try mixing the chicken well and be careful not to get too much extra liquid in your wrap. You're good to go!
Servings: 2
Cooking Times
Preparation Time: 15 minutes
Total Time: 15 minutes
Nutrition Facts
Nutrition (per serving): 458 calories, 68 calories from fat, 6.8g total fat, 59.5mg cholesterol, 133.4mg sodium, 742.2mg potassium, 70.8g carbohydrates, 6.8g fiber, 37.6g sugar, 24g protein, 13778.7IU vitamin a, 27.2mg vitamin c.
Tips
The nutritional value will vary widely depending on the type of tortilla you use.
Need menu ideas for your next Tailgate Party? Check out the rest of our #SundaySupper group. I'm sure your party will be a hit!
The Lineup
Pre Game Warm-ups:
On the Sidelines:
Main Events:
Overtime:
From the Cooler:
Wine Pairings by Wine Everyday
Please be sure you join us on Twitter throughout the day during #SundaySupper. We'll be meeting up at 7:00 p.m. EST for our weekly #SundaySupper live chat where we'll talk about our favorite tailgate recipes!
All you have to do is follow the #SundaySupper hashtag, or you can follow us throughTweetChat!
We'd also love to feature your tailgate recipes on our #SundaySupper Pinterest board and share them with all of our followers!