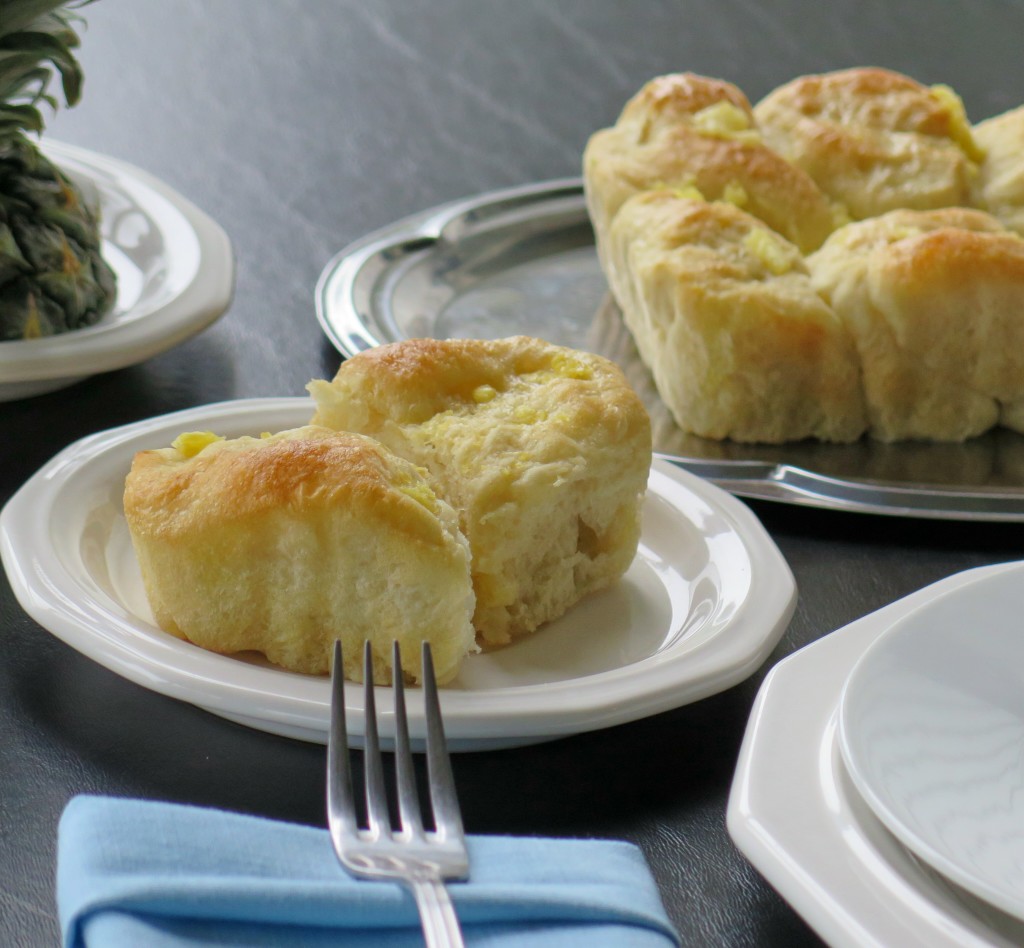 Honey Pineapple Pull-Apart Rolls dish up tender, soft rolls great with salads, meats or wherever your meal takes you.
Baking fresh rolls takes me back to my first days in the bakery class. Every day we started early getting the dough ready. Weighing flour and molasses, mixing, kneading, shaping baking and finishing.
White, wheat, rye, sourdough breads all had their own nuances. Subtle recipe changes make each one different yet it is still bread.
It's that way with rolls. You can shape them into knots, balls, clovers or sticks. You can even put them in the same pan.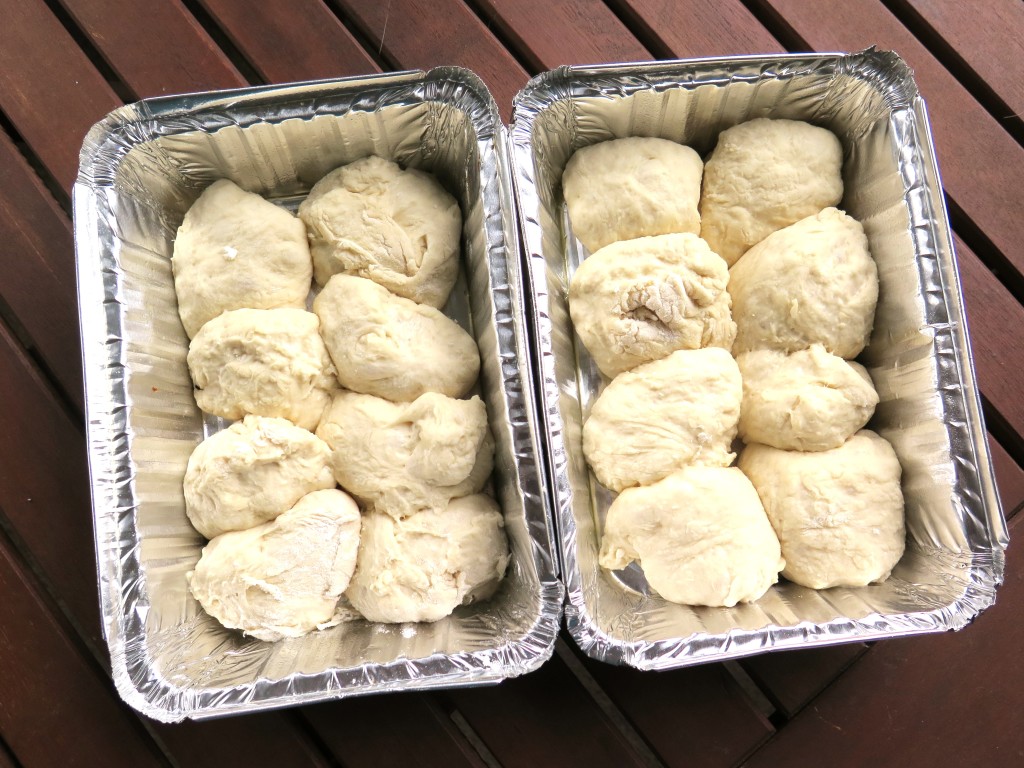 Bake them. Then pull them apart again!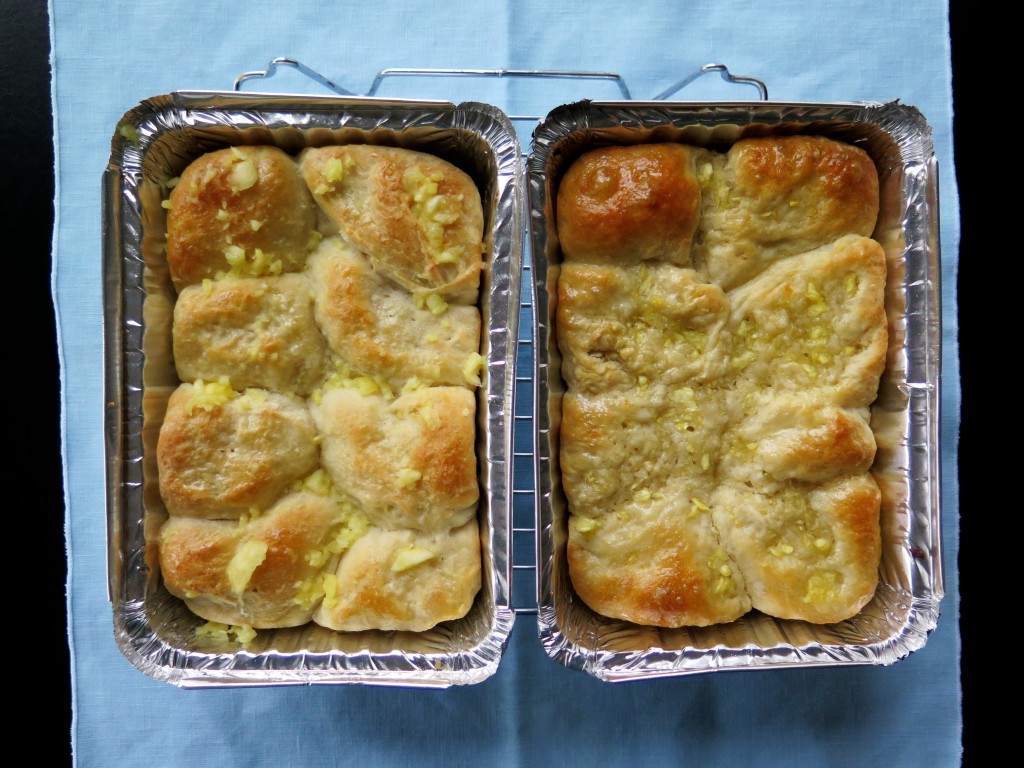 Honey Pineapple Pull-Apart Rolls are made without processed sugar for this month's Bread Bakers challenge!
July Challenge:
Bake using Natural Sweeteners that are a healthy and tasty alternative to refined sugar, high fructose corn syrup and artificial sweeteners (Splenda, saccharin, aspartame, etc). Some of the natural sweeteners are maple syrup, honey, blackstrap molasses, dates, banana puree, coconut sugar, balsamic glaze, brown sugar syrup, real fruit jam made without any sugar, stevia, palm jaggery. Use any one or a combination of the natural sweeteners in your bake. NO SUGAR, white, brown, demerara, turbinado, muscovado etc to be used in the bake.
Honey Pineapple Pull-Apart Rolls get their fruity goodness from a layer of minced pineapple and honey in oil.
Brush cooled rolls with the mixture and serve. Your family can pull apart as many rolls as they like.
These rolls also taste great spread with gobs of jam!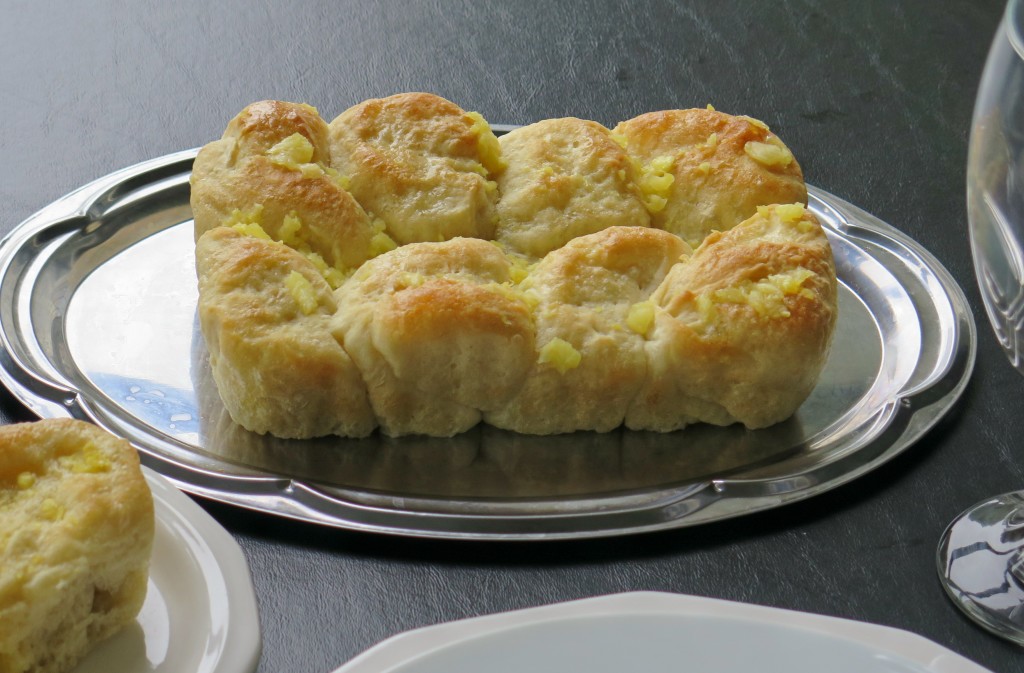 Honey Pineapple Pull-Apart Rolls
Ingredients
1 packet quick rise yeast (I use Red Star Platinum Yeast)
1 cup warm water 110-120 degrees
2 tablespoons honey, divided
3 cups bread flour divided
1/2 teaspoon salt
1/4 cup minced fresh or canned pineapple
2 tablespoon vegetable oil
Instructions
Whisk together 1 1/4 cups flour, yeast and salt.
Whisk 1 tablespoon honey into warm water. Add liquid to flour mixture.
Add 1 cup flour to make soft dough. Add reserve flour as needed and knead until smooth.
Cover and rest dough at least 15 minutes.
Spray 1 large pan or 2 small loaf pans with cooking spray.
Divide rested dough into 16 pieces.
Cover pans with plastic wrap and allow dough to double in size.
Bake at 375 for about 20 to 25 minutes until golden brown and hollow when tapped.
Cool slightly then brush with pineapple mixture.
Serve warm or cold.
http://www.cindysrecipesandwritings.com/honey-pineapple-pull-apart-rolls-breadbakers/
Thank you Mayuri from  Mayuri's Jikoni at http://mayurisjikoni.blogspot.com/ for hosting this event. Stop by Mayuri's Jikoni and show her some #BreadBakers love!
#BreadBakers is a group of bread loving bakers who get together once a month to bake bread with a common ingredient or theme. Follow our Pinterest board right here. Links are also updated each month on this home page.
We take turns hosting each month and choosing the theme/ingredient.
If you are a food blogger and would like to join us, just send Stacy an email with your blog URL to foodlustpeoplelove@gmail.com.
Food For Thought… Which unprocessed natural sweeteners would you use to bake? I'd love to hear your thoughts and recipe ideas! Please leave a comment below.
Enjoy these great all natural sweetened bread ideas from the #BreadBakers !
Bakes with Natural Sweeteners
Thanks for joining in the fun! Hope to see you next month for #breadbakers !