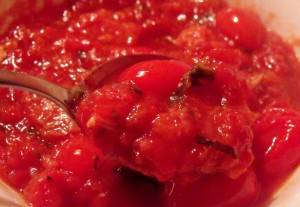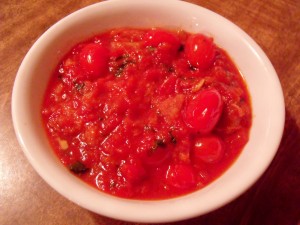 When I first heard about this Celebrity Chef Inspired #SundaySupper hosted by Tammi from Momma's Meals I had one chef from many possibles take a quick lead as my pick.
You guessed it, The Naked Chef, Jamie Oliver . Jamie got his reputation as The Naked Chef because he would strip food down the its bare essentials. Today, we call this cooking "Clean Eating".
This simple yet delicious soup does just that; it gets down to just the flavor without adding unnecessary ingredients.
Give it a try! Go naked! I'll bet you will love it!
Bread and Tomato Soup (inspired byJamie's recipe )
Ingredients
1 pint cherry or grape tomatoes
3 each garlic clove, sliced, divided
1 cup basil, fresh, finely chopped
3 Tbs olive oil, divided
2 cups plum tomatoes
2 cups Bread, stale cut into 1 1/2-inch cubed
salt and pepper to taste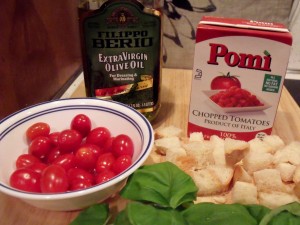 1. Preheat oven to 350. Spread the cherry or grape tomatoes onto a baking sheet. Prick the tomatoes with a fork. Add 1 clove worth a the garlic and 1/4 cup of the basil, drizzle with 1 tablespoon oil. Roast for about 15 minutes, stirring occasionally.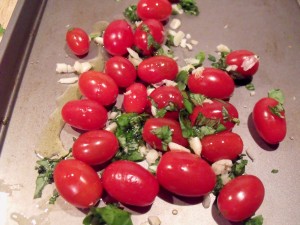 2. While tomatoes are roasting, in a 2-quart saucepan sauté remaining garlic and basil in 1 tablespoon oil until soft.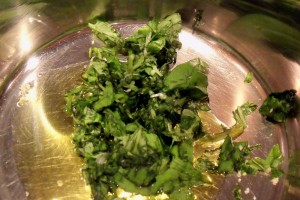 3. Add canned tomatoes and bring to a boil. Reduce heat and simmer about 15 minutes. Thin with water as necessary.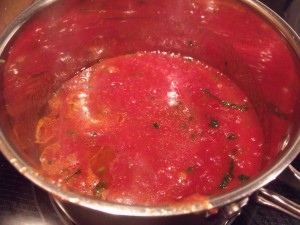 4. Add bread to roasting tomatoes, drizzle remaining oil. roast additional 10 minutes.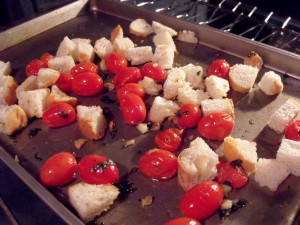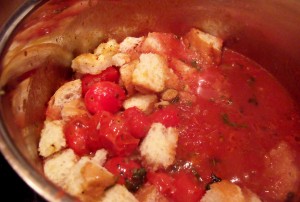 5. Add roasted tomatoes and bread mix to the pot. Stir and serve!
Servings: 4
Oven Temperature: 350°F
Nutrition Facts
Nutrition (per serving): 130 calories, 93 calories from fat, 10.6g total fat, 0mg cholesterol, 153.2mg sodium, 377.4mg potassium, 9g carbohydrates, 2g fiber, 2.5g sugar, 1.7g protein, 1153.7IU vitamin a, 27.1mg vitamin c.
Check out all the Celebrity Chef Inspired creations from The Sunday Supper Team! Is your favorite Celeb Chef on the list below? 8)
Starters or Snacks :
Martin at ENOFYLZ Wine Blog – Oyster and Brie Soup and Wine Pairings for Celebrity Chef #SundaySupper
Linda at The Urban Mrs. – Inspired by Bobby Flay, Lobster Chowder with Roasted Corn Salsa
Erin from Dinners, Dishes and Desserts – Rachael Ray's Cinnamon Popcorn
Cindy over at Cindy's Recipes and Writings – Jamie Oliver's Bread and Tomato Soup
Jeff at The Catholic Foodie – Drop Biscuits – Breakfast with Chef John Besh
Renee over at Kudos Kitchen By Renee – Giada De Laurentiis' Garlic Toasts With Red Pepper Aioli
The Main Dish:
Sheila at Cooking Underwriter – Paula Deen's  Chicken in a Crock Pot w/ Sauerkraut and Apples
Laura over at Small Wallet Big Appetite – Martin Yan's Beef Chow Fun
Sarah over at Crispy Bits & Burnt Ends – Michael Symon's Lola burger with crab tater tots
Susan at The Girl in the Little Red Kitchen – Ina Garten's Baked Shrimp Scampi
Tammi at Momma's Meals – Lee Drummond's Sloppy Joe's
Lane over at Supper for a Steal – Bobby Flay's Rosemary Bricked Chicken
Tara from Noshing with the Nolands – Michael Symon's Pork and Apple Scallopini
Shannon at Country Girl in the Village – Simple Red Sauce over Rigatoni. Inspired by,  Debi Mazar and Gabriele Corcos
Kris over atIn the Kitchen with Audrey and Maurene – Rachael Ray's Muffin Tin Meatloaf
Nicole from The Daily Dish Recipes – Paula Deen's Slow Cooker Pulled Pickled Pork Sandwiches
Becca from It's Yummilicious – Ina Garten's Grown Up Bacon Mac & Cheese
Alice at Hip Foodie Mom – Sunday Pot Roast with Risotto Cakes from Kelsey Nixon
Jen over at  Juanita's Cocina – The Neely's White Turkey Chili
Brianne fromCupcakes & Kale Chips – Crockpot Beef Pot Roast with Mushrooms inspired by Giada DeLaurentiis
Isabel at Family Foodie – Polenta with Garlicky Shrimp inspired by Chef Todd English
Wendy from The Weekend Gourmet – Shrimp Penne in Pesto Cream Sauce, From Emeril Lagasse
Bobbi over at Bobbi's Kozy Kitchen – Cheesy Poblano Chicken
Patti at Comfy Cuisine– Tyler Florence's Chicken Francese
Roxanne over at The Roxx Box – Jambalaya Pasta with Penne, Chicken, Shrimp and Andouille
Sue from Sue's Nutrition Buzz – Rachael Ray's Spicy Corn Chowdah Mac 'n' Cheese
Jamie at Mama Mommy Mom – Penne with Asparagus, Smoked Gouda and Prosciutto. Adapted from, Giada De Laurentiis'
Tora over at Tora's Real Food – Pork and beans with Alton Brown's pickled pork
Elisabeth over at The Hand That Rocks The Ladle – Emeril's New Orleans Style Red Beans & Rice
Amazing Sides:
Megan from I Run For Wine – Curtis Stone's Acorn Squash Roasted with Thyme
Sandi over at Midlife Road Trip –  Gabriele Corcos's Gnocchi di Patate
Shelby at  Diabetic Foodie – Orange Pecan Black Rice, adapted from Ina Garten
Katie from She likes Ruffles, He likes Truffles – Chef Fabio Viviani's Spinach and Artichoke Risotto
Sweet Endings:
Renee over at Magnolia Days – Brownie Tart
Conni at The Foodie Army Wife – Inspired by Ree Drummond – Scrumptious Apple Coffee Cake
Paula over at Vintage Kitchen Notes – Bill Granger´s Cherry Tart
Pam from The Meltaways – Savannah Sheet Cake
Katy over at Happy Baking Days – Mary Berry's Treacle Tart
Jaime over at Mom's Test Kitchen – Southern Tea Cakes
Amy over at Kimchi MOM – Crack Pie, I Can't Quit You
Wine Pairings:
Martin at ENOFYLZ Wine Blog
Please join on us on Twitter throughout the day  #SundaySupper.  In the evening we will meet at 7pm EST for our weekly #SundaySupper live chat,  you have to join us!
All you have to do is follow the #SundaySupper hashtag or you can follow us through TweetChat.