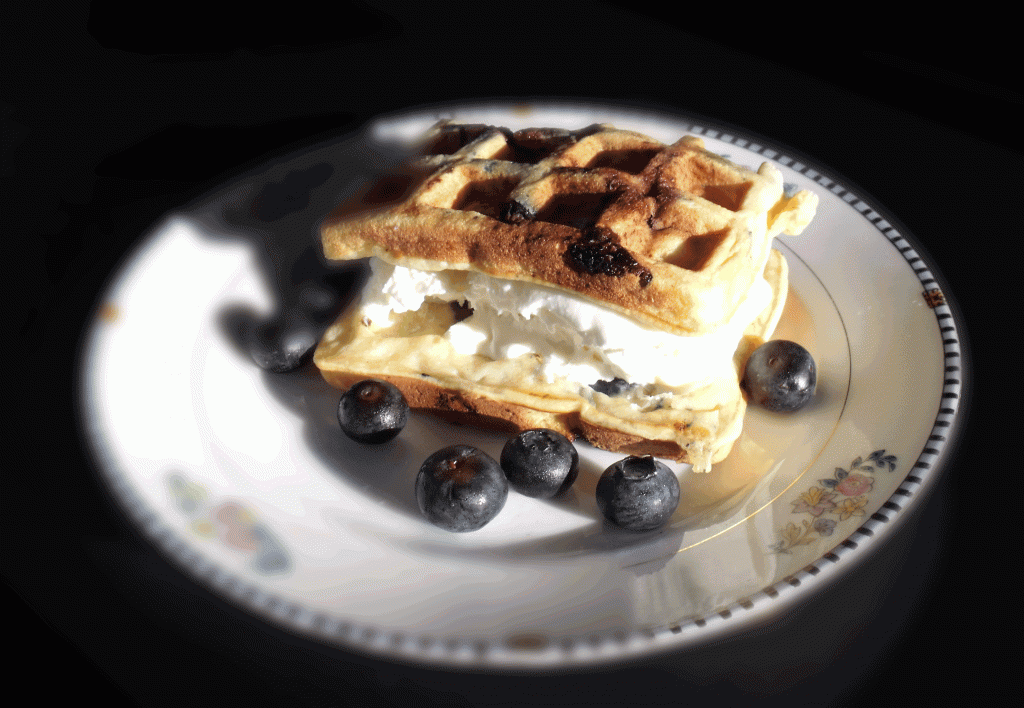 Ice Cream Waffles are one of summer's best treats. This month Sheryl at The Lady Behind the Curtain posed a new Dessert Challenge using lemons and blueberries. What better way to eat this delicious combo than in an ice cream waffle? Sweet, tart lemons make a perfectly refreshing ice cream flavor. Blueberry waffles are just classic goodness. Together it is an awesome treat. I hope you try one and let me know if you agree!
Learn more about joining in on the fun of the monthly Dessert Challenge by clicking the badge below!


Lemon Ice Cream and Blueberry Waffle Sandwiches
2 cups heavy cream
2/3 cup sugar
1/2 cup lemon juice
Make ice cream according to your ice cream makers directions. I like to whisk the sugar into the cream by hand until the sugar dissolves
and cream gets a little frothy. Then I add the lemon juice and pour it into my hand-crank ice cream maker and churn away.
Blueberry Waffles
1 cup all purpose flour
1/4 cup sugar
1/2 teaspoon baking powder
1/4 teaspoon baking soda
1/4 teaspoon salt
3/4 cup milk
2 eggs, beaten
2 tablespoons unsalted butter, melted and slightly cooled
1/2 teaspoon vanilla
1/2 cup blueberries
Directions
Heat waffle iron, grease with spray as needed.
Pour milk into a bowl and set aside to reach room temperature. The milk can't be cold or your butter will gel, too hot and you will start to cook the eggs!
Mix together flour, sugar, baking powder, baking soda, salt and set aside.
Mix milk, eggs, butter and vanilla in a separate bowl.
Add wet ingredients to dry ones and mix well. Set aside for a few minutes to activate the leavening. In cooking class we learned this works well on cake batter too.
Cook waffles according to manufacturer's directions until both sides brown.
Assemble your sandwich any way you like. I'm terrible about waiting until their cool. That's what knives and forks are for, right? I like to cut my waffles in half and pile on the ice cream!
Check out all the great lemon and blueberry dessert combos from bloggers participating in this month's challenge!