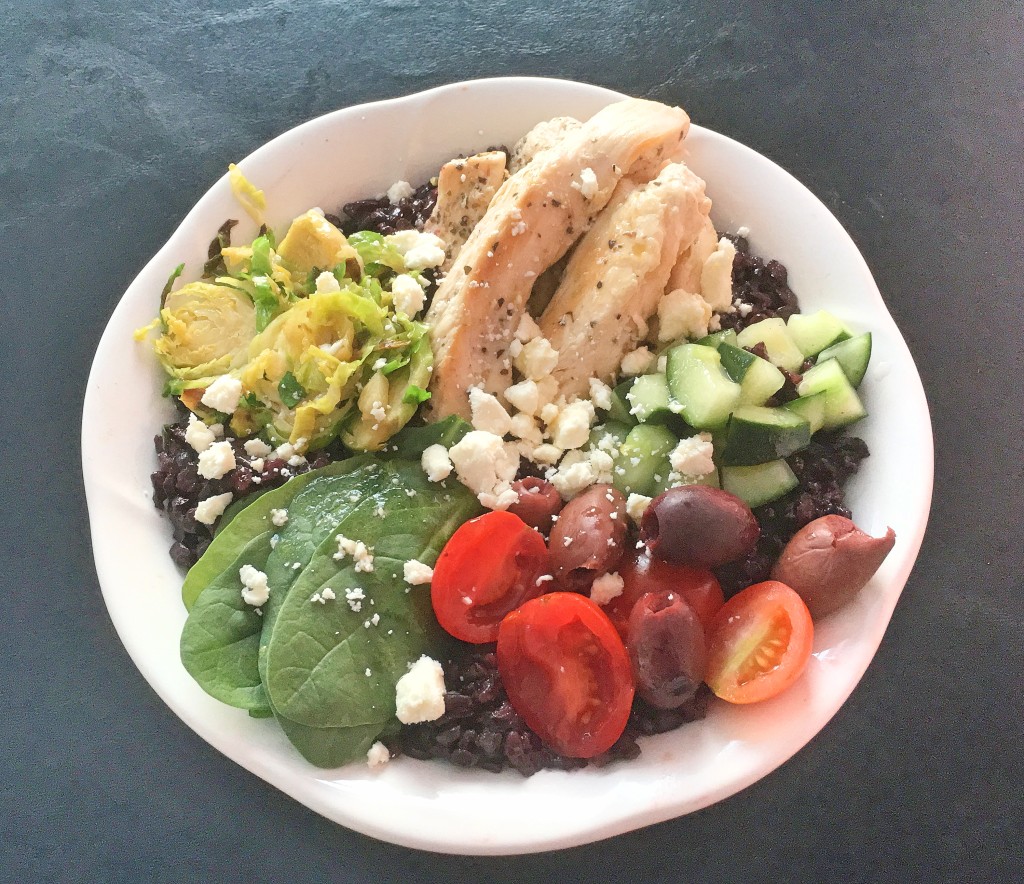 Mediterranean Chicken Black Rice Bowl packed with protein, fiber and antioxidants. A healthy meal with regional flare. Great warm or cold.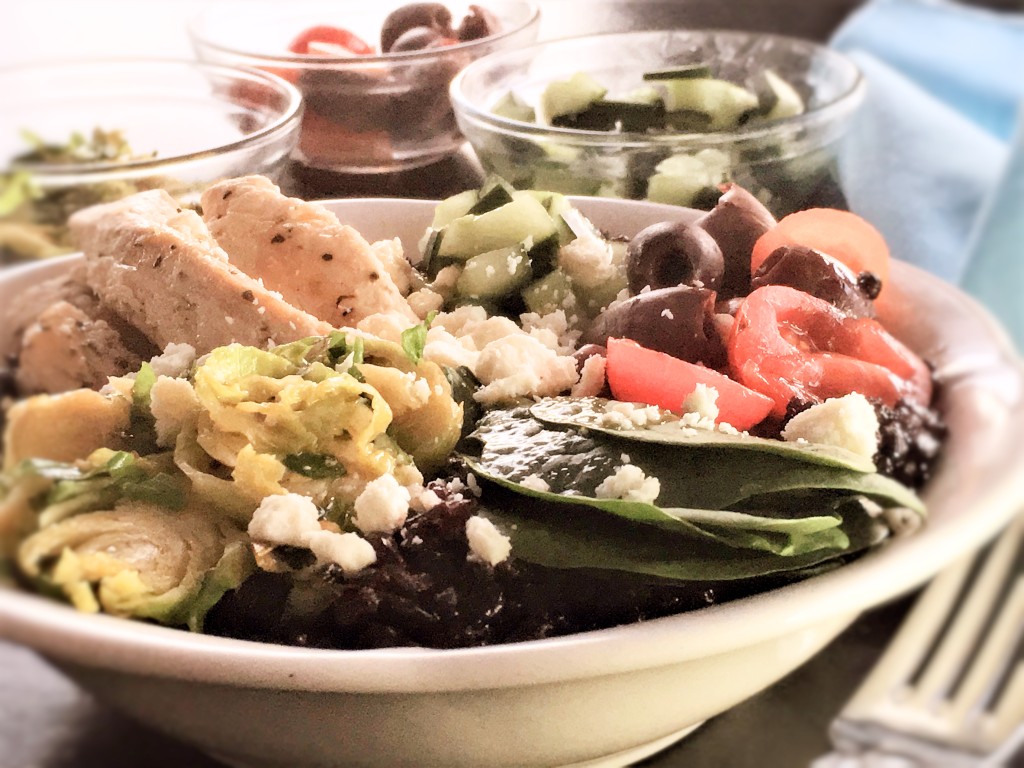 It's no secret that I love rice. I have over 20 rice recipes on the blog! Today Sunday Supper explores creative ways to serve rice bowls.
There's a huge world out there beyond plain long grain white rice. My new love is black rice or forbidden rice. Intrigued?
Black rice has a taste similar and texture to brown rice. It's higher in amounts of antioxidants than other rice. It is also a source of fiber and minerals, including iron. A 1/2 cup serving has 160 calories, 1.5 grams of fat, 34 grams of carbohydrates, 2 grams of fiber, 5 grams of protein, 4% DV for iron.
You need to cook black rice longer than white varieties. I cook it for 35 to 45 minutes, like brown rice. You can soak it first but it is not necessary.
One feature to be aware of is that black rice does transfer color like blueberries. It can stain plastic. You can also use it as natural food coloring!
You can serve a Mediterranean Chicken Black Rice Bowl warm or cold.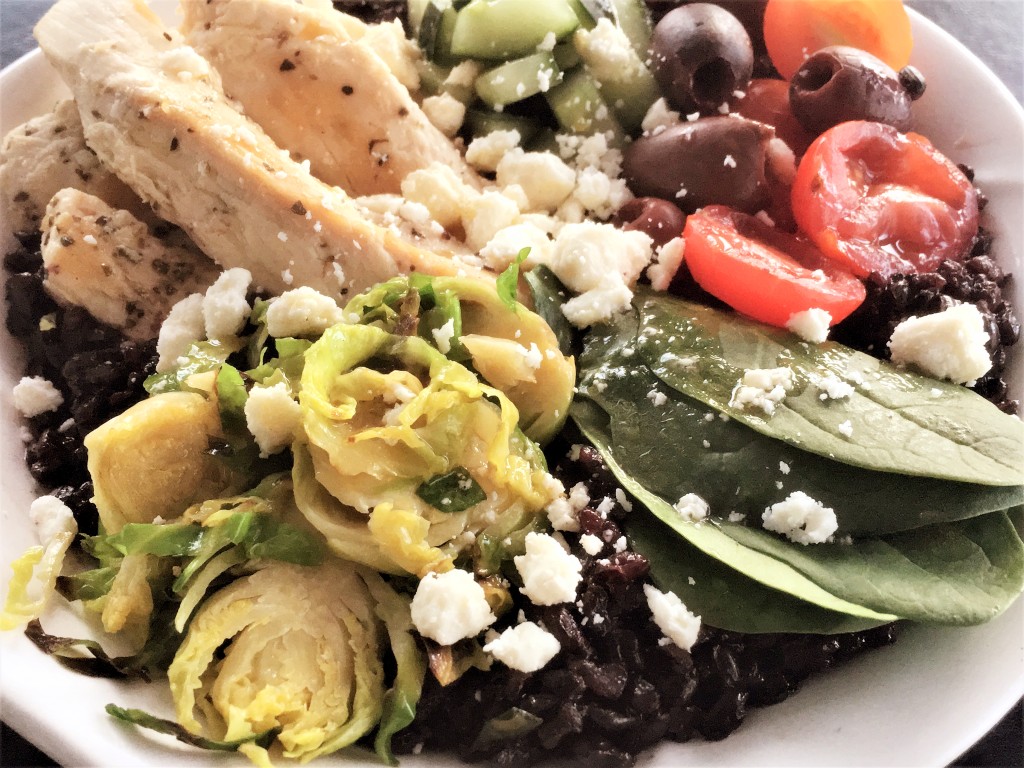 Mediterranean Chicken Black Rice Bowl
Ingredients
1 cup cooked black rice
4 ounces cooked chicken
1/4 cup diced cucumbers
1/2 cup grape or cherry tomatoes, cut in half
1/4 cup kalamata olives
1 cup fresh spinach
1/2 cup roasted Brussels Sprouts
1/4 cup feta cheese, crumbled

dressing

2 tablespoons olive oil
1 tablespoon red wine vinegar
1/8 teaspoon Italian seasoning
salt and pepper to taste
Instructions
Place black rice in a serving bowl. Arrange toppings.
Whisk together oil, vinegar and seasonings. Drizzle over rice bowl. serve.
http://www.cindysrecipesandwritings.com/mediterranean-chicken-black-rice-bowl-sundaysupper/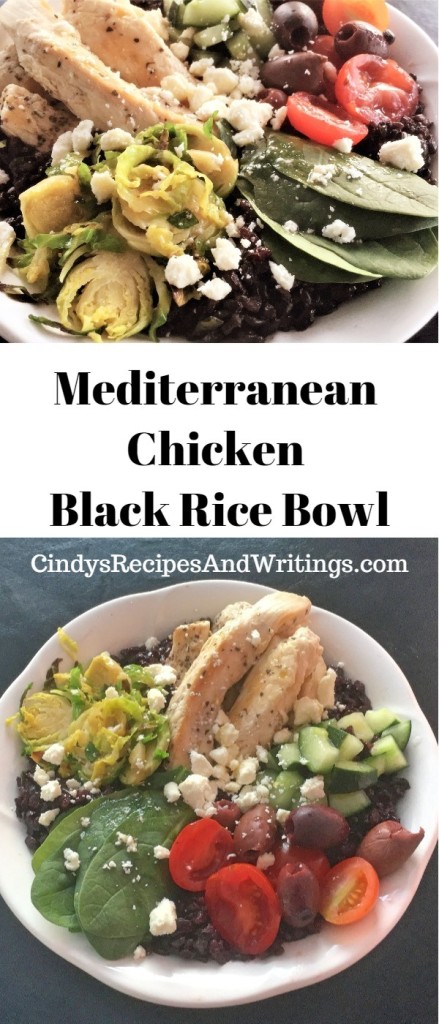 Enjoy these Healthy Rice Bowls from Sunday Supper Tastemakers!

The Sunday Supper Movement is committed to bringing our readers delicious recipes that encourage them to gather and eat together around the family table. Search for your favorite ingredients on our Sunday Supper website. Also check out the Sunday Supper Pinterest boards for plenty more ideas and inspiration.