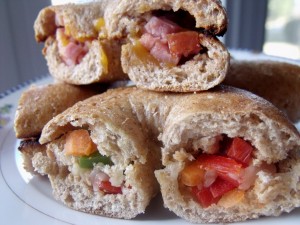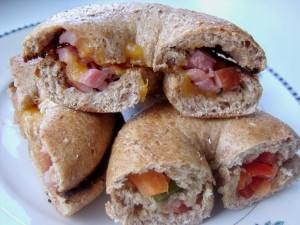 I picked the Friday edition of #WeekdaySupper for a very good reason. Fridays at #WeekdaySupper are reserved for Fun Food! You know, laid back anything goes, how about pizza, appetizer night or brinner?
Bagels actually fit the bill for pizza night as a pizza. A bagel with a smear of veggie cream cheese is a good appetizer and an omelet sandwich on a bagel, well, I'm there.
Don't forget that sandwiches with soup and/or salad also count as dinner. So why not have a stuffed one with a few of your favorite things?
Quick. Easy. Fun. Dinner everyone!
Ingredients
8 mimi bagels, plain or whole wheat
1/4 cup turkey ham finely chopped
1/4 cup red pepper, finely chopped
1/4 cup green pepper, finely chopped
1/4 cup carrots, shreddded or finely chopped
1/4 cup tomatoes, finely chopped
1/2 cup shredded cheese
Method
Scoop out enough bread to create a cavity for filling.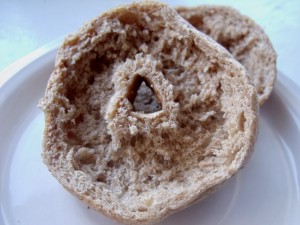 Preheat broiler. Fill bagels with any combination you or your family likes. Everybody can create their own. You can also use leftover chicken, a variety of cheeses, tuna or whatever works at your house!


Broil mini bagels open faced until warm, heated through and cheese is melted.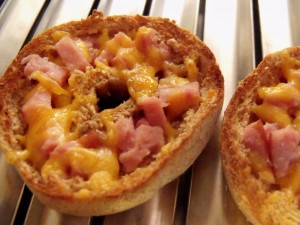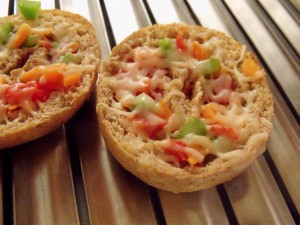 place top and bottoms together, mix or match as you like!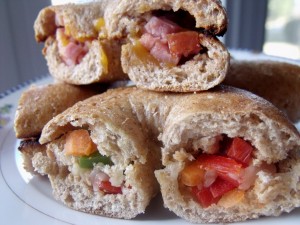 Slice and arrange on a plate. Serve alone or with salad or soup.