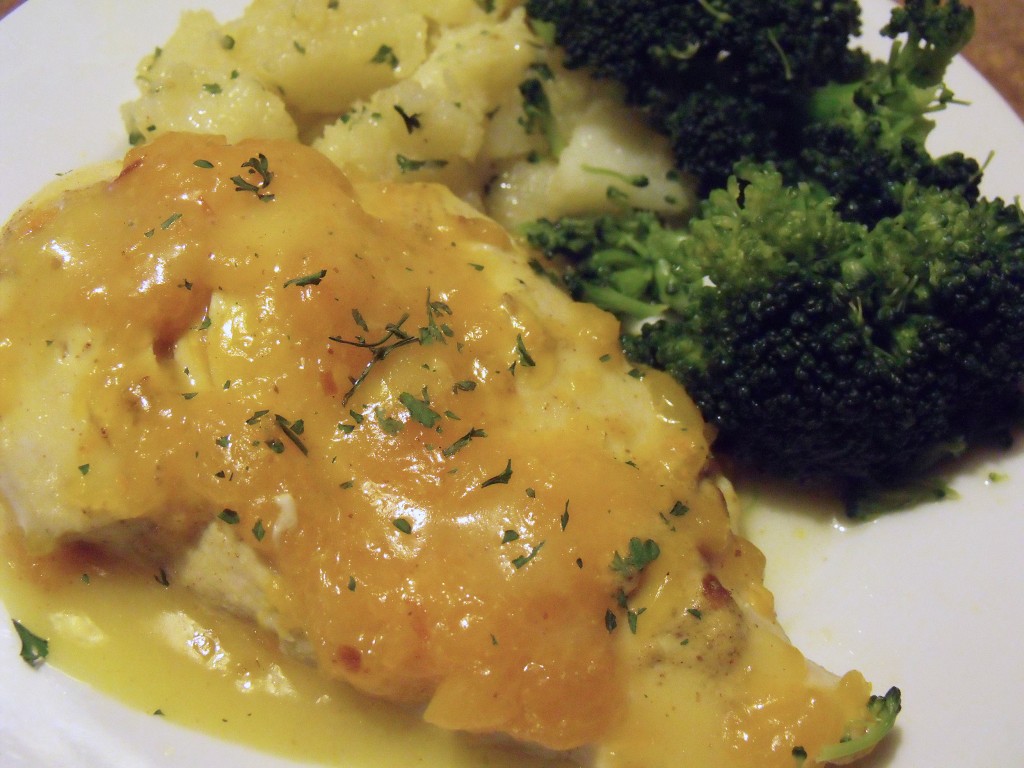 This week's Sunday Supper is about all things citrus in celebration of National Oranges and Lemons Day. Jen from Juanita's Cocina is our hostess this week and what great job she did putting this event together!
I cook often with citrus. A squirt of fresh lemon or orange brighten everything from soups to salad dressings. I also love fruit and meat together so it was tough to choose a recipe.
My Mom loved citrus and even planted lemon, orange and grapefruit seeds she saved from store bought fruit, into 5 gallon buckets. The seeds produced trees and lived for several years indoors but never produced fruit. I'd crush the leaves in my palm and sniff the wonderful scent.
There are lots of plants that mimic lemon but there is nothing like the real thing. As much as I love lemon chicken and will share my recipe sometime in the near future, today belongs to the oranges. Orange chicken to be specific.
Oranges add the right acidity to chicken. Brown mustard and horseradish balance out the sweetness of the canned oranges and syrup. A touch of red pepper and garlic and you have a killer, well-balanced chicken dish.
Thank you for taking time out of your busy holiday schedule to visit with us at Sunday Supper. Enjoy! Happy Easter and Passover everyone!
Orange Chicken
Ingredients

2 4-ounce chicken breasts, boneless and skinless
1 11-ounce can Mandarin Orange segments in light syrup, drain reserve juice
1Tablespoon plus 1/2 teaspoon brown mustard
1/4 teaspoon red pepper flakes
1 cup orange juice
1 Tablespoon cornstarch
1/2 teaspoon horseradish
1/4 teaspoon garlic powder
1 Tablespoon olive oil
Salt and pepper to taste
1 Tablespoon dried parsley (optional)
1 Tablespoon orange zest

Method
Season both sides of chicken with garlic, salt and pepper. In a large skillet, brown both sides of chicken in oil.

Spread top side of breasts with 1 Tablespoon mustard and sprinkle with pepper flakes. Add oranges and 1/4 cup syrup. Cover and simmer until chicken is thoroughly cooked and oranges and syrup reduce.
While chicken cooks, make sauce combine orange juice, cornstarch, 1/2 teaspoon mustard and horseradish in a 1-quart saucepan. Bring to a boil over medium heat, stirring constantly.
Reduce heat and simmer until thick.
Place chicken on plate. Top with glaze then sauce. Sprinkle with parsley and orange zest.

Check out this week's spectacular menu from our family of Sunday Supper contributors!

Better with Citrus Breakfasts:
Big On Citrus Breads & Condiments:
Make You Pucker Salads, Sides, & Main Dishes:
Sour Citrusy Sweets & Desserts:
Sour Sips & Drinks:
Join the #SundaySupper conversation on Twitter today to talk all about citrus recipes! We'll tweet throughout the day and share recipes from all over the world. Our weekly chat starts at 7:00 pm EST. Follow the #SundaySupper hashtag, and remember to include it in your tweets to join in the chat. Check out our #SundaySupper Pinterest board for more delicious recipes and food photos.