I grew up eating my Mom's version of potato salad with huge chunks of potatoes, hard boiled eggs, mayo, mustard and veggies. Warm. Yes you read it correctly, it was served warm and leftovers were eaten cold! Now wait, that's not right. I ate it warm because I couldn't wait!


I still sneak a little before it is cold even though now I know better, but its that good!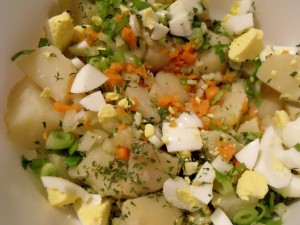 PA Dutch Potato Salad
3 cups potato peeled ,diced and cooked
1/4 cup celery stalk, diced
1/4 cup scallions, thinly sliced
1/4 cup carrots, diced
2 eggs, one chopped, one sliced for garnish
1/2 cup mayonnaise, reduced calorie
1/4 cup mustard, spicy brown
1 Tbsp parsley flakes
paprika (optional)
1. Combine potatoes, vegetables and chopped egg. Stir.
2. Add parsley. Fold in mayo and mustard.
3. Put salad in serving bowl. Decorate with sliced egg and sprinkle with paprika.
Servings: 6
Cooking Times
Preparation Time: 20 minutes
Total Time: 20 minutes
Nutrition Facts
Nutrition (per serving): 92 calories, 68 calories from fat, 7.9g total fat, 68.7mg cholesterol, 264.2mg sodium, 86.4mg potassium, 3.3g carbohydrates, <1g fiber, <1g sugar, 3.1g protein, 927.3IU vitamin a, 1.7mg vitamin c.
My potato salad is pictured here with Salmon Salad (tomorrow's post 😉 ) on a yummy tossed salad plate!