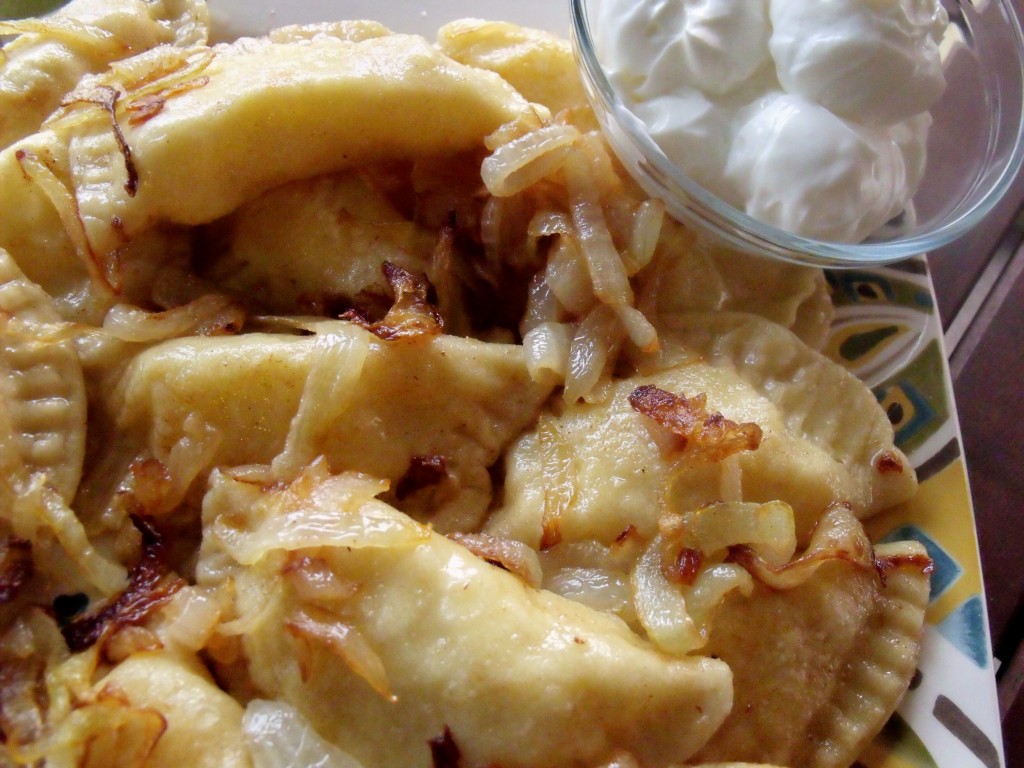 Sunday Supper is all about bringing families back together around the dinner table. That's why I was so excited to learn about American Family Insurance's Back to the Family Dinner Table Campaign!
American Family Insurance is having a "Share Your Recipe" sweepstakes for 6 weeks with a weekly prize is a $100 Williams-Sonoma gift card plus a grand prize of a $500 Williams-Sonoma gift card!
For details on this contest and to enter visit American Family Insurance at Back to the Family Dinner Table .
As part of this campaign, I wanted to share with you one of my own favorite recipes that mean so much to me. An old family recipe passed down from my Gram to my Mom then to me. It didn't stop there. I passed it on to my daughter and granddaughter.
That dish would be… Pierogies!
Pierogies are little dough "pants pockets" that you can stuff with just about anything! Wait let me clarify that last statement! Pierogies have many names and depending on your nationality, these little dumpling relatives take on a variety of fillings.
I'm Pennsylvania Dutch, which means I have an Eastern European background and we make ours with potato and cheese, sauerkraut, sautéed cabbage and onion, and occasionally ground meat.
What makes pierogies different from boiled ravioli, pot-stickers and other pasta based dough pockets is that we boil it first then sauté in butter or deep fry.
These little treasures were my first working with pasta dough experience.
There's an art to making homemade pasta. My Gram used to say, "You need to know how to make 'em with your eyes shut!" Old school.
That's because there is a certain feel to the dough depending whether you're making pies, pasta or bread. It's a hands-on thing we pass down in our family. No dough machine can teach you the techniques.
We all learned as kids. I'm not sure if it's because as children we're more receptive to getting our hands in there and "playing with our food" or because teaching the little ones is a great excuse for us to play in dough too!
Maybe dough isn't your forte. That's okay; we all have something special we do in the kitchen that we can pass on to our kids. If not food preparation maybe a cooking technique, setting a table, food shopping or even storage like where to put and find things in the kitchen and why it goes there.
By involving your family in preparing meals you give children ownership of skills they will use throughout their life. Your family becomes an intricate part of the meal.
I hope I can do justice to explaining the pierogie process with words and pictures!
Pierogies

Ingredients
3 cups all-purpose flour, plus 1 cup reserved
2 large eggs
1/2 cup water
4 cups potatoes, peeled, cubed
1 medium onion, sliced
2 cups (8 ounces) shredded Cheddar or American cheese
salt, and pepper to taste
Filling:
To make filling, cover potatoes with water and boil for 10 minutes, add onions and continue boiling until potatoes are fork tender. Drain.
Return to pot, add cheese and mash. Season with salt and pepper to taste.
Set aside to cool.
Dough:
In a large bowl, add 3 cups flour, make a depression or "well" in the center and add the eggs.
Slowly add water a little at a time, working into the dough as needed.
Knead dough until soft and slightly sticky.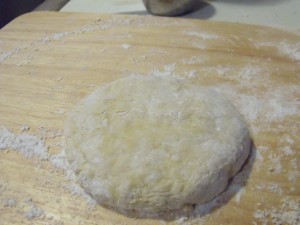 Cover bowl with damp towel and let dough rest 15 minutes.
Sprinkle some of the reserve flour over the work surface and lightly coat hands and rolling pin.
Divide dough into thirds and roll out until about 1/8-inch thickness.
Sprinkle reserve flour as need to keep from sticking. Use sparingly or excess flour will toughen dough.
Dip a 3-inch diameter drinking glass, donut cutter or biscuit cutter into reserve flour. Cut out dough circles.
To assemble:
Scoop about 1 teaspoon of filling onto the center of the dough circle.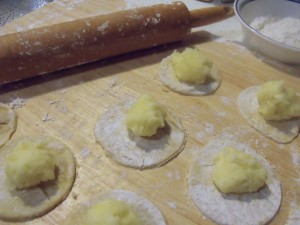 Lightly wet the outside edge of the dough with water. Fold the dough over the filling.
Wet the edge of the outer rim of the dough.
Start at one end and begin pinching the edge of the pocket shut. Be careful to keep filling off the seam. Seam should be about 1/4-inch wide. You can seal the seam with a fork if desired.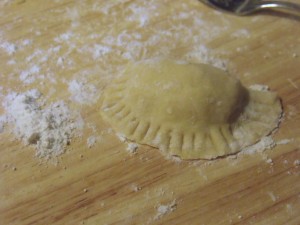 Lay closed pierogie on lightly floured waxed paper. Cover with damp cloth. Repeat above steps with remaining ingredients.
Bring 4 quarts of lightly salted water to a rapid boil.
Carefully drop pierogies into boiling water. Nudge pierogies from bottom with a slotted spoon. Reduce heat and gently boil until pierogies float (approximately 5 minutes).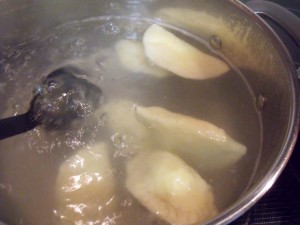 Test one for doneness. Dough should be cooked through but not soggy.
Remove pierogies with slotted spoon to a colander. Rinse with cold water to prevent sticking. Drain. Move to waxed paper to thoroughly cool.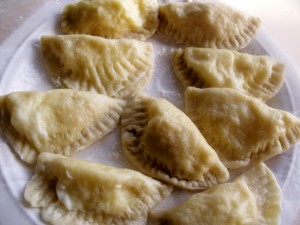 You can then eat them as is, (I even like them cold as a snack, weird I know) deep fry them, sauté in butter with onions like below which is my favorite way, or freeze them for later!
Here's my favorite version: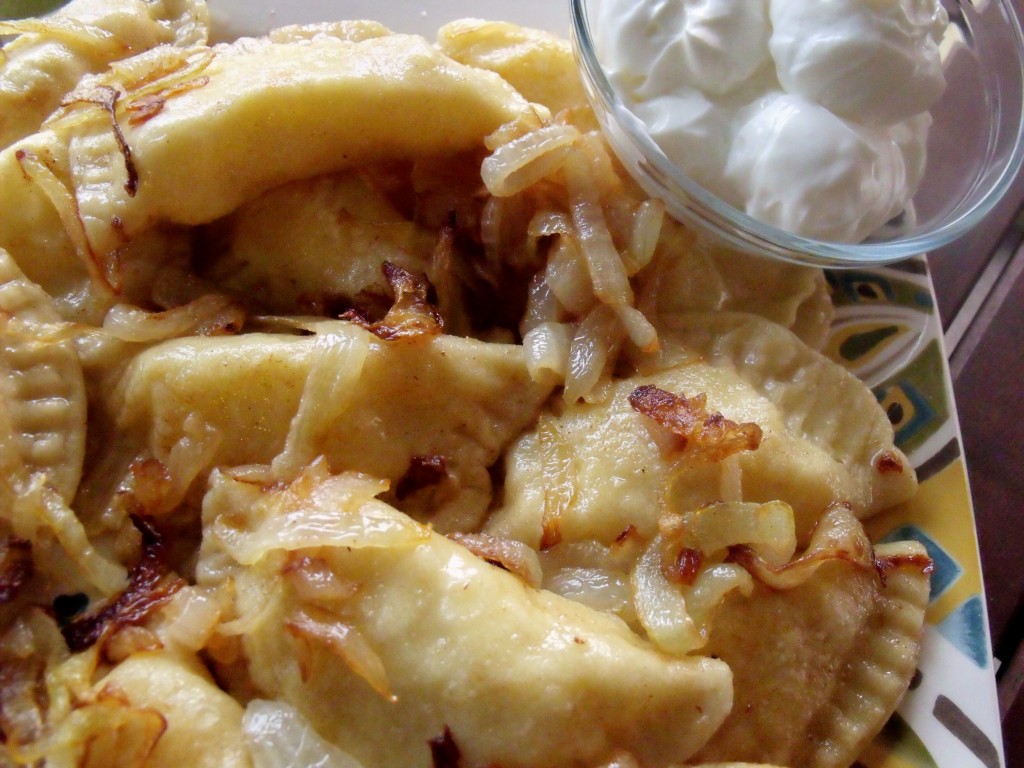 Add butter to skillet. Place pierogies and onions in single layer.
Fry over medium-high heat until brown on one side, flip and fry to brown other side.
Enjoy!

Check out all our recipes and ideas for American Family Insurance's Back to the Family Dinner Table Campaign from the Sunday Supper Group!
Come join us and be a part of American Family Insurance's Back to Table Campaign!
Connect and stay informed with American Family Insurance:
Linkedin: http://www.linkedin.com/company/american-family-insurance
Youtube: http://www.youtube.com/user/amfam/custom
Google+: https://plus.google.com/u/0/+amfam/posts
Twitter: https://twitter.com/amfam
Facebook: https://www.facebook.com/amfam
Pinterest: http://pinterest.com/amfaminsurance/
This post is sponsored by American Family Insurance. All opinions are my own.
Join the #SundaySupper conversation on twitter each Sunday. We tweet throughout the day and share recipes from all over the world. Our weekly chat starts at 7:00 pm EST. Follow the #SundaySupper hashtag and remember to include it in your tweets to join in the chat. Check out our #SundaySupper Pinterest board for more fabulous recipes and food photos.
Would you like to join the Sunday Supper Movement? It's easy. You can sign up by clicking here → Sunday Supper Movement.