Pumpkin Pie Tassies bring big pumpkin pie flavor to little cookie bites. Soft crust and creamy filling make these a new fall favorite.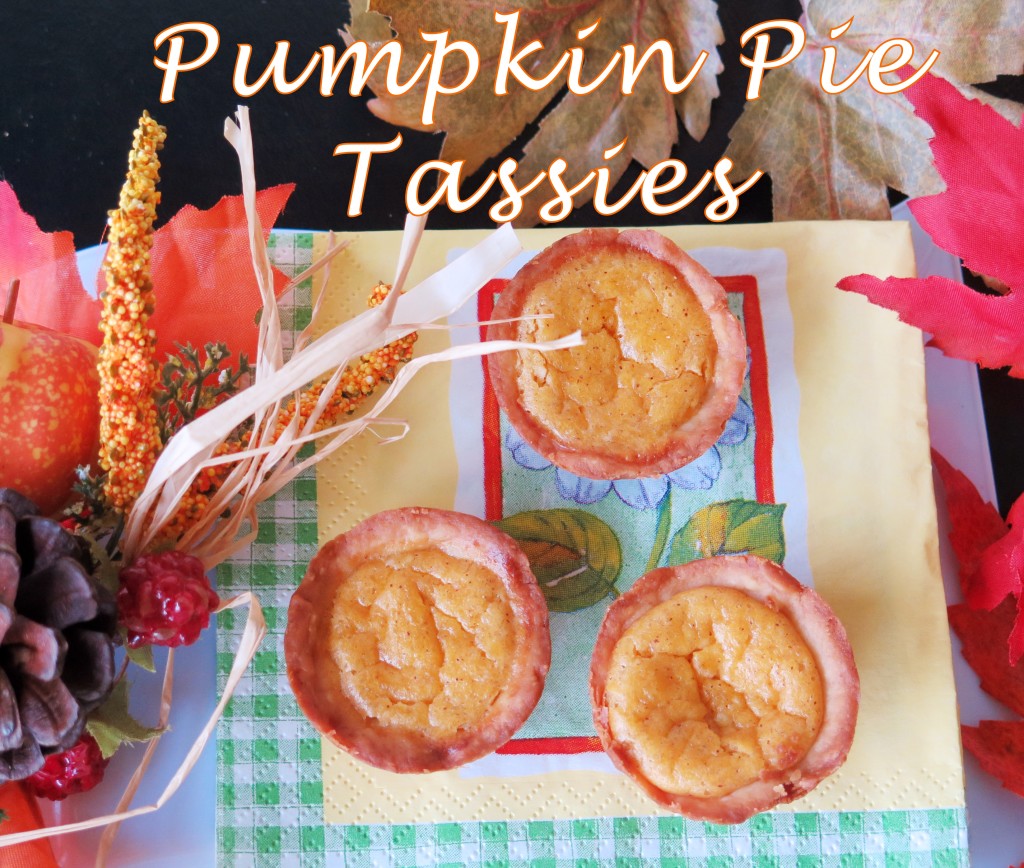 Welcome to day one of #PumpkinWeek 2017! Our group of pumpkin loving bloggers are at it again, bringing you fun, creative pumpkin recipes!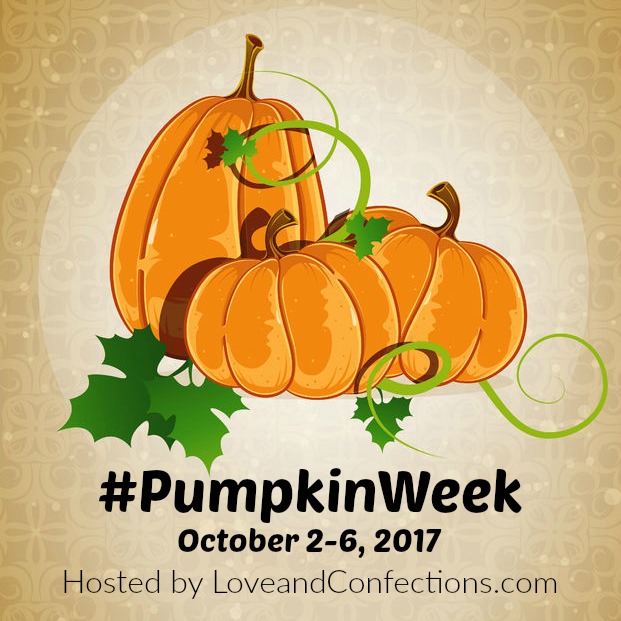 Fall flavors make me feel all warm and snuggly inside. The smell of cinnamon, nutmeg, cloves, and ginger fill the air.
It's time for warm apple cider and the season's first hot chocolate. Apple pie, funnel cake spice cookies and pumpkin bread.
Break out the crock pot and make applesauce!
All that hearty food makes me think about taking little bites.
What better little bite of fall is there than these Pumpkin Pie Tassies? Cookie-sized pumpkin treats for kids of all ages.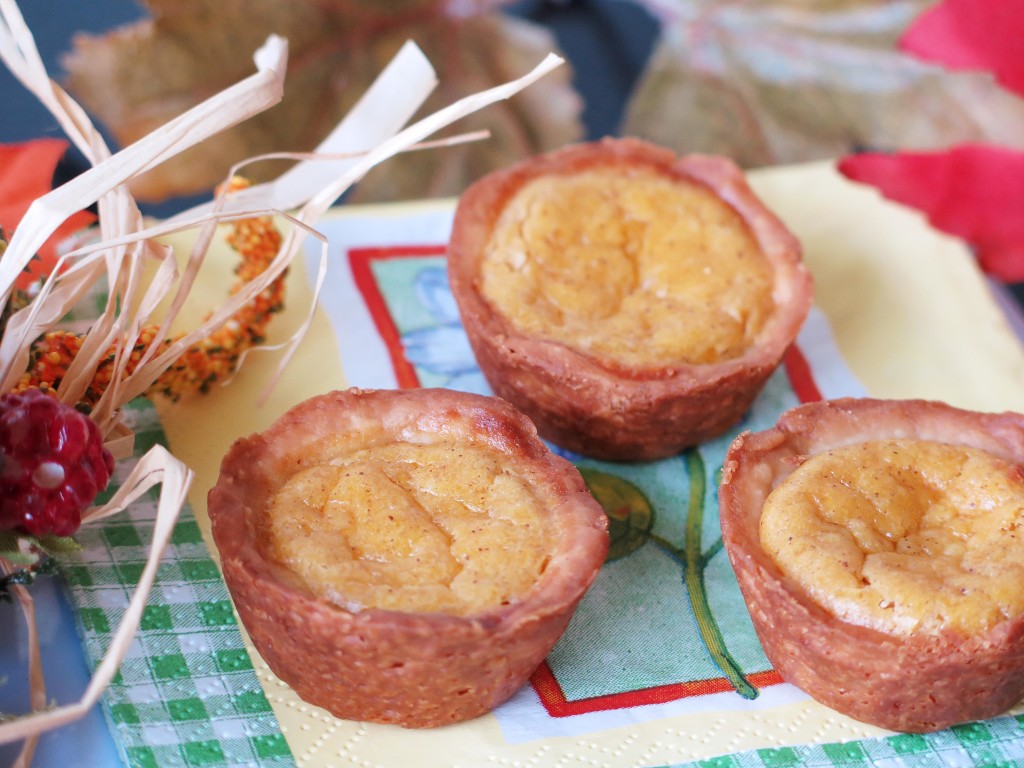 Pumpkin Pie Tassies

Ingredients
crust

1/2 cup softened butter
3 ounces cream cheese
2 tablespoons sugar
1 cup flour

filling

3 ounces cream cheese
1 egg plus 1 yolk
1/4 cup softened butter
1/4 cup pumpkin puree canned or homemade
2 tablespoons brown sugar
1/4 teaspoon pumpkin pie spice
Instructions
preheat oven to 350

crust

beat together butter, cream cheese and sugar. add flour to form a soft dough. Form into 24 balls. Chill for a few minutes.
Press balls into ungreased mini muffin cups to fill bottom and sides.

filling

beat together butter, cream cheese, pumpkin, and brown sugar until fluffy. Add egg, yolk and pumpkin spice.
Fill cups. Bake at 350 for about 15 minutes until filling is set and crust is browned. Do not overbake.
Cool on rack in tin for about 5 minutes before removing. Cool tassies to room temperature then chill for 1 to 2 hours before serving.
http://www.cindysrecipesandwritings.com/pumpkin-pie-tassies-pumpkinweek/
Special thanks goes out again to Terri at Love and Confections for bringing us all together!
Enjoy all these tasty ideas brought to you from the bloggers at #PumpkinWeek !
Pumpkin Drink Recipes:
Pumpkin Pie Moscow Mule from Love and Confections.
Savory Pumpkin Recipes:
Chicken Enchiladas with Pumpkin Sauce from Hardly A Goddess.
Goat Cheese and Sage Pizza with Pumpkin Crust from The Spiffy Cookie.
Kaddo Bowrani (Afghan Pumpkin with Yoghurt Sauce) from Caroline's Cooking.
Pickled Pumpkin with Sage and Autumn Spices from Culinary Adventures with Camilla.
Pumpkin Beer Bread from Forking Up.
Pumpkin Beer Cheese Soup with Herbed Croutons from The Crumby Kitchen.
Pumpkin Chili from A Kitchen Hoor's Adventures.
Pumpkin Corn Chowder with Shrimp from Kudos Kitchen by Renee.
Pumpkin Focaccia Bread from Cookaholic Wife.
Pumpkin Ravioli with Parmesan Sage Cream Sauce from Rants From My Crazy Kitchen.
Pumpkin Rosemary Hummus with Sizzled Garlic from Amy's Cooking Adventures.
Pumpkin Stew with Chicken and Black Beans from Palatable Pastime.
Sweet Pumpkin Recipes:
Brown Butter Pumpkin Oatmeal Cookies from The Redhead Baker.
Cheesecake Stuffed Pumpkin Bundt Cake from Cooking with Carlee.
Easy Pumpkin Pie Cheesecake from Daily Dish Recipes.
Jumbo Pumpkin Spice Muffins with Pecan Streusel Topping from Family Around The Table.
Pumpkin Blondies from It Bakes Me Happy.
Pumpkin Cheesecake Bars from The Bitter Side of Sweet.
Pumpkin Coffee Cake from The Chef Next Door.
Pumpkin Madeleines from Mildly Meandering.
Pumpkin Pie Energy Bites from Making Miracles.
Pumpkin Pie Oatmeal from Seduction in the Kitchen.
Pumpkin Pie Tassies from Cindy's Recipes and Writings.
Pumpkin Scones from The Freshman Cook.
Pumpkin Spice Donuts from A Day in the Life on the Farm.
Pumpkin Spice Donuts from Hezzi-D's Books and Cooks.
Pumpkin Zucchini Streusel Bread from An Affair from the Heart.
Ridiculously Good Dark Chocolate Pumpkin Cake from Bacon Fatte.