When #SundaySupper first announced this Cooking For Julia event, I was a little skeptical. Sure I saw a TV show here and there. We had 3 channels that came in clear when I was a growing up plus a fuzzy 4th called, PBS. So in order to participate today, I needed to do a little research.
PBS is celebrating Julia's 100th Birthday with classic videos , recipes , some fun facts (who knew she was 6'2″)? and more !
It's no secret that Julia Child was outspoken about a lot of things which made it easy to relate to her. I guess what surprised me most about her was how much we have in common! She was someone I would have clicked with instantly!
There are a lot of great resources out there to learn more about Julia the woman and I encourage you to explore them.
For today, #SundaySupper is focusing on what Julia contributed to the culinary world and how she brought home cooking new levels!
One motto Julia lived by was no apologies for food goof-ups.
"The only real stumbling block is fear of failure. In cooking you've got to have a what-the-hell attitude."
She believed in,
Moderation. Small helpings. Sample a little bit of everything. These are the secrets of happiness and good health. You need to enjoy the good things in life, but you need not overindulge.
But her philosophy most relatable to me is that by cooking meals yourself you know EXACTLY what you're eating! That is so important.
"You don't have to cook fancy or complicated masterpieces – just good food from fresh ingredients."
So for todays #SundaySupper and #CookForJulia I chose a simple gratin without a crust. I substituted turkey ham for the diced ham, but otherwise, the recipe is all Julia's! Enjoy! Eat, Love, Laugh! I know Julia did!
Râpée Morvandelle
Gratin of Shredded Potatoes with Ham and Eggs and Onions
Reprinted from Mastering the Art of French Cooking Alfred A. Knopf © 1961
Page 153-154
Yield : For 4 people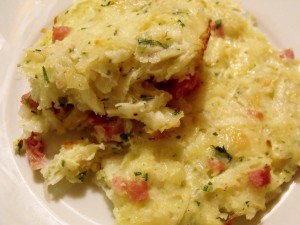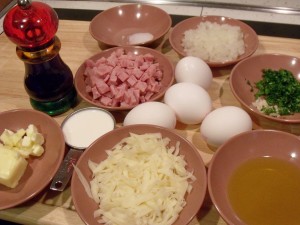 Ingredients
• ½ cup finely minced onions
• 2 Tb olive oil
• ½ cup (3 ounces) finely diced cooked ham
• 4 eggs
• ½ clove crushed garlic
• 2 Tb minced parsley and/or chives and chervil
• 2/3 cup (3 ounces) grated Swiss cheese
• 4 Tb whipping cream, light cream, or milk
• Pinch of pepper
• ¼ tsp salt
• 3 medium-sized potatoes (about 10 ounces)
• 2 Tb butter
• ½ Tb butter cut into pea-sized dots
Equipment:
• An 11- to 12-inch baking dish or skillet about 2 inches deep or individual baking dishes about 6 inches in diameter
Directions
Preheat oven to 375 degrees.
Cook the onions slowly in the oil and butter (1Tbs) for 5 minutes or so, until tender but not browned. Raise heat slightly, stir in ham, and cook a moment more.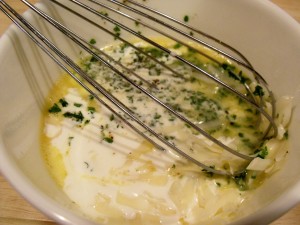 Beat the eggs in a mixing bowl with the garlic, herbs, cheese, cream or milk, and seasonings. Then blend in the ham and onions.
Peel the potatoes and grate them, using large holes of grater. A handful at a time, squeeze out their water. Stir potatoes into egg mixture. Check seasoning. (May be prepared ahead to this point.)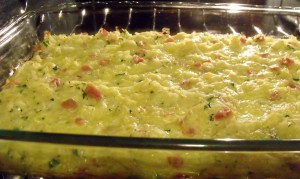 Nutrition Facts
Nutrition (per serving): 412 calories, 227 calories from fat, 25.7g total fat, 231.7mg cholesterol, 359mg sodium, 763.1mg potassium, 28.9g carbohydrates, 3.6g fiber, 3.3g sugar, 17.3g protein, 723.9IU vitamin a, 30.5mg vitamin c.
Check out these other great Julia Child tribute recipes done by our #SundaySupper group!
#CookForJulia Breakfast
Râpée Morvandelle by Cindy's Recipes and Writings
Croissants by Cookistry
Cheese and Bacon Quiche by Tora's Real Food
#CookForJulia Lunch
Tuna Salad Nicoise by Magnolia Days
Blood Orange, Walnut, and Rocket Salad by Granny's Down Home Southern Cooking
Croque Monsieur by Webicurean
Spinach and Cream Cheese Pancakes by Happy Baking Days
Julia's Chicken Salad by My Trials in the Kitchen
Pissaladière Niçoise (Onion Tart with Anchovies and Black Olives) by The Wimpy Vegetarian
Provencal Tomato Quiche by Are you hungry?
Quiche Lorraine  Spoon and Saucer
#CookForJulia Dinner
Bouillabaisse by The Girl in the Little Red Kitchen
Boeuf Bourguignon by Chelsea's Culinary Indulgence
Orecchiette Con Broccoli Di Rape and Sausages by Doggie at the Dinner Table
Boeuf Bourguignon by Hezzi D's Books and Cooks
Veal Stew with Onions and Mushrooms with Baked Cucumbers and Boiled Potatoes (Blanquette de veau a l'ancienne with concombres au buerre) by Kimchi Mom
Salmon en Papillote by Girlichef
Poached salmon with cucumber sauce by Katherine Martinelli
Lobster Souffle and Deviled Chicken- Crispy Bits & Burnt Ends
Roasted Chicken with Julia's Mustard Marinade by The Meltaways
Wild Mushroom and Herb Stuffed Chicken- Mama Mommy Mom
Puree of White Beans with Garlic and Herbs (Brandade á la Soissonaise) Avocado Pesto
Poulet au Porto by Family Foodie
#CookForJulia Sides
Hollondaise over Blanched Asparagus by The Little Ferraro Kitchen
Scalloped Potatoes with Milk, Cheese, and Garlic (Gratin Dauphinois) by Home Cooking Memories
Ratatouille by Basic N Delicious
French-style country pate by There and Back Again
White Bean Dip with Homemade Tortilla Chips Momma's Meals
Oeufs à la Diable by What Smells So Good?
Soubise by The Weekend Gourmet
Ratatouille by Cupcakes and Kale Chips
#CookForJulia Desserts
Cream Cheese and Lemon Flan by Juanita's Cocina
Strawberry Sherbert in Cooky Cups by Cravings of a Lunatic
Creme Brulee by Wine Everyday
Mousseline Au Chocolat by Small Wallet Big Appetite
Peach Tarte Tatin by That Skinny Chick Can Bake
Cinnamon Toast Flan by Vintage Kitchen Notes
Dark Chocolate Crepes by Family Spice
Crepes Fines Sucrees by Mangoes and Chutney
Pommes Rosemarie:Apples Rosie The Daily Dish Recipes
Espresso Soufflé by Chocolate Moosey
Best Ever Brownies by In the Kitchen with Audrey
Orange-Almond Jelly Roll Cake by Mrs. Mama Hen
Orange Spongecake Cupcakes by Mama's Blissful Bites
Orange Mousse with Greek Yogurt by Sue's Nutrition Buzz
Wine Pairings: Relishing Food and Wine; Thanks to Julia Child! by ENOFYLZ
The fun starts every week at 3:00pm ET by showcasing fabulous recipes. At 7:00 pm ET, we will start our live chat.  Join us on twitter by using hashtag #Sundaysupper or using Tweetchat.  We love to feature your recipes on our #sundaysupper pinterest board and share them with all of our followers. See you there!