This week #SundaySupper is focusing on cooking with wine. I had trouble deciding; should I use red or white? Is rosè okay? Oh boy!
So I finally thought I'd make Cordon Bleu 2 ways; one with chicken and one with veal! I made different gravy for each, but used turkey ham and Swiss for both so the whole barnyard is there!


I know many people oppose eating veal because of the inhumane way factory farms raise animals. I'm lucky that I live near a farm that sells meat from free-range animals. I eat meat, so I feel I need to make responsible choices. If you want to know more about today's better quality of veal production, I have a USDA link at the end of this post. (Give me a minute, I'm stepping down off my soapbox now!) 😮
Taking cooking with wine one step further, Schlossadler Wines gave some of our members the opportunity to try out their #SundaySupper creations using Schlossadler Wines. The Schossadler Wine Club has an awesome discount for you later in this post!
First… let's start with the Cordon Bleu recipe!
The term "Cordon Bleu" once referred to a ribbon awarded for excellence in cooking. Cordon Bleu as a dish has that ribbon look to it. You see layers of meat and cheese when you cut it open!
Don't feel intimidated if you've never made it before. It isn't difficult but it can be messy! But that's okay, because the outcome is worth it!
I first made this recipe in class, step by step with our Chef. I tweaked it a little (like by seasoning my own homemade breadcrumbs) but his advice still holds true.
Ingredients
2 8-ounce chicken breast cutlets (or 4 4-ounce) or 1 pound veal cut for scallopini
4 1-ounce cheese slices, Swiss or Gruyere
4 1-ounce ham slices, pork or turkey
2 eggs, beaten
1/2 cup flour
1 cup plain breadcrumbs
1 Tablespoon dried basil
1 Tablespoon Italian seasoning (or 1 tsp each dried basil, dried oregano, dried rosemary)
1 teaspoon granulated garlic
1 teaspoon seasoned salt or sea salt
2 Tablespoons olive oil
1. Pound cutlets with flat side of mallet into 1/4-inch thickness. Set aside.
2. Place one slice of cheese on top of one slice of meat and roll tightly. Tuck ends underneath, set aside.
3. Combine flour and basil on a flat plate. On another plate, combine breadcrumbs, Italian seasoning, garlic and salt together.
To Assemble:
Dredge cutlet in seasoned flour. Shake off excess.
Place ham/cheese rollup (2 end to end if using 8 ounce breasts) in center of underside of cutlet. Fold all sides together making sure to cover the rollup. Pinch shut.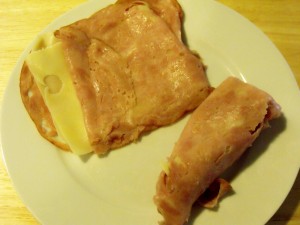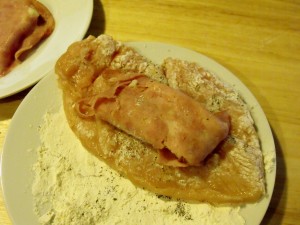 Here comes the start of the messy part!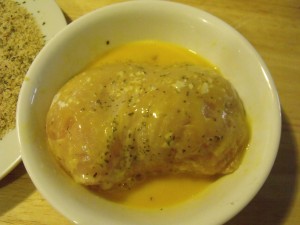 Dip the chicken into the beaten egg. Carefully coat all parts. Pinch together to seal seam. Immediately roll in breadcrumb mix. Pinch shut. Redo the egg bath and breadcrumbs as necessary to close seam. (Only redo parts of seam as necessary).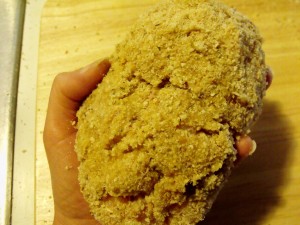 Place finished stuffed cutlets seam-side down on a clean plate sprinkled with lightly with breadcrumbs to prevent sticking. Cover and refrigerate anywhere from 15 minutes up to overnight to allow Cordon Bleu to set.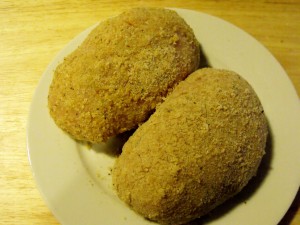 Preheat oven to 350.
Add oil to glass baking dish. Place Cordon Bleu seam side in dish. Cover with foil.
Bake for 20 minutes. Flip over. Bake an additional 20 minutes, flip back to seam side down. Bake an additional 10 minutes until internal temperature taken at the thickest part of chicken reaches 165 degrees or veal reaches 145 degrees.
Serve whole or let rest 5 minutes and slice.
Note: There will be a "pink" color on the chicken left there from the ham. It can be easily mistaken for improperly cooked chicken!
And since everything tastes better with gravy (especially if it has wine in it) 😉 here is a white version you can use with chicken or veal and I included a red just because sometimes, you just feel like it! You can add mushrooms to either, my guy won't eat them so there's none on his chicken!
Country Gravy
Ingredients
1 cup sliced portabella mushrooms
2 Tablespoons butter
1/2 cup stock (chicken or beef)
1/4 cup Chardonnay or Cabernet Sauvignon
1/2 cup 2 percent milk
2 Tablespoons cornstarch
4 sprigs thyme
salt and pepper to taste
Sauté mushrooms in butter until cooked through. Remove mushrooms and add stock to pan. Whisk in cornstarch, salt and pepper. Add wine and milk. Add thyme. Cook over low-medium heat, whisking constantly until thickened. Remove thyme sprigs. Top cutlet with mushrooms and sauce. Enjoy!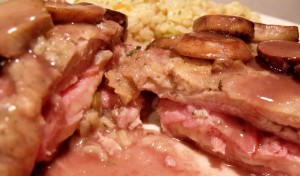 The talented group of Sunday Supper Bloggers have developed fabulous recipes and can't wait to share these wines with you:
2006  H.O. Becker, Kerner Auslese, Rheinhessen
2010  Ernst Holler, Blaufrankisch, Burgenland
2010  Kotuku Winery, Sauvignon Blanc, Marlborough
We welcome you to grab a glass of wine and join us for this week's special Sunday Supper Wine Event.  We will be sharing these fabulous recipes along with the perfect wine pairing at 7:00 pm ET.
But the fabulous recipes don't stop there, there are more amazing recipes to pair with this fabulous wine:
Join us at 7pm ET for our #SundaySupper Chat with @schlossiwines.   Follow along on twitter by using hashtag #Sundaysupper or using
Tweetchat
.  We love to feature your recipes on our
#sundaysupper pinterest board
and share them with all our followers. If you have questions about wine, how to cook with it, what's a go and what's a no or just want to share you cooking with wine experiences with us, stop by!

Next Shipment is October 2012 ~ Halloween Day  Ghostly Whites, Haunted Red for all friendly spirits everywhere.
Follow Schlossadler Wines:
Learn more about today's veal production Here .