I'm so excited to be hosting this week's Sunday Supper as we share our Year End Food Craving Recipes!
"It's the end of the year and you realize there is something you have been craving all year long. Now is the time to get that craving satisfied and share the recipe. You may spark someone else's craving for it too."
When I saw our theme posted for today I immediately knew what to make. Seafood. Seafood Scampi to be exact.
Now I'm a lover not a fighter when it comes to seafood. I do like most kinds of fish. Sometimes it comes down to the way the fish is prepared that makes or breaks the dish. Some fish hold up in rich, buttery sauces like Scampi. Sea Bass would be one of those fish.
I even love squid. Sliced and breaded as Calamari and whole tiny ones in red sauces or breaded. Not so much for this dish.
All those are great choices for dinner but I crave shellfish! Shrimp, scallops, clams, mussels, lobster and oysters are high on my list.
The sweetness of their natural juices enhanced with fresh garlic, creamy butter and rich olive oil. Do I have your attention? Good, because I don't want you to miss the delicate taste of Pinot Grigio. The wine should blend in the background. A dry to medium white does the trick. Remember to have some of the same wine on hand to serve with the meal.
Balance it all out with a squirt of lemon and dash of hot sauce.
Let me take you one step further.
Squid Ink Pasta.
I picked up a pack of this intriguing pasta on a recent visit to an Italian market in Philly. What a gorgeous color! I never tried it before but I heard a lot about it. Squid ink in high in iron and rich in antioxidants. The natural brininess means you need less salt. I only put a dash in the cooking water.
It doesn't have a fishy taste like I thought it might. To me the taste is subtle. It made a stunning presentation! Too bad my photography skills aren't better!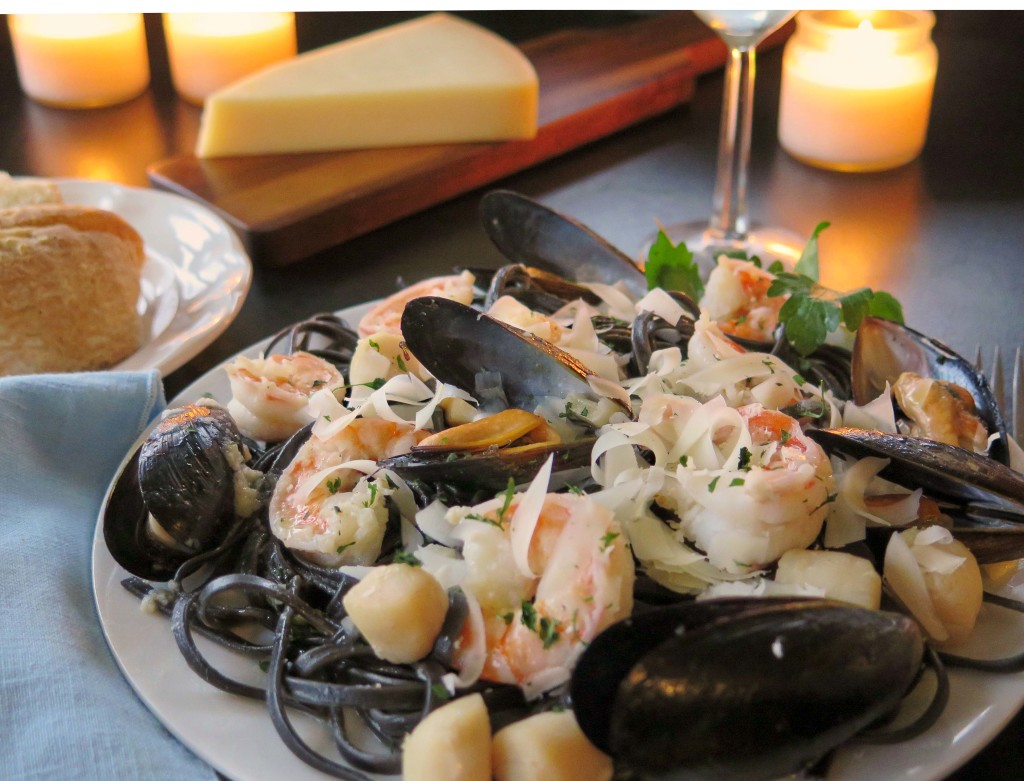 With all the garlic, wine and seafood maybe a bit of nature's breath freshener, parsley for garnish isn't a bad idea.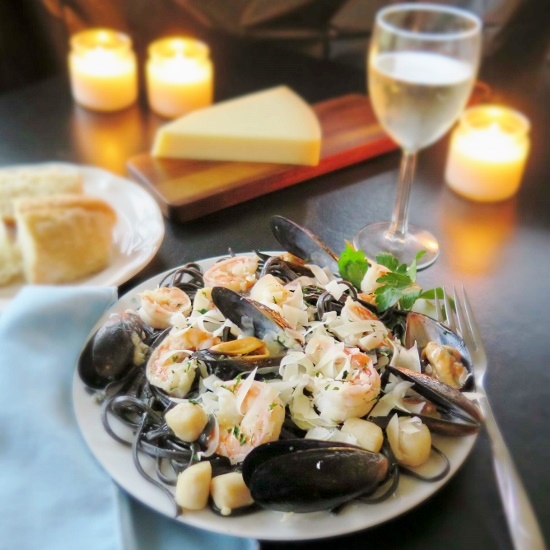 Seafood Scampi
Ingredients
8 ounces pasta cooked according to package directions, reserve liquid.
½ lb large shrimp (21-25)thawed, peeled, deveined
½ lb bay scallops, thawed
1 lb mussels, fresh or frozen, scrubbed and beards removed
8 Tablespoons unsalted butter
1 cup clam juice or chicken broth
2 Tbsp. olive oil
¼ cup Pinot Grigio or unoaked Chardonnay
1 small shallot, minced
2 cloves garlic, chopped
1 Tbsp. fresh parsley, chopped
1 Tsp. lemon juice
Dash of hot sauce to taste
Salt and Pepper to taste
¼ cup grated Parmesan cheese plus extra cheese for garnish
parsley leaves for garnish, optional
Instructions
Melt butter in a large skillet over low heat.
Whisk in oil, clam juice and wine.
Add shallots and garlic. Simmer 1 to 2 minutes.
Add shrimp, scallops and mussels. Cover and simmer for about 6 minutes until shells open, and shrimp and scallops are opaque.
Add lemon, parsley, hot sauce, salt and pepper. Add cheese and a bit of pasta water to thicken sauce if desired.
Spoon over plated pasta. Top with grated Parmesan and garnish with parsley if desired.
Notes
You can use any size shrimp. Adjust the cooking time accordingly. clams can be substituted for mussels.
All this talk about seafood should have satisfied my food cravings. That's true for the most part. But there is still a chocolate cake out there somewhere with my name on it!
What kinds of food do you crave? Salty snacks like pretzels or crackers? Sweet confections dusted in powdered sugar or dripping in chocolate? Maybe your mouth waters at the idea of a beef roast, rack of lamb or tender, juicy ham.
Which ever your food cravings might be as this year comes to a close, I'd love to hear them. Please leave your thoughts in a comment below.
We're sharing our recipes today to satisfy all kinds of food cravings. Enjoy these great recipe ideas from the Sunday Supper Group!
Comfort Food Cravings
Quench Your Thirst Cravings
Seafood Cravings
Satisfy Your Sweet Tooth Cravings
Join the #SundaySupper conversation on twitter on Sunday! We tweet throughout the day and share recipes from all over the world. Our weekly chat starts at 7:00 pm ET. Follow the #SundaySupper hashtag and remember to include it in your tweets to join in the chat. To get more great Sunday Supper Recipes, visit our website or check out our Pinterest board.
Would you like to join the Sunday Supper Movement? It's easy. You can sign up by clicking here: Sunday Supper Movement.