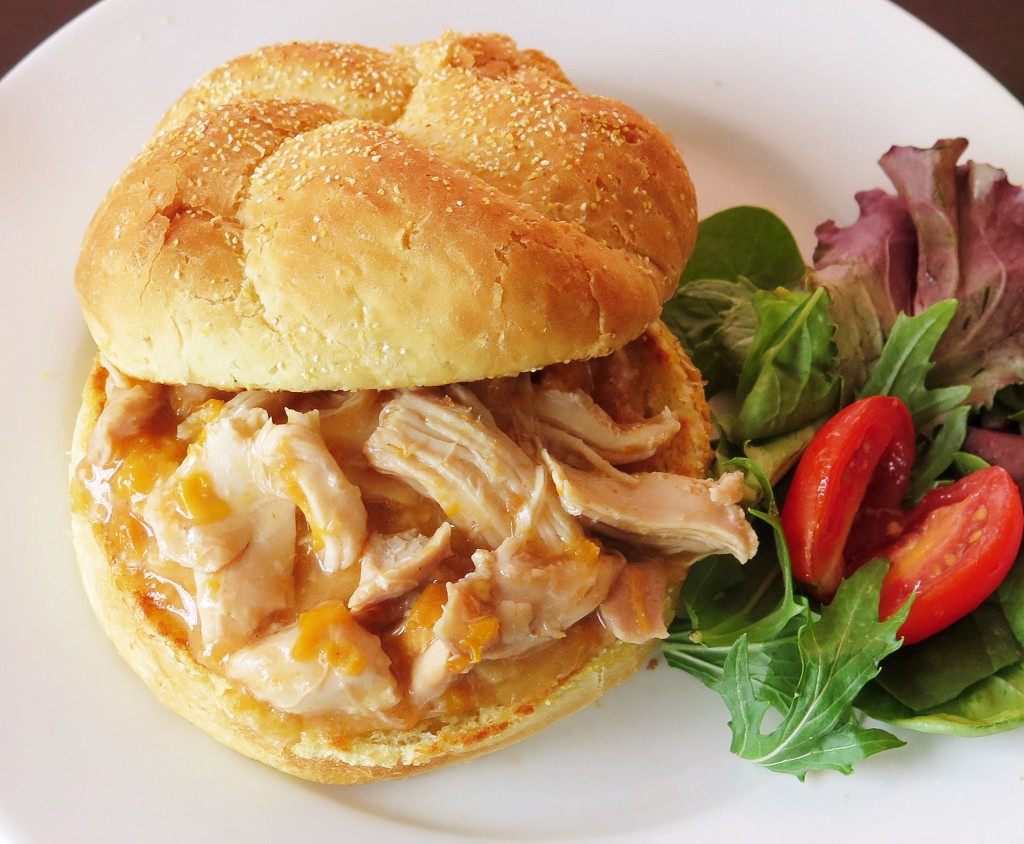 Slow Cooker Apricot Chicken BBQ made in one pot keeps the kitchen cool. Easy clean up too!
This month The Recipe ReDux challenged members to create a hot dish but keep our cool!
July 2017 – Theme
Beat the Heat with the Slow Cooker/Instant Pot/Pressure Cooker
Whether you go slow or fast, just don't turn on the oven. Show us how to keep the kitchen cool by using one of these appliances: Slow cooker, instant pot, pressure cooker. (If you have none of these, use the microwave, rice cooker or another keep-cool appliance.)
Keeping the kitchen cool is a tough job this time of year. Sometimes I'm baking and cooking for my blog at the time then of course, there's dinner to make too!
BBQ is my go-to slow cooker meal. Beef or pork roasts cook low and slow for tender pulled meat sandwiches. For BBQ I'll make the sauce on the stovetop then mix in the meat.
That wasn't going to work this time. Using the stove was not okay!
So for this chicken bbq I cooked chicken thighs with canned apricots, broth and spices in the slow cooker.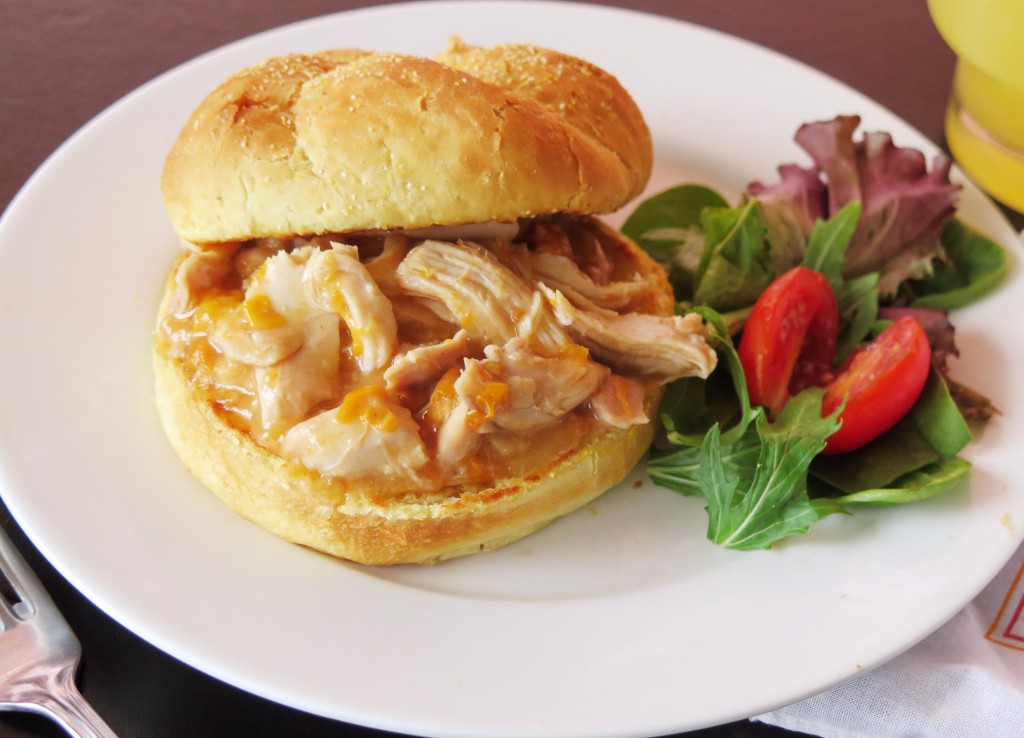 When the chicken is done, remove it and pull thighs into smaller pieces. Add cornstarch, ketchup and seasonings to the slow cooker, stir. Add the chicken pieces. Set on high and cook until thickened.
Easy clean up too!
Food For Thought…Have you ever tried making sauces in a slow cooker? I love to hear your ideas in a comment below!
Slow Cooker Apricot Chicken BBQ
Slow Cooker Apricot Chicken BBQ
Ingredients
1 1/2 lbs skinless, boneless chicken thighs
1 (15 oz) can apricots
1 cup chicken broth
1 Tbsp thinly sliced ginger
4 Tbsp cornstarch
1/2 tsp red pepper flakes
1 tbsp ketchup
salt and pepper to taste
Instructions
Place chicken broth in slow cooker. Add thighs. Pour apricots with juice over chicken.
Cook on high 1 1/2 to 2 hours until fork tender.
Remove cooked chicken, shred and set aside.
Stir cornstarch, pepper flakes, ketchup, salt and pepper into the remaining broth in crock pot. Add chicken pieces.
Cook on high for 1 hour or until sauce thickens and coats chicken. Serve.
http://www.cindysrecipesandwritings.com/slow-cooker-apricot-chicken-bbq-thereciperedux/
More about the Recipe ReDux.


As the first and only recipe challenge founded by registered dietitians, The Recipe ReDux is focused on taking delicious dishes, keeping them delicious, but making them better for you. Dietitians Regan Jones (of ReganMillerJones, Inc.), Serena Ball and Deanna Segrave-Daly (both of Teaspoon Communications) founded the group on the belief that healthier eating should always taste delicious. As the Latin term "redux" means to revisit or reinvent, we are reinventing the idea of healthy eating with a taste-first approach. We aim to inspire the food lover in every healthy eater and inspire the healthy eater in every food lover.
Enjoy these great recipes to keep your kitchen cool this summer from The Recipe ReDux!