Spicy Peach Oatmeal Bread turns up flavor with a bit of cayenne and cinnamon peach compote. Bits of peaches in every bite.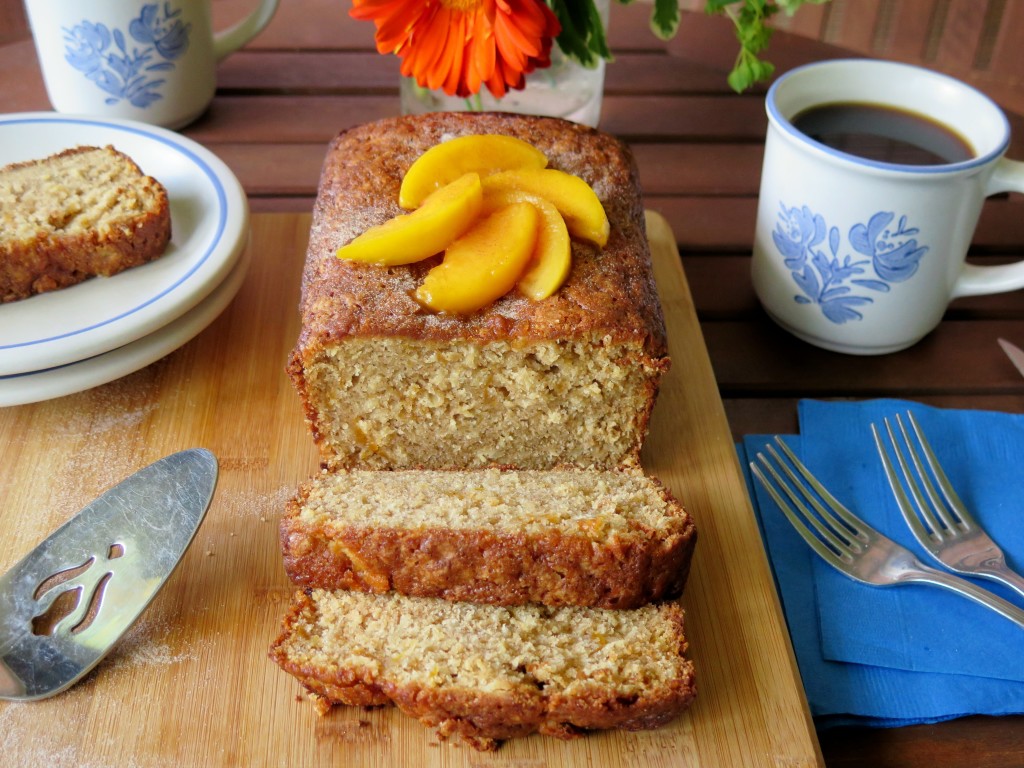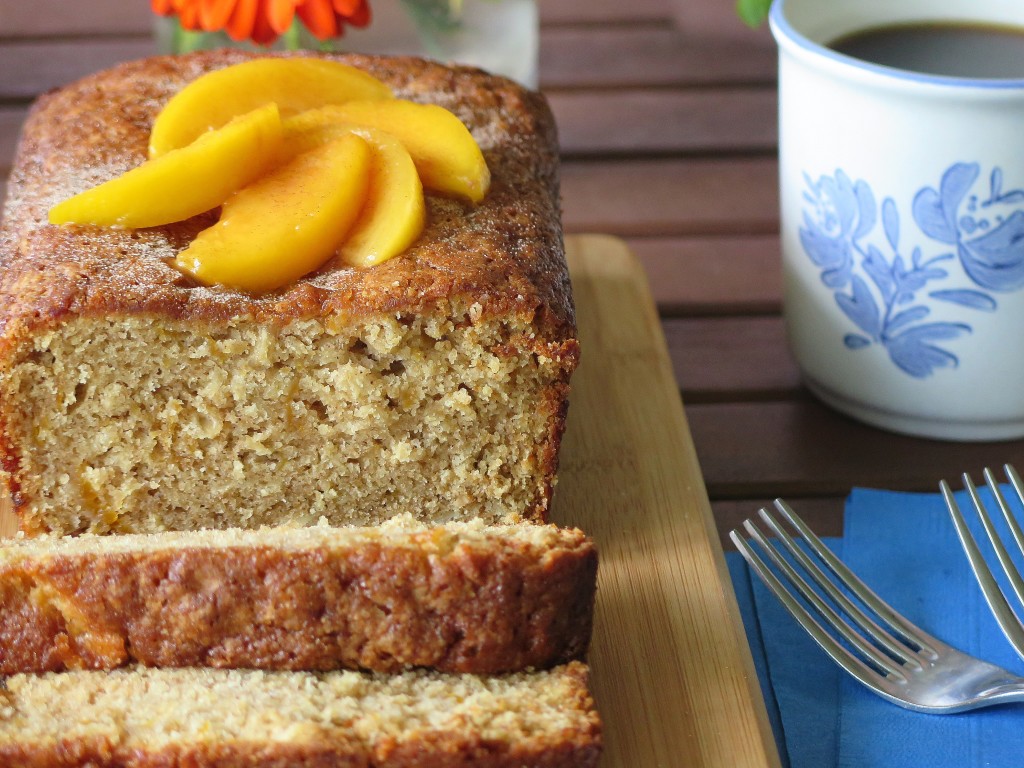 Celebrating seasons by its fruits is always welcome around here. Berries start us off in spring. Strawberries, blueberries, blackberries, all pop up in stores starting already in late February.
Next come the stone fruits. Peaches, nectarines, plums, apricots and pluots first season picks mean summer is just around the corner.
Welcome to another delicious edition of #BreadBakers.

This month's recipe challenge:
Use any kind of stone fruit – bread can include peaches, plums, apricots, nectarines, mangos, etc. – in any form – juice, fresh fruit or dried fruit. P.S. Making jam to spread on your bread AFTER it's cooked doesn't count! It's gotta be in or on the bread dough.
Thank you, Mireille  from The Schizo Chef http://www.theschizochef.com/ for hosting this event!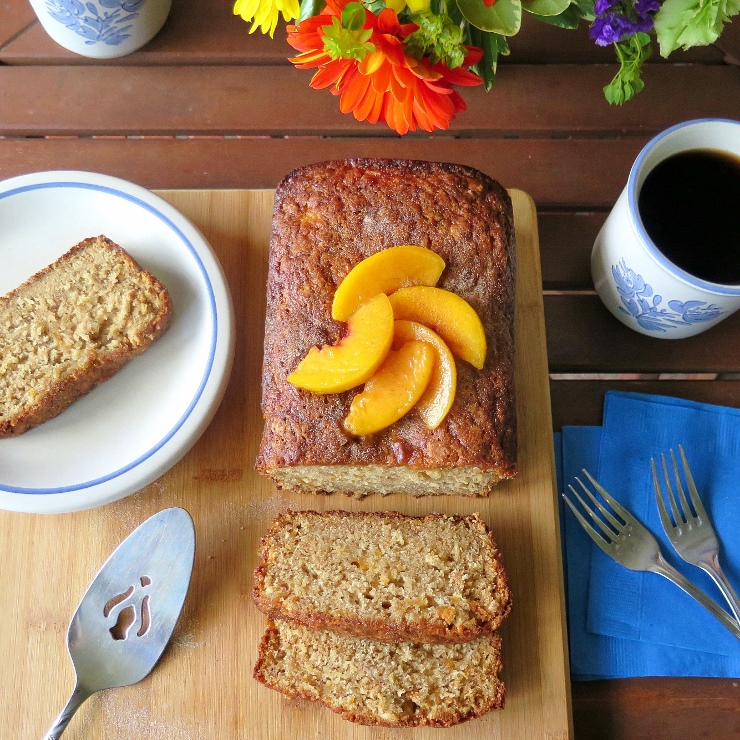 Spicy Peach Oatmeal Bread
Ingredients
Peach Compote makes 1/2 cup

1 cup diced peaches, fresh or unsweetened frozen
1/4 cup apple juice concentrate
1/4 cup water
1 tablespoon brown sugar
1/4 tsp cinnamon
1/8 tsp cayenne pepper

Bread

1 cup sugar
2 large eggs
1/2 cup vegetable oil
1 tsp orange extract
1/2 cup bread flour
1 cup all-purpose flour
1/2 tsp baking powder
1/2 teaspoon baking soda
1/2 teaspoon cinnamon
1/2 teaspoon salt
1/2 cup rolled oats
1/2 cup peach compote
1/2 cup diced peaches
Instructions
Preheat the oven to 350°F. Lightly grease a 9" x 5" loaf pan.

Peach Compote

Bring diced peaches, apple juice concentrate, water, brown sugar and spices to a boil. Reduce heat and cook until peaches are soft and sauce thickens, about 5 minutes.

Bread

In a large bowl, mix together the sugar, eggs, oil and orange extract.
In a separate bowl, mix together the flours, oats, baking powder and soda, salt and cinnamon, and add 1/2 at a time to the wet ingredients in the bowl.
Add peach compote, and diced peaches.
Pour the mixture into the prepared pan. Bake the bread for 55 to 60 minutes, until a toothpick inserted into the center comes out clean. Remove the bread and cool for 15 minutes on wire rack before removing from pan.
http://www.cindysrecipesandwritings.com/spicy-peach-oatmeal-bread/
#BreadBakers is a group of bread loving bakers who get together once a month to bake bread with a common ingredient or theme. Follow our Pinterest board right here. Links are also updated each month on this home page.
We take turns hosting each month and choosing the theme/ingredient.
If you are a food blogger and would like to join us, just send Stacy an email with your blog URL to foodlustpeoplelove@gmail.com.
Do you have a favorite stone fruit? Which ones find their way into your kitchen, peaches, plums, apricots? What is your favorite recipe for stone fruits? Please leave a comment below. I'd love to hear your ideas!
Enjoy all these delicious stone fruit inspired breads from the Bread Bakers!