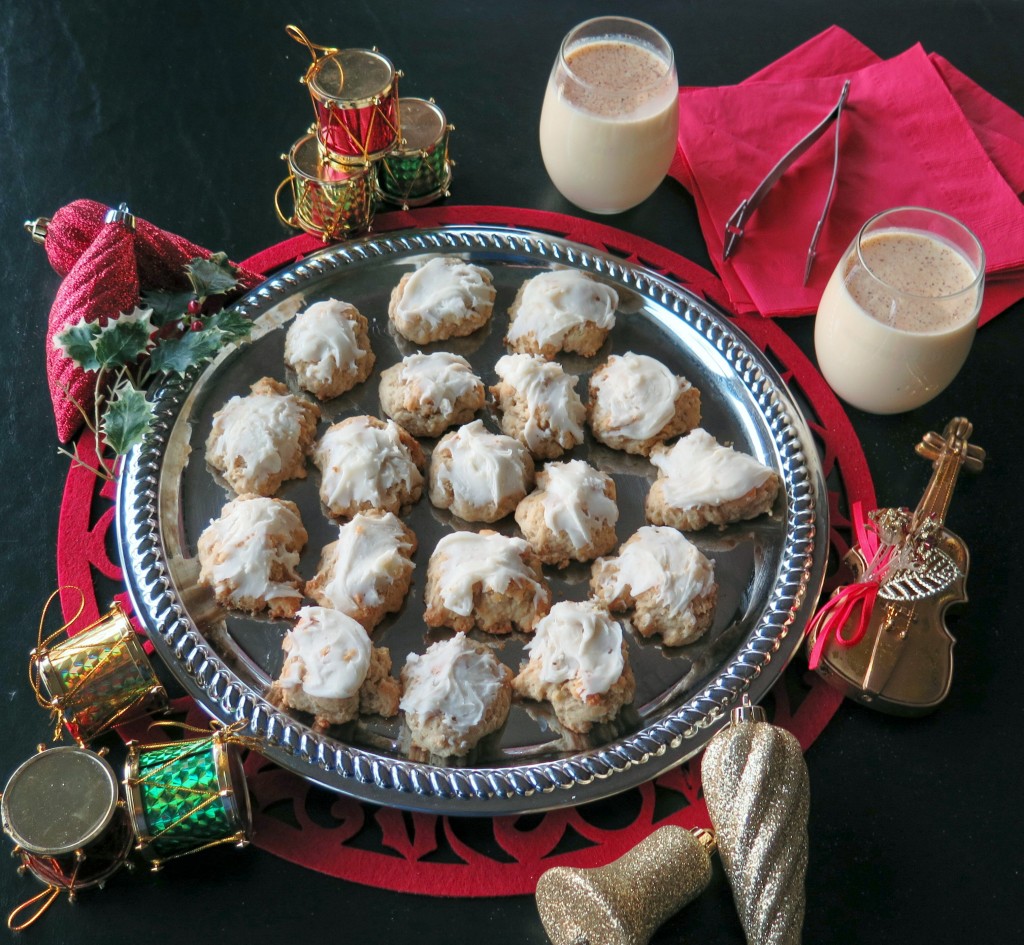 COOKIES! Glorious cookies! Did I mention that I love cookies? Okay, you get the idea.
I especially look forward to sampling the cookie trays around Christmas.
Christmas cookies appear for only a few weeks each year. We dig out the gingerbread, thumbprint, pizzelle and kiffles recipes. Santa heads, trees, snowmen and ribbon bow cutouts sprinkled with red and green sugar.
We don't shun chocolate chip and peanut butter cookies during holidays. All cookies are welcome!
Christmas meant getting to choose which press cookie shapes and spritz dough flavors I'd like my Mom to make. Twisting and squeezing dough through the press was quite a job. Mom was a pro at it. She could drop cookies row by row without breaking even one. I'd get to decorate the green wreaths with cinnamon dots. Chocolate Scotties never barked at being sprinkled red and green. Blue sugar stars baked aside chocolate reindeer.
Cookies taste great all by themselves. Of course it doesn't hurt to have a tall mug of hot chocolate or coffee handy. Even eggnog.
Eggnog may sound strange to you as an accompaniment for cookies but it really works well. So does putting some eggnog in the cookies!
Iced eggnog cookies with a bit of rum or rum extract in the batter and frosting tastes so good.
You can use any kind of eggnog in place of liquid in a recipe. I used to make my own eggnog. Its a bit of work but worth it. Purchased eggnog works great for baking. For extra richness I added a yolk.
Spiked Eggnog Cookies taste like creamy rum flavored eggnog in every bite!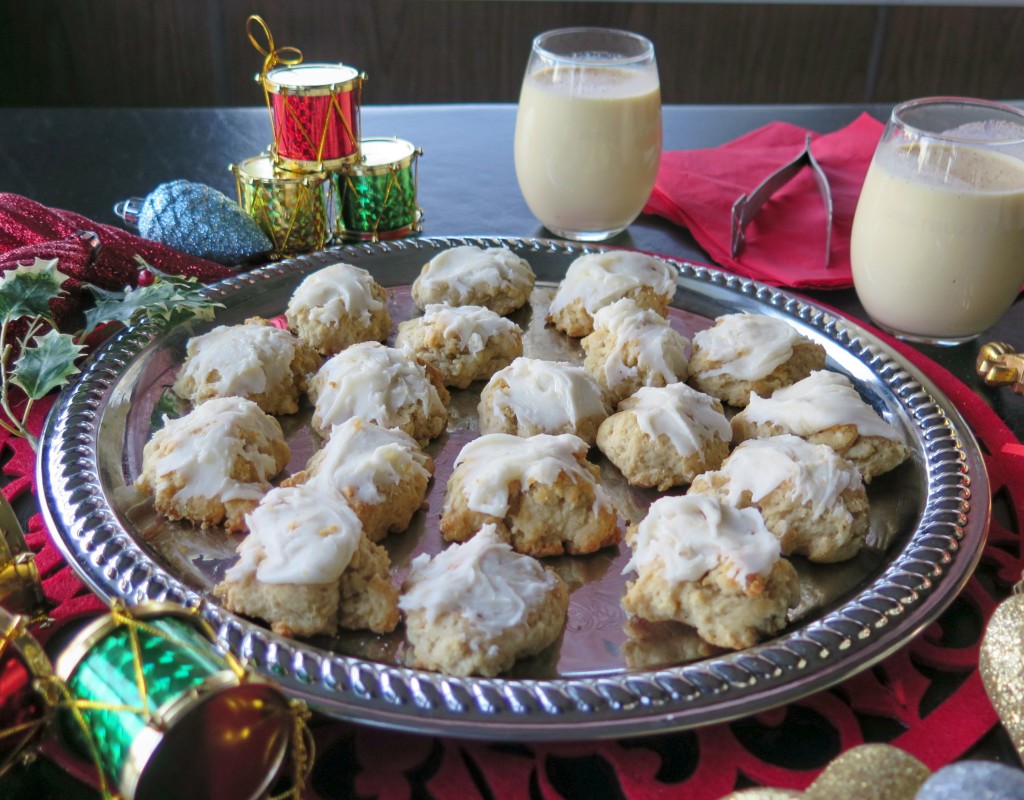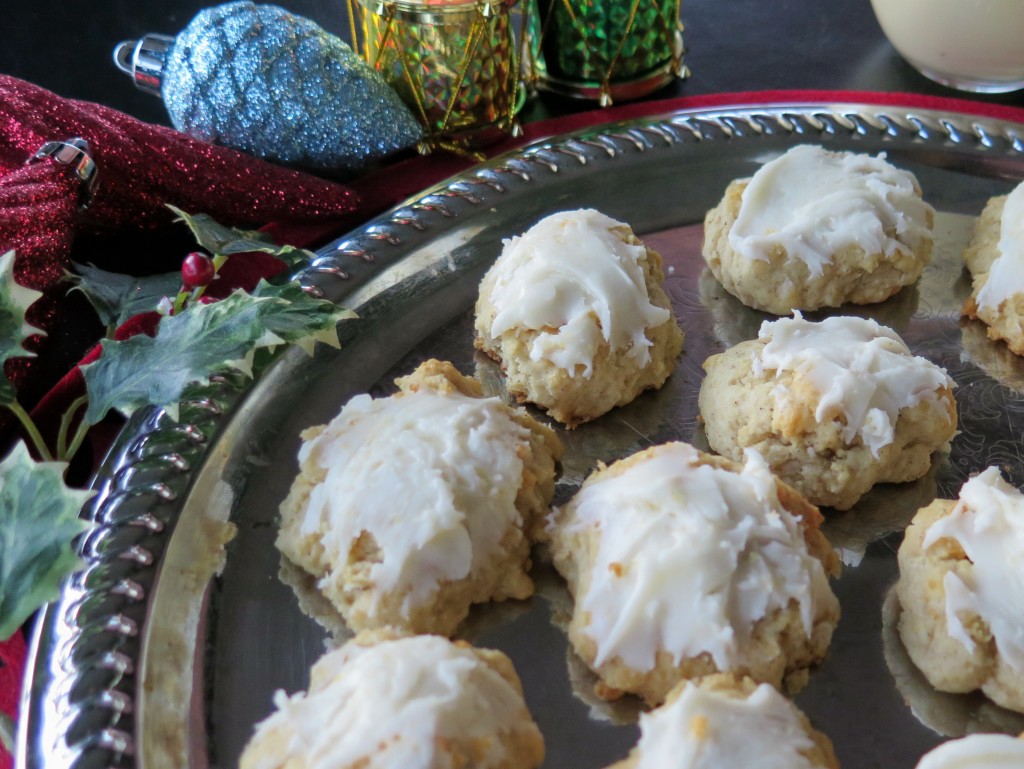 Spiked Eggnog Cookies #Cookielicious
Ingredients
cookies

1/2 cup butter
1/4 cup brown sugar
1/2 cup sugar
3 cups flour
1 tsp baking powder
1/2 tsp nutmeg
1/4 tsp cinnamon
1/4 tsp salt
1 egg yolk
1/4 cup eggnog
1/2 tsp vanilla
1/2 tsp rum extract

icing

3 cups powdered sugar
1/4 cup eggnog
1/2 tsp vanilla
Instructions
Cream together butter and sugars.
In a separate cup, whisk together eggnog, yolk, vanilla and rum
In a separate bowl, whisk together flour, baking powder, salt, nutmeg and cinnamon.
Alternately add dry and wet ingredients to the creamed mixture.
Drop by teaspoons onto an ungreased cookie sheet.
Bake at 350 until golden brown on bottom and slightly brown top.
Cool on rack.
mix together icing ingredients. Adjust to desired consistency. Ice cooled cookies. Refrigerate.
http://www.cindysrecipesandwritings.com/spiked-eggnog-cookies-cookielicious/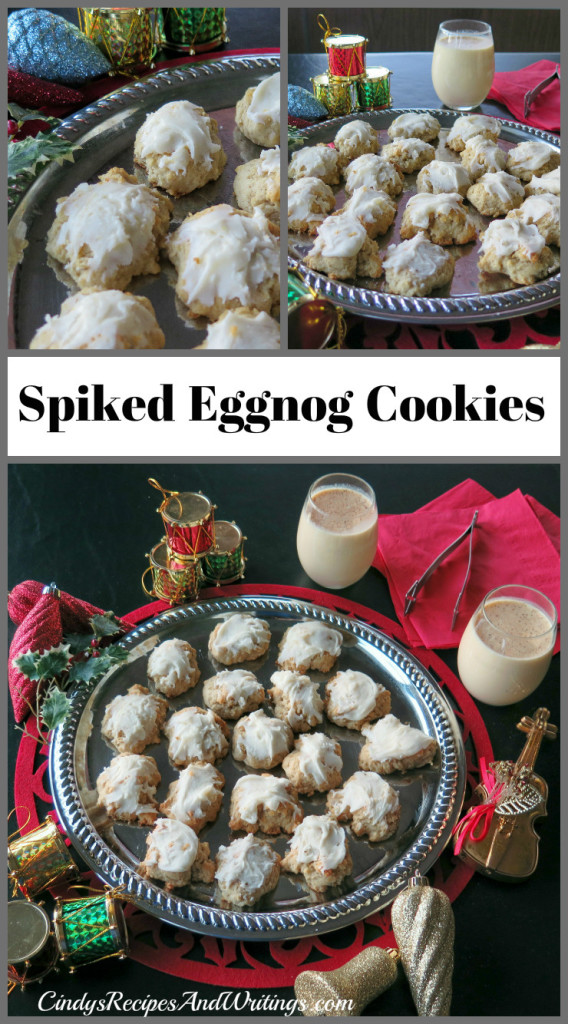 Enjoy all these Cookielicious cookie ideas from Sunday Supper!
Plus, 20 Cookie Baking Tips and Holiday Cookie recipes from Sunday Supper
Join us for a #Cookielicious chat at 7 p.m. ET Tuesday, Dec. 1, on Twitter We will be sharing tips for cooking baking along with stories about our favorite family recipes. Follow the #Cookielicious hashtag and remember to include it in your tweets to join in the chat. To get more great cookies recipes, check out our Cookie Jar Pinterest board.