Steak Caprese Salad has all the familiar ingredients you would expect to find in Caprese. There are ripe, juicy tomatoes, melt-in-your-mouth fresh mozzarella cheese and basil. Don't forget the steak!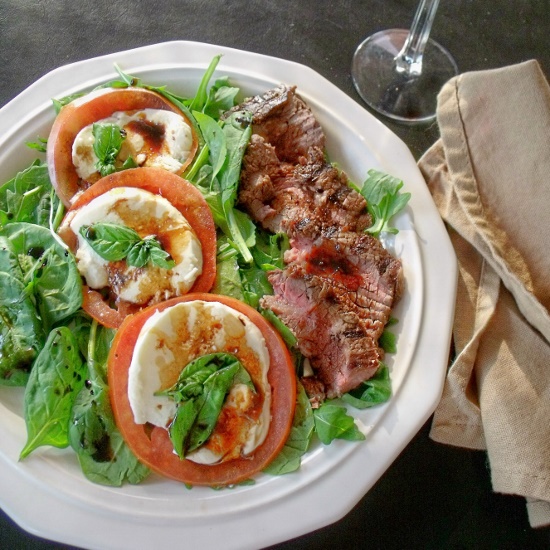 Salads and steak go so well together. Steaks like a 1/2-inch sirloin take about 7 to 11 minutes to grill, and 8 to 15 minutes to broil or pan fry.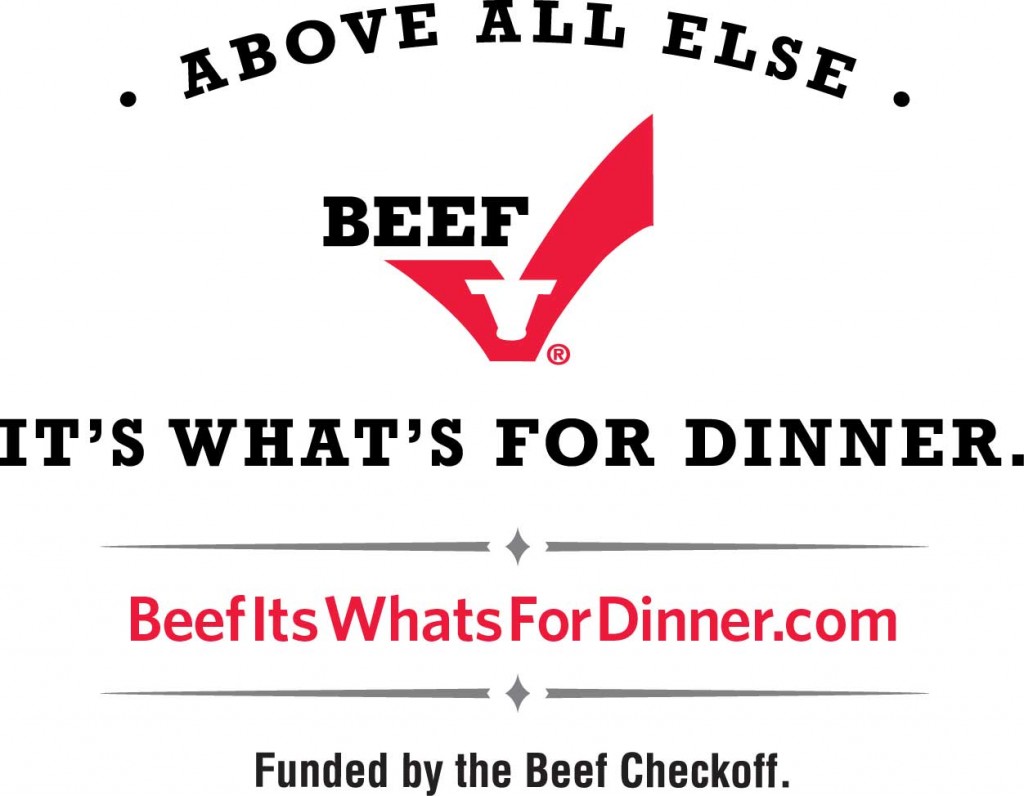 Here are a few tips from The Beef Checkoff on grilling beef:
Marinate tender cuts 15 minutes to 2 hours, less tender cuts like flank steaks 6 hours but less than 24 hours.
Grill meat taken directly from the refrigerator. You do not need to bring a steak to room temperature.
Season with pepper and herbs only. Cook over medium heat, turning as needed with tongs, careful not to pierce meat.
Remember to wait to salt until after the steak is cooked. This practice helps keep the natural juices inside.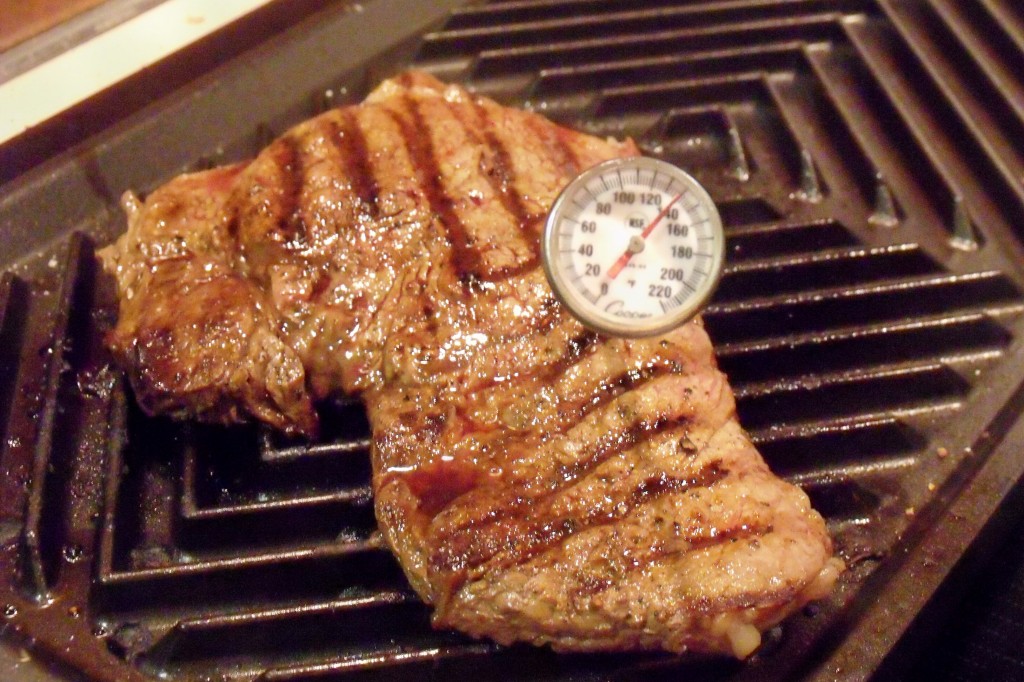 Use a meat thermometer to test for desired doneness 140 rare, 145 medium rare, 160 medium. Keep a close eye on the meat when it reaches 140 until it registers your desired temperature.
Remember after resting your steak for about 3 minutes, cut on the bias and against the grain to keep it tender.
A 3 ounce serving of lean beef (150 calories and less than 4.5 grams saturated fat on average) helps power your day with Beef's "Big 10″:
Iron helps your body use oxygen.
Choline supports nervous system development.
Protein helps preserve and build muscle.
Selenium helps protect cells from damage.
Vitamins B6 and B12 help maintain brain function.
Zinc helps maintain a healthy immune system.
Phosphorus helps build bones and teeth.
Niacin supports energy production and metabolism.
Riboflavin helps covert food into fuel.
Follow the Beef Let's Celebrate! Pinterest Board for a variety of ways to serve and tips on preparing beef.
http://www.pinterest.com/familyfoodie/beef-lets-celebrate/
Connect and stay in touch with The Beef Checkoff through their social media sites:
Website: http://www.beefitswhatsfordinner.com/
Twitter: https://twitter.com/Beef
Facebook: https://www.facebook.com/BeefItsWhatsForDinner
Pinterest: http://www.pinterest.com/beeffordinner/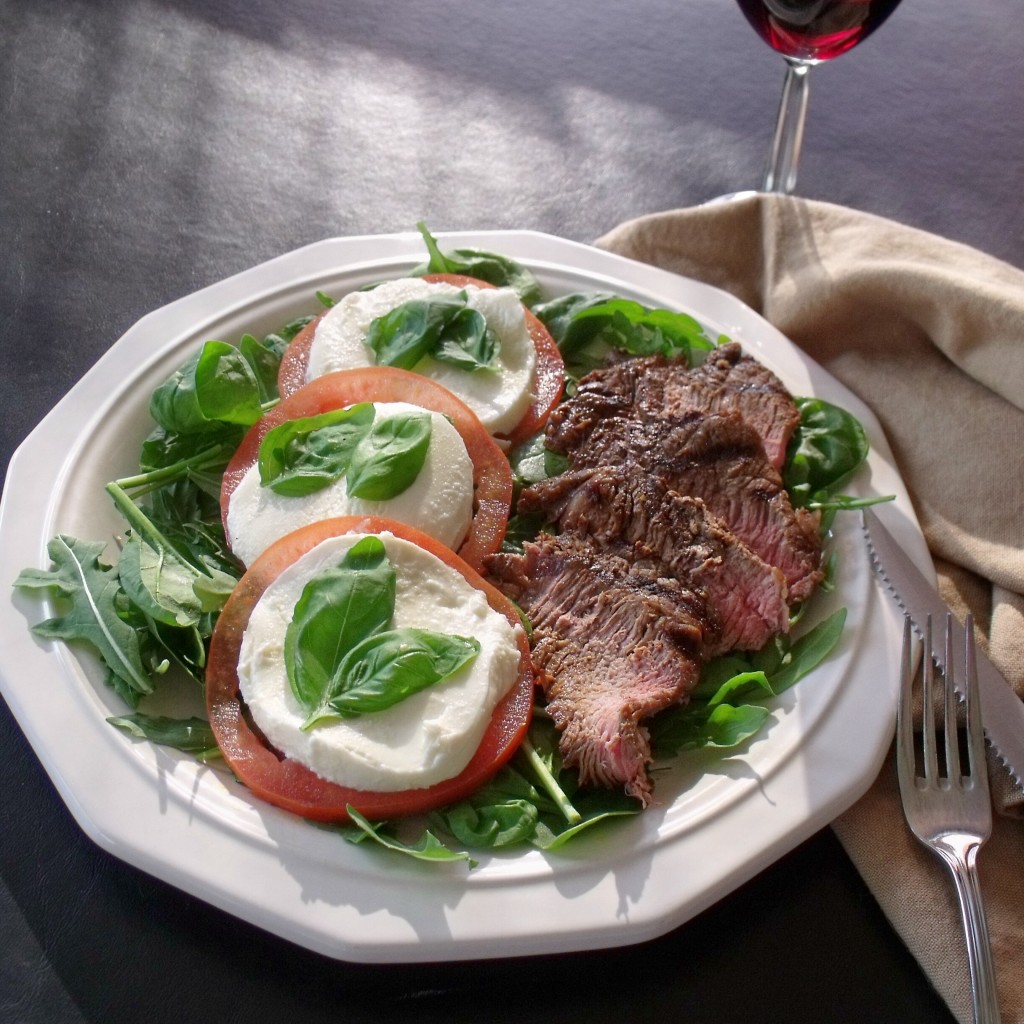 Steak Caprese Salad
Ingredients
1 lb sirloin steak
1 large tomato. thinly sliced
½ lb ball of fresh Mozzarella, sliced
3 cups mixed salad greens
1 cup balsamic vinegar
olive oil for drizzle
salt and pepper to taste
½ cup favorite marinade, optional
Instructions
Place balsamic vinegar in a 1 quart saucepan and simmer over medium heat, stirring often until reduced by about ⅔ (about 15 minutes)
While vinegar simmers, heat grill to medium heat. Season steak with pepper and grill to desired doneness. Add salt as desired. Transfer to board to rest.
While steak rests, arrange lettuce, tomatoes and cheese slices.
Cut steak into strips and arrange on the plate.
Drizzle with oil then top with balsamic reduction.
Enjoy all these great beef dinner ideas for your Weekday Supper menu!
Monday – Slow Cooker Asian Beef by Family Foodie
Tuesday – Grilled Flank Steak Sandwiches with Caramelized Onions and Mushrooms by Neighborfood
Wednesday – Steak Caprese Salad by Cindy's Recipes and Writings
Thursday –  Smothered Hamburger Steak by In The Kitchen With KP
Friday – Flank Steak with Chimichurri Sauce by Peanut Butter and Peppers
This post is sponsored by The Beef Checkoff. All opinions are my own.