This week's #SundaySupper features cool recipes ideas to get you out of the kitchen and #beattheheat!
I was privilaged to work in a family owned deli for 13 years. The thing is, the same family didn't own it the entire 13 years! In reality, over the years there were 6 different families: 1 Jewish, 1 Irish, 3 German and one Greek! Talk about culture shock! I learned a wealth of techniques, recipes and traditions all in one place. I was truly blessed!
When we first opened we carried a line of popular fishes; Nova and belly lox, kippered salmon, herring, sable, carp and smoked whitefish, which was usually sturgeon. Whitefish salad was a popular item to put on our freshly baked bagels (yes, I learned how to make those too). Nothing tastes quite like it, salty and smoky, mild yet bold.
That was where I learned to clean fish too! Wow 30 years later I still remember!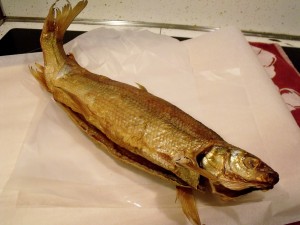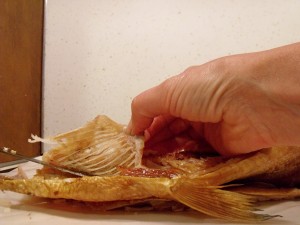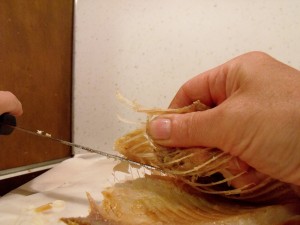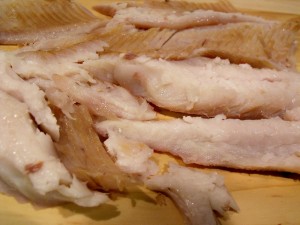 Smoked fish is part of so many cultures. If you have never had it, try it sometime!
I replaced the traditional mayo with sour cream, although the sour cream version has been around a long time!
Smoked Whitefish Salad Bagel Bites
Smoked whitefish is a great change from tuna or salmon salad. Check your deli department for flaked whitefish, a great time saver!
3 cups smoked whitefish, flaked
1/2 cup celery, diced
1/4 cup scallions, thinly sliced
1 cup sour cream
2 Tbsp lemon juice
1 Tbsp dill weed
12 each bagel, mini
1. Add whitefish, celery and scallions to a medium-size bowl. Mix.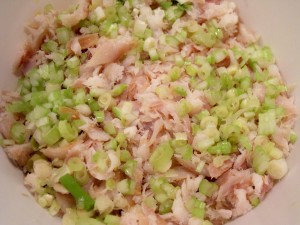 2. In a separate bowl, mix sour cream, lemon juice and dill.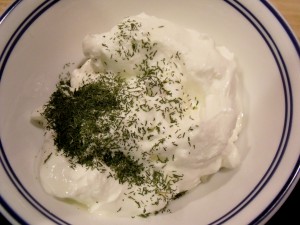 3. Add dressing to fish mixture and fold in. Serve on a bagel or a salad plate.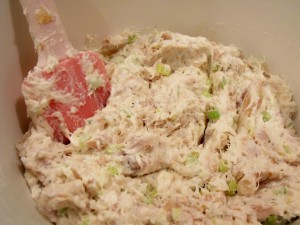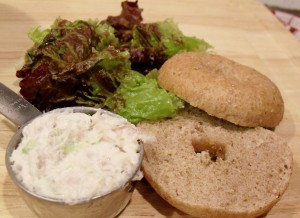 Servings: 12
Cooking Times
Preparation Time: 15 minutes
Total Time: 15 minutes
Nutrition Facts
Nutrition (per serving): 124 calories, 27 calories from fat, 3.1g total fat, 15.4mg cholesterol, 359.3mg sodium, 172.2mg potassium, 15.2g carbohydrates, <1g fiber, 1.6g sugar, 8.7g protein, 176.6IU vitamin a, 1.8mg vitamin c.
Recipe Type: Salad, Sandwich, Sandwiches and Hors d'Oeuvres, Seafood
Tips
Smoked fish tends to be very salty, adjust lemon, dill or sour cream to help balance the salt.
Check out these great ideas to #BeatTheHeat from #SundaySupper this week!
#BeatTheHeat Appetizers:
#BeatTheHeat Appetizers:
#BeatTheHeat Salads, Soups, & Sides:
#BeatTheHeat Main Dishes:
#BeatTheHeat Desserts:
#BeatTheHeat Drinks & Cocktails:
Wine Pairings Provided By: ENOFYLZ
Make sure you join us on Twitter throughout the day on Sunday, and at 3:00 p.m. EST for our weekly #SundaySupper Twitter chat!  All you have to do is follow the #SundaySupper hashtag, or you can follow us through TweetChat!  We'll be sharing great recipes and tips all afternoon, and we'll be talking all things #BeatTheHeat during our chat!
We'd also love to feature your recipes on our #SundaySupper Pinterest board and share them with all of our followers!
We'll all see you on Sunday for #BeatTheHeat #SundaySupper!