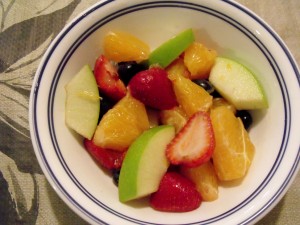 This week's Sunday Supper #SundaySupper is a celebration for the 4th of July and we're throwing a party! We put our thinking caps on, sharpened our knives, dug out favorite picnic recipes and created some new ones too!
I'm bringing my Sangia Fruit Salad (you can too, the recipe is posted below)! Tart and tangy with a just a hint of wine, its a refreshing change from the usual fruit platter.
You'll find everything you need to throw an unforgettable 4th of July bash! (Fireworks not included);)
Here's our menu suggestions to get you started!
Main Dishes:
Salads and Sides:
Desserts:
Fabulous Pairings by Martin from
ENOFYLZ
Join us this week! We'll share these fabulous recipes and want you to share yours with us!  The fun starts at 3pm EST and lasts all afternoon.  At 5:30 pm EST, we will be available to chat with you. All you have to do is follow the hashtag #sundaysupper on twitter or follow along on TweetChat.  Our #SundaySupper Pinterest Boardwill be filled with fabulous family recipes. There is always room Around the Family Table for you.
Sangria Fruit Salad
You can make this non-alcoholic by just omitting the wine! I like to save the dressing and have it as a refreshing juice drink over ice! Of course you could add more wine to it!!
1 orange, cut into 1/2-inch pieces
1 apple, Granny Smith or another tart variety, cut into 1/2-inch pieces
2 cups strawberries, sliced
1 cup blueberries
Dressing
1 cup apple juice
1/2 cup orange juice
1/4 cup red table wine, cabernet sauvignon
1 Tbsp honey
1 Tbsp lemon juice
1 Tbsp lime juice
1/2 teaspoon orange zest
1/2 teaspoon lemon zest
1/2 teaspoon lime zest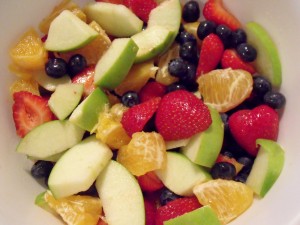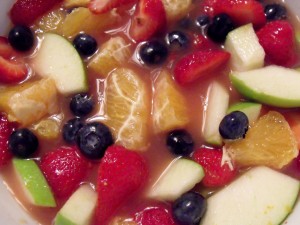 1. Mix fruit together in a large non-metal bowl.
2. Mix dressing ingredients together in a separate bowl.
3. Pour dressing over fruit. Stir. Refrigerate for at least 2 hours to allow flavors to blend.
4. Remove with slotted spoon. Reserve dressing. Serve.
5. Reserved dressing can be used in drinks.
Servings: 12
Yield: 6 cups
Cooking Times
Preparation Time: 15 minutes
Inactive Time: 2 hours
Total Time: 2 hours and 15 minutes
Nutrition Facts
Nutrition (per serving): 51 calories, 2 calories from fat, <1g total fat, 0mg cholesterol, 1.8mg sodium, 132mg potassium, 12.5g carbohydrates, 1.8g fiber, 8g sugar, <1g protein, 70.9IU vitamin a, 40.3mg vitamin c.