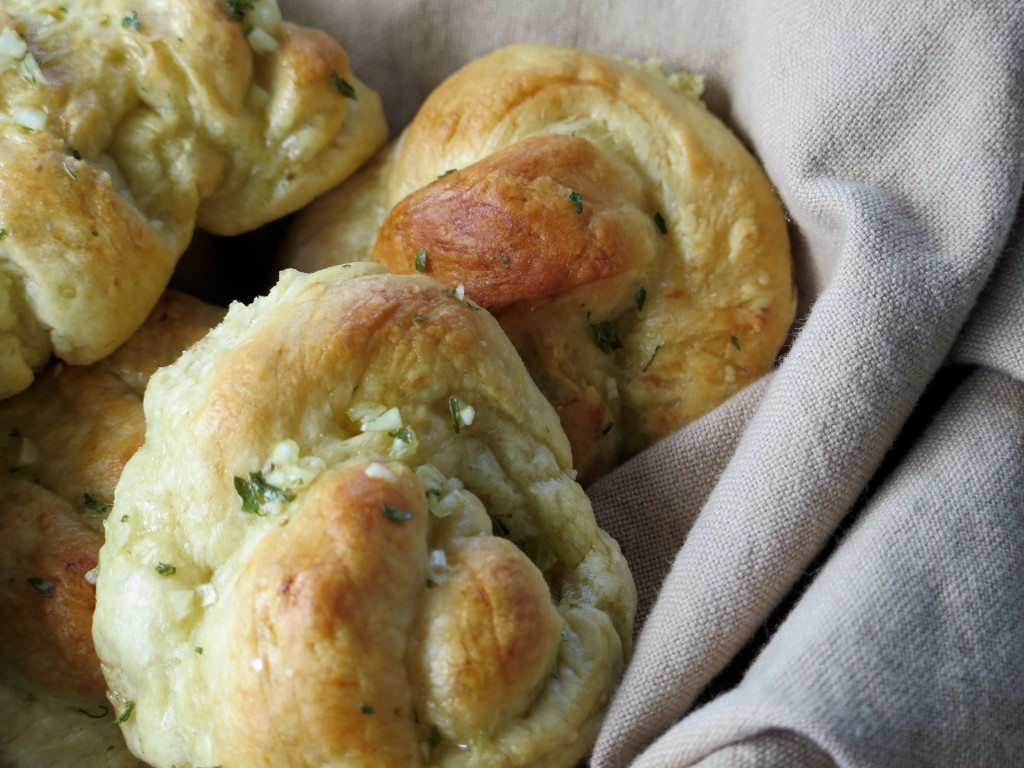 Triple Garlic Knots are for true garlic lovers only! Roasted garlic, minced garlic and granulated garlic combine to make a bread that's power-packed with garlicky goodness.
Welcome to another fun and tasty visit from the Bread Bakers!

Our ingredient of the month is GARLIC, in celebration of National Garlic Day in the United States – 19 April – and one of our favorite food holidays. Black garlic, white garlic, elephant garlic, smoked garlic; powdered, roasted, raw, crushed or whole, include some garlic in your bread!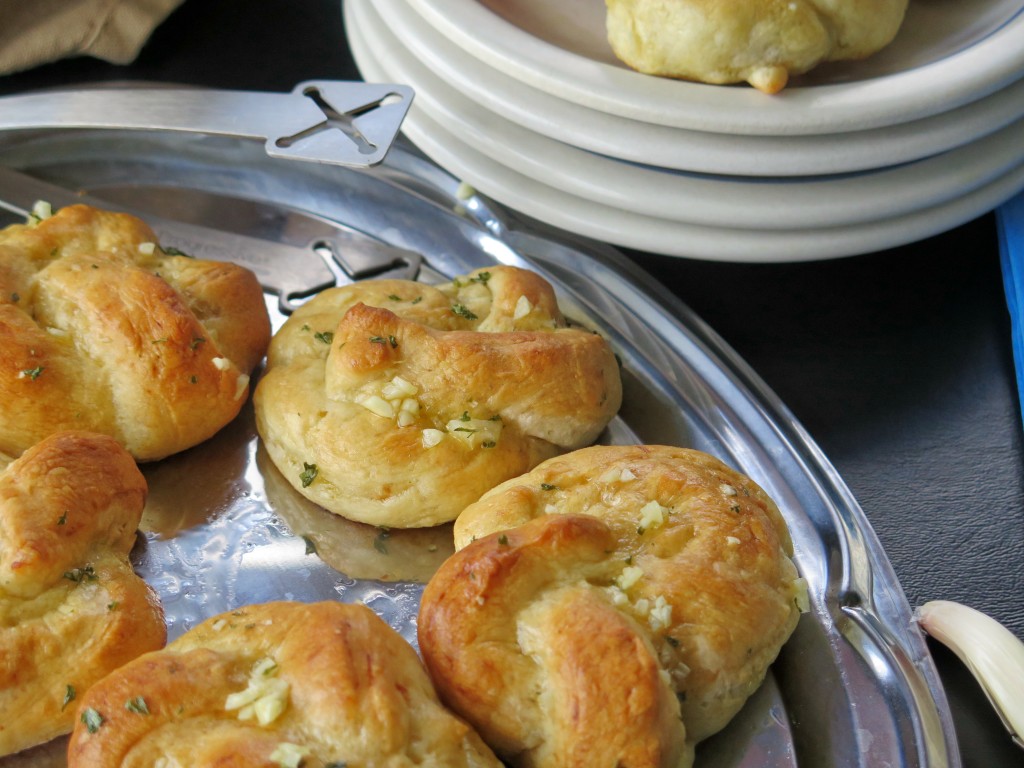 If you love garlic as much as I do, then this is a no-brainer. Tender, bread dough kissed with the sweetness of roasted garlic. Work granulated garlic in the dough too. Bake until golden brown. Brush these beauties with garlic oil.
Did you notice the size of these knots? No, these aren't magnified. When you have garlic bread this good, you want to go bigger! Let's say just between us that these garlic knots are great dinner rolls. Even sandwich rolls.
Yes you can still serve these knots with your favorite marinara.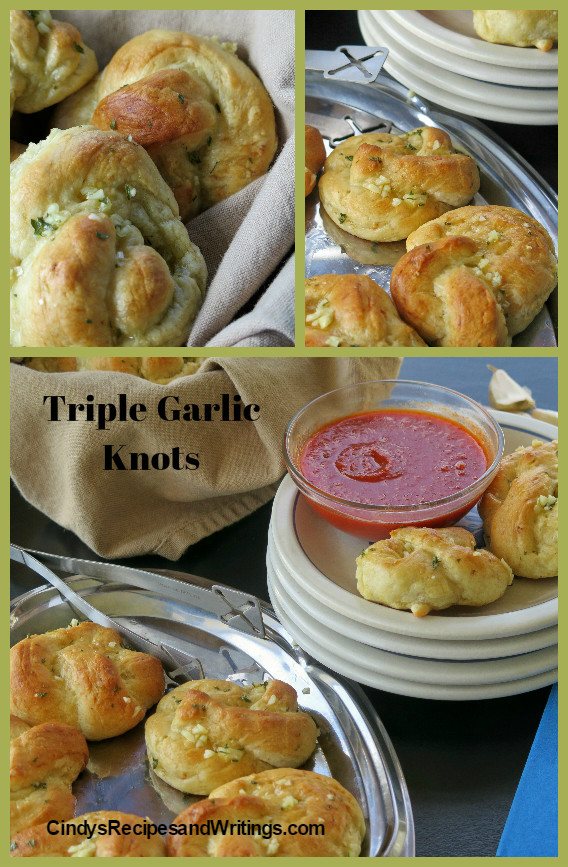 Ingredients
1 packet quick rise dry activated yeast (1 1/4 teaspoons)
1 cup warm water (110 to 120 degrees)
1 teaspoon sugar
2 1/4 cups flour plus 1/4 cup for dusting
2 Tablespoons roasted garlic
1 teaspoon granulated garlic
1/2 teaspoon sea salt
1 tablespoon minced garlic
1/4 cup olive oil
1 teaspoon fresh chopped parsley(optional)
Instructions
Mix together minced garlic and oil. Set aside.
Mix together 1/2 the flour, yeast, sugar, granulated garlic and salt.
Add warm water and roasted garlic.
add the rest of the flour to make a soft dough
Knead until smooth
Cover and rest dough in a warm place for about 15 minutes
Roll into a rectangle then cut into 1/2-inch strips. Shape into knots. Place in a warm place until buns double in size.
Bake at 375 for about 25 minutes until brown and sound hollow when tapped.
Place on a rack and brush with minced garlic and oil. Sprinkle with parsley if desired. Serve warm.
http://www.cindysrecipesandwritings.com/triple-garlic-knots-breadbakers/
As a side note you may get garlic breath but your kitchen will smell wonderful!
Thank you Karen from Karen's Kitchen Stories for hosting this event!
#BreadBakers is a group of bread loving bakers who get together once a month to bake bread with a common ingredient or theme. Follow our Pinterest board right here. Links are also updated each month on this home page.
We take turns hosting each month and choosing the theme/ingredient.
If you are a food blogger and would like to join us, just send Stacy an email with your blog URL to foodlustpeoplelove@gmail.com.
Do you have a cure for garlic breath you'd like to share with us? Add it to the comments below.  Of course if everyone eats garlic bread does it matter? 😉
Enjoy all these delicious takes on garlic bread from the Bread Bakers!