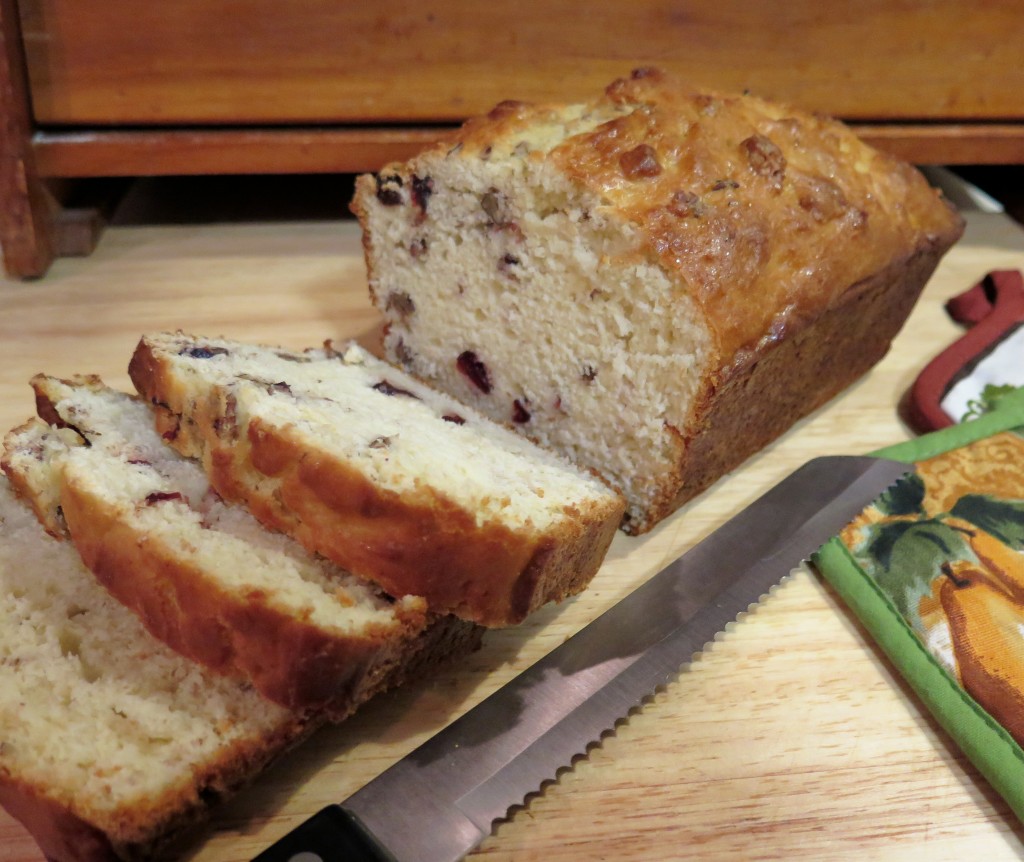 Today is National Homemade Bread day and the Bread Bakers have some enticing bread recipes to share with you!
#BreadBakers is a group of bread loving bakers who get together once a month to bake bread with a common ingredient or theme.
Follow our Pinterest board right here. Links are also updated each month on this home page.
We take turns hosting each month and choosing the theme/ingredient.
If you are a food blogger and would like to join us, just send Stacy an email with your blog URL to foodlustpeoplelove@gmail.com.
I chose a quick bread fit for the Holiday season. White Cranberry Nut Bread spreads the goodness of dried cranberries and pecans throughout a moist, cake-like bread. You can eat this alone as a snack, serve at breakfast, brunch or afternoon tea. I plan to have a few slices on my Thanksgiving table.
Thanks Lauren from From Gate to Plate for hosting this event!
White Cranberry Nut Bread
Ingredients
¾ cup sugar
2 tbsp butter
1 egg
1½ cups milk
3 cups flour
3½ tsp baking powder
1 tsp salt
½ cup craisins
⅓ cup chopped pecans
Instructions
Cream together butter and sugar.
Add egg and milk.
In a separate bowl, mix together flour, baking powder and salt.
Combine wet and dry ingredients. Stir in craisins and nuts.
Pour batter into a well-greased 9x5x3-inch loaf pan.
Let pan sit at room temperature for 20 minutes before baking.
Bake at 350 in center rack of oven until inserted toothpick comes out clean (about 40 minutes)
Cool completely on wire rack before cutting.
Enjoy all these wonderful Homemade Bread Recipes from our Bread Bakers!
Pumpkin Bagels by Sophie at Sweet Cinnamon & Honey
Pain Tordu by Carola at En la Cocina de Caro
Peanut Butter Buns by Renee at Magnolia Days
Pumpkin Chocolate Tea Bread by Linda at Brunch with Joy
Almond Bread by Rocio at Kidsandchic 
Hatch Chile Bread by Holly at A Baker's House 
Italian Dinner Rolls by Lauren at From Gate to Plate
White Cranberry Nut Bread by Cindy at Cindy's Recipes and Writings 
Hadrian's Bread by Camilla at Culinary Adventures with Camilla 
Hearth Sourdough by Karen at Karen's Kitchen Stories 
Homemade English Muffins by Stacy at Food Lust People Love 
Stollen by Laura at Baking in Pyjamas 
Olive, Feta & Tomato Bread by Robin at A Shaggy Dough Story 
Chocolate Chip Scones by Nicole at The 2nd 35 Years