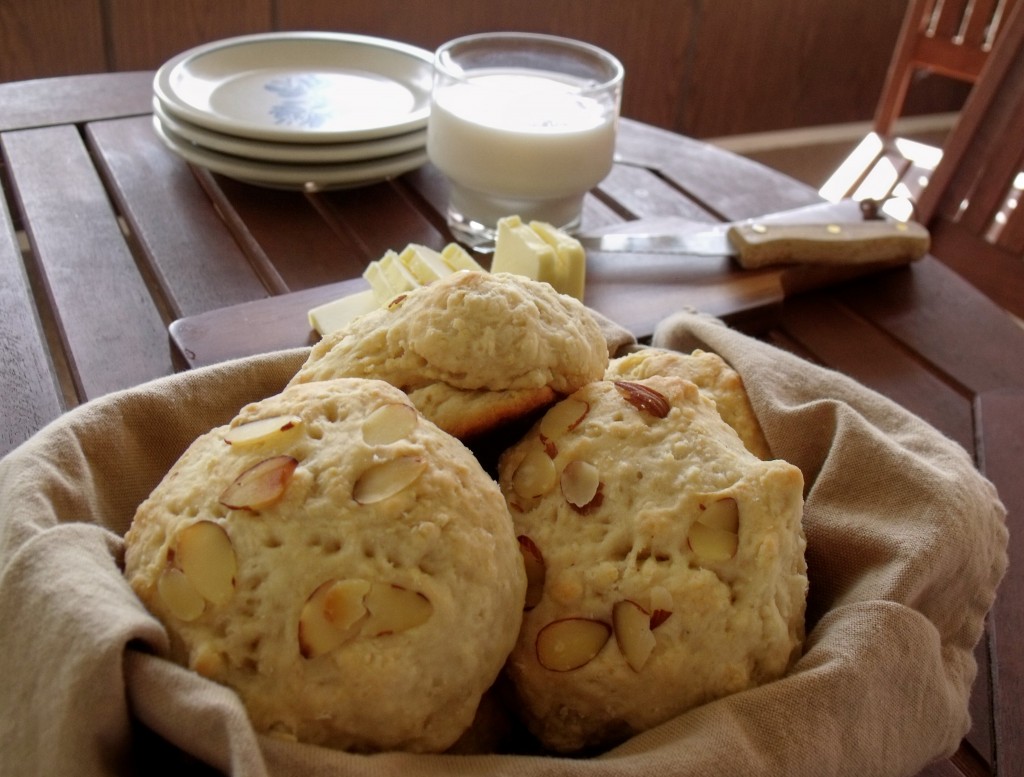 I love fresh baked bread. When I heard about a new group forming that felt the same way I do, I had to join!
We plan to share our favorite breads every month with you! Each time we get together we'll focus around a theme picked and hosted by a member.
Thank you Renee for hosting our first event! Renee's choice to get us started was to ask us to bake one of our favorite breads. You can find out more about Renee and her wonderful recipes at her blog, Magnolia Days
I chose to make version of a soup roll. My Yogurt Almond Bread uses almond milk and plain yogurt to add a bit of extra texture and almond flavor.
A few almonds on top were added just for show!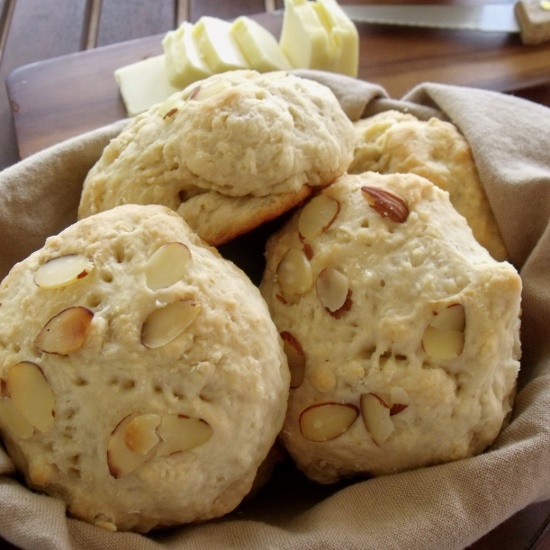 Yogurt Almond Bread
Ingredients
2 cups bread flour
2 cups all purpose flour
1 teaspoon salt
1 teaspoon baking soda
1 teaspoon cream of tartar
4 Tablespoons cold unsalted butter
1 egg beaten
⅔ cup plain yogurt
½ cup almond milk
¼ cup sliced almonds
Instructions
Preheat oven to 425 degrees
Mix together flours, salt, baking soda and cream of tartar.
Cut the butter into small pieces and work into the flour mixture with your fingers or a pastry knife.
Mix together egg, yogurt and milk.
Add the milk mixture to the dry ingredients and lightly knead.
Divide the dough into 8 pieces. Roll each piece loosely into a ball and place on a lightly greased cookie sheet.
Flatten the balls with your fingers and prick each with a fork.
Top with almonds.
Bake about 10-12 minutes until bread is golden brown and sounds hollow when tapped.
Notes
You can toast the almonds before adding if you like for a different flavor.
Enjoy all these delicious breads from the Bread Bakers Group!
#BreadBakers is a group of bread loving bakers who get together once a month to bake bread with a common ingredient or theme.  Follow our Pinterest board right here. Links are also updated each month on this home page.
We take turns hosting each month and choosing the theme/ingredient.
If you are a food blogger and would like to join us, just send Stacy an email with your blog URL to foodlustpeoplelove@gmail.com.