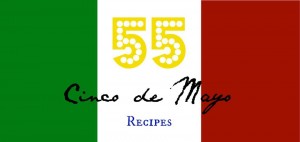 Want to celebrate Cinco de Mayo but don't know what to make? Stop by Daily Dish for great ideas!
Here's a few great recipes ideas included in the round up!
Fresh Mango Mojito
Raspberry Basil Limakazie
TVP Tacos
One Skillet Vegan Chili Rellenos
Vegan Cheesy Grilled Pablanos
Chipotle Zucchini Tacos
Avocado Salad
If you make one from the round up, stop back here and let me know how it turned out!
Have a Cinco de Mayo recipe you want to share? Stop back here for our linky party starting 9:00 pm ET this Thursday!

Happy Cinco de Mayo!