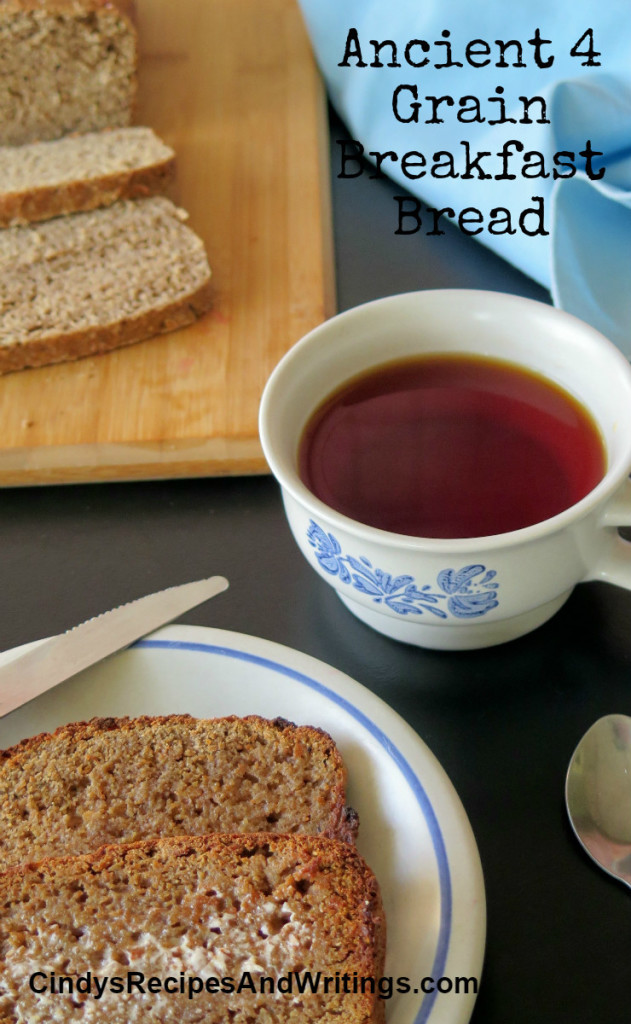 This month our lovely #BreadBakers share an ancient secret with you. No, it has nothing to do with laundry detergent (if you are old enough to remember that commercial).
We're here to help you savor the mouth-watering taste and texture Ancient Grain goodness creates in baked goods. Ancient grains are generally accepted to mean grains that have remained largely unchanged/un-hybridized over the last several hundred years, which means NO MODERN WHEAT.
This month's BreadBakers' theme of Ancient Grains, is hosted by Robin at A Shaggy Dough Story.
One of the challenges of baking bread without processed wheat is getting that chewy texture and airy mouth-feel that gluten gives to bread. Fortunately there are natural additives like eggs, and psyllium husk can hep bind the bread and make it less crumbly.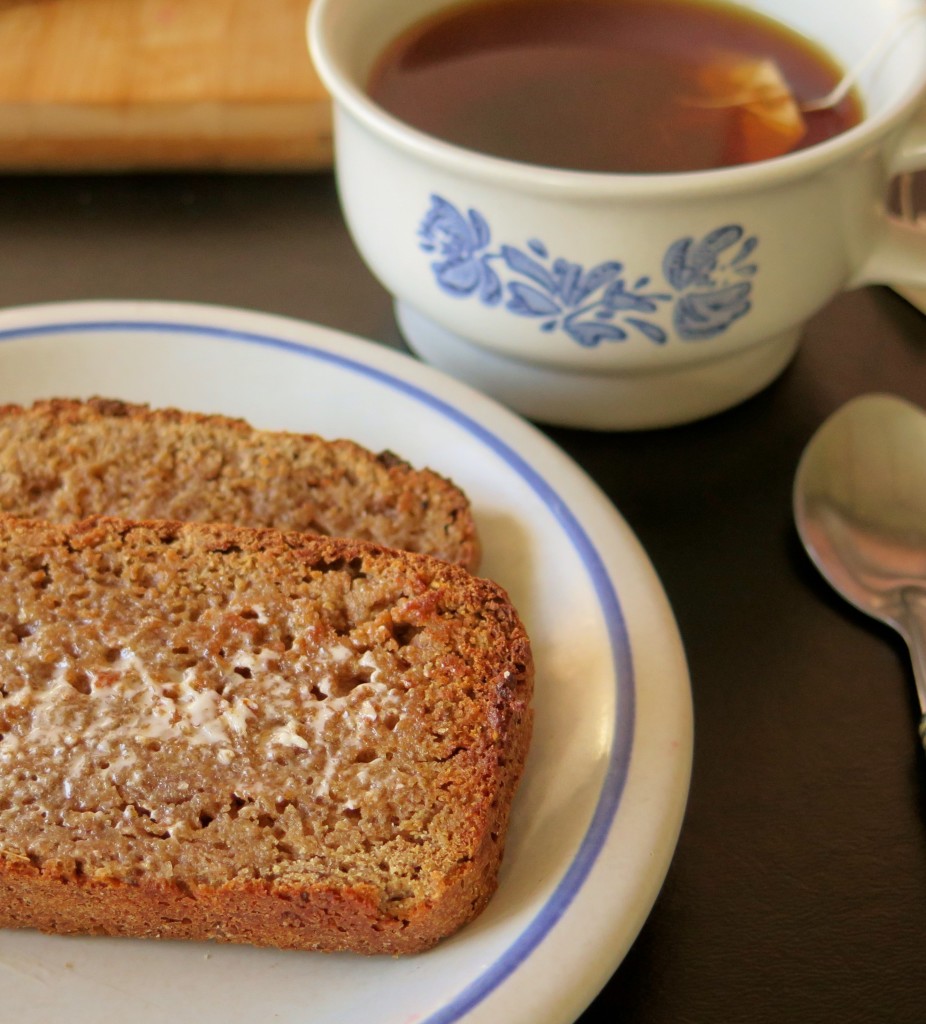 Ancient 4 Grain Breakfast Bread serves up a hearty, healthy way to start your day. The goodness of ancient grains ground without extensive processing. Teff flour brings added protein to the party. Kamut, spelt and psyllium husk add fiber to the mix. Sorghum and honey add a touch of sweetness.
Ancient 4 Grain Breakfast Bread
Ingredients
11/2 cups kamut flour
1/2 cup teff flour
1/2 cup spelt flour
1/4 cup sorghum flour
5 tablespoons psyllium
1 teaspoon salt
1 1/4 cups milk, warmed
1/4 cup butter, melted
2 eggs
2 tablespoons honey
1 teaspoon cider vinegar
Instructions
Grease a 9x4-inch loaf pan. Line with parchment allowing enough paper to cover sides and extend about 1 inch above rim. Set aside.
Whisk together flours, psyllium and salt.
In a separate bowl, stir together melted butter, milk, honey and vinegar. Temper eggs into wet mixture.
Stir together wet and dry ingredients.
Pour batter into prepared pan.
Bake at 375 for 30 to 35 minutes until bottom is solid when tapped and inserted pick comes out clean.
Cool with paper in place on bottom on a wire rack. When completely cool, remove paper and wrap tightly.
http://www.cindysrecipesandwritings.com/ancient-4-grain-breakfast-bread-breadbakers/
Thanks again to Robin from A Shaggy Dough Story http://www.ashaggydoughstory.com/ for hosting this event!
Enjoy all the Ancient Grain goodness recipes from the #BreadBakers group.
#BreadBakers is a group of bread loving bakers who get together once a month to bake bread with a common ingredient or theme. You can see all our of lovely bread by following our Pinterest board right here. Links are also updated after each event on the #BreadBakers home page.
We take turns hosting each month and choosing the theme/ingredient. If you are a food blogger and would like to join us, just send Stacy an email with your blog URL to foodlustpeoplelove@gmail.com.