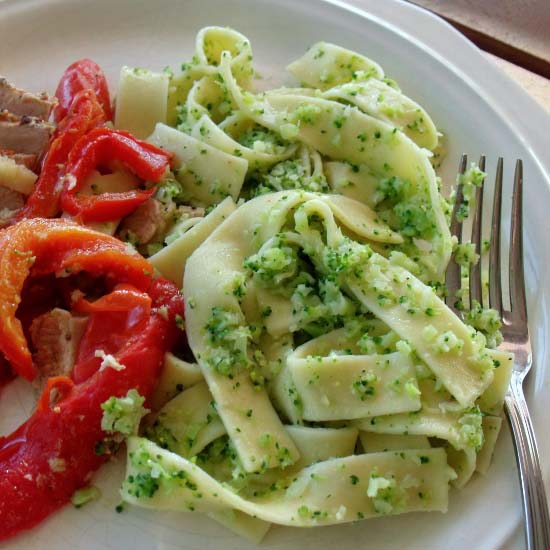 Broccoli Pesto Sauce. I mentioned the other day that I was making a broccoli based pesto sauce and I received a HUGE reaction! I'm not sure what made people's mouths water. Broccoli Pesto Sauce or maybe it was just those three words:broccoli, pesto, sauce.
In reality I didn't think much about it. Take some cooked broccoli chop, add garlic, cheese and seasonings. I got tired of sauces on noodle side dishes and craved something lighter.
Tuna and Marinated Peppers was already slated for dinner. I just needed a quick side dish.
I plated dinner and my guy says, "You should take a picture. This looks so good."
So I did. No styling, no arranging just dinner. If you blog about food, you can appreciate how wonderful eating your meal fresh and hot can be!
Here you go. A quick, tasty way to flavor bland, boiled noodles and add a bit of texture.
Broccoli Pesto Sauce is a keeper!
Blanch stemmed broccoli to crisp tender, then drain and chop for best results.
I've made Watercress Pesto and Spinach Pesto both without basil.
I wonder how cauliflower would work as a broccoli substitute? If it turns out good, I'll let you know!
Broccoli Pesto Sauce
Ingredients
3 cups chopped cooked broccoli
2 garlic cloves, chopped
¼ cup grated Parmesan cheese
2 Tablespoons olive oil
salt and pepper to taste
Instructions
Add broccoli and garlic in a food processor and finely chop. Blend in cheese, salt and pepper. With machine running, drizzle in oil.
Toss over cooked pasta or add to cooked rice.