According to the United States Department of Labor, "Labor Day, the first Monday in September, is a creation of the labor movement and is dedicated to the social and economic achievements of American workers. It constitutes a yearly national tribute to the contributions workers have made to the strength, prosperity and well-being of our country."
Some people associate Labor Day as the end to summer fun, back to school (back to work for me), a day off or even time to start looking forward to cooler weather.
No matter what Labor Day means to you, you still have to eat, right?
How about some Tuna and Roasted Red Peppers?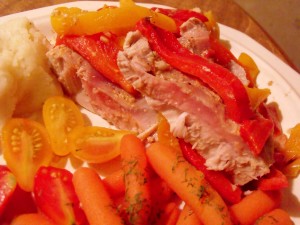 Ingredients
2 tuna steaks, 1/2-inch to 3/4-inch thickness
1 large red bell pepper
1 large yellow bell pepper
2 garlic cloves, minced
juice of one lemon
1/4 teaspoon ground cumin
salt and pepper
cooking spray
Cut and flatten peppers. Place skin side up if broiling indoors or lightly spray with cooking oil and place skin side down on grill.


Remove when the skins are charred. Put the red peppers in the bag.

Yellow peppers too.

Yep, they're in there. Fold the bag over and roll tightly shut. The pepper skins will steam loose and easily peel off in about 10 minutes!

Peel off the skins. Cut the pepper into strips and place them in a bowl.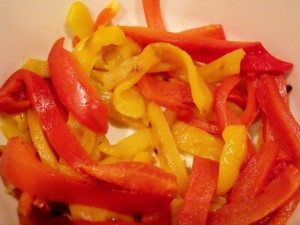 Add the juice of one lemon, cumin and garlic. Stir. Refrigerate for a half hour the marinate.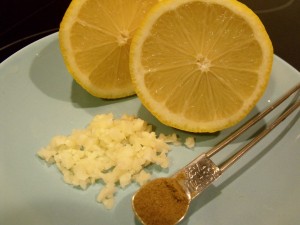 Lightly spray a piece of foil with cooking spray. Place on the tuna steak and season with salt and pepper.

Top with pepper mixture, juice and all.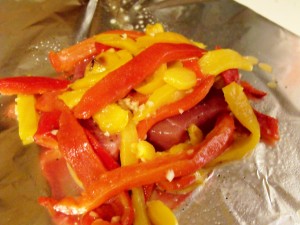 Fold top pieces of foil over together and roll up the sides to make a packet.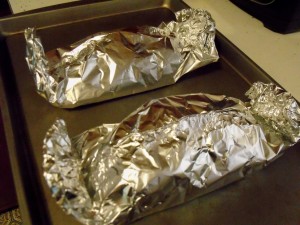 Place the packet on a cookie sheet on a middle rack in your oven and bake at 425 for about 10 minutes for rare, 15 minutes for medium (the way we like it) but try to not let it bake more than 20 minutes or it may dry out too much!
You can either serve it over rice or noodles or a stand alone with sides.
Nutrition Facts
Nutrition (per serving): 302 calories, 15 calories from fat, 1.6g total fat, 88.5mg cholesterol, 108.6mg sodium, 1343.2mg potassium, 11.4g carbohydrates, 3.2g fiber, 6.7g sugar, 57.1g protein, 4681.7IU vitamin a, 195.6mg vitamin c.
Check out these other wonderful ideas and recipes from our Sunday Supper Club for your Labor Day Event or for anytime!
Labor Day Cookout Recipes:
Starters & Snacks
Salads & Sides
Drinks
Desserts
Wine Pairings
Labor Day Cookout Food And Wine Pairings by ENOFYLZ
Please be sure you join us on Twitter throughout the day during #SundaySupper. We'll be meeting up at 7:00 p.m. EST for our weekly #SundaySupper  live chat where we'll talk about our favorite cookout recipes!
All you have to do is follow the #SundaySupper hashtag, or you can follow us throughTweetChat!
We'd also love to feature your Cookout recipes on our #SundaySupper Pinterest board and share them with all of our followers!