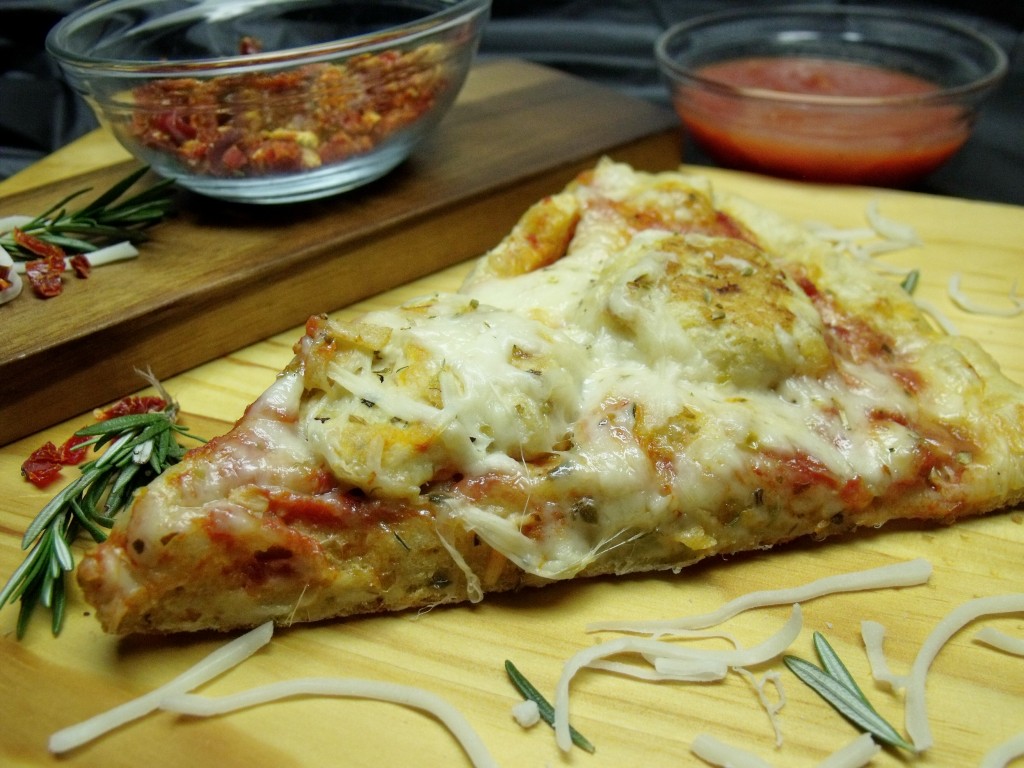 Pizza makes a meal out of the simplest of ingredients. Dough, sauce and cheese. This month Recipe ReDux members were challenged to make a healthier version of this all-time favorite for Game Day or Pizza Night.
I decided to start from the dough up.

Each month The Recipe ReDux posts a challenge to its members of dietitians and health conscience cooks to recreate a popular dish or use a secret ingredient in a healthier way. On the 21st and 22nd of the month two groups reveal their creations.
I like a medium crust that's not too thin and crispy or too doughy. For this pizza I used kamut flour and unbleached all-purpose flour. The all-purpose flour adds the gluten needed to get proper elasticity in the dough.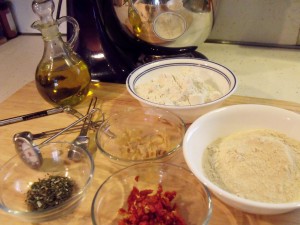 I decided to add some flavorings to the crust. Sun-dried tomatoes and rosemary go well together and for the fat I used roasted garlic. The garlic oil gave it the right amount of moistness.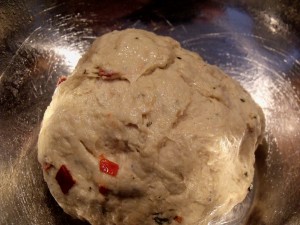 For the meatballs I used dried potato flakes instead of bread crumbs. The potatoes add a lighter, moister texture to the meatballs.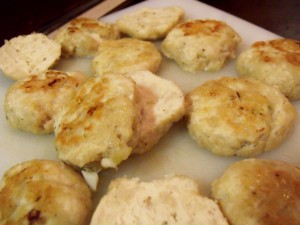 Homemade marinara is quick and easy. This sauce can be made in under 15 minutes.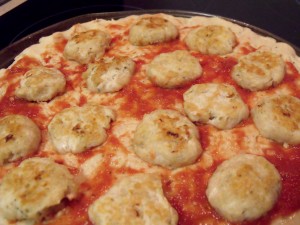 Pizza is nothing without cheese. Here I compromised by using non-fat mozzarella and shaved Asiago cheese.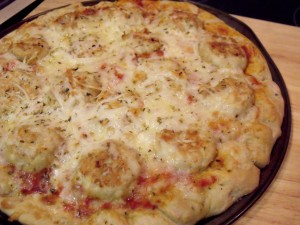 I hope you enjoy my take on a classic meatball pizza!

Chicken Meatball Parmesan Pizza #RecipeReDux
Ingredients
1 cup non-fat shredded mozarella
1 cup shaved Asiago cheese
For the crust
1 packet or 1¼ teaspoons Dry Active Yeast
1 teaspoon honey
1 cup warm water (110-120 degrees)
1½ cups all purpose flour
1 cup kamut flour
2 tablespoons roasted garlic
¼ cup diced sun-dried tomatoes
2 tablespoons chopped rosemary
½ teaspoon sea salt
For the sauce
1 28-ounce can crushed plum tomatoes
¼ cup finely diced onion
2 tablespoons minced garlic
1 tablespoon dried oregano
salt and pepper to taste
For the meatballs
½ pound ground chicken
½ cup dried potato flakes
2 tablespoons minced onion
1 tablespoon minced garlic
salt and pepper to taste
1 tablespoon olive oil for frying
Instructions
For the crust
Add honey, warm water and yeast to the mixing bowl. Using a dough hook, stir to dissolve.
Allow to bloom for 5 minutes.
Add garlic, stir.
In a separate bowl mix together the rest of the dough ingredients. Gradually add flour mixture to bowl.
Mix until all ingredients are incorporated and dough pulls away from the side of the bowl, about 2 to 3 minutes.
Place dough in a large oiled bowl, cover and place bowl in a warm location until dough doubles in size, about an hour.
For the sauce
Add all ingredients to a medium-sized sauce pan and cook over medium heat, whisking frequently until tomatoes are broken down, vegetables are cooked and sauce thickens, about 15 minutes.
For the meatballs
Mix together all ingredients. It will be sticky, so you can lightly flour your hands if you prefer.
Loosely roll meat mixture into eight 1½-inch ball and slightly flatten. Brown in oil on both sides. Transfer to a baking sheet and finish cooking in 350 oven for about 10 minutes or until meatballs reach 170 degrees. Cool slightly and slice in half.
Assemble pizza
Preheat oven to 450 degrees. When dough has doubled, poke down to let gas escape. Lightly spray pizza pan with oil and form crust.
Add sauce and meatball slices. Top with more sauce if desired. Add cheese and sprinkle with oregano if desired. Bake for 15 to 20 minutes until crust is golden brown and cheese has melted.
Enjoy these great pizza ideas from The Recipe ReDux!