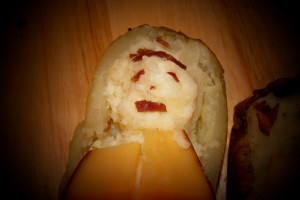 Halloween is just around the corner and our #SundaySupper group wanted to share our ghoulish favorites with you!
My friend Leslie from La Cocina de Leslie is hosting the Trick-or-Treat Halloween Party!
Witches, ghosts, goblins, vampires, zombies, monsters…  Everyone is invited.  You don't want to miss this hair-raising party.  It's sure to be a real scream!
I'm bringing Monster Mashed Potatoes. They're so easy and kids love to make and eat them!
Monster Mash Potatoes
Ingredients
2 large baking potatoes, cooked
1 Tablespoon sour cream
1/4 bl smoked gouda, thin sliced
bacon bits, pork or turkey
1. Carefully slice potatoes in half and scoop out centers. Place mashing potato into bowl.
2. Add sour cream and mash it like you mean it! You can sing Monster Mash while you do this. It's okay if you dance too!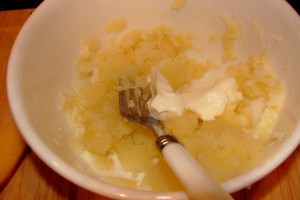 3. Replace potato mixture into coffin skin and shape into monster.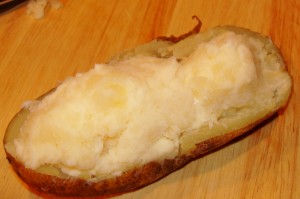 4. Add bacon bits for its face, hair, etc whatever you like!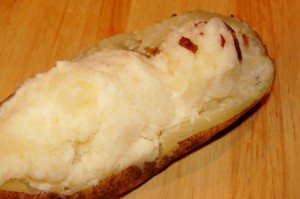 5. Cover your monster with its cheese blanket (it gets cold down in the tomb!)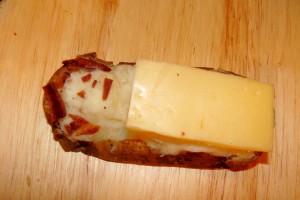 and place it in the oven or microwave to reheat and melt the cheese. Serve as a side, appetizer, or snack!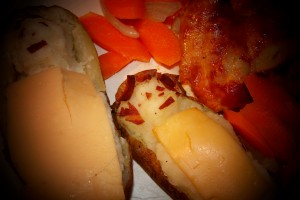 Need more great Halloween meal and party ideas?
Check out what's on the menu for our Trick-or-Treat #SundaySupper Halloween Party:
Bewitching Brews:
Ghoulish Gruel:
Haunted Snacks:
Spooky Sweets:
Please be sure you join us on Twitter throughout the day, this Sunday (October 28th) during #SundaySupper.  We'll be meeting up at 7:00 pm (Eastern) for our weekly #SundaySupper live chat where we'll talk about all things Halloween.  All you have to do is follow the #SundaySupper hashtag, or you can follow us through TweetChat.
We'd also love to feature your favorite Halloween recipes on our #SundaySupper Pinterest board and share them with all of our followers, too.