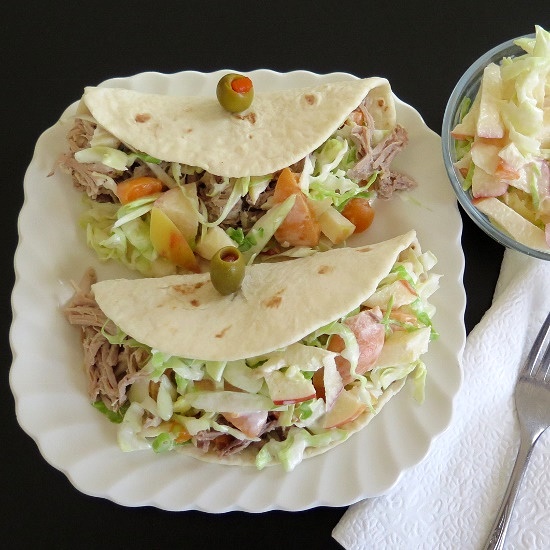 Pulled Pork Tacos with Harvest Slaw serves up juicy, flavorful pork with a slaw made from cabbage, apples and apricots.
I love a slow-cooked pork roast. Most of the time it yields way too much meat for one meal. Sometimes I'll use the extra for BBQ. Other times a casserole is in order.
For today's Weekday Supper offering, I made tacos! Skip the lettuce, tomatoes and salsa. These tacos are slathered in slaw. This crunchy, sweet, fruity topping goes great with pork. Easy and fast with no need to marinate for hours. Serve any leftover slaw on the side after making your tacos.

Pulled Pork Tacos with Harvest Slaw
Ingredients
4 taco shells (soft or hard)
2 cups pulled pork in broth
2 cups shredded cabbage
1 medium apple, cored and sliced thin
1 medium lemon
1 cup fresh or canned apricots, sliced
¼ cup celery, sliced thin
2 Tablespoons mayonnaise
2 Tablespoons sour cream or Greek Yogurt
½ teaspoon seasoned salt
ground pepper and salt to taste
Instructions
Place apple slices in a medium-sized bowl. Squeeze ½ lemon juice over apples. Mix. Add cabbage, celery and apricots.
In a separate bowl, mix mayo, sour cream and seasoned salt. Add to cabbage mixture and stir to coat.
Heat pulled pork, drain.
Add pork to taco shells. Top with Harvest Slaw.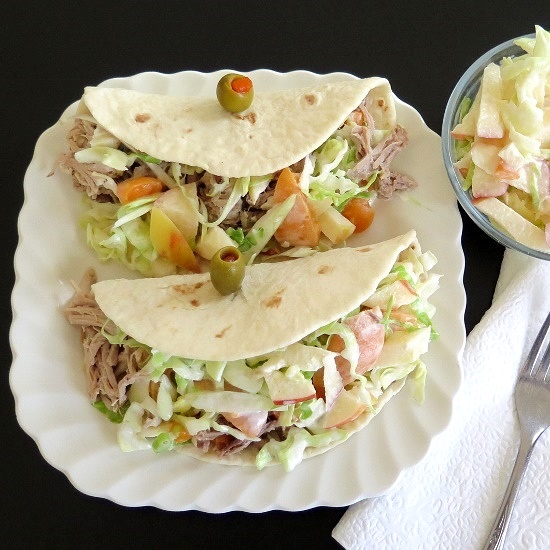 Try these great ideas for Weekday Supper from The Sunday Supper Group!
Monday – Spaghetti with Meatball Pearls by Crazy Foodie Stunts
Tuesday – Chicken Salad Sandwich by A Mama, Baby & Shar-pei in the Kitchen
Wednesday – Pulled Pork Tacos with Harvest Slaw by Cindy's Recipes and Writings
Thursday – Moroccan Roasted Cauliflower in Tomato Sauce by Nik Snacks
Friday – Egg Drop Soup by The Foodie Army Wife
Find more great ideas for Weekday Suppers on our Weekday Supper Pinterest Board !